(Psst: The FTC wants me to remind you that this website contains affiliate links. That means if you make a purchase from a link you click on, I might receive a small commission. This does not increase the price you'll pay for that item nor does it decrease the awesomeness of the item. ~ Daisy)
So here we are. Right on the cusp of that SHTF event that we've been prepping for all these years.
A global pandemic.
A breakdown in the supply chain.
Shoppers who are already becoming agitated and even violent.
We're watching it all unfold in our hometowns and across our nation right now.
Yet, somehow, it still doesn't feel real to me. Is it just me who finds this hard to fathom? Am I the only one who still thinks doubtful thoughts? Like "No way. It's going to be okay. You're overreacting. It's a little scare, just like Ebola and MERS and SARS."
I've researched and written about this stuff for years. I always knew it could happen. I was whole-heartedly convinced of these possibilities and yet when this situation began to move irrevocably toward disaster, I find myself, somehow, shocked.
I can't be the only one who has prepared for this yet still feels stuck in normalcy bias, thinking "this isn't going to get as bad as you think" even as I watch the events unfold around us pretty much like we in the survival community always predicted. There's still that doubtful voice in my head, making me wonder about spending even more money on another "last" shopping trip.
Heck, maybe this makes me a bad prepper. A fake survivalist. A fraud.
Or maybe it's only natural to think that life will keep moving on pretty much like it always has.
Will Covid-19 really be the thing that brings us down? Will the nation devolve into chaos? I'd like to say no with firm conviction. After all, there have been close calls before. But the rational part of me won't allow that firm conviction, despite the part that says, don't be silly, everything will be just fine after a brief blip.
I believe it's okay to feel this way as long as you don't allow it to get in the way of your preparations or of your acceptance of the disaster when it actually unfolds in all its shocking reality.
Maybe I'm oversharing here and a whole bunch of folks will unsubscribe. I don't know. But if others are feeling the same way, I want you to know that you aren't alone.
Instincts vs. Normalcy Bias
I think people have come down on one of two sides since the Covid-19 virus first came onto our radar back in late December or early January. Some people have thought, "This is the next plague" while others have thought, "So what? The flu is more deadly." Now that we're down to the wire, we'll soon find out which line of thinking was the most accurate.
A lot of this goes down to a decision. Are you going to believe your gut or are you going to believe the logical normalcy bias that tells you this isn't how things go in the United States of America?
My gut has been telling me since mid-January that this thing is a major event. After all, would China have tanked its economy and locked down a city of 20 million people, welding their doors closed in many cases, if this novel coronavirus was no big deal? Would Italy have locked down their entire country and begun turning away patients over the age of 65 to funnel resources to those more likely to survive if this was just another common, everyday flu?
But the logical side of me says, "This is the US. We will be just fine." Because we've always been just fine in my lifetime. We were bruised and shaken, but bounced back with fierce resolve on 9/11. We were fine when Ebola reached our shores back in 2014. We recovered after Hurricane Katrina and Superstorm Sandy and all the other named storms that have hit. We're Americans. We are resilient. It's who we are.
However, our resilience may not be enough to conquer a crisis that was badly mishandled from the get-go. It may not be enough to overcome less than a million hospital beds in a country with more than 327 million people. The enemy is a virus we know hardly anything about and we can't even believe the numbers out there from China or our own government.
People are getting tense.
This afternoon when I heard there was a press conference in the Rose Garden at 3 pm, I had a bad feeling. I wondered if my calculations were off when I figured that we could begin to see major quarantines in about a week. I headed to the store with my 19-year-old daughter to get there ahead of the crowds that would certainly be imminent if such an announcement was made. We picked up extra cat litter, extra pet food, some hardware, and extra frozen vegetables.
When I went to the grocery store, I saw that frozen veggies were on sale 10 for $10. I grabbed 10 bags of frozen spinach and saw a rotund angry-looking woman glaring at me. I gave her a "what?" look and she said, "Aren't you going to leave any for other people?"
I said politely, "I'm sorry. Did you want some of the spinach?" I picked up 3 bags from my cart and offered them to her.
She said, "No, I don't want any spinach. A$$hole."
I replied calmly, "Okay, well, have a nice day" and left with my spinach. I wasn't about to get into an altercation at Kroger over a one-dollar bag of spinach the other woman didn't even want. It looks like that de-escalation course I took paid off because my first instinct was not to be pleasant and disregard her insults.
I saw the tension on people's faces as they pushed their carts quickly up and down the aisles, the tunnel vision obvious. If someone stopped in an aisle – a common thing to do at the grocery store – the folks behind them would give a loud sigh of annoyance. I even saw a couple of people bumping into others with their carts – whether it was carelessness or deliberately done, I couldn't tell.
I left the store with my purchases, happy to get out of there and content with what I had. I know that I'm as well-stocked as I can get with the money that I have. If it's not enough, then we'll move through plans B, C, and the rest of the alphabet.
The official response
I can't be the only person who finds the official response to be much too little, far too late.
To be perfectly clear, I don't really blame the President or the Vice President. They're in a rather impossible situation in which no matter what they do, the outcome is bad. If they shut everything down completely, there would be panic the likes of which we've never seen. And the economic fallout would be exponentially worse than it already is.
This also impairs their ability to be totally forthcoming. While people in the preparedness community would prefer brutal facts over soothing fiction, most people really don't want to know how bad things are or how bad they'll become. So the government will continue to dance around the subject until they can dance no more and we reach a point where the truth is obvious to even the most obvious clinger to normalcy.
On the other hand, the press conference at the White House left me feeling even more uneasy than I had felt before.
Parading a bunch of CEOs before us and showing that ridiculous flow chart that looked like something a 4th grader might hand in for a school project certainly did nothing to make me feel like things were "under control." I don't care at all what the head of CVS pharmacies thinks about the outbreak or his ability to keep stores running.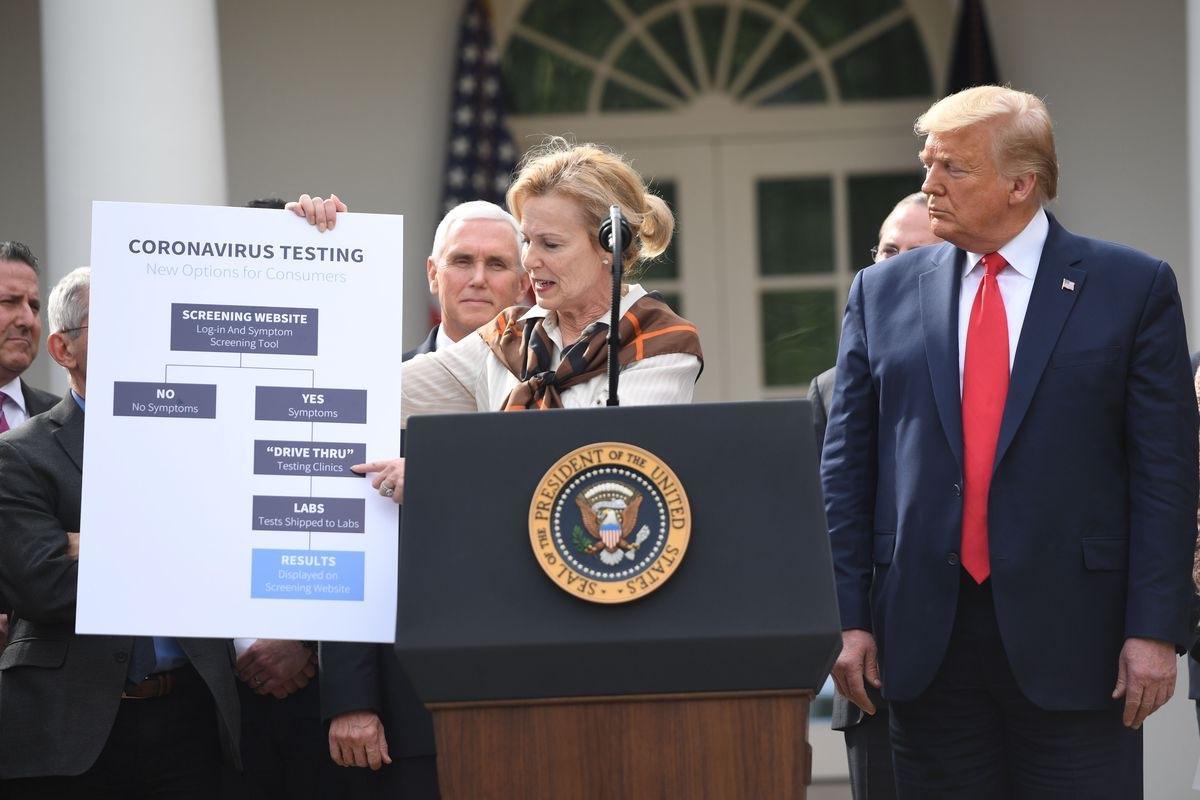 In fact, the main thing I gathered from that is that CVS, Walmart, and Target will be the distribution points that remain open during the crisis. Mom and Pop stores may not have access to warehouses or supplies. This way it will be easier for the government to ration things out and enforce rules like "one bag of rice per household" should it come to that. I actually posted an article about this topic a few months back.
I thought that President Trump looked and sounded unwell during the press conference. Whether that is the effect of stress or he's become ill, it's impossible to say.
All in all, I was not reassured by anything in that press conference.
What is exponential growth?
Rationally, I'm aware that with the increase in confirmed cases and the exponential spread of this virus, we've probably passed the point of no return. The New York Times explains exponential growth with this chart. These are the number of cases confirmed on certain dates.
Jan. 21 — 1
Jan. 28 — 5
Feb. 4 — 11
Feb. 11 — 14
Feb. 18 — 25
Feb. 25 — 59
Mar. 3 — 125
Mar. 10 — 1,004
And on the morning of March 14, we're up to 2175 cases. As the "drive-through" testing facilities open up with free tests, we can expect that number to grow quite a lot.
The magnitude of the outbreak creeps up on you; it doesn't look like things are growing very much, and then suddenly they are. Today, the U.S. is up to at least 1,714 known cases and we're only a couple of days on from when it was 1,004. It's going to be 4,000 by Monday, and then it's going to be 8,000 by next Wednesday, and then it's…. Exponential growth is staggering when it takes over.

Exponential growth is a classic pattern in which numbers stay small initially, but then you end up with very large numbers very quickly. If you start with a certain number, and then multiply that number by a growth factor every day, depending on what that growth rate is, you'll see the cumulative number doubling over a certain time period.

What really matters is how high that growth rate is. In the U.S. right now, according to Our World in Data, confirmed Covid-19 cases are increasing by about 30 to 40 percent per day and the total number is doubling about every two days. (source)
This is exactly the situation that China, Italy, Iran, and all the other countries with massive outbreaks have found themselves in and the United States is probably next.
Is the SHTF really happening?
We are still at a stage in a shell game and nobody knows which shell the SHTF is hiding under. Nobody knows if we can reel things in and gain control of the situation. Nobody knows if we're going to go the way of Italy, where an entire nation is locked down and singing from their balconies to raise morale in a desperate situation.
I wonder if people who have lived through horrible situations ever imagined in their wildest dreams how bad things would get. I know that in Selco's book, SHTF Survival Stories, he wrote about this. Nobody ever truly expected things to happen the way they did. There was a period of adjustment and all the rules changed but a lot of folks didn't accept the changes soon enough and they did not survive.
When I silence the part of my mind that says, this can't be happening, I'm only left with the realistic part that says, "Yes. It is."
While we don't 100% know how this pandemic will play out in our country, we have to be ready for things to go badly. In her book, The Covid-19 Survival Manual, Cat Ellis talked about the inability of our hospitals to handle thousands of patients. We have less than a million beds in a country of 327 million people. And most of those beds are not in places equipped to handle highly contagious sick people. And what about the people with other health issues? Our medical system won't be able to handle exponential growth no matter how hard they try or how much they want to help.
When I look at how grocery stores and discount stores across the country look like a horde of locusts went through and decimated the inventory, I know this is a bad sign. When a friend who manages a large grocery store says to me, "Our truck was only half full today. If buying and inventory continue like this, we will be out of food by Monday," I can only imagine the havoc that stores out of food will wreak.
It's going to be like Black Friday times a thousand, something I've written about for years.
This entire thing is surreal, isn't it?
If I've written about and prepared for the SHTF for years and am having trouble wrapping my head around the fact that we're in the early stages of it, what must it feel like for someone who is brand new to the concept?
It's one thing to watch it happen someplace far away from the screen of our laptops or televisions but entirely another to watch it unfold at home. However, we have to accept it and we have to act quickly and decisively. One of the most important things I've learned from Selco is about accepting the new rules.
One of the most important things he taught me is to adapt quickly (immediately) to the "new rules" that apply when the SHTF. And to do that, you need to know what it's like so you won't be shocked…frozen…paralyzed by the things taking place right in front of you. When there is a new set of rules, the old rules no longer apply. The rules about waiting patiently for the government to save you? The rules about how people won't walk up and steal from you in broad daylight because they'll be arrested? The rules that you will get paid for your work and then you can go to the store and buy what you need?
Those rules will be gone. And when you start seeing these new rules appear you will know that the sh*t has hit the oscillating device and the world as you knew it has changed.
I know this and yet I still think (hope) in one part of my mind that it won't happen that way here. That's the most dangerous misconception in survival.
The other part of my mind knows that it could. And that's the part which propels me through getting prepared despite what the doubtful side whispers.
It's not just you.
So if you've found yourself not quite believing what you're seeing, not quite believing that all hell could break loose in America at any point now, you aren't alone. If you look at everything heading to hell on a greasy slide and think it doesn't feel real, it's not just you. I'm feeling that way myself.
I'm sharing this because I bet a lot of people are feeling the same way. Second-guessing themselves. Doubting themselves. Feeling like they aren't good preppers. You aren't alone and I'll bet a whole lot of folks who won't admit it feel this way too.
We don't believe it because we don't want to believe it. We never actually wanted to be right when we stockpiled and learned skills and bought more supplies that we actually had room to house.
But the thing that puts us ahead in this situation is that we prepared anyway. We learned anyway. And when we see the more obvious signs of a societal breakdown we will be able to accept it a lot faster than those who never even considered it.
About Daisy
Daisy Luther writes about current events, preparedness, frugality, voluntaryism, and the pursuit of liberty on her website, The Organic Prepper. She is widely republished across alternative media and she curates all the most important news links on her aggregate site, PreppersDailyNews.com. Daisy is the best-selling author of 4 books and runs a small digital publishing company. You can find her on Facebook, Pinterest, and Twitter.