(Psst: The FTC wants me to remind you that this website contains affiliate links. That means if you make a purchase from a link you click on, I might receive a small commission. This does not increase the price you'll pay for that item nor does it decrease the awesomeness of the item. ~ Daisy)
If you're prepping on a budget and want to get into shortwave but don't have $500 to drop on a fancier unit, you may have ended up with a Retekess V115 in your preps. I learned about these from a friend a while back and picked one up not long afterwards.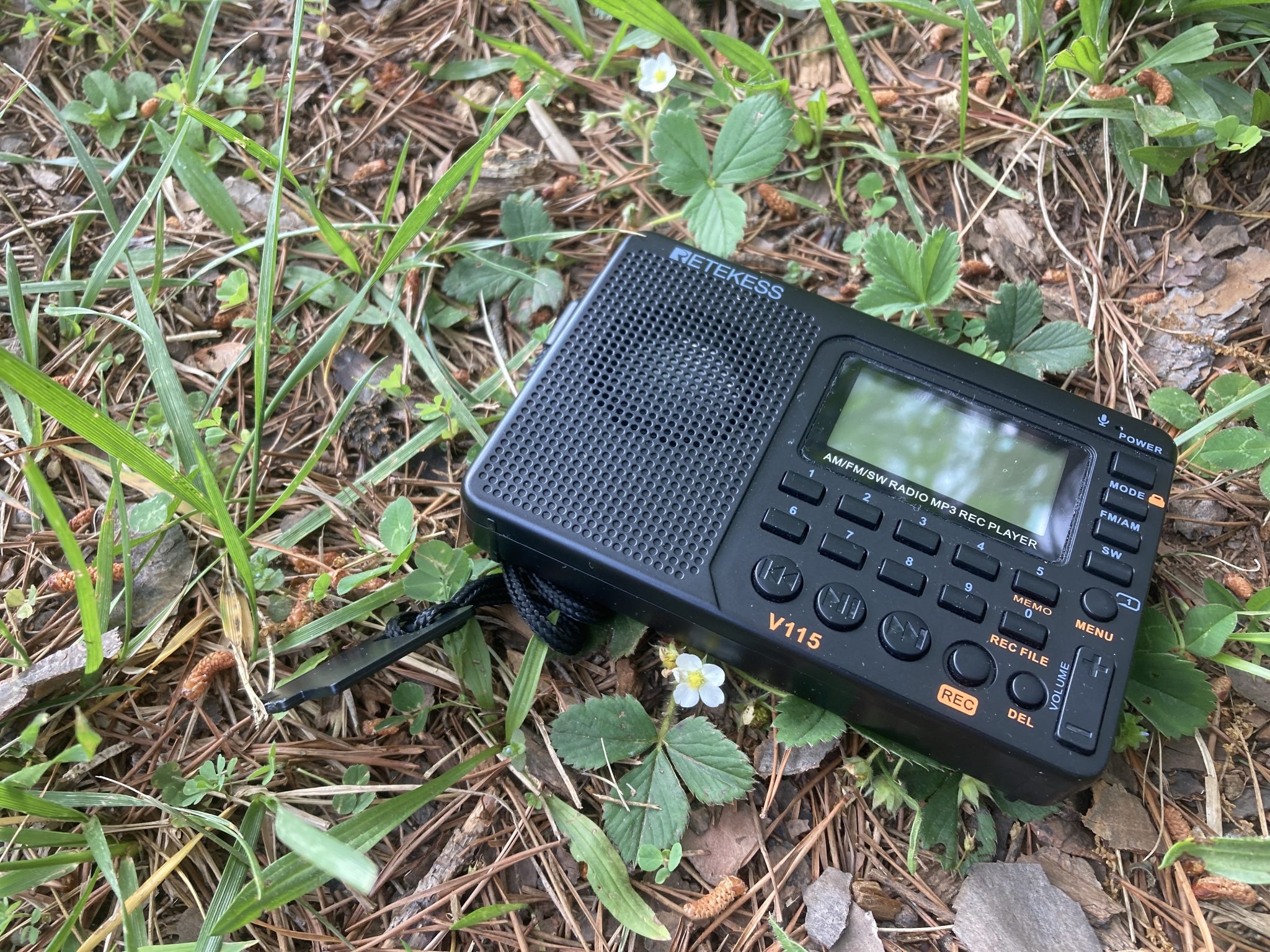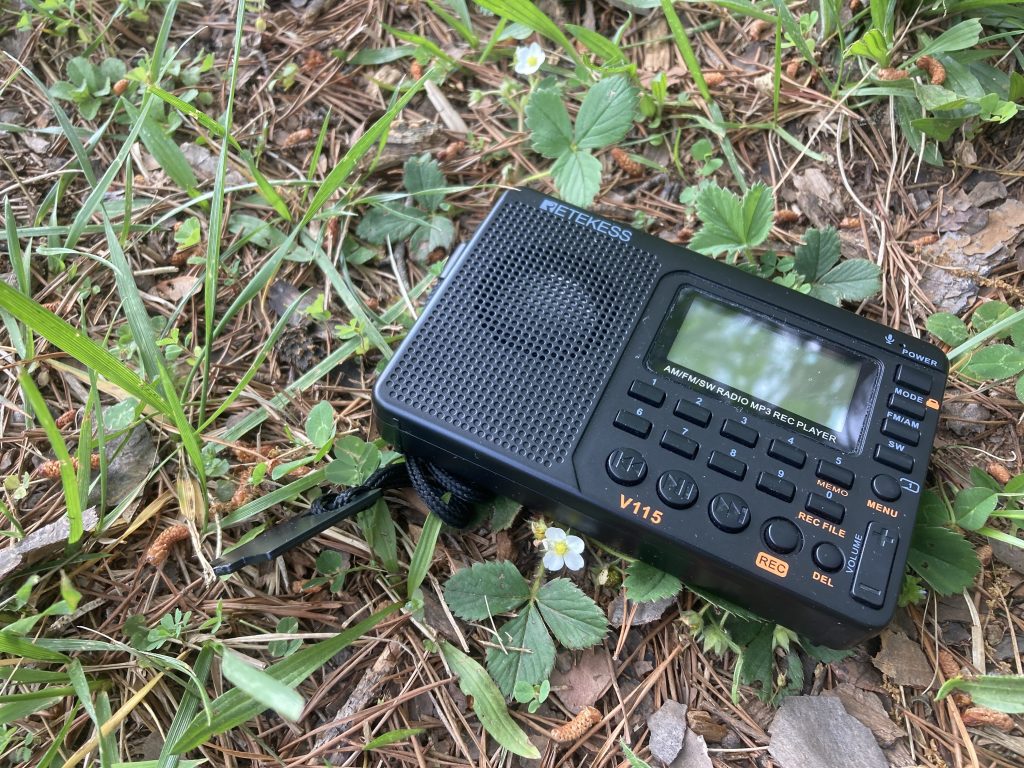 For $25, they're hard to beat. You can easily throw one in each of your vehicles, toss one in a bug-out bag, and keep one in your desk drawer at work. They don't take up much space at all, are lightweight, and can easily fit into a pocket.
They're not the strongest shortwave radios out there, but, again, they're $25. Like the Baofeng UV-5R, this is an inexpensive tool, but it still can be a very valuable tool. We've briefly mentioned this a bit in the past here at The Organic Prepper, but I've found that radio tends to be intimidating for a lot of people.
To make the process for you as simple as possible, I've written a real simple how-to guide for you with what you actually need to know about the Retekess V115 – just the essentials. No fluff.
How to listen to shortwave on your V115
The first thing I'm going to show you is how to switch modes from AM, FM, and shortwave (SW). You can listen to all three of those parts of the radio spectrum with the V115, and each of them has its benefits and uses. Seeing this is a shortwave receiver, though, that's probably what you're predominantly going to be interested in, however.
All you have to do to switch to shortwave mode is to hit the 'SW' button on the right edge of your radio. When you do, you'll see 'SW1' pop up in the upper lefthand corner of the screen. Keep on hitting the 'SW' button, and you'll cycle through SW1, SW2, SW3 – all the way to SW9. These are just fast ways to scroll through a really wide range of the radio spectrum.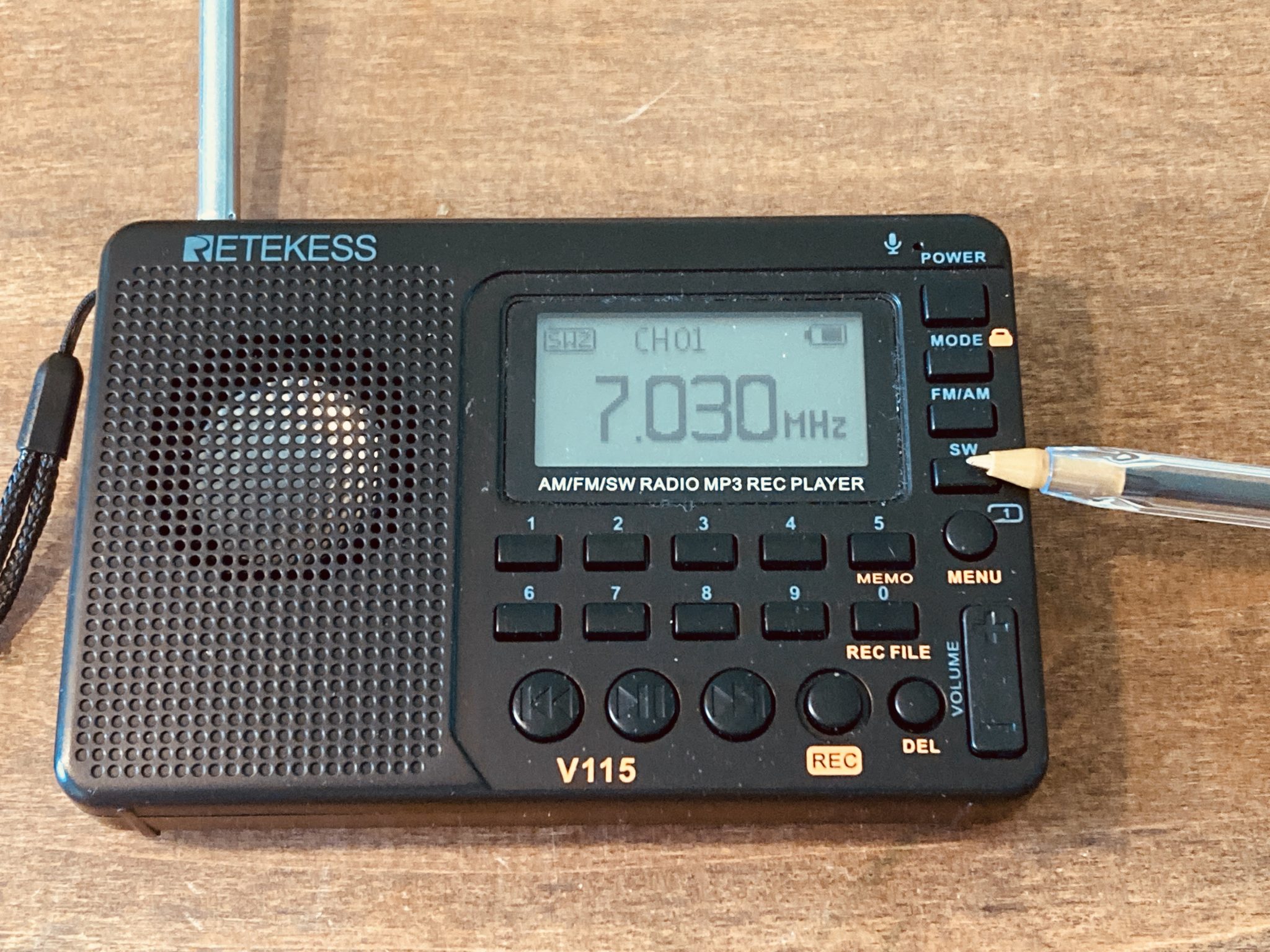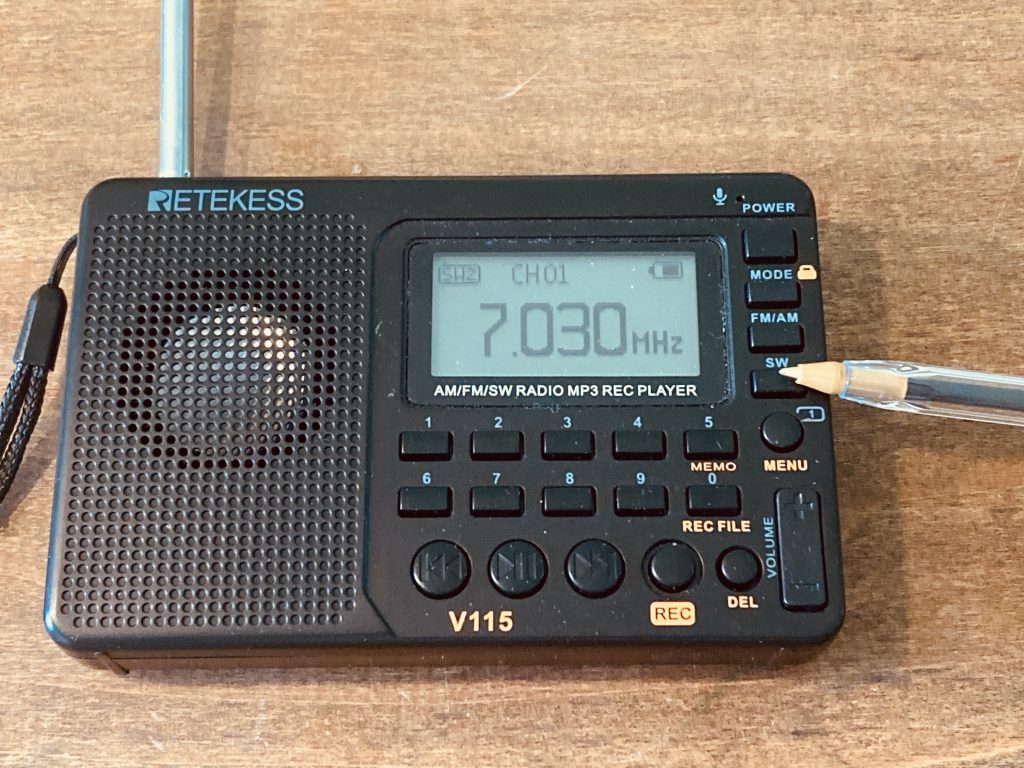 Shortwave is from 3-30MHz. That takes a long time to scan through.
SW1 is 4.750MHz, SW2 is 5.950MHz, SW3 is 7.100MHz, and so on. At the tail end is SW9 at 21.45MHz. If my radio is currently set at 5.000MHz, but I want to scan around 20.000MHz, pressing the fast forward buttons a few times until I get to SW9 is a really quick and easy way to get to that part of the radio spectrum.
(For more information on emergency evacuations, check out our free QUICKSTART Guide.)
How to store a frequency that you like on the Retekess V115
Let's say I'm going backpacking and am taking my V1115 with me. I want to program a few frequencies into my radio before I go, though. That way, I don't have to waste time scanning through fuzz late at night in my tent. I also don't want to be completely unconnected about current events, considering there's a war going on.
So, I want to save four Voice of America frequencies in my V115 – 6.030, 6.160, 9.760, and 11.930MHz.
How do I do this?
First, type in 6030 and hit the play button.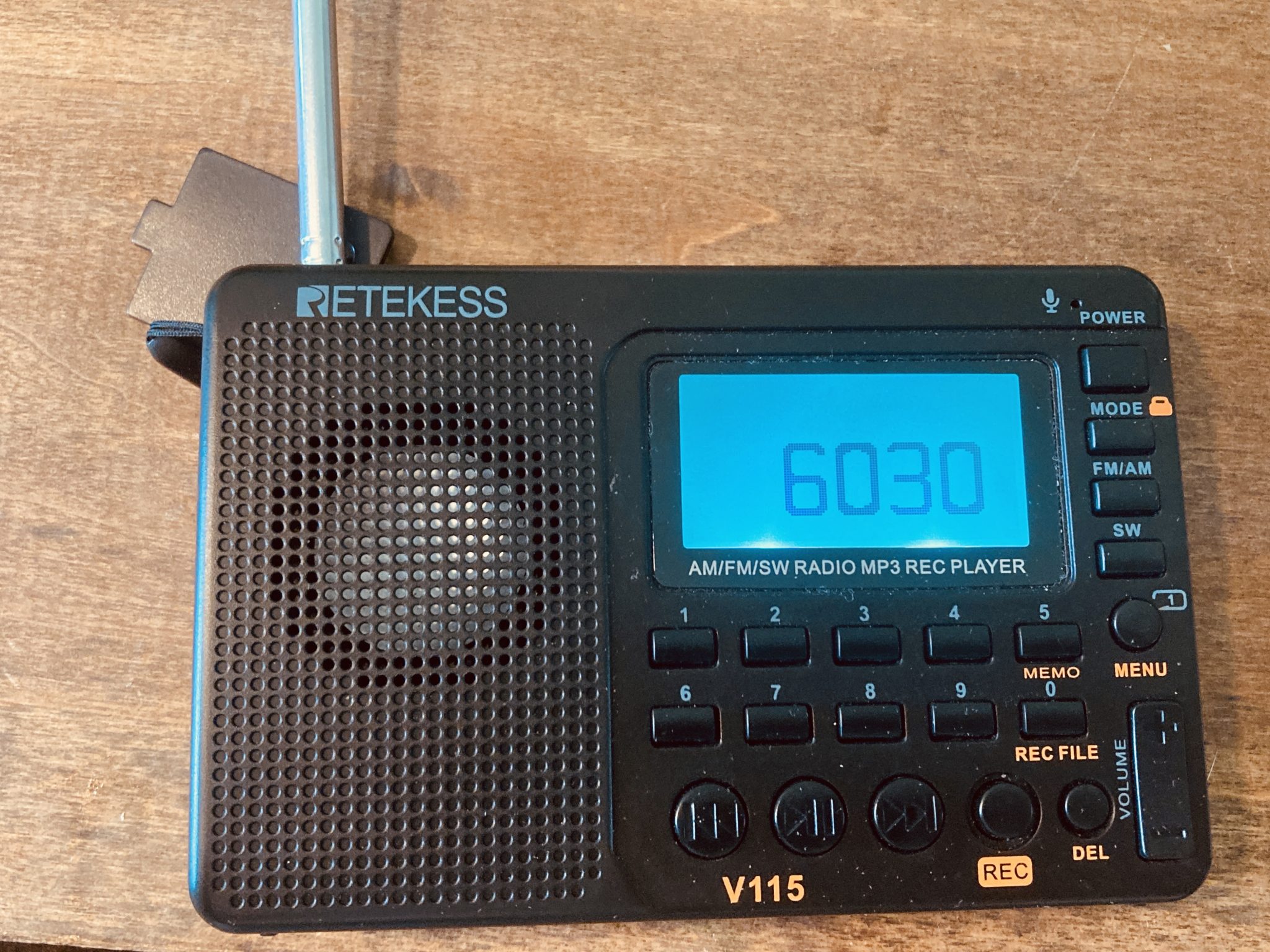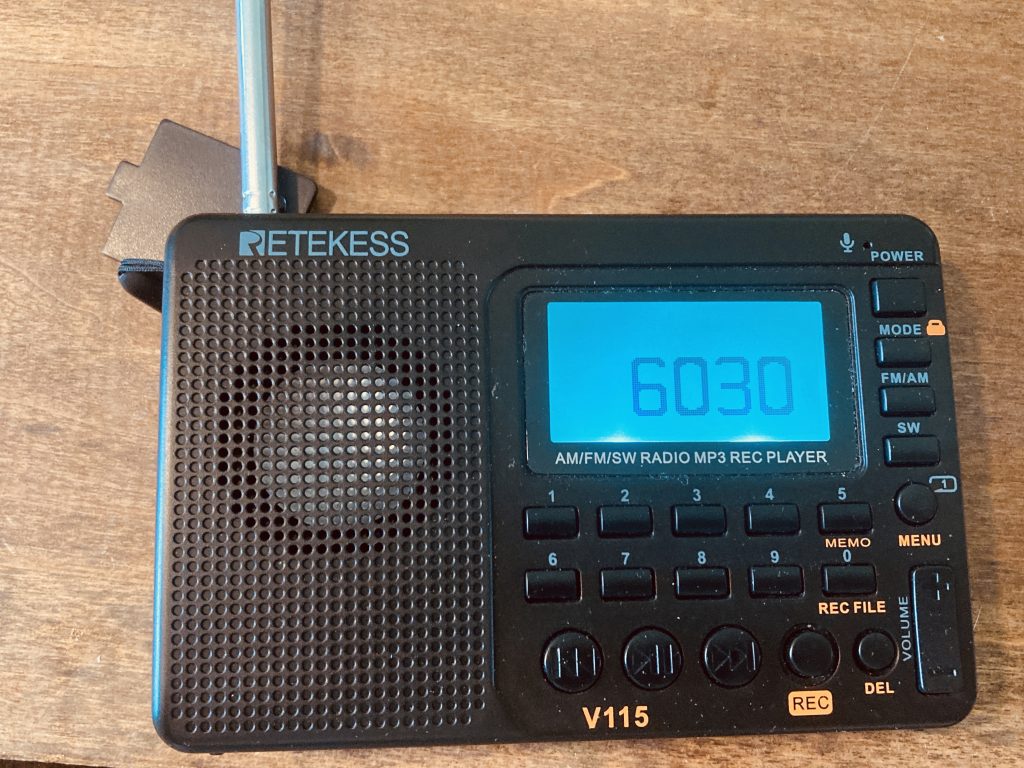 This will take you to 6.030MHz. Now, hold the '5' button. This will cause 'CH00' to blink at the top of the screen. I want this to be channel #1, so I press '1'. I then hit the play button to confirm my choice. The radio will ask me if this is a frequency I want to save. I do, so I hit the play button once more.
I've just saved 6.030MHz as Channel 1 in my radio now.  
How to scroll through your saved frequencies
At the bottom of your radio are a rewind and a fast-forward button. Simply pressing either of those buttons will cause you to go from Channel 1 to whatever channel you want. This makes for a quick means to cycle through frequencies you regularly like listening to.
Let's say I really like listening to Voice of America, am about to go on a long trip, and don't want to worry about which frequency I'll be able to pick it up on at my end destination. You can simply program them all in there and then scroll through them with this feature.
How to type in a frequency
Let's say I really want to hear Radio Norway International to see what's the status of various NATO drills in the country. I know that they normally broadcast on 7.485MHz. I hit '7', '4', '8', '5' into the radio and then hit the play button at the bottom edge of the radio.
That'll take me directly to 7.485MHz, and I can then listen to the broadcast I was looking for.
How to scan 
Just wanting to see what you can find? All you have to do is hold the play button along the bottom edge of your radio for about a second. The V115 will begin scanning, stopping for a second each time it picks up a broadcast.
If you want to scan in a particular direction (let's say I'm listening to China Radio International at 9.855MHz to hear updates on the Shanghai lockdown and want to scan down towards 6.000MHz to see what else I can find), then all you have to do is hold the reverse button at the bottom of the radio.
Hold the fast forward button to scan the other direction on the radio spectrum.
There are other cool features about the Retekess V115 as well. 
You can actually use it as an MP3 player if you have music stored on a TF card and can apparently record with this radio as well. I don't have a TF card, so I can't really speak to how effective the V115 is for either of these functions, though.
That all being said, this is a really cool radio for the price, and I highly recommend it. There's a lot of information floating out there on the radio waves, and the V115 is an easy way to grab some of it.
Perchance you end up in a world where you're looking for media from a different country or can no longer access the internet, shortwave is a good alternative to turn to. There are most certainly better shortwave receivers out there, but for the price, I'm a fan of this one.
(This is all the more reason to check out our paid subscription newsletter so that you always have access, as well.)
What are your thoughts? Have you used a V115? Are there other pocket-sized shortwave receivers you enjoy? Let us know in the comments below. And, if you like the way I explain radio stuff, check out my book The Prepper's Guide to Post-Disaster Communications. If I could've figured out a way to explain radio concepts with puppets I would've done it, but you'll have to settle for my cartoons instead.

About Aden
Aden Tate is a regular contributor to TheOrganicPrepper.com and TheFrugalite.com. Aden runs a micro-farm where he raises dairy goats, a pig, honeybees, meat chickens, laying chickens, tomatoes, mushrooms, and greens. Aden has three published books, The Faithful Prepper,  The Prepper's Guide to Post-Disaster Communications, and Zombie Choices. You can find his podcast The Last American on Preppers' Broadcasting Network.