(Psst: The FTC wants me to remind you that this website contains affiliate links. That means if you make a purchase from a link you click on, I might receive a small commission. This does not increase the price you'll pay for that item nor does it decrease the awesomeness of the item. ~ Daisy)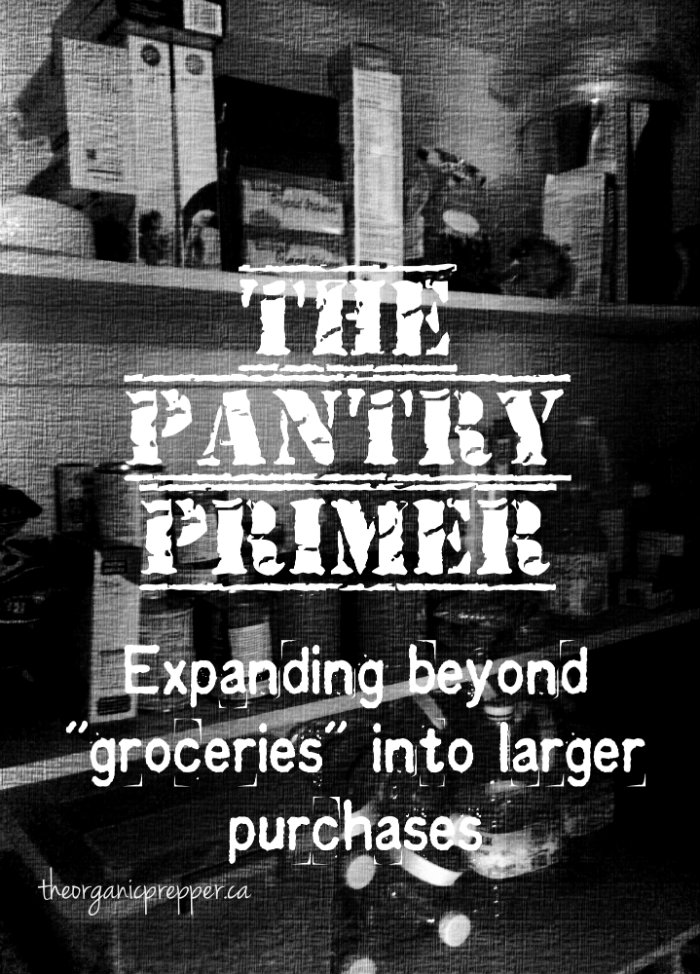 This week, I've expanded beyond "groceries" – the week to week purchases that are made with meals in mind – and made some bulk purchases that have substantially added to my food supply.  Because the last week's shopping left some food for this week's eating, I was able to focus more on storage food and basics than on items for immediate consumption. 65 pounds of fruit purchased from a local orchard have provided a great bounty for canning and some sale meat purchases have filled my freezer.
When I received an unexpected $50 this week, I was delighted to put it right into building my food pantry.  This little windfall allowed me to make some purchases that would not have been in the budget otherwise. I was also able to supplement my grocery budget by attending a garden swap and exchanging some home canned goods for lovely excess produce grown by local vegetable gardeners.
This week's purchases:
50 pounds of local pears $13
15 pounds of local peaches $8
zucchini, jalapenos, tomatoes, and cucumbers (barter)
20 pounds of sugar $11.98
baking soda $0.54 (2 boxes)
Annie's Organic canned ravioli $1 (5 cans)
White vinegar $2.59
Soy sauce $1.97
Balsamic vinegar $1.99
10 pounds of potatoes $1.99
Organic animal crackers $1.99 (2 bags)
Bananas $1.99
9 pounds of pinto beans $3.27
4 gallons of spring water $3.56
Whole wheat pasta $0.99 (3 bags)
Cabbage $1.29
4 pounds of cheddar cheese $8.98
Pasta $0.69 (2 bags)
1 lb bags of brown rice $0.69  (3 bags)
2 lb of split peas $0.79 (2 bags)
3 lb bag of frozen organic mixed veggies $3.48
3 lbs of hormone free medium ground beef $7.99
Bell pepper $0.99
3 heads of garlic $0.99
6 pounds of bone-in chicken breasts (natural fed) $14.47
Baking powder $0.99
Assorted spices $7
10 lbs of yellow onions $1.99
1 gallon of organic milk $7.99
This week's total: $127.57
Shopping notes:

*The ability to barter and attend the garden swap greatly enhanced my shopping this week.  I swapped 4 jars of home canned goodies and $11 and got tomatoes, cucumbers, peaches, jalapenos, squash, and eggplant.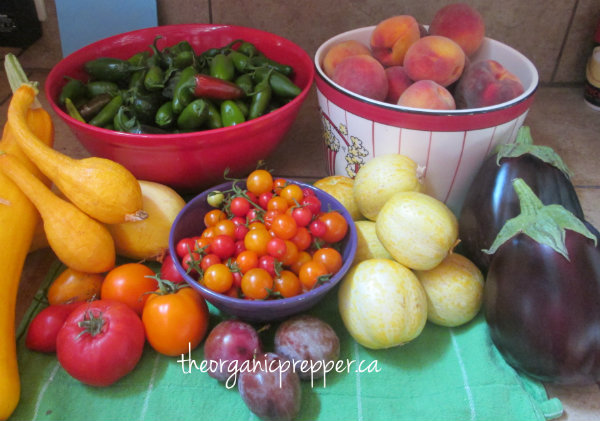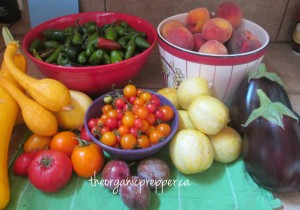 *Because I got a little extra money, I was able to take advantage of canning specials at the local orchard, netting me 75 pounds of fruit for less than $20.
*I did a great deal of canning this week, which netted me numerous meals in jars, loads of jam, and some lovely condiments – I now have 43 jars of food put up.
*I now have plenty of carbohydrate bases that stretch meals: potatoes, rice, couscous, and pasta.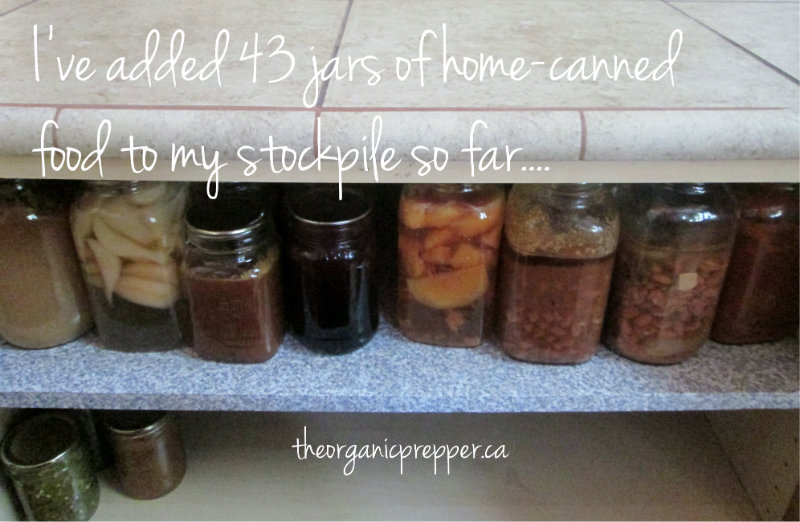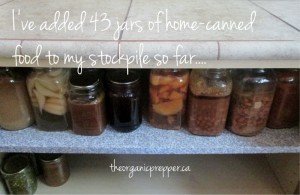 Stockpile Summary
At the end of our second week, we now have just over a 1 month food supply, including (approximately)
20 pounds of meat in the freezer or jars

8 packages of pasta

10 pounds of brown rice

30 pounds of dried beans (some have been canned already)

20 pounds of sugar

11 pints of homemade jam

10 pounds of flour

50 pounds of fruit
GRAND TOTAL:  $263.55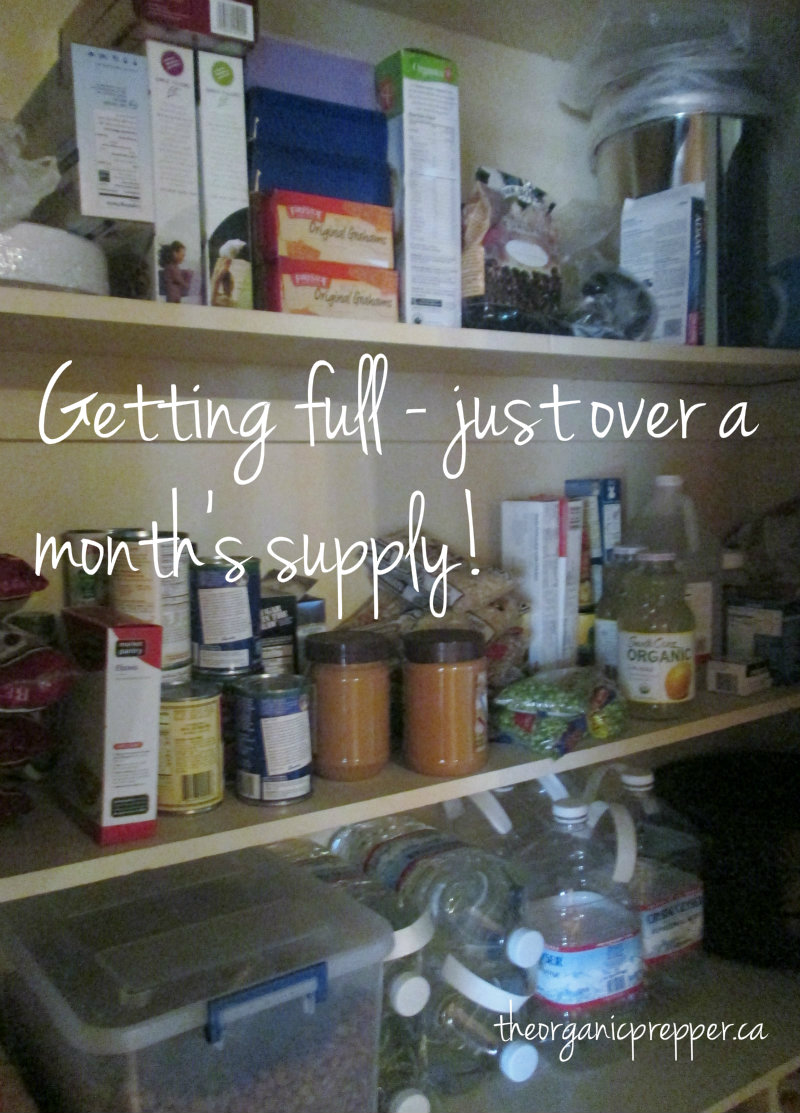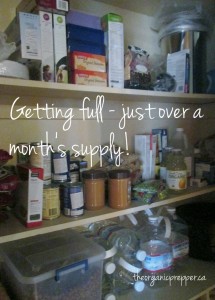 In case you missed them, here are the other articles in this series:
The Pantry Primer: How to Build a One Year Food Supply in Three Months
The Pantry Primer: Grocery Outlet Victory
The Pantry Primer: Meal Planning While You're Building Your Stockpile
The Pantry Primer: Getting Started
The Pantry Primer: Building Your Pantry on a Budget with Home Canning