(Psst: The FTC wants me to remind you that this website contains affiliate links. That means if you make a purchase from a link you click on, I might receive a small commission. This does not increase the price you'll pay for that item nor does it decrease the awesomeness of the item. ~ Daisy)
By now, you have probably seen the articles in the mainstream media about schoolchildren in Venezuela fainting at school because of the lack of food. The lack of food is only the tip of the iceberg. The starvation of our children is about much more than that.
Consequences of an unexpected situation are, in the best of situations, serious. In our case in Venezuela, these have been devastating for the most vulnerable people, children and elders.
By unexpected I don't mean this was sudden. On the contrary, I am firmly convinced, this was engineered and have mentioned it earlier. The reasons for this, I've tried to unmask it in previous articles, and the evidence I've collected will be released in the future.
The effects of food deprivation
Back on topic, this food deprivation has inherently generated the desired effect, though.
It has been inaccurately attacked. Regular living conditions can´t be sustained if you don´t have proper food, and please excuse my redundancy. Mental effort without food, will be largely detrimental for students in the long run. Find a good source of quality food, and then studies can start over again.
It could have been enstated 3 days week classes (some of this was done, but without any other means to cope with the hyperinflation people just stop assisting, teachers and kids), and some self-teaching assistance, but the will was just not there. They, the ruling mafia, need generations of weak, mentally inferior citizens. This started already in 2014. The plan has been running for 5 years now. Unless it´s stopped somehow…our future is gloomy.
Note from Daisy: And think about the control – what parent wouldn't do anything asked of them to get food for their children who are literally fainting from hunger? As Henry Kissinger said, "Who controls the food supply controls the people."
One of the ways to fight these horrendous consequences and avoid school children starving in the classroom is to instruct the community surrounding you, so they don't wait for so long.
People wait too long to take action.
One of the most shocking things I learned about this, was that parents were sending their kids to school without any food, because they were ashamed to NOT send him or her…because then everyone would know they had nothing to eat. I believe we have to agree on this: once you don´t have anything to feed your children for breakfast before going to school…it´s already too late. Those children were (are) already doomed to starvation and malnourishment.
The same thing happened in Argentina. People just remained and stood still in the cities, waiting. Assistance was not sufficient. Entire families committed suicide according to someone I know very well, and this person was actually there those years. The sudden financial decisions of the government to devaluate their currency (sounds painfully familiar to me) wiped out years of savings and left everyone almost in bankruptcy and homelessness.
I asked recently a cousin of mine why she was still there in the city, as she has other relatives in a small countryside town far away, and she told that life there was even harder. I told her that maybe at the beginning, but if there were products to eat and clean water for a bath, it would be much better than the city. But if people believe that they are going to make a career there, of course, they will have a rough time.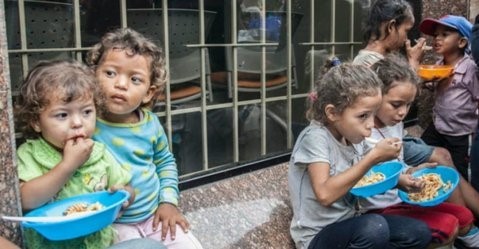 Kids are fed in a charity. Photo by www.tenemosnoticias.com
Children cannot be sent out like this.
For years, I´ve been reading about kids in high school and lower grades going to class without breakfast, many times without their dinner of the previous night. This is, first of all, highly risky. People just can´t walk on the streets starving. If there is nothing left to eat, it´s too late, fellows.
Don't misunderstand me, please. I´m not judging their parents. I know how hard some people have it. I´ve seen it too close for my liking. And I´ve experienced my own quota.
But, under the present circumstances, and I say this with entire responsibility, attending class is NOT a priority. Not at a school, at least. Although our educational system does not allow homeschooling as I´ve mentioned already, some arrangements could have been made to avoid kids going to class under these circumstances. This is extreme, and it could result in harmful situations for the youngsters. A proper approach would have been to get kids organized and provide them with high carbohydrates meals, twice a day. Block by block. Somehow could be done, surely. Fruit donations, some churches offering assistance, or an ONG to try to mitigate the impact of the collapse.
Afterward, they could attend class. I just can´t see another way. It´s impossible to pay attention to a math class or English class, with an empty belly. I know. I almost vanished once in an exam because I overslept, arrived late without having any breakfast. I never did it again. That was the beginning of my granola addiction. Skipping lunch? No problem. In my bag (I had a 1967 USMC nylon fanny pack to carry my stuff BTW…and those were the 90s, go figure. I'm still considered a bit eccentric by those who know me from those years) there was usually a half kilo in one pocket and some yogurt.
Knowledge is power.
We all have heard that. But too few people really look for knowledge. Some people look for power, but that's another story. Just let's imagine that, in a hypothetical scenario, in a small semi-rural town, the economic crisis has hit, as in the big cities.
Swarms of people started to leave cities just as it happened in Venezuela. Of course, most of the people who left were those wealthy enough to migrate. Those who stood have other means to survive had no economic problems at all.
Incredibly, I've heard stories about Peruvians and Colombians thriving with their own businesses. And this is in my own hometown, not anonymous tales. Buying cars, buying houses and business from people fleeing away. Just as one of the Rothschilds wrote hundreds of years once: "the buying moment is when there is blood on the streets". This is what has made me think about. Most of the teachers assist because of their vocation, but they really have some other activity to earn some money. Just like Cubans, only that much worst.
Don't wait for too long before executing your plan.
The second thing to do to mitigate the impact of a collapse on children is to take action quickly.
I can't avoid mentioning important facts from recent history. The same year the collapse started to get worse, prosecuting what they called "hoarders" (and yes, some of them were trading food in the black market, but I always believed it was a conspiracy to take over the food processing factories all over the country, time proved me right), the official stats about education just was dismissed. They haven't published anything in 5 years. A total informative blackout. Of course, it's not a democracy and we all know that.
Some MS media still write about "recession" originated by "erroneous and inopportune policies". I am a Venezuelan who WAS THERE, and a decently literate one, and I say BULL***.
This is totally artificial and engineered. This is the merciless communist leadership abroad, devastating a country to take it over. There are half a million teachers less. That is perfect. Teachers are the deadly enemies of empty brains holding guns. Literate people will fight for their freedom. The other ones won't even know they're not free.
Of course this is regarding public schools. Private schools are animals of a different fur, and some are still sort of dealing with everything.
And indeed, many children whose parents just can't afford to leave the country have left school to join them and help in the daily chores to make a living in the coastal regions and the immense flatlands where cattle are part of the daily subsistence. It's hard to go to school when you can't afford even the bus.
My perception is, too many parents just waited for too long, and they were not aware they had to look for alternate means to secure some food supply (alternate activity, etc.) and the wrecking train just ran them over and crushed them, family and all. They still thought about "OMG what a terrible government"…believing such respectable word could be applied to a gang.
Situational awareness is key.
Here is where the proverbial situational awareness comes into play.
Mankind has always enjoyed a good degree of intuition in our natural environment. However, city life and comfort has softened us and that intuition is highly diminished nowadays. We can't sniff out hazards as we were once able to. Our survival instinct is practically gone in many cases.
OK, this is a world that is changing much faster than before and with plenty of different variables in the game, but we're talking about intuition…a bad feeling. Not running a simulation, and analyzing with a supercomputer all the possible scenarios and coming out with a statistic sets of graphs on a screen. Experience is the only true unique measurement you will have to decide, most of the time.
Those who want to bug out? Do it, but just make sure you have A SAFE PLACE with everything you and your companions could need to cover ALL of your basic needs for a long stay. Bugging out sucks, especially if you have been dragged by someone else out of the location you had intended to go in the first place. Lack of awareness (or excess of paranoia, maybe even fear) causes you to make bad decisions.
Perhaps you will only realize once it's too late.
I have a bad feeling about South America.
I write this with a hand on the heart. After the Chile and Colombia recent events, I have a very bad feeling. Chile is one of the most rock-solid democracies, and one of the strongest economies in South America. In the location I am, there have been plenty of threats against Venezuelans. That has made me be very aware as you have probably noticed already. With a different family situation, I would have already taken action.
This time, I'm not waiting for too long.
As you can imagine, this writer's life is going to get much more worthy to read about in the next months.
Be safe, stay tuned, and thanks for your support and encouragement.
About Jose
Jose is an upper middle class professional. He is a former worker of the oil state company with a Bachelor's degree from one of the best national Universities. He has a small 4 members family, plus two cats and a dog. An old but in good shape SUV, a good 150 square meters house in a nice neighborhood, in a small but (formerly) prosperous city with two middle size malls. Jose is a prepper and shares his eyewitness accounts and survival stories from the collapse of his beloved Venezuela. Thanks to your help Jose has gotten his family out of Venezuela. They are currently setting up a new life in another country. Follow Jose on YouTube and gain access to his exclusive content on Patreon. Donations: paypal.me/JoseM151