Pleasantly Pickled Red Onions
You know how you have to get that stinky onion smell on your fingers every time you slice up onions for a sandwich or a cheeseburger?  If you have Pleasantly Pickled Red Onions in the fridge, your stinky finger problems are over!!!!

This is a very quick-n-easy canning project – quite literally less than 20 minutes of hands-on time, as well as a quick processing time.
Ingredients
2 cups of red wine vinegar
2 cloves of garlic, smashed
1 whole clove
1/2 cup of brown sugar
5 cups of thinly sliced rings of red onion
Directions
In a saucepan, bring vinegar, garlic, clove and brown sugar to a boil then immediately reduce heat and simmer for 5 minutes.

Dip out the large pieces of garlic and discard.

Stir the onions into the pot and return to a boil, stirring constantly. 

                                                                  

Reduce heat and simmer until the onions are soft (about 5 minutes).                                                          

Ladle the onions into sanitized pint jars and disperse liquid evenly throughout the jars, making sure to allow  ½ inch of headspace.
Lid the jars and process them in a water bath canner for 10 minutes, adjusting for altitude.
You will end up with a lovely pink-colored jar of stinky-finger salvation!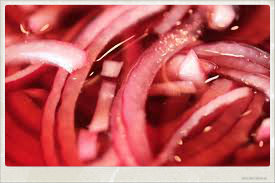 About the Author
Please feel free to share any information from this site in part or in full, leaving all links intact, giving credit to the author and including a link to this website and the following bio. Daisy is a coffee-swigging, gun-toting, homeschooling blogger who writes about current events, preparedness, frugality, and the pursuit of liberty on her website, The Organic Prepper. Daisy is the publisher of The Cheapskate's Guide to the Galaxy, a monthly frugality newsletter, and she curates all the most important news links on her aggregate site, PreppersDailyNews.com. She is the best-selling author of 4 books and lives in the mountains of Virginia with her two daughters and an ever-growing menagerie. You can find Daisy on Facebook, Pinterest, and Twitter.