(Psst: The FTC wants me to remind you that this website contains affiliate links. That means if you make a purchase from a link you click on, I might receive a small commission. This does not increase the price you'll pay for that item nor does it decrease the awesomeness of the item. ~ Daisy)
Want to turn $10   into 7  entrees?
It's easy – just can some spaghetti sauce with meatballs!  Canning your own meals gives you the benefits of great taste, knowing what  you're eating, and quality ingredients with no preservatives.  Learn more about the benefits of making your own "fast food" HERE.
The following recipe will result in 7 quarts of sauce with meatballs.  Serving size is dependent on your appetites, but each jar will feed 2-3 people.
Since this is the grocery store version of the spaghetti sauce, anyone with a pressure canner can make it!   You don't have to process bushels of tomatoes because it is already done for you.
Directions will come this fall on making your own sauce from your garden tomatoes – it's even better!
Step 1
Gather your ingredients:
1 28-ounce can of crushed tomatoes
1 28-ounce can of diced tomatoes
1 28-ounce can of tomato paste or sauce
2 pounds of ground meat, any combination
1 cup of  finely crushed crackers or bread crumbs
1/8 cup of olive oil
1 cup of carrots
1 large onion
1 head of garlic
1 large bell pepper
to taste
sea salt
oregano
basil
garlic powder
onion powder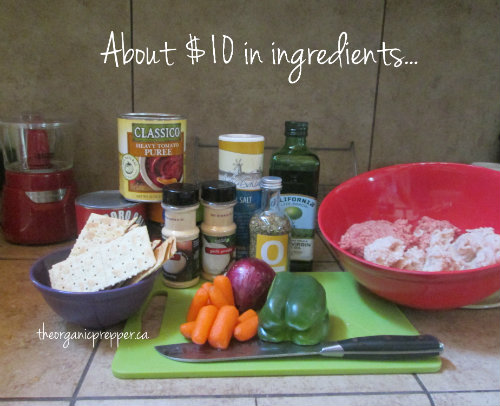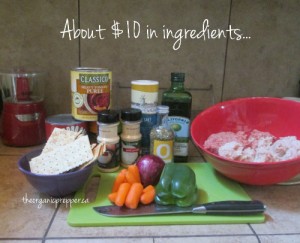 Step 2
Use your food processor to finely mince carrots, onions, peppers, and garlic…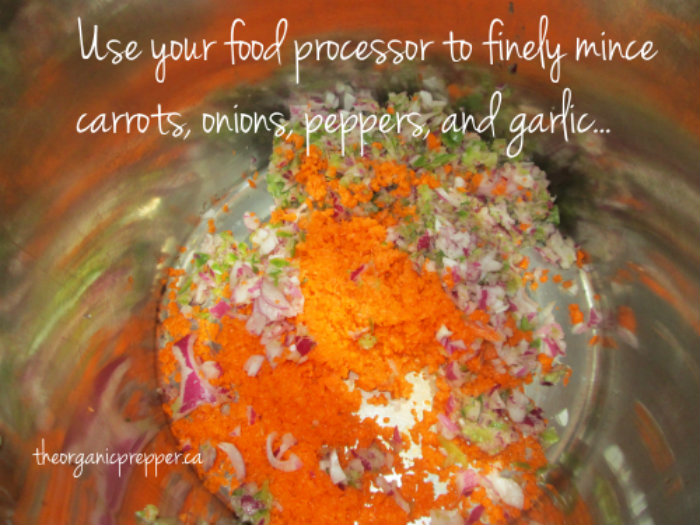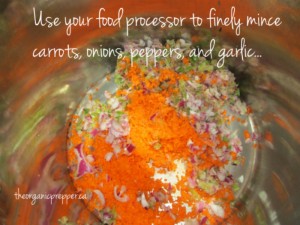 Step 3
Add seasonings, cans of tomato product, minced veggies, and olive oil to a stockpot and bring it to a simmer.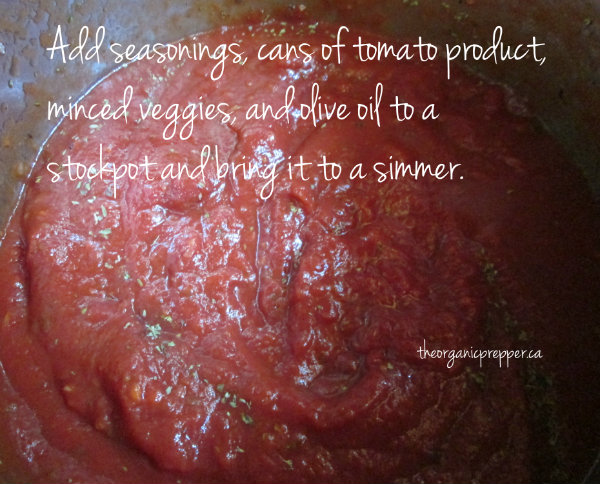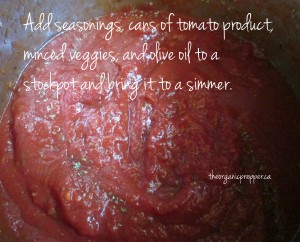 Step 4
Meanwhile, add crumbs, garlic powder, and onion powder to the meat mixture and combine well with your hands.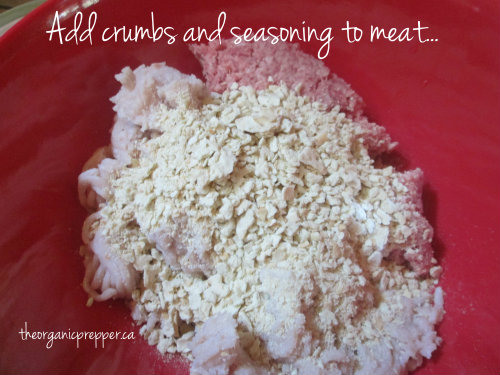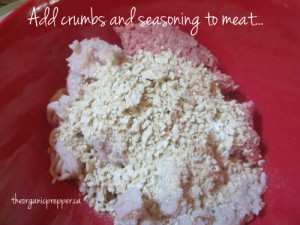 Step 5
Form the meat mixture into meatballs that fit easily into your jars.
This is a "raw pack" recipe so you don't need to cook the meatballs first – they will cook thoroughly during the pressure canning process.
Place 6 meatballs in each sanitized jar.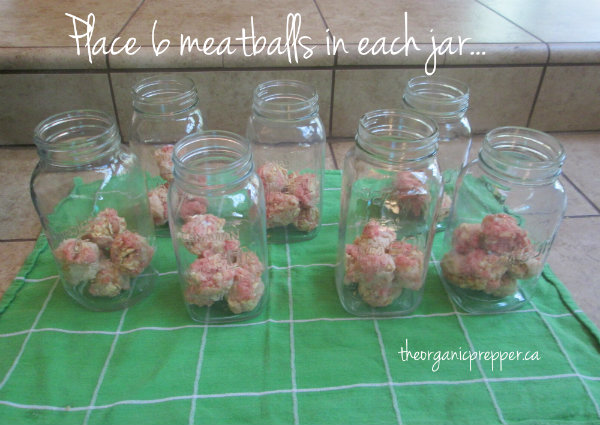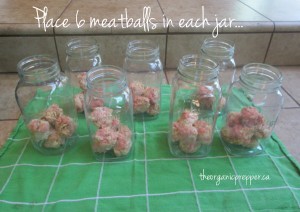 Step 6
Ladle the spaghetti sauce over the meatballs, leaving about 2 inches of headspace.
Use a chopstick or a table knife to run around the inside of the jar to remove air pockets.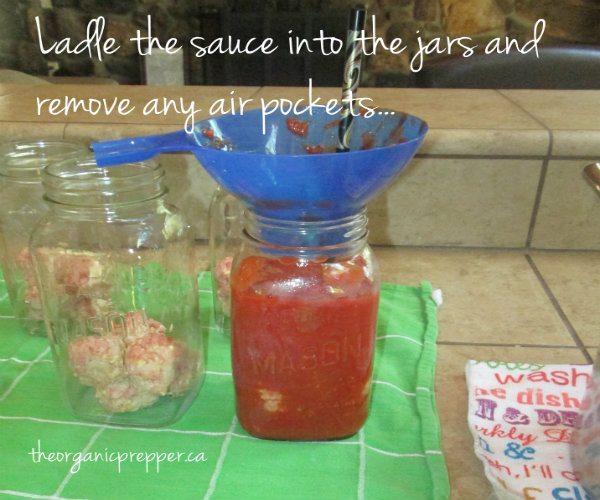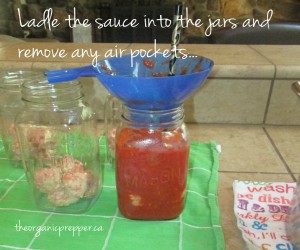 Step 7
Top up each jar with water until you have one inch of headspace left.
Wipe the lip of the jar well, then place the lids and rings on, finger-tightening the rings.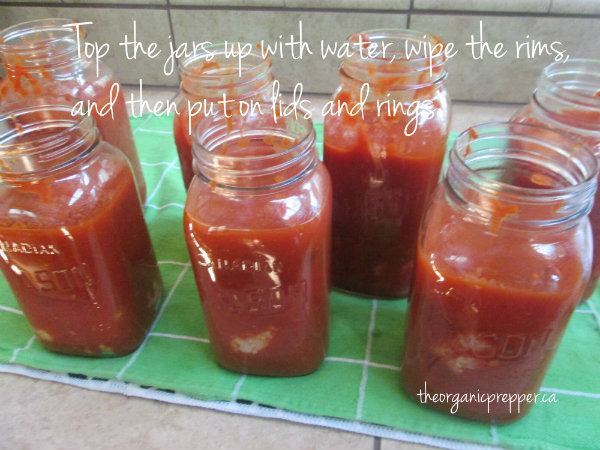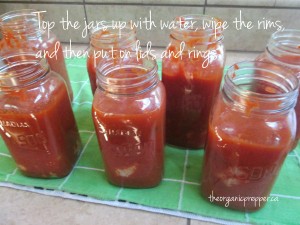 Step 8
Process the jars in a pressure canner for 90 minutes at 10 PSI.  Be sure to adjust for altitude.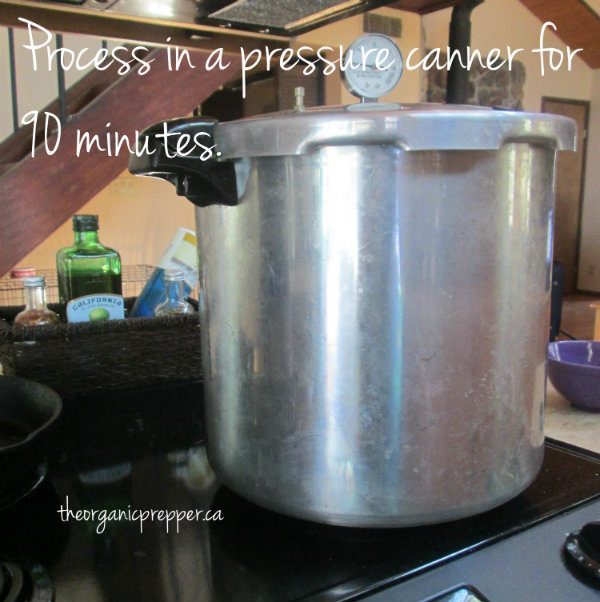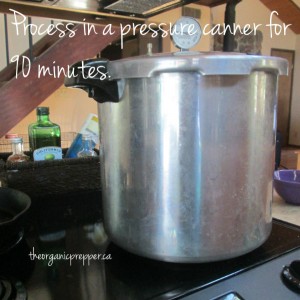 Step 9
Allow your jars of sauce to sit overnight.
If any of the jars did not seal properly, put them into the refrigerator and use within a week.