(Psst: The FTC wants me to remind you that this website contains affiliate links. That means if you make a purchase from a link you click on, I might receive a small commission. This does not increase the price you'll pay for that item nor does it decrease the awesomeness of the item. ~ Daisy)
The Texas power grid is failing and failing fast. I'm not just talking about failing under extreme weather conditions but under the market and governmental regulatory requirements.
In the wake of freezing weather that swept across the Lone Star state, millions of Texans found themselves without power for days on end. That power outage then saw bursting pipes lead to a water crisis never before seen in the state's modern history.
You want me to pay HOW much for what little power I have?
As the power went out for many Texans, others found themselves with wildly unrealistic bills for the power they did have. In Texas, customers can select how they want to pay for their electric bill – by locking their rate or selecting a variable rate based upon the price of power in the wholesale market. The argument is that customers with a variable rate can shift their power usage when prices are high by turning up the AC unit's temperature when it's warm or by doing things like drying clothes when prices are lower.
When the power went out for millions of Texans, those who selected the variable-rate found themselves paying much more for an allegedly scarce commodity.
As a result, some customers are reporting bills as high as $16,000 for one day of power.
"My power company told me to switch to a different company!"
Many of the affected customers belonged to Griddy, a company that advised them they would be better off switching to a new company. Now, there is a shockwave of electricity providers going bankrupt as their own ability to pay bills to ERCOT (Texas' state grid operator) has disappeared in the wake of the storms.
Court documents have already shown that Brazos Electric Power Cooperative (the largest generation and transmission co-op in the state) filed for Chapter 11 Bankruptcy. The company says it cannot pay the $1.8 billion bill it owes to ERCOT.
Entrust Energy Inc. is now the second seller of electricity to be "barred from Texas's power market for failing to make payments," according to Bloomberg. Entrust has been unable to pay $234 million to generators and others.
Griddy, mentioned above, is short $24 million. Griddy has since "Powered Down" as this message to members was displayed on the homepage of their website:
To our loyal Griddy members,
‍
It was not a choice we made.

On February 16th we asked ERCOT for emergency help when our members needed it the most and they did not take action. This is after the PUCT mandated the maximum price for days – a decision they made to take the price out of the hands of the market in a 6-minute meeting.

Today, ERCOT took our members and have effectively shut down Griddy. On the same day when ERCOT announced that it had a $2.1 billion shortfall, it decided to take this action against only one company that represents a tiny fraction of the market and that shortfall.

We have always been transparent and customer-centric at every step. We wanted to continue the fight for our members to get relief and that hasn't changed.

We will send you updates with more information as we get it. You will always be a Griddster.

A heartfelt thank you,
The Griddy Family
Texas' power crisis that became the water crisis is now becoming a credit crisis.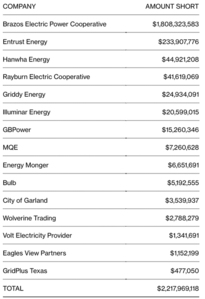 ERCOT provided a list of the top companies that owe it money. Collectively, the electric providers owe ERCOT over 2 billion dollars!
Brazos, who is at the top of the list, said in its filing that the magnitude of the charges "could not have been reasonably anticipated or modeled" and that it surpassed its highest liquidity levels in years. The company said it "finds itself caught in a liquidity trap that it cannot solve with its current balance sheet."
As James Albert writes for FinTech:
The Texas electricity crisis last week has morphed into a credit crisis in the state's wholesale power market, where participants have begun defaulting on a portion of the $50bn in energy purchases made during record cold weather, according to an update from the grid operator.

The bill is now coming due as buyers — such as electricity retailers, municipal utilities, and power generators — have to post collateral as a down payment on purchases. Some retailers have failed to deliver it, Kenan Ogelman, Ercot's vice-president of commercial operations, told the agency's board. "Defaults are possible, and some have already happened," he said. If buyers are not able to cover their bills, Ercot will pay the generator, and the charges will ultimately be spread out to other market participants, including other generators and traders, as permitted by regulations.
So what does this mean for the future of the Texas power industry?
Most likely, it will end up in public debt as the losses incurred by private businesses will be passed on to ERCTO, the state government, and thus the people of Texas.
It will likely also mean that Texas may end up returning the power grid to one of "public" ownership, thus costing taxpayers massive amounts of money to purchase, reorganize, and maintain. Conversely, the power grid may remain privatized but consolidated under some major corporation like Duke in the American South. Duke holds a monopoly in some areas for electricity and power and allegedly routinely abuses its customers.
Given the high profile individuals promoting The Great Reset, it is also highly possible that fossil fuels and "not enough green energy" are the reasons for the power failure and not too much reliance on weak power grid technologies and mismanagement. The result would be that the power grid's ability to provide power to the same number of people as it had before is vastly reduced.
Whatever happens, we know that the actual amount of fallout from Texas's power grid crisis has yet to be seen. The bills are still coming in and we fully expect to see more customers face mind-boggling amounts. Obviously, few people can afford bills in the tens of thousands of dollars.
Are we looking at a future when electricity and other signs of normalcy will only be for the wealthy? What would you do if you received a power bill for $16,000? Let's discuss it in the comments.
About Robert
Robert Wheeler has been quietly researching world events for two decades. After witnessing the global network of NGOs and several 'Revolutions' they engineered in a number of different countries, Wheeler began analyzing current events through these lenses.