Holy Jalapeno Relish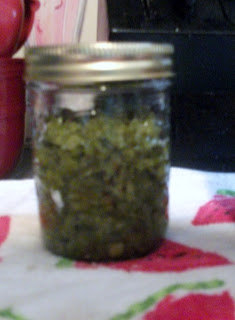 I saw a big bag of jalapeno peppers on the "last day of sale" rack at the local store – woohoo!  A lot of people might say, "What the heck can a person do with all of those hot peppers?"  Well, let me introduce you to my favorite condiment (which also makes a great Christmas present for the spicy food lover in your life!)
(Note: these were not organic peppers so I cleaned them carefully to remove any residual pesticides that could be lurking.)
Save this recipe for the summer, too, when all the jalapenos in your garden ripen at the exact same time, sparing you the pain of burning a hole in your tongue trying to eat them all.
Holy Jalapeno Relish is what we've dubbed this.  You can adjust the end result spiciness as noted in the recipe below.  
Use this to top up the heat on anything you'd like to have spicier.
It's great on chili, tacos, sausages, etc! This relish gets a workout at our house because some family members like spicy food and some do not, so we can customize the heat to suit ourselves.
WARNING: Hot peppers are the evil vindictive uncles of the vegetable garden family.  Handle them with care because when you cut them up, they fight back.  Use rubber gloves and do not rub your eyes, nose, mouth or any other mucous membrane (that I don't want to hear about) after handling them.  Most of the heat is in the seeds.  Use or do not use the seeds accordingly to turn up (or down) the heat in your finished product.  If you do happen to get the juice or seeds on your skin (owie!) and you're still having issues after washing the area, sometimes a milk compress can provide some relief – generally, though, you just have to wait it out.
Ingredients:
5 pounds of jalapeno peppers

2 cups of sugar (white sugar or turbinado)

4 cups of white vinegar

½ cup of cilantro leaves (optional)
(Another option, if you want a condiment with less heat, is to replace up to half of the jalapenos with green bell peppers.)


 
Directions:
In a food processor, finely chop the peppers.  Don't turn them into a pureed mush – make them the consistency of relish.

Meanwhile, in a large cooking pot, stir the sugar into the vinegar and bring to a boil.

Immediately reduce the heat and stir in your hot peppers.

Use your food processor to chop the cilantro leaves, if you are using them, then stir them into your relish. (Be sure to use the leaves only – the stems are bitter and unpleasant.)

Bring the relish back to a boil, reduce heat and simmer for 5 minutes until heated through.

Ladle the relish into sanitized pint jars allowing ½ inch of head space.
Process the jars in a water bath canner for 10 minutes.  Be sure to adjust for altitude.
About the Author
Please feel free to share any information from this site in part or in full, leaving all links intact, giving credit to the author and including a link to this website and the following bio.
Daisy is a coffee-swigging, gun-toting, homeschooling blogger who writes about current events, preparedness, frugality, and the pursuit of liberty on her website, The Organic Prepper. She curates all the most important news links on her aggregate site, PreppersDailyNews.com
She is the best-selling author of 4 books and lives in the mountains of Virginia with her two daughters and an ever-growing menarie.
You can find Daisy on Facebook, Pinterest, and Twitter.