(Psst: The FTC wants me to remind you that this website contains affiliate links. That means if you make a purchase from a link you click on, I might receive a small commission. This does not increase the price you'll pay for that item nor does it decrease the awesomeness of the item. ~ Daisy)
I saw a big basket of jalapeno peppers at the farmer's market last weekend and I bought every single one – woohoo!  A lot of people might say, "What the heck can a person do with all of those hot peppers?"  Well, let me introduce you to my favorite condiment (which also makes a great Christmas present for the spicy food lover in your life!)
This will also save you, when all the jalapenos in your garden ripen at the exact same time, sparing you the pain of burning a hole in your tongue trying to eat them all.
Holy Jalapeno Relish is what we've dubbed this.  You can adjust the end result spiciness as noted in the recipe below.  Use this delicious condiment to top up the heat on anything you'd like to have spicier.  It's great on chili, tacos, sausages, etc! This relish gets a workout at our house because some family members like spicy food and some do not, so we can customize the heat to suit ourselves.
WARNING: Hot peppers are the evil vindictive uncles of the vegetable garden family.
Handle them with care because when you cut them up, they fight back.  Use rubber gloves and do not rub your eyes, nose, mouth or any other mucous membrane (that I don't want to hear about) after handling them.
Most of the heat is in the seeds.  Use or do not use the seeds accordingly to turn up (or down) the heat in your finished product.  If you do happen to get the juice or seeds on your skin (owie!) and you're still having issues after washing the area, sometimes a milk compress can provide some relief. Generally, though, you just have to wait it out.
 The Fresh Version
The following photos show how to make half a pint of jalapeno relish. The canning version of this recipe can be found below.
1.  Wash your freshly picked jalapenos.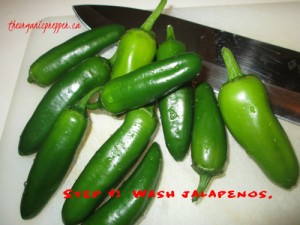 2.  Cut off the stems, then cut the peppers in half.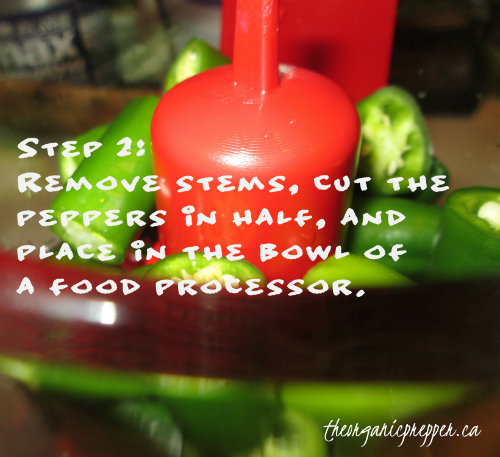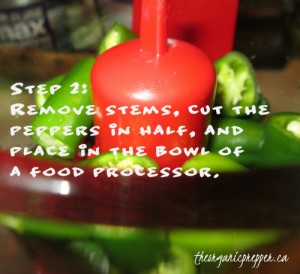 3.  (Optional) Wash a handful of cilantro leaves (amount to taste) and add
them to the bowl of the food processor.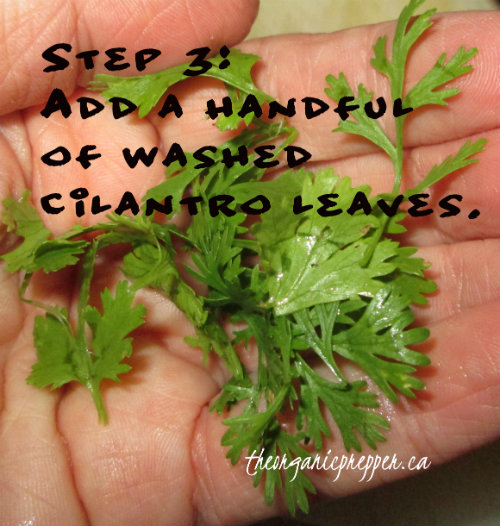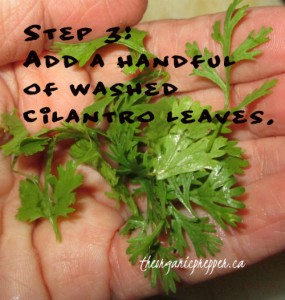 4.  Add 1/4 cup of white vinegar and 2-3 teaspoons of
sugar to the bowl of the food processor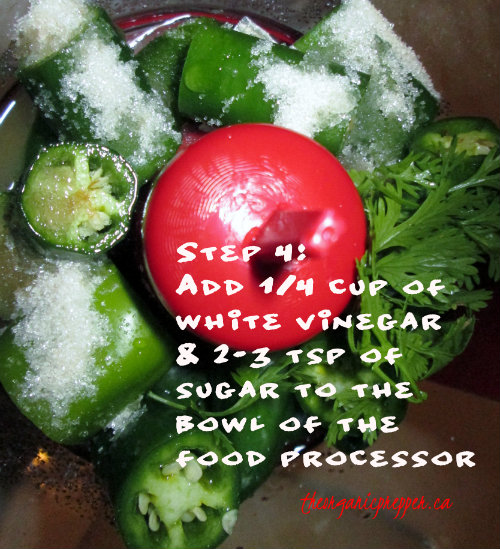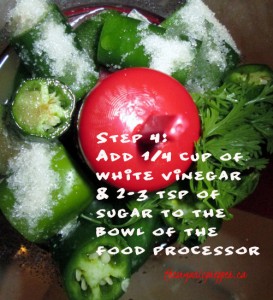 Step 5: Using the pulse function, puree the mixture until it reaches a chunky
consistency similar to that of hamburger relish.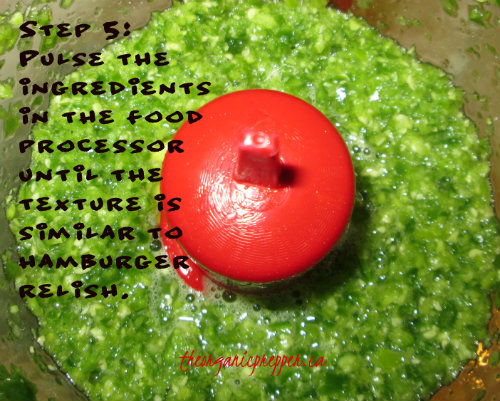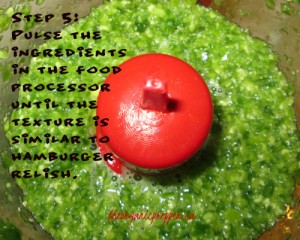 Using a funnel, put your beautiful, bright green jalapeno
relish into a jar.  This will stay good in your refrigerator for 2-4 weeks
(if it lasts that long – you may find that you make foods specifically
in order to top them with yummy jalapeno relish. )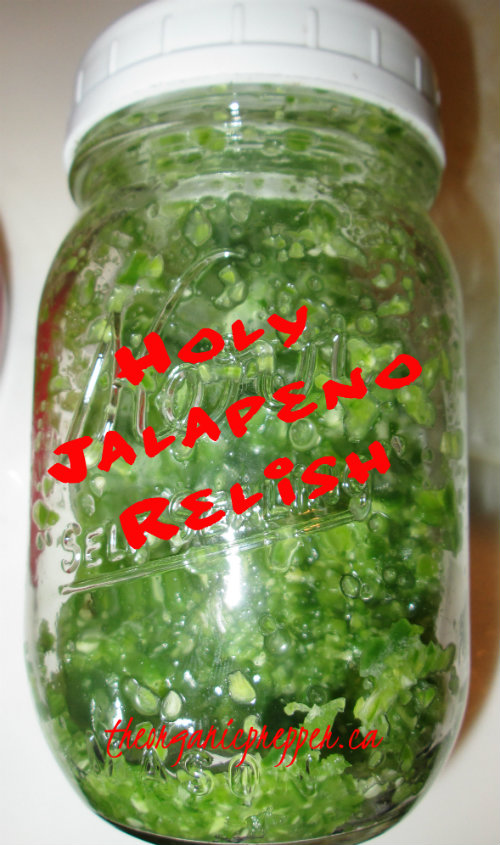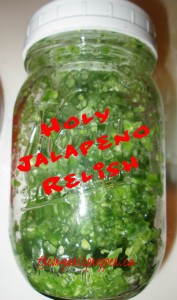 The Canning Version
Want to keep some of this emerald-green goodness for the winter? Here's how to use your water bath canner to put some of this deliciousness back. This is just one of the super-delicious recipes in my book, The Prepper's Canning Guide.
Ingredients:
5 pounds of jalapeno peppers
2 cups of sugar (white sugar or turbinado)
4 cups of white vinegar
½ cup of cilantro leaves (optional)
(Another option, if you want a condiment with less heat, is to replace up to half of the jalapenos with green bell peppers.)
Directions:
In a food processor, finely chop the peppers.  Don't turn them into a pureed mush – make them the consistency of relish.
Meanwhile, in a large cooking pot, stir the sugar into the vinegar and bring to a boil.
Immediately reduce the heat and stir in your hot peppers.
Use your food processor to chop the cilantro leaves, if you are using them, then stir them into your relish. (Be sure to use the leaves only – the stems are bitter and unpleasant.)
Bring the relish back to a boil, reduce heat and simmer for 5 minutes until heated through.
Ladle the relish into sanitized pint jars allowing ½ inch of headspace.
Process the jars in a water bath canner for 10 minutes.  Be sure to adjust for altitude.