Bestern Southwestern Chicken Soup
(Psst: The FTC wants me to remind you that this website contains affiliate links. That means if you make a purchase from a link you click on, I might receive a small commission. This does not increase the price you'll pay for that item nor does it decrease the awesomeness of the item. ~ Daisy)
By Daisy Luther
I'm in the process of a looooooonnnnggg move.  Okay, it's not quite cross country but still a 7 hour drive.
So I am trying to use up the contents of my freezer and my garden in order to allow it to travel better. Also, if you think about it, I'm moving my canning jars anyway, so I might as well move them full of good food!
This is a meal in a jar – Bestern Southwestern Soup! In the spirit of moving my food in jars, I was able to use corn and chicken from the freezer, and tomatoes and peppers from my garden.
SOUP NOTE
When making soups, I recommend layering the ingredients.  I don't always precook the ingredients together because they will meld in the pressure cooker and while they are on the shelf awaiting your consumption.  The reason for layering the ingredients is so that you get a somewhat equal amount of each item in your soup.  Otherwise you run the risk of having a jar of really chunky meaty soup and a jar of mostly broth.
Bestern Southwestern Chicken Soup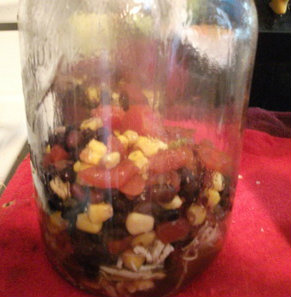 Ingredients
3 cups of shredded cooked chicken

6 cups of chicken broth

3 cans of diced tomatoes (not drained)

3 cups of black beans, rinsed and sorted

2 cans of organic whole kernel corn or 2 cups of fresh or frozen corn kernels

1 onion, finely diced

4 cloves of garlic, minced

1 bell pepper, diced

3 tbsp chili powder

1 tbsp cilantro

1 tbsp cumin

Salt and pepper
Directions:
In a large stock pot, stir together tomatoes, broth, chili powder, cilantro, cumin, salt and pepper.

 

Bring this mixture to a boil.

Meanwhile layer the other ingredients evenly in your sanitized jars.

 

Top your layered ingredients with your hot broth mixture, leaving one inch of headspace.

 

If you run out of broth, it's fine to top up your jars with a bit of water, as the flavors will have plenty of time to blend.
(Time-saving note: your dried beans will cook in the pressure canner – no need to cook them ahead of time!)
4. Lid your jars and process in a pressure canner for 90 minutes at 10-12 pounds of pressure.   Be sure to adjust for altitude.
*******
Serve your delicious soup topped with a dollop of plain yogurt or sour cream and some crumbled tortilla chips!
About the Author
Daisy Luther is a coffee-swigging, globe-trotting blogger. She is the founder and publisher of three websites.  1) The Organic Prepper, which is about current events, preparedness, self-reliance, and the pursuit of liberty on her website, 2)  The Frugalite, a website with thrifty tips and solutions to help people get a handle on their personal finances without feeling deprived, and 3) PreppersDailyNews.com, an aggregate site where you can find links to all the most important news for those who wish to be prepared. She is widely republished across alternative media and  Daisy is the best-selling author of 5 traditionally published books and runs a small digital publishing company with PDF guides, printables, and courses. You can find her on Facebook, Pinterest, Gab, MeWe, Parler, Instagram, and Twitter.