(Psst: The FTC wants me to remind you that this website contains affiliate links. That means if you make a purchase from a link you click on, I might receive a small commission. This does not increase the price you'll pay for that item nor does it decrease the awesomeness of the item. ~ Daisy)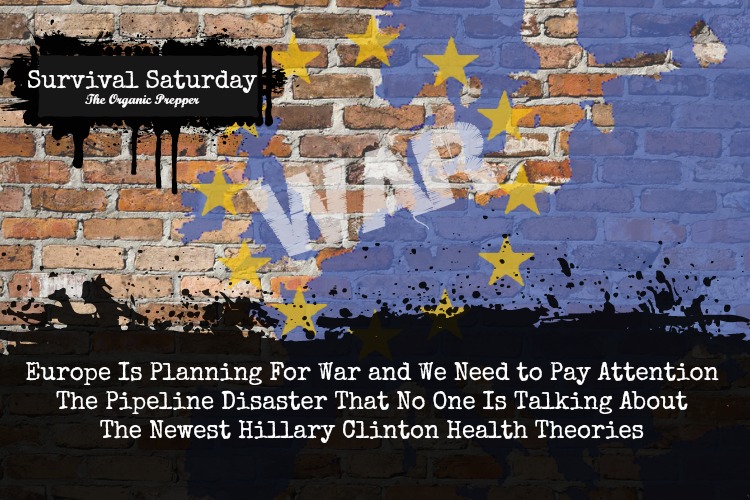 Survival Saturday is  a round-up of the week's news and resources for folks who are interested in being prepared.
This Week in the News
This week on Survival Saturday, we'll talk about the growing evidence that Europe is preparing for war. Many people tend to dismiss the goings-on across the planet as irrelevant to us, but it's actually extremely important. As well, we'll talk about the gasoline spill that has quietly caused a State of Emergency to be declared by 6 governors, the theories about Hillary Clinton's most recent health incident, and much more!
The Pipeline Disaster That No One Is Talking About
Did you hear that a gasoline pipeline in Alabama was damaged and that the contents of it have been gushing out since September 9? No?
That's because most of the media has been silent about everything but the aftereffects: higher gasoline prices and possibly even shortages. (And those shortages could be imminent for the East Coast – so fill up now if you live on that side of the US. You'll find great advice for safely storing gasoline in this book.)
The Anti-Media, always one of the first to be on top of things, reported that more than 250,000 gallons of fuel has leaked out and that the leak may still be going on.  Tennessee, Virginia, Georgia, South Carolina, North Carolina, and Alabama have all declared a state of emergency due to the leak.
Interestingly, Colonial Oil was quoted in an article as saying, "There has been no threat to public health or safety…"
But in the same article, they were also quoted as saying that they're unable to calculate the exact amount of fuel that has been spilled due to safety concerns. "It's not safe for our workers to recover much product off of the pond due to gasoline vapors. It's a challenge for us to do much because the vapors are not at safe levels for human health. So that presents a challenge to say how much has been released."
So,which is it? There either IS a threat or there isn't. I think we can all guess the answer to this question. (PS: This is another reminder of why water preparedness is so essential.)
So far, nothing but crickets from the EPA, but that's probably no surprise to anyone who understands that they are only there to protect corporations and not the public.
This Week's Hillary Clinton Health Theories
Seriously, "This Week's Hillary Clinton Health Theories" could be an ongoing topic. I could write a weekly column entirely dedicated to speculations about her ill health and that is because no one in her campaign is being honest. (Of course, the Clintons are no strangers to dishonesty.)
They aren't providing us with any stories that aren't completely full of holes. The hype culminated with her highly publicized collapse at a 9/11 memorial last Sunday, and the explanation of pneumonia in September just isn't cutting it for most people. And before anyone says, "These are all just conspiracy theories" – that's exactly right. All we have is theories because even though something is blatantly wrong, no one is giving us an official answer that we can believe.
I'll list the articles here and you can click on them and see what everyone has to say.
By the way, it isn't just the American press that is questioning Clinton's health. Sky News in the UK has compared Hillary Clinton to a medieval knight in a Monty Python sketch. "She would be the political equivalent of the knight in Monty Python's Holy Grail who carries on regardless as each of his limbs are removed, dismissing each amputation as "a mere flesh wound."
Monty Python's  The Black Knight was a character in the Monty Python film 'Monty Python and the Holy Grail'. The Black Knight vowed to stand his ground and defend his bridge against anyone who wanted to cross, this included King Arthur.
"Tis but a scratch" The Black Knight says when his left arm is severed. "Had worse" he says when King Arthur points out he has lost an arm. 'It's just a flesh wound!" he exclaims when he refuses to stand aside for the king and even though he has no arms he kicks out with his feet continuing the fight…
Europe is not messing around and we need to pay attention.
Recently, there were calls from some EU states to set up a combined European army.
Just hours ago, it was announced that the Czech Republic and Hungary formally proposed a joint European Army to bolster security within Europe. Hungary's Prime Minister, Viktor Orban said, "We must give priority to security, so let's start setting up a joint European army." (source)
It looks like that was just an appetizer. The European Union is changing their former defense policy. Now, Jean-Claude Juncker, President of the EU, has not only supported the request but has expanded on it.
Mr Juncker said a common military force "should be in complement to Nato". "More defense in Europe doesn't mean less transatlantic solidarity."

A European Defense Fund would stimulate military research and development, he said.

He wants to improve EU command and control facilities and appears to be suggesting that EU civil and military aspects of a given mission should be run out of the same headquarters.

He also insists that whatever the EU does it should not detract from Nato. But defence resources are finite. His critics will say nothing should be done that duplicates existing Nato activities, as that sends a signal of disarray in Western ranks to Moscow.
Strangely this decision has only come about since the UK decided to leave the European Union. Pundits believe this is because the UK always objected to a European force because of potential conflicts in their commitment to NATO. (source)
Juncker insists that a combined European military "should be in complement to Nato. More defense in Europe doesn't mean less transatlantic solidarity." (source)
I can see a major problem with this for the United States and the UK. Let's say a 'problem' developed in Europe. The EU knows without a doubt that the USA and the UK, as members of NATO would be right there backing up the European Union against the aggressor. Would it work the other way around, though? If called upon to back the US and the UK in the face of aggression by a non-NATO force would the European Army come to assist? Or would they feel that it was best to keep Europe secure before offering assistance?
Yes, I know, those European countries are members of NATO and they have obligations.  However, it would be the wrong time to find out that those obligations had taken second place to the European Force in the event that we needed military support.
The UK has repeatedly voiced concerns about the powers that the EU has, which is why the people decided to take back their sovereignty by voting to leave. They have repeatedly fought against a combined European military, yet within three months of them leaving, the EU president immediately began the push for further militarization within Europe.
With Germany thinking of re-introducing the draft and both Germany and the Czech Republic telling their citizens to stock up on food and water to see them through national emergencies, there seems to be a clear pattern forming.
Europe is preparing for war and they're preparing fast.
So many Americans think that what happens in Europe will have little effect on them, but this is really important. Times have changed since World War II.
Back then, bombers never had the capability to reach our shores. Now they do.
Back then, long range missiles couldn't get to us. Now they can.
Back then, the possibility of a nuclear war wasn't a consideration. Now it is.
Back then, EMP attacks were the stuff of science fiction. Now they are realistic.
Back then, 'dirty bombs' did not exist. Now they do.
Back then, the term suicide bomber was not in our vocabulary. Now it's a horribly regular occurrence.
The threats that we face now are greater than they have ever been. Pay close attention to what is happening in Europe.
The Bookshelf
How to Survive the End of the World as We Know It
The European Union and National Defense Policy
The Prepper's Water Survival Guide
The Pantry Primer: A Prepper's Guide to a Whole Food on a Half Price Budget
Crisis of Character: A White House Secret Service Officer Discloses His First-Hand Experience with Hillary, Bill, and How They Operate
This Week in Preparedness…
With all of the concerns about the Zika virus and the Avian flu, pandemic preparedness was at the forefront of my own preparedness efforts this week. Here's a refresher article on prepping for the possibility of a pandemic.
Other articles of note are these:
Do you have emergency food? It's time to invest. Our situation in the US is not going to be improving anytime soon – stock up now before it's too late. The only long-term emergency food buckets I store for my family are the ones from Preppers Market. They're non-GMO, much lower in preservatives than other brands, and contain no high-fructose corn syrup.
Selco Survival Series: How to Survive Civil Unrest and Riots
Anything to add to Survival Saturday?
Do you have any news links you want to share? Now's the time! You are absolutely welcome to post your links in the comments below. Please join the discussion!
About Daisy
Daisy Luther is a coffee-swigging, adventure-seeking, globe-trotting blogger. She is the founder and publisher of three websites.  1) The Organic Prepper, which is about current events, preparedness, self-reliance, and the pursuit of liberty; 2)  The Frugalite, a website with thrifty tips and solutions to help people get a handle on their personal finances without feeling deprived; and 3) PreppersDailyNews.com, an aggregate site where you can find links to all the most important news for those who wish to be prepared. Her work is widely republished across alternative media and she has appeared in many interviews.
Daisy is the best-selling author of 5 traditionally published books, 12 self-published books, and runs a small digital publishing company with PDF guides, printables, and courses at Learn.TheOrganicPrepper.com You can find her on Facebook, Pinterest, Gab, MeWe, Parler, Instagram, and Twitter.