(Psst: The FTC wants me to remind you that this website contains affiliate links. That means if you make a purchase from a link you click on, I might receive a small commission. This does not increase the price you'll pay for that item nor does it decrease the awesomeness of the item. ~ Daisy)
When you travel by air, you're at the mercy of a lot of things.
The TSA, some of whom appear to take glee in disrupting your carefully packed bag.
The schedule of the planes, where one delay leads to another.
The high prices at the airport, which you can't circumvent if you wish to drink a beverage.
For a person who likes to be in control, there are a lot of variables that you cannot control. You can choose, then, to be stressed out or to go with the flow.
The TSA
Most of the TSA people in the small airport where I started out were pleasant. But there was one woman who I could see from the back of the line was really feeling self-satisfied. She was pacing around barking at everyone in general.
"Shoes off. Belts off. Pockets emptied. Remove all food, liquids, and small electronics from your bags. Jackets off. Shoes off…"
Over and over and over. And of course, I got her instead of one of the more circumspect TSA people. I asked for a hand with my carryon, since I recently had surgery and am not supposed to lift much. She slid a tray at me a couple of inches and turned her head. A nice fellow victim gentleman lifted it up onto the belt for me.
Then she got busy. She opened all my bottles of cosmetics and sniffed them. She picked up each of my bags of peanut M&Ms and fondled them, feeling around for anything that might not be an M&M. I fought the urge to be sarcastic and, luckily, I won. Then I got naked-body-scanned and was allowed to put my shoes and sweater back on and collect the belongings that had been rifled through. The TSA agent on the other end kindly lifted my bag down for me and off I rolled to my gate.
Where I waited.
And waited.
And waited some more.
My first flight was delayed three times.
By the time a flight arrived, they gate-checked my carry-on due to lack of space. This was both good and bad – all my survival gear was on it, but on the bright side, I wouldn't require any assistance getting it in the overhead compartment.
Originally scheduled to leave at 1:30, I finally got out of there are 3:55. So not only did I get 3/4 of the way through the book I brought but I also no longer had 2 hours to get to my next flight.
It turns out I actually can run.
We landed at Dulles and I felt optimistic. I had about 25 minutes to get to my connecting flight.  But as we continued to taxi around the airport waiting for a gate to open up, my optimism dwindled. By the time I got off the plane, I had 11 minutes to get to my next flight. I was at Terminal A and my connection was at Terminal C.
Because heaven only knew when another flight would arrive to get me to my destination, I started out walking fast. As the seconds ticked away, I picked things up to a trot. I went down 6 escalators and jogged on those little people movers. Then I had to take a train from my terminal to the other terminal. The clock on my phone told me that it was time for take-off for the next flight, but I persevered. I thought, maybe this flight was also delayed.
Back over people movers and escalators, I discovered my gate was at the furthest end of the terminal, so I broke into a sprint. (At this point I was really glad my rolling carry on had been checked and I only had my purse and my water bottle.)
I arrived gasping for air…and glory hallelujah, the last people were going through the doors. I handed my passport and boarding pass to the agent at the gate, who looked with concern at the sweaty, wheezing middle-aged woman and nodded me through.
Victory! I was the very last person on the plane and they shut the doors behind me. I made the flight to Munich by mere seconds.
The long flight
I got situated at the very back of the plane. It was far more spacious than planes I've normally been on. There was nobody behind me and I was able to comfortably lean back once things got going. I sat beside a very kind lady who was headed to India. Unfortunately her mother there was seriously ill. We struck up a friendly conversation early in the flight.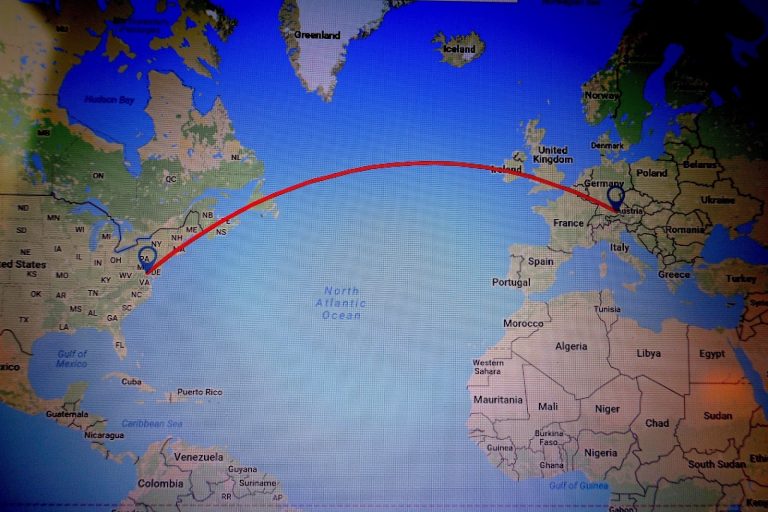 On the back of the seat in front of me, I could track the flight and see where we were, how far we'd traveled, and how far we had left yet to travel.
The food was far better than any airplane food I can remember. Maybe this was because I had only eaten the M&Ms I brought in case of a plane crash on a deserted since arriving at the first airport many hours ago, but regardless, I think it was pretty tasty. It was spinach and roasted red pepper manicotti with a side salad. Afterward, they served lemon sorbet.
It turns out I can't sleep on planes. I took a Benadryl, which usually knocks me out, but I remained wide awake for the duration of the 8-hour overnight trip. The good news is, the flight crew served a small meal to the people who were awake  – it was Indian food. Butter chicken and basmati rice.  I curled up with my rice and chicken and dove into a good book.
About an hour before landing, they turned the lights back up and served even more food. This time it was a piping hot croissant and fruit or yogurt.
The next layover
By this time, I had been on the go for 14 hours. When we landed in Munich, I had a leisurely 4 hours to get to my next flight. I located the gate and then decided to take a walk through the terminal. At this point, I hadn't slept for 20 hours and I knew if I sat down, I would fall asleep and might miss my next flight.
Someone had abandoned one of those little carts, so I popped my heavy, book-filled purse in it and walked up and down the concourse. The Munich airport is loaded with luxury stores – Chanel, Gucci, and others I hadn't heard of. I wandered through a few of them, entertaining myself by trying to guess the price of different items before looking at the price tag. Holy smokes. Let's just say I won't be wearing Gucci anytime soon.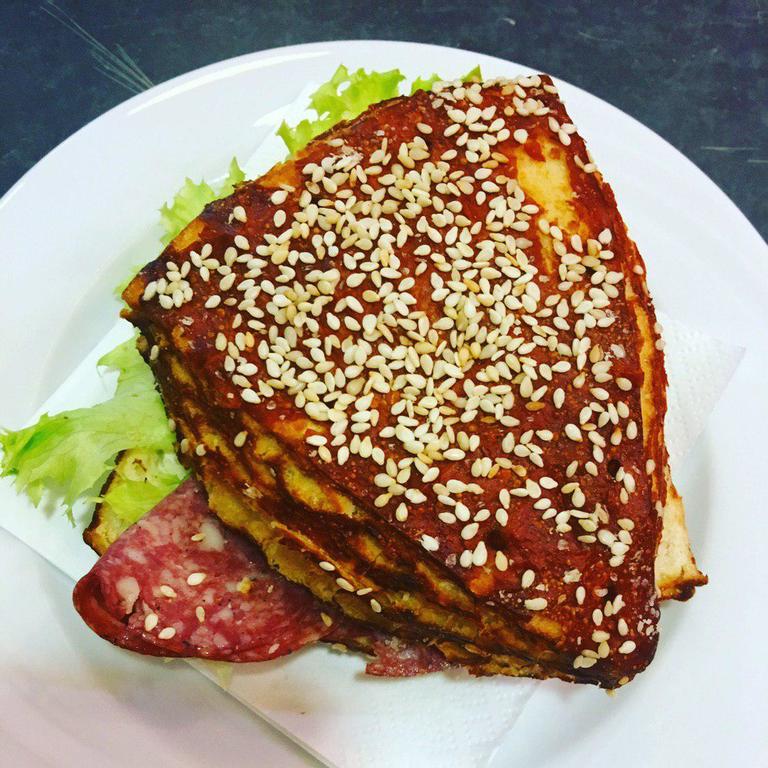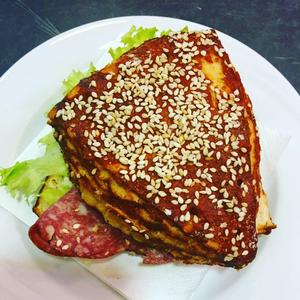 I decided to get a bite to eat before my next flight. I got a truly delicious sandwich with smoked meat, shavings of some type of flavorful cheese, and tasty and heavy bread.  Something I noticed on the menus there that is different from the US is that they don't add a bunch of caloric side dishes. You get your main dish and if you want something else, you order it separately.
There were no empty tables so I asked a woman sitting alone if I could join her. She was a lovely lady, born in Turkey but now an American citizen who lived in Arizona. We discussed our travels and coincidentally, she was returning from a tour of the Balkans and had just visited many of the cities I was heading to visit myself.
We shared a pleasant hour and then it was time for us to go to our respective gates.
Arriving in Croatia
My final flight was from Munich, Germany to Zagreb, Croatia. It was a short flight and completely without incident.
When I landed in Zagreb, things began to be very different. When you are in a place in which you cannot speak the language, it feels sort of like being illiterate. There were a few signs in English, but most were in Croat. I figured out where to collect my luggage then wheeled it through customs.
Customs in Croatia is absolutely nothing like Customs in the US or Canada.
First, a gentleman asked me my nationality, in Croat, then in English, and then greeted me warmly and pointed me in the right direction.
After I waited in a short line, a nice young man took my passport and asked me why I was there and for how long. When I said "vacation and about a month" his eyes lit up like it was Christmas morning. He recommended some things I should see and suggested foods I must try. He didn't ask me any questions about what I was bringing or look through my bags. He stamped my passport and genuinely wished me well.
Next, I had to wander out and look for my ride. There were lots of drivers holding signs but I made my way toward the door, and soon, I was in the car on en route to my first destination. The drive through rural Croatia was spectacular. It's just so OLD here. I'll leave you with this photo of my first sunset on the Dalmatian Coast.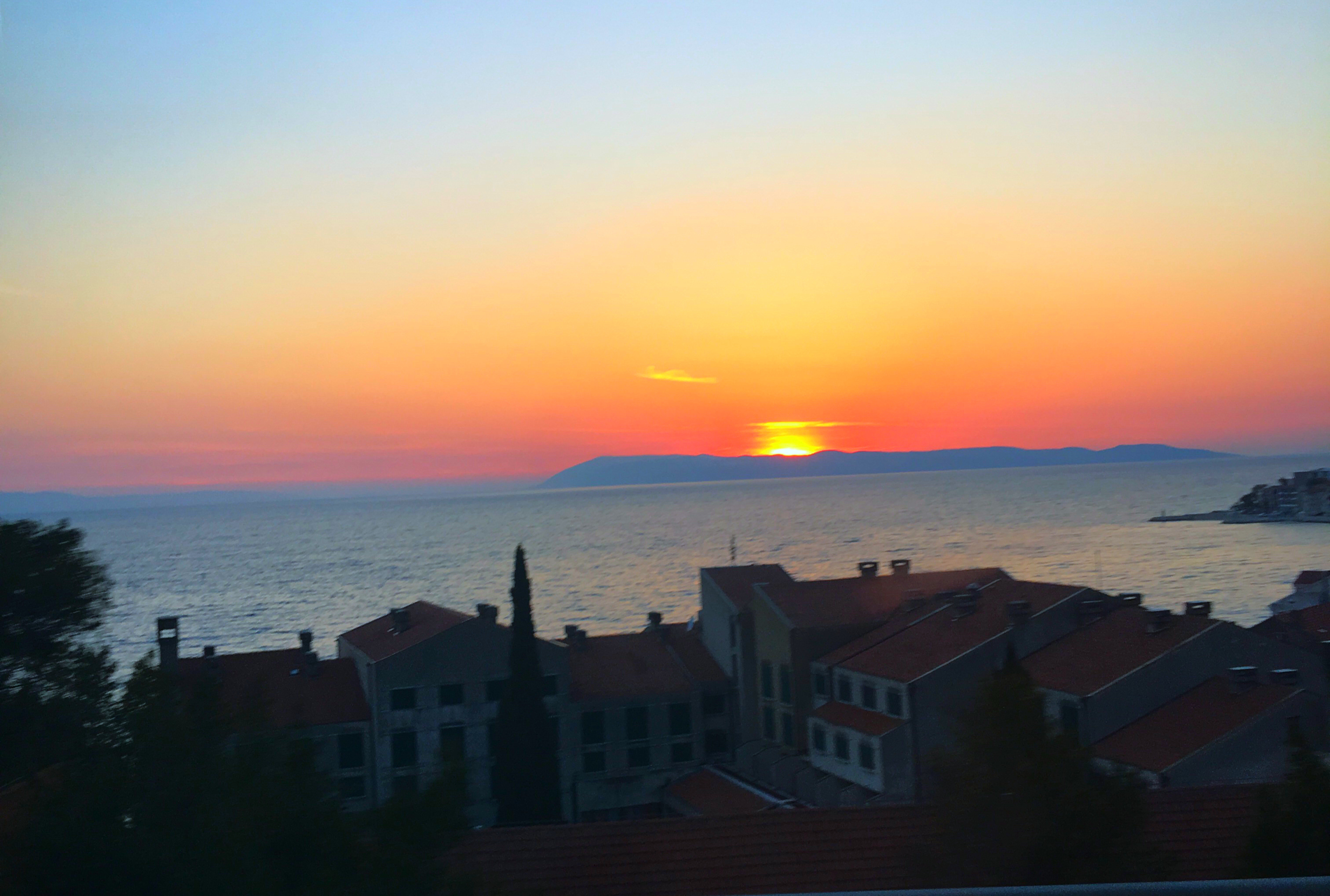 Other articles in this series:
About Daisy
Daisy Luther is a coffee-swigging, gun-toting blogger who writes about current events, preparedness, frugality, voluntaryism, and the pursuit of liberty on her website, The Organic Prepper. She is widely republished across alternative media and she curates all the most important news links on her aggregate site, PreppersDailyNews.com. Daisy is the best-selling author of 4 books and runs a small digital publishing company.  She lives in the mountains of Virginia with her family. You can find her on Facebook, Pinterest, and Twitter.