(Psst: The FTC wants me to remind you that this website contains affiliate links. That means if you make a purchase from a link you click on, I might receive a small commission. This does not increase the price you'll pay for that item nor does it decrease the awesomeness of the item. ~ Daisy)
(Sept. 13, 2018) The day before yesterday, Hurricane Florence was barreling toward the Carolinas and Virginia and veering dangerously close to a Category 5 hurricane, the highest classification on the Saffir-Simpson scale. Today? Things are totally different.
The most important thing to know is that the coastal area being hit is at the very beginning of a 3-day horror show and the situation will move inland causing widespread and possibly historic floods.
Do NOT let the fact that the storm has "slowed down" allow you to drop your guard. This is still POTENTIALLY DEADLY and Florence is just picking up more water to drop on us.
Hurricane Florence is now "only" a Category 2
The good news: Florence has dropped from a high Category 4 to a Category 2 hurricane overnight. The winds have lessened from 145 mph to a "mere" 110 mph.
Don't think that a Category 2 hurricane is a walk in the park. Example number one is Hurricane Floyd.
Floyd, which reached the North Carolina coast as a Category 2 hurricane, stands out for the prodigious amount of rainfall it brought—nearly 20 inches in places—and severe flooding.

Hundreds of thousands of hogs died. Flooding caused 50 of the 56 U.S. deaths attributed to Floyd and much of the damage, which was estimated at up to $6 billion. (source)
And most Floridians won't forget Hurricane Frances.
The storm killed five people in Florida. Space and military facilities alone reported more than $100 million in damage.

The National Weather Service in Melbourne reported a peak wind gust of 63 mph with almost 8 inches of rain. Merritt Island Airport recorded sustained winds of 64 mph with a 78 mph maximum gust.

Some residents feel Frances was the most destructive storm to hit Brevard.

"Frances was the worst hurricane for me," said Bonnie Lizer of Indialantic. "On the evening of September 2, my husband and I evacuated to Central Middle School along with 498 other people. Although we were safe and had electricity, water, air conditioning and food, it was stressful sharing a large room for three days and nights with 40 people that we did not know. After the storm passed, we lived in our camper, without electricity, on the school parking lot for two more days."

"My vote is for Hurricane Frances," added Patricia Reinert of Melbourne, who says she was without power for eight days following the storm after having no long power outages despite having lived at her home for over 50 years. "…What made this one so bad for me is the damage to trees. I had three huge shade trees and three citrus that had been loaded with fruit and leaves.

The storm's sheer size and slow progress magnified its effects. (source)
Frances cost civilians $8.6 billion and spawned at least 103 tornadoes along her path.
And then there was Hurricane Ike, which hit Texas in 2008.
Hurricane Ike, 2008. 6th costliest hurricane in U.S, history, $30 billion. 21 direct deaths in TX, LA, AR and 64 indirect deaths in Texas. Remnants killed another 28 people in the Midwest. Deadly storm surge, trees falling onto homes, carbon monoxide, electrocution. Category 2. pic.twitter.com/8rMqiXSiHk

— Dr. Rick Knabb (@DrRickKnabb) September 13, 2018
So while a Category 2 is still better than a Category 4, please don't think that it's nothing to worry about. You still must be vigilant and take every precaution.
Hurricane Florence changed directions.
Florence changed direction over the past 24 hours, which is good news for folks in coastal Virginia.
But there's also bad news. That shift means that it's headed straight for Georgia now instead of Virginia. Virginians had a week to get ready.  Folks in Georgia have a few hours. There's little to no time for them to evacuate. It's go-time TODAY. Georgia State Parks and the Atlanta Motor Speedway have opened up for evacuees.  Georgia has declared a State of Emergency in advance of the storm. (source)
This is a picture from the National Hurricane Center of the cone. (updated as of 11 am)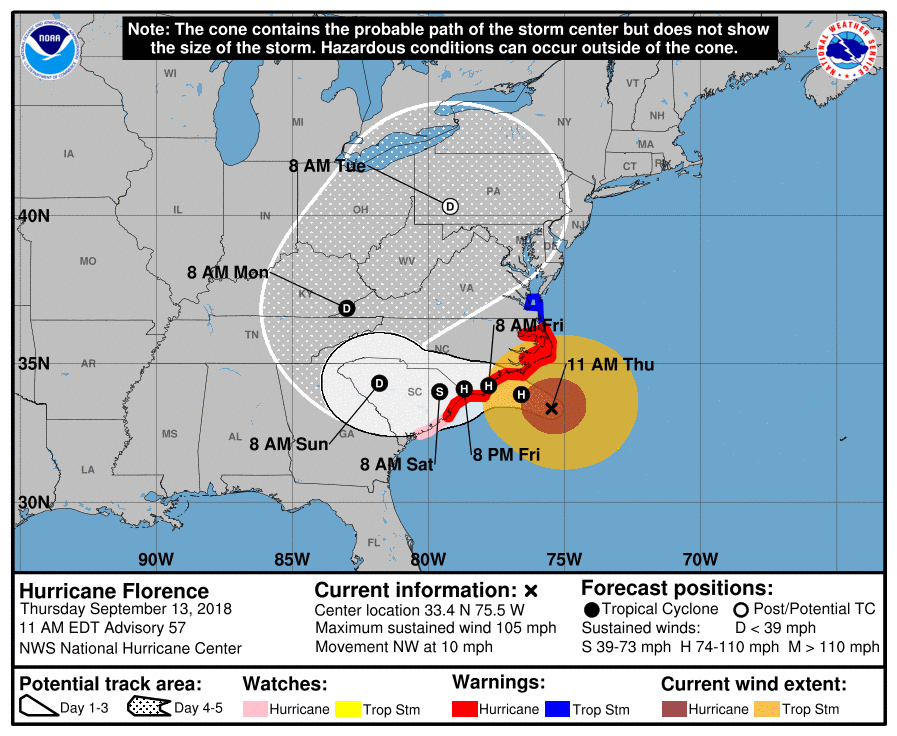 It's essential to note that the cone is the CENTER of the storm and does not indicate the SIZE of the storm. The other thing to remember is that there's still a lot of warm ocean water between the eye of the hurricane and the coast. Anything can happen.
How big is Hurricane Florence?
As well, Hurricane Florence is huge – a true monster of a storm. That means even though the course has changed, Virginians are not totally out of the woods.
Hurricane-force winds extend outward up to 70 miles from the center and tropical-storm-force winds now extend outward up to 195 miles, NHC reported. (source)
Florence is about 500 miles wide. That's the length of the entire state of Florida. The size of TWO South Carolinas.
Hurricane Florence slowed down which isn't as good as it sounds.
The storm has slowed down at the same time. This sounds like a good thing, but it's actually not.
Here's why.
When a hurricane slows down, of course, the wind speed drops, which is great. However, it means that the storm will linger over an area for a longer period of time before moving on, losing more power, and leaving the first area that was hit.
A study published this summer in the journal Nature focused on what is known as translation speed, which measures how quickly a storm is moving over an area…

…Lingering hurricanes can be a problem, as Texans learned when Harvey caused devastating flooding and billions of dollars of damage. The storm dropped more than 30 inches of rain in two days and nearly 50 inches over four days in some places. A report issued in June by Harris County, which includes Houston, found that Harvey's rainfall exceeded every known flooding event in American history since 1899.

"The really, really high rainfall totals were because the storm moved so slowly," said Deanna Hence, a professor of atmospheric sciences at the University of Illinois at Urbana-Champaign, who was not involved in the research. "The large amount of rain that is going to come out of a tropical storm or hurricane anyway fell in the same place over a long period of time." (source)
The other problem with the hurricane slowing down is that when it slows down over the ocean, " it's going to continue sucking up a lot of moisture from the ocean and dumping it as heavy rain inland."
Not good. While folks were somewhat prepared for catastrophic rainfall, it may be even worse than we expected.
When will Hurricane Florence make landfall?
The first effects of Hurricane Florence are already being felt on the coast, where the arrival of tropical storm force winds was expected at about 8 am. Today will be rough, with high winds and rain, and actual landfall is expected tonight (well, Friday actually) at about 2 am.
This map from the National Hurricane Center shows when tropical storm force winds can be expected for those in the way of Florence.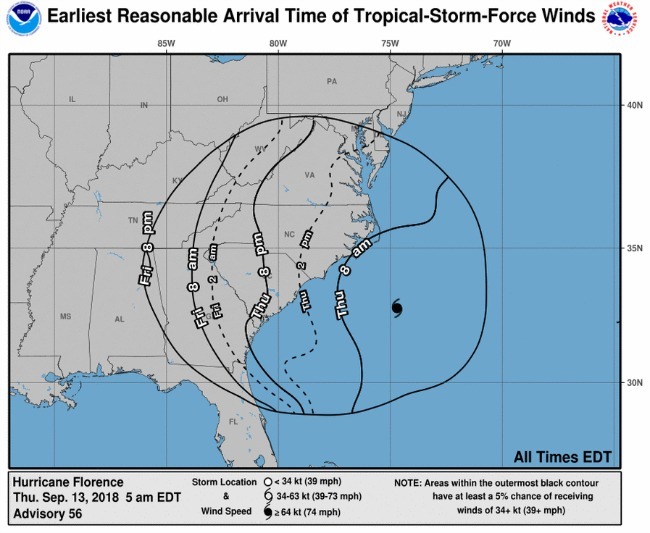 Here's the official word on who has warnings and who has watches.
A hurricane warning and storm surge warning are in effect from the South Santee River, South Carolina, to Duck, North Carolina, including the Albemarle and Pamlico sounds. Hurricane warnings also reach inland across eastern North Carolina. This includes Myrtle Beach, South Carolina, Wilmington, North Carolina, and most of the Outer Banks.

Hurricane warnings also extend inland including North Carolina cities such as Greenville, Goldsboro and Kinston.

Hurricane watches are in effect from Edisto Beach, South Carolina, northward to the South Santee River, South Carolina. This includes Charleston, South Carolina.

Storm surge watches remain posted north of Duck to the border between North Carolina and Virginia, as well as from Edisto Beach, South Carolina, northward to the South Santee River, South Carolina.

Tropical storm warnings are in effect north of Duck, North Carolina to Cape Charles Lighthouse, Virginia, as well as for the Chesapeake Bay south of New Point Comfort, Virginia. This includes Virginia Beach and Norfolk, Virginia. (source)
Remember, even if you are NOT in these areas, you must be prepared for catastrophic flooding over the next few days as Florence lingers over the coast.
Your Hurricane Florence Preparation Checklist
The following articles contain tips and vital information to help you get prepared for what could be an incredibly bumpy week with floods, devastating winds, and power outages.
You can buy these two books, too. They're delivered instantly so you can download them to a device or print them out. They're both loaded with essential information.
Be safe and my very best wishes go out to those in the path of Hurricane Florence.