(Psst: The FTC wants me to remind you that this website contains affiliate links. That means if you make a purchase from a link you click on, I might receive a small commission. This does not increase the price you'll pay for that item nor does it decrease the awesomeness of the item. ~ Daisy)
When I moved to southwestern Virginia, I really didn't expect to be dealing with hurricanes. But, I quickly learned, a system like Hurricane Florence could affect places that are as much as 350+ miles from the shore. So, if you are one of the 112 million and then some of Americans in the area classified as the "East Coast" – particularly the southern to mid-Atlantic part – you need to get prepared for this possibility too.
Now, a very important thing to keep in mind is that hurricanes are unpredictable until they get closer to the shore. At that point, we can know with much more certainty that the storm is headed our way. Unfortunately, at that point, it's really too late to get prepared. Supplies will be picked over at the stores and roads will be jammed with people fleeing the hurricane.
It's much better to prepare as far in advance as possible for a hurricane. And if the one you're prepping for turns back out to sea, don't think your preparations have been wasted. Trust me, another one will come and you will be glad you have the supplies that you do.
How far away from the coast can hurricanes affect you?
The National Hurricane Center warns that the pictures on maps are only predictions and that the effects can go far beyond these cones.
NHC tropical cyclone forecast tracks can be in error. This forecast uncertainty is conveyed by the track forecast "cone", the solid white and stippled white areas in the graphic. The solid white area depicts the track forecast uncertainty for days 1-3 of the forecast, while the stippled area depicts the uncertainty on days 4-5. Historical data indicate that the entire 5-day path of the center of the tropical cyclone will remain within the cone about 60-70% of the time. To form the cone, a set of imaginary circles are placed along the forecast track at the 12, 24, 36, 48, 72, 96, and 120 h positions, where the size of each circle is set so that it encloses 67% of the previous five years official forecast errors. The cone is then formed by smoothly connecting the area swept out by the set of circles.

It is also important to realize that a tropical cyclone is not a point. Their effects can span many hundreds of miles from the center. The area experiencing hurricane force (one-minute average wind speeds of at least 74 mph) and tropical storm force (one-minute average wind speeds of 39-73 mph) winds can extend well beyond the white areas shown enclosing the most likely track area of the center. (source)
I would imagine if you are anywhere near the cone, you need to be making preparations. Here's the NHC's map.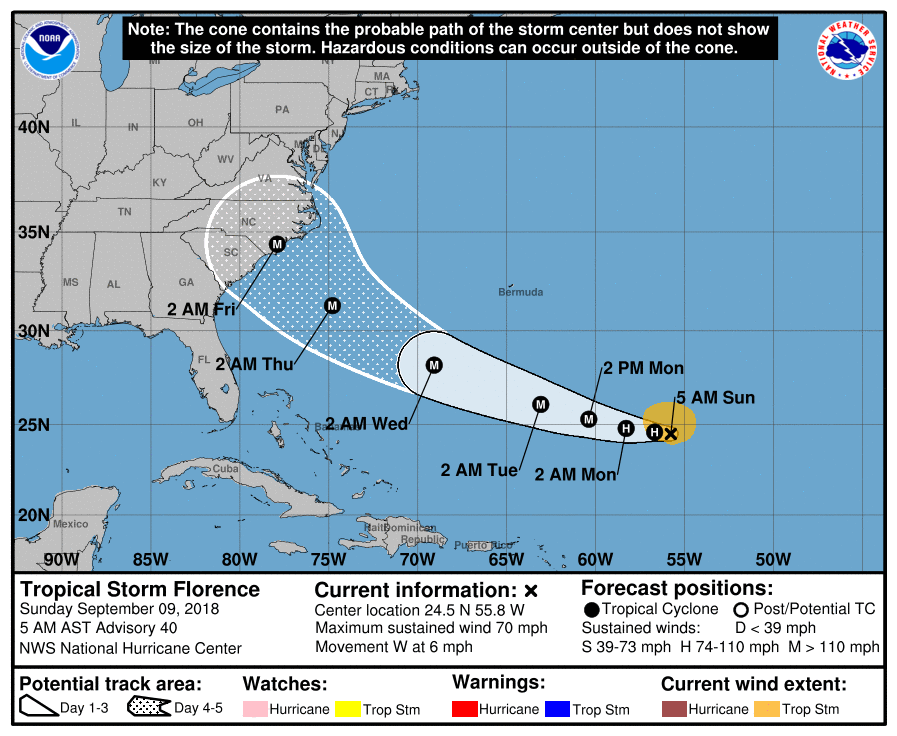 Here's an explanation of the graphic:
This graphic shows an approximate representation of coastal areas under a hurricane warning (red), hurricane watch (pink), tropical storm warning (blue) and tropical storm watch (yellow). The orange circle indicates the current position of the center of the tropical cyclone. The black line, when selected, and dots show the National Hurricane Center (NHC) forecast track of the center at the times indicated. The dot indicating the forecast center location will be black if the cyclone is forecast to be tropical and will be white with a black outline if the cyclone is forecast to be extratropical. If only an L is displayed, then the system is forecast to be a remnant low. The letter inside the dot indicates the NHC's forecast intensity for that time:

D: Tropical Depression – wind speed less than 39 MPH
S: Tropical Storm – wind speed between 39 MPH and 73 MPH
H: Hurricane – wind speed between 74 MPH and 110 MPH
M: Major Hurricane – wind speed greater than 110 MPH
Their prediction has it reaching us Friday instead of Thursday. Personally, I plan to have everything in place by Wednesday. You just never know when it comes to Mother Nature.
How should you prepare for a hurricane?
How you should prepare for a hurricane depends where you live.
If you live on the coast and discover that the storm headed your way is indeed a Category 5, your best option is to evacuate. A Category 5 is nothing to mess around with. In fact, evacuations may well be mandatory.
If you are going to leave, do so before everyone else is panicking to get out of the way of the hurricane. If you are going to evacuate, by making plans early, you can still reserve a hotel much further inland while some are still available. You can make plans to find one that is pet-friendly or find a kennel that will take your furbabies. If you wait until the last minute, you could end up in some unpleasant shelter.
If you live further inland (or if Florence is much weaker than predicted) the preparations are different. Most folks will hunker down and wait it out. Here are the things you can expect:
High winds
Torrential rain
Flooding (some places are predicting more than 20 inches of rainfall in a day)
Disruptions of electricity
Disruptions of municipal water
So to prepare for these things you need to take the following steps:
Go out to your yard and secure anything that could become a projectile: lawn furniture, large toys, fallen branches, flower pots, etc.
If there are trees with dead or weak limbs overhanging your house, have the branches removed.
If you live in a low-lying area or near a body of water, make an evacuation plan in case of flooding.
Remove things from your basement or lower floors of your home to protect them from possible flood waters. It may be enough to merely put the items up on wooden pallets you scavenged from the trash of a local business.
Prepare for a power outage that could last for 2 weeks. (go here for details).
Be sure to have food on hand that doesn't require cooking.
Have plenty of water for humans or pets (again, enough for 2 weeks).
Have back up power all charged up for cell phones.
Pick up some ice so you can store some of your groceries in coolers and keep fridges and freezers cold for longer.
If you live in an area that is likely to flood, be prepared to be stranded at home until the waters recede.
Make sure to pick up prescription medication and other supplies for special needs.
Obviously, this is a quick list of preparations. For something a little bit more detailed, download this free checklist with the things you need to do to get ready for the hurricane.
If you want to go more in-depth, pick up a copy of my book, The Prepper's Hurricane Survival Guide.