(Psst: The FTC wants me to remind you that this website contains affiliate links. That means if you make a purchase from a link you click on, I might receive a small commission. This does not increase the price you'll pay for that item nor does it decrease the awesomeness of the item. ~ Daisy)
By Daisy Luther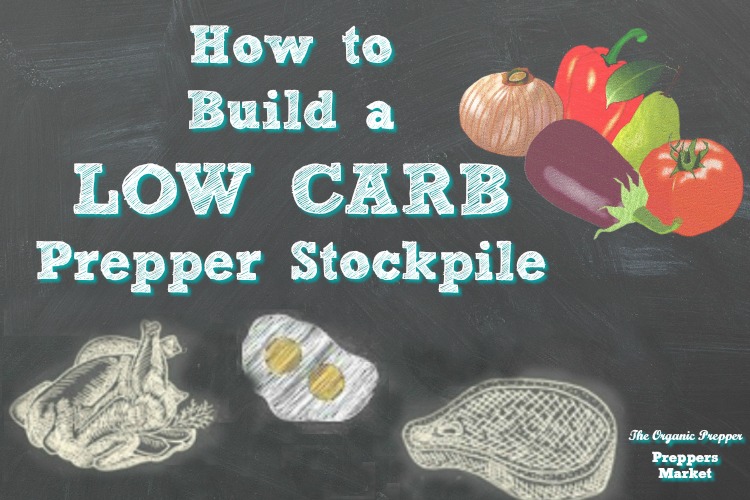 Does your health require a diet that is low in sugar and carbohydrates but high in protein? If that's the case, you may have found that building a low-carb prepper stockpile is pretty difficult. After all, "beans and rice" is the prepper standby. And those buckets of food? Forget it if you're watching carbs. The meals are all based on rice, pasta, and potatoes.
So how do you create pantry full of freeze-dried food for a low-carb prepper?
Why people are eating lower carbohydrate diets

There are many health concerns that require a diet that is high in protein and low in carbohydrates. To name a few:
Diabetes
Arthritis
Cardiovascular disease
Metabolic Syndrome
Obesity
Colitis/Irritable bowel syndrome
The list goes on and on. Some folks simply feel better when they lower their starch and sugar intake.
Regardless of the reason that you've chosen a low-carb lifestyle, going off it abruptly could result in gastrointestinal distress, a recurrence of symptoms, bloating, sluggishness, and joint pain. An emergency would be the worst possible time to deal with that.
Here's how to build your own low-carb prepper food supply.

At this point, there aren't really any buckets of food that will meet your needs, so you'll have to choose an "ala carte" style supply by ordering specific freeze dried foods. A diet of protein, vegetables, and fruit is ideal.
Protein:
Vegetables:
Fruits:
Some people on lower carb diets restrict fruits, while others consider them "good" carbs. Here are some freeze-dried fruit options.
What would a low-carb prepper menu look like?

Using the foods above to create meals during an emergency might look something like this:
Breakfast:
Scrambled eggs
Fruit salad
or
Frittata made with eggs, broccoli, and onion
Lunch/Dinner meals:
Storing tasty spices and seasonings will be the key to making delicious meals.
Chicken, pineapple, and broccoli stir-fry with Chinese seasonings
Soup made with beef, tomato powder, green beans, carrots, and onion with Italian seasonings
Beef and asparagus with savory seasonings
Beef with marinara sauce (made from tomato powder and Italian seasonings) over a bed of your favorite veggies
Chicken, carrots, and green beans in a creamy curry sauce made with milk powder
As we get new meats and veggies in, I'll add ideas to the list. The key is to creatively mix the items you have access to in order to closely mirror the way you normally eat.
If the rest of your family eats carbs, potatoes, rice, and pasta can be added to the meals above to keep everyone well-nourished.
Do you have any other low carb meal ideas using the foods above?

Share them in the comments section. Also, what do you store for your low-carb preps?