(Psst: The FTC wants me to remind you that this website contains affiliate links. That means if you make a purchase from a link you click on, I might receive a small commission. This does not increase the price you'll pay for that item nor does it decrease the awesomeness of the item. ~ Daisy)
Being underestimated can be incredibly frustrating sometimes. If you're a guy reading this, ask any woman you know, and she'll tell you. But, the secret is, being underestimated can also be a tremendous advantage.
If you don't appear to be a threat, there are many situations in which you have can have the upper hand without anyone realizing it. This is an advantage that many of us ladies have naturally. It can be infuriating when someone doesn't seem to take you seriously. I spent years bemoaning the fact that everyone thought I looked "sweet" or "nice." If that's you too, I have good news. In reality, it's actually a more often good thing that you and I are the last people anyone would expect to pull out a Glock or other weapon.
First, let's talk about the negative side of being underestimated.
It's not all sneaky ninja stuff, though. Being underestimated can also be a disadvantage. It can make you look like easy prey for predators. It can make others think that they can rip you off a little more easily.
It's important to hit a fine line between being non-threatening and being confident to avoid those kinds of issues. You don't want to set yourself up to be a target by being meek and unassuming. There's a difference between looking like an easy target and simply not looking like a threat.
But on the positive side…
Looking non-threatening can mean you have the element of surprise. All of my friends who are military or former military have drilled into my head the 3 parts of a successful attack:
Speed
Surprise
Violence of action
Even if you've only got two out of three, you have a much better chance to prevail when defending yourself.
Last week I showed this photo on social media and some yahoo commented along the lines of, "If you don't have training, you're going to get hurt with your little pink knife. Wake up." (Reworded slightly so it's grammatical.)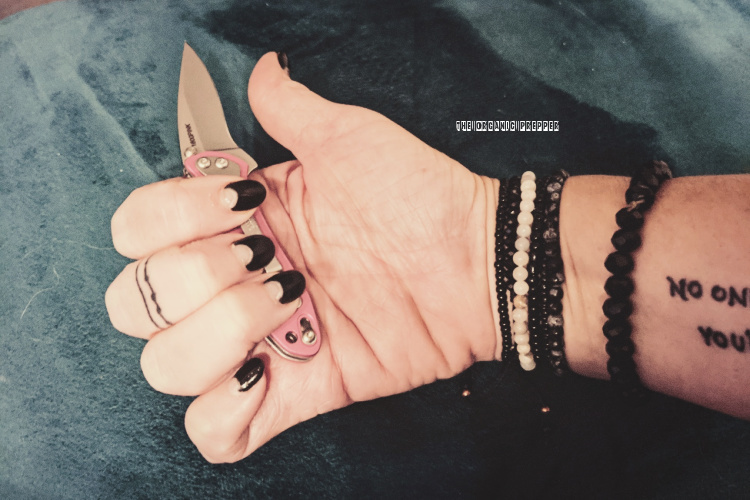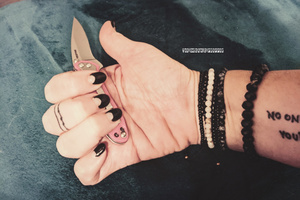 I had to laugh. While I'm no expert, he simply assumed that I didn't have any training, when in fact, I've had both one-on-one and group class training with defensive knife use.
Was it because my knife is pink? Because I have my nails done? Or just because I'm female? I have no idea, but it reinforces the fact that I would have the element of surprise on my side if this particular dude decided to attack me. Add to that the fact I've had some training, and as I discussed at length in my book, Beyond the Prepper Stockpile: Adventure, Adaptability, and Survival in the Modern World, the will to defend myself violently, it just might give me the opening I need to prevail.
Being underestimated in a group
Hopefully, none of us are ever in a hostage situation. But if you are, looking like a badass probably means you'll be the first person to die. Whether you're a man or a woman, if you are in a group dealing with a superior force, the last thing you want is to draw the attention of that force as a potential threat.
Particularly in terrorist hostage situations, it's likely that they don't plan to let you get out of there alive. Greg Ellifritz of Active Response Training writes (emphasis mine):
Look at every event worldwide where Islamic terrorists have taken hostages.  In EVERY event, the terrorists refused to negotiate or used the negotiation time to build better fortifications or attract more media attention.  Every minute spent in negotiation with Islamic terrorists strengthens their position and gives them the media attention they crave.  They don't want to get away.  They want to kill all the hostages and die a martyr's death.  Your negotiation tactics just buy the terrorist the time he needs to optimally complete his plan.

Need some examples?  How about starting off with the Beslan school hostage siege.  That's the most famous event of this type.  The terrorists used the government's attempts to negotiate solely as a delaying tactic.  While the military was "negotiating," the terrorists were killing hostages, ringing the school with explosives, and setting up machine gun nests to prepare for the inevitable raid to come.

For additional examples of Islamic terrorist hostage sieges, look at the Australian Lindt cafe hostage siege.  Or the Bangladesh restaurant hostage siege.   The French Bataclan Theater hostage incident fits the profile as well.

Besides the attacks I mentioned above, Chechen terrorists also used the same "negotiation for fortification" strategy  at the Nord Ost theater attack.  Over a three-day period, terrorists "negotiated" with the Russian government and while doing so, placed explosive charges and suicide bombers around all of the hostages.  They also killed any male or person in power who looked like they might resist.  "Negotiation for fortification" in this incident created 170 fatalities and 700 more injuries. (source)
His advice is geared toward police responses, but he also advises civilian readers that if you find yourself in this situation, nobody is coming to save you. You must fight back or escape if you intend to survive. Check out the article for his very thorough breakdown of this type of hostage situation.
And let me reiterate this one sentence:
They also killed any male or person in power who looked like they might resist.
Chalk one up for the advantage of being underestimated, right?
Being underestimated isn't just an advantage for women.
In my line of work, I've met a lot of badass guys with extensive training and backgrounds filled with violent situations. Only a couple of them immediately come across as the person in the room who will take you down. The rest are pleasant, unassuming, even goofy. You'd never guess that they have skills most of us only dream about acquiring.
They disarm others with a smile or a sense of humor. They don't walk around acting like a commando. They don't dress in head-to-toe tacti-cool outfits.
Why?
Because they know, from years of experience, that having the element of surprise is a tremendous tactical advantage. So they're nice. They're pleasant. They don't look like they're there to cause trouble. To quote Patrick Swayze's character, Dalton, in the movie Roadhouse, "I want you to be nice until it's time to not be nice."
How do you strike the right balance?
As I mentioned earlier, there's a fine line between looking like an easy target and simply not looking like a threat. But how do you find that balance?
In a one-on-one situation, I think it has a lot to do with the way you carry yourself.
Be alert. Put away your dang phone and pay attention to the world around you.
Make brief eye contact. Let the threat know you are aware of his presence. Don't be aggressive and don't be dismissive. Just be aware.
Don't display weakness. If you can avoid it at all, try not to display anything that makes you look like easy pickings.  This isn't always possible, if, for example, you have a visible physical handicap. If you do have something about you that makes you look as though you'd be an easy target, you have to be able to offset that with skills that work with the body you're in. (Something Toby reiterated constantly at the course for women in Croatia was "training for the body you're in.")
If you've been kidnapped, being underestimated means that your captor might not contain you as securely. He might be easier to take by surprise when you get your moment and you fight back to escape.
In a group setting, it's even simpler. Blend in. Act like everyone else. If all the other hostages look afraid, don't be defiant. Your goal is not to be the object of attention. If you're anything like me, it will chafe at you to follow orders and appear compliant. But remember, you're waiting for the moment in which the odds are in your favor: when the person is reloading, distracted, or being attacked by someone else, or when the group of hostage takers is separated.
What do you think about the power of being underestimated?
Do you feel that being underestimated is a negative or a positive? Have you ever used someone's inaccurate assessment of you against them? Share your thoughts in the comments.
About Daisy
Daisy Luther is a coffee-swigging, adventure-seeking, globe-trotting blogger. She is the founder and publisher of three websites.  1) The Organic Prepper, which is about current events, preparedness, self-reliance, and the pursuit of liberty; 2)  The Frugalite, a website with thrifty tips and solutions to help people get a handle on their personal finances without feeling deprived; and 3) PreppersDailyNews.com, an aggregate site where you can find links to all the most important news for those who wish to be prepared. Her work is widely republished across alternative media and she has appeared in many interviews.
Daisy is the best-selling author of 5 traditionally published books, 12 self-published books, and runs a small digital publishing company with PDF guides, printables, and courses at Learn.TheOrganicPrepper.com You can find her on Facebook, Pinterest, Gab, MeWe, Parler, Instagram, and Twitter.