(Psst: The FTC wants me to remind you that this website contains affiliate links. That means if you make a purchase from a link you click on, I might receive a small commission. This does not increase the price you'll pay for that item nor does it decrease the awesomeness of the item. ~ Daisy)
By Daisy Luther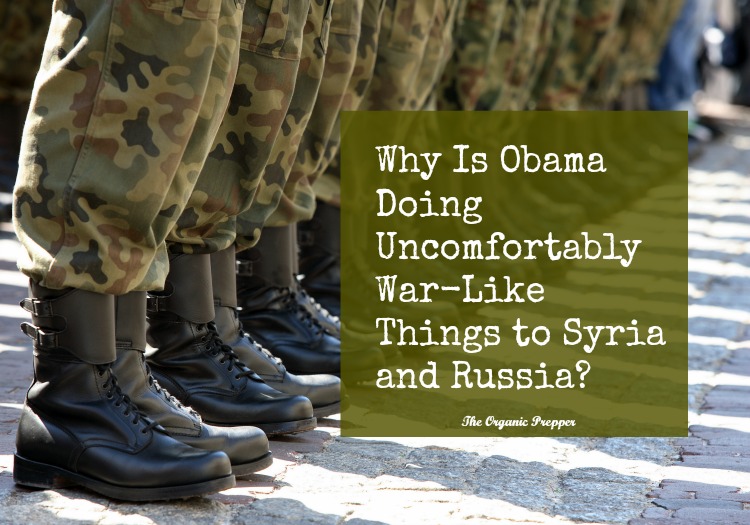 (8/24/16) Usually, when one nation declares war on another there's some kind of announcement. Constitutionally speaking, there are some rules to follow. But maybe there are some exceptions that I didn't hear about in high school civics class, because even if he hasn't made such an outright declaration, President Obama sure is doing some uncomfortably war-like things to Syria and Russia.
Let's get the official definition of war out of the way first:
noun
1.
a conflict carried on by force of arms, as between nations or between parties within a nation; warfare, as by land, sea, or air. (source)
Okay, now we're all on the same page.
For more than two years, Obama stated publicly that there would be no U.S boots on the ground in Syria. Here are 16 different times he said that.
We all know how that went. You can read more about it here and here. After the boots were there, decidedly on the ground, the administration denied he ever said he wouldn't be sending troops to Syria.
Obama and Hillary Clinton must have taken honesty lessons from the same school.
Now, whether we like it or not, the Syrian government is internationally recognized. An internationally recognized government in an internationally recognized country. You don't have to like the al-Assad regime, but its existence is legitimate.
It can be assumed that the U.S boots that are on the ground in Syria were not formally invited to be there…so was this a 'soft' invasion?
Here's the definition of invasion:
noun
1.
an act or instance of invading or entering as an enemy, especially by an army.
2.
the entrance or advent of anything troublesome or harmful, as disease.
3.
entrance as if to take possession or overrun:
the annual invasion of the resort by tourists.
4.
infringement by intrusion. (source)
I think points 1 and 4 are especially pertinent here.
So, the question is this:
So, are we, or are we not, at war with Syria?
Add to this the fact that Pentagon spokesman Captain Jeff Davis claimed that US jets attempted to intercept Syrian planes to protect the American advisers operating illegally with Kurdish forces in Syria after Syrian government jets bombed areas of Hasakah when Kurdish police began an aggression against the National Defense Force. (source)
Almasdar News stated that the United States will take down any Syrian or Russian fighter jets that fly over U.S troops and advisors in Syria. They back up the claim with direct quotes from Pentagon spokesman Peter Cook.
On Monday, another Pentagon spokesman, Peter Cook, said, "We would continue to advise the Syrian regime to steer clear of those areas."

"We are going to defend our people on the ground, and do what we need to defend them," Cook told reporters.

He said, "it's not a no-fly zone," but added that "the Syrian regime would be wise to avoid areas where coalition forces have been operating."

When pushed further about Russia, Cook made it clear that the US would make the same aggression against Russian jets who are operating legally with the Syrian government's approval and coordination.

"If they threaten US forces, we always have the right to defend our forces," Cook said.
Right.
You CANNOT just show up in another country and start calling the shots because you don't like the way they do things.
I have questions.
Is this just saber-rattling or does Obama really think he has the right to invade a foreign country, shoot down the aircraft of that country, and also shoot down the aircraft of an invited guest in that country?
Does he really think he would get away with it?
Is he deliberately trying to provoke other world leaders?
Does Obama actually want a war? Because this is how you get a war.
Is he totally insane?
Does he really think Vladimir Putin will sit back and say okay, fair enough, Barack, no biggie?
And getting into a p*ssing contest with Russia? What is he thinking?
Provoking Putin takes things to a whole new level. It puts millions more lives at risk, because what is currently a civil war could easily escalate into an international conflict with two superpowers on different sides.
If you add to this the fact that Germany is urging people to prepare and talking about reinstating the draft, while other countries around the world all seem to be gearing up for something disturbing, I think we can all agree that this development is worrying in the extreme.
It really does seem like they are setting us up for a war, doesn't it?
I'm pretty sure when they made up the phrase, "don't poke the bear" that Putin was probably the bear.
If you think our economic situation is unstable now, you ain't seen nothing yet.
Be sure you're prepped with emergency food, water, and other vital supplies, because when this goes downhill, it will gather speed in a hurry.
What do you think?
Is this situation likely to escalate further? Is this a deliberate attempt to call on Vladimir Putin? Why on earth would President Obama behave so recklessly? What is it that we're not being told?