(Psst: The FTC wants me to remind you that this website contains affiliate links. That means if you make a purchase from a link you click on, I might receive a small commission. This does not increase the price you'll pay for that item nor does it decrease the awesomeness of the item. ~ Daisy)
Author of The Prepper's Pantry and creator of the course Build a Better Pantry on a Budget
Three is the luckiest number when it comes to prepping. There's the old saying, "One is none, two is one, three is better." There's the Survival Rule of Three which is that you can hang on for "3 minutes without air, 3 days without water, and 3 weeks without food." And then there's the approach that in all things survival, you need a layer of three, including food storage.
For example, Selco wrote an article a while back about layers when it came to bugging out. Basically, you need a layer close to you (as in on your person), a layer for more intense situations within easy reach, and another one someplace in your bag.
The Same is True With Food
Every prepared family should have multiple layers in their food storage. Let's take a look at the three layers of food storage. (Don't forget to take your family's dietary restrictions into account when building your supply.)
Layer 1: Stuff with a shorter expiration date that you'd use if you can't get to the store for a few weeks
Layer 2: Stuff that will last a year or so that you'll use during power outages or longer-term emergencies
Layer 3: Stuff for all-out, apocalyptic long-term events in which there's no such thing as grocery stores
(Note: Some of the links in these lists are affiliate links. If you buy them, I make a little money at no cost to you. If you don't want to buy them, no problem at all – you can still take a peek to see the products that I use and recommend.)
My book, Prepper's Pantry, goes into tons more detail but this is a great starting point. If you want even more information, check out my course, Build a Better Pantry on a Budget. And don't forget, you can't survive on just food alone. You'll need to store water as well.
Here's where you can get a printable copy of this article.
The First Layer of Food Storage
This is the easy layer. This is the stuff you turn to when something goes a wrong and maybe you can't get to the store right away. These foods may or may not have an extremely long shelf life and generally require power to store or prepare.
They are the basics that you keep in your freezer, in canisters, and in the kitchen pantry.
A few examples are:
Frozen fruits and vegetables
Frozen meats
Potatoes
These are the items you'd substitute for fresh foods that make up a big part of your diet right now. You can easily throw together a great meal if you have an assortment of the foods above. *Try to mirror the foods your family normally consumes.
Chances are you have these foods in your kitchen right now that you already intersperse into your menus daily. I like to have at least – at least – a one month's supply of these first layer foods. Having a supply that will see your family through at least a month means a short-term emergency will hardly be noticeable to your family. Also, this will help ensure they experience very little difference in the way they normally eat.
A bunch of us did the Stockpile Challenge in January. During this challenge lots of folks found they had enough first level foods on hand and their families didn't realize they hadn't been to the store for an entire month.
The Second Layer of Food Storage
The second layer is made up of two parts. The items included are generally shelf-stable for at least 6 months. And, will most likely be a bit different from what you normally eat.
a) scratch cooking ingredients: these ingredients are the items used to bake bread, make pies, thicken sauces, and sweeten food. Here's a list of essential scratch cooking ingredients.
b) the things that will see you through a totally different type of emergency: this is the stuff you crack into when the power goes out for an extended period of time. These are what you eat when you've gone through all your first layer supplies and things aren't looking up. You'll go through these foods first in an all-out epic disaster that changes the way you live.
A few examples of b items:
Boxed pasta or rice side dishes
*Canned beans
*Canned chili
*Canned fruits
*Canned meat and fish
Canned pasta and ravioli
*Canned soup
*Canned vegetables
Cooking oil
Crackers
Granola bars
*Jams and Jellies
Jarred or Canned Sauces
Oats
Pasta
Peanut butter
Popcorn
Potato flakes
* indicates that the food could be either

store-bought

 or home-canned.
Obviously, you'll also want to have a can opener on hand.
The thing that most folks these days will find a bit different is the need to eat preserved fruits, vegetables, and meat instead of fresh. Frozen, like in level 1, is pretty similar to how we normally eat, so this could be a challenge for finicky family members.
You can mitigate this to some degree by throwing some of these types of food into your everyday menus now. I know these things aren't quite as healthy as the fresh foods we have the privilege to enjoy daily right now, but if you feel like you are truly going to need to rely on some of these items at some point, by sampling the foods, you can find your family's favorites and stock up on those.
The Third Layer of Food Storage
There are sublayers to this, too.
a) Supplies/skills to produce and preserve your own food
b) The stuff that most folks think of when they think of preppers. It's the longterm foods that will last, literally, for decades.
This layer is for a time when you're in it for the long haul. Perhaps some world-changing event has occurred, there are no more grocery stores on the horizon, or you're hunkering down for the foreseeable future.
One thing that lots of folks don't consider is that no matter how many supplies you have, they're not going to last forever – at some point, you'll need to supplement your supplies with food you can grow or acquire. This means things like gardening, raising livestock, hunting, and foraging.   For this, section, not only do you need to stock up on seeds and gardening supplies, but you need to practice these skills right now when you have a grocery store as a backup.
For section b, we're talking full-on bunker pantry with long-term food that has been carefully packaged and protected.
A few examples:
* Remember that freeze-dried foods are not the same things as the food you dry yourself in a dehydrator.  Home-dehydrated foods will not last for much more than a year, according to many accounts. Commercially freeze-dried food is your best option for long-term unless you have a high-quality freeze-drier like a Harvest Right.
You'll need a high-quality manual grinder to turn the whole grains like wheat berries and dried corn into flour or meal that you can cook with. I have the Wondermill Junior.
It's wise to pull a small amount of the long-term ingredients out before you stash them away for the long term so that you can learn to cook with them. Making bread from home-ground flour is a whole different animal than making it from commercial flour. Do some experimenting now so that you don't waste food later.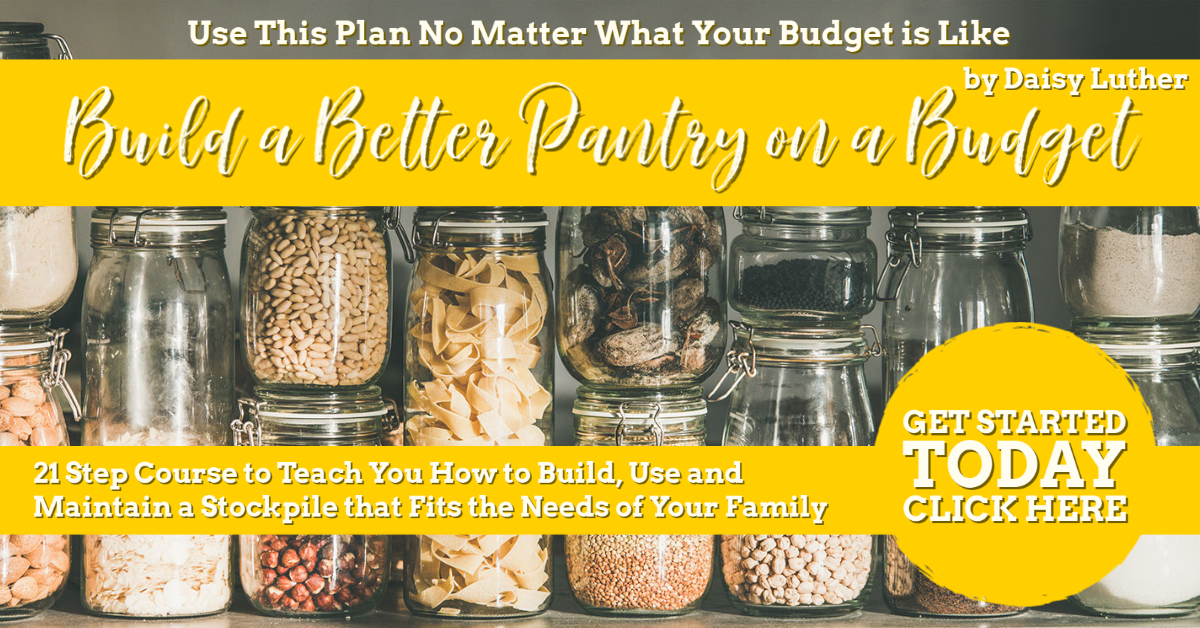 Don't Make This Common Mistake!
One mistake that I see a lot of new preppers making is that they go straight for the third layer without adding the items for layers one and two. The truth of the matter is, while it's important to build a long-term stockpile, I believe the first two layers are actually more important.
That probably sounds outrageous on a preparedness blog, but there's a method to my madness. We have to prepare for the things that are the most likely, not the apocalyptic scenarios that may or may not ever occur. I've often written that the number one thing we need to prepare for is personal financial hardship. I've experienced it myself and used layers 1 and 2 of my food storage extensively. I never even cracked into layer 3 during those difficult times.
If you're new to prepping, start with layers 1 and 2 before you move on to prepare for a dystopian event. These items will serve you well during everyday events and if your money is limited, are far more practical.
For more information about building your stockpile, check out my book, Prepper's Pantry or my course, Build a Better Pantry on a Budget.
What else would you add to the lists?
Obviously, these lists aren't meant to be comprehensive. Because of different budgets, dietary restrictions, and tastes, that would be impossible. What I hope is that this gives you something to think about when building your stockpile.
What other items would you add to the three layers of food storage?