(Psst: The FTC wants me to remind you that this website contains affiliate links. That means if you make a purchase from a link you click on, I might receive a small commission. This does not increase the price you'll pay for that item nor does it decrease the awesomeness of the item. ~ Daisy)
The crisp autumn chill signals that it's time to walk through the crunchy leaves back to the garden to harvest your pumpkins.  If you don't have them growing in your own back yard, you can find a local farm or market  HERE and get a great deal, especially now that Halloween is over.
Pumpkin trivia: Pumpkin is part of the Cucurbita family, which also includes cucumbers and squash. The custom of carving pumpkins comes from Ireland, where they originally carved turnips. Pumpkins originated in Central America as early as 5500 BC.  Early American settlers made a version of pumpkin pie but hollowing out a pumpkin and filling it with milk, honey, and spices, then baking it in the ashes of their cooking fire. Pumpkins are botanically classified as fruits, not vegetables. Although the classic pumpkin is orange, there are heirloom varieties that are  green, yellow, red, white, blue, and tan.
Nutritional benefits
Pumpkins are loaded with disease-fighting nutrients.
A 1 cup serving of cubed pumpkin contains only 30 calories, no fat, and 8 grams of carbohydrates.
Despite the low calorie count, pumpkins are the only food that contains 3 carotenoids – lutein, alpha-carotene, and beta-carotene, which fight disease and slow the signs of aging.
Pumpkins are chock-full of minerals: iron, zinc, calcium and magnesium.
Pumpkin seeds are an excellent source of zinc, manganese, and tryptophan.
Pumpkins are very high in Vitamin A, Vitamin C, folats, and Vitamin B6.
Pumpkin has anti-inflammatory properties.
Pumpkin is very high in antioxidants, which fight cancer-causing free radicals.
Pumpkin may help to prevent  age-related macular disease in the elderly.
Using fresh pumpkin
Many heirloom varieties will provide you with far more pumpkin than the smooth skinned classic orange varieties.  This year our 2 jack-o-lantern pumpkins netted us 14 quarts of canned pumpkin, 3 cups of frozen puree, and two pies.
Always wash pumpkins before slicing into them. This will help to prevent any insecticide that may have been used from being introduced to the flesh inside the hard shell.
The easiest way to remove the rind from a pumpkin is to cut it in half, remove the seeds (reserving them), and bake the haves on a cookie sheet until the flesh is tender (30-45 minutes, depending on the size of the halves).
Pumpkin dishes don't have to be sweet – check out this fresh pumpkin soup recipe and this pumpkin sage gnocchi recipe!
Learn how to make fresh pumpkin puree  on the stovetop HERE – you will also find 10 delicious pumpkin recipes!  Learn how to make pumpkin puree in the oven HERE – and there is also a how-to video and a decadent pumpkin smoothie recipe on this page!
Because I have a child with an egg allergy, you will note that eggs are missing from this filling.  The addition of two eggs would make it firm up a little better, so feel free if you don't have those restrictions.  It's delicious and the texture is nice, with or without eggs.
Another great egg-free pumpkin recipe is these Pumpkin Snickerdoodles.
Spiced Pumpkin Pie Filling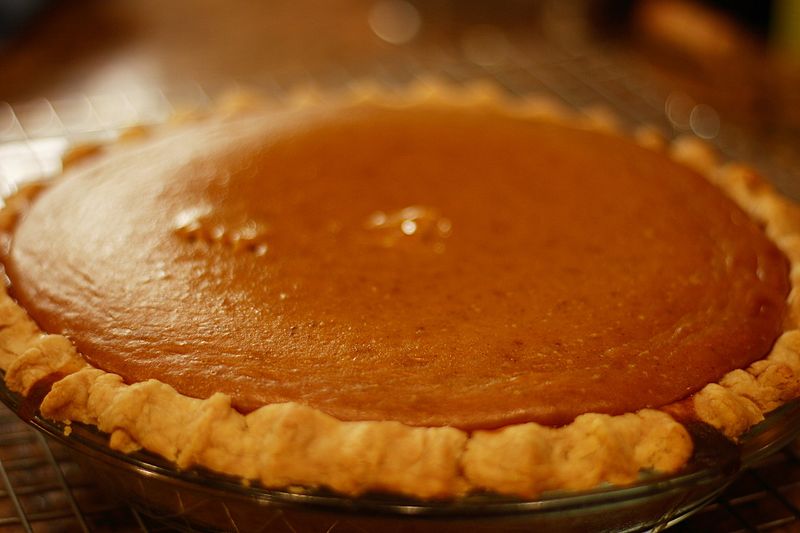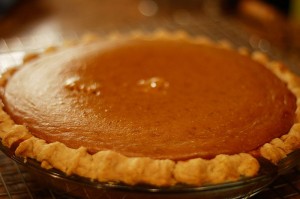 This is also known as "Jack-o-Lantern Pie" in our house, since we have it every year a day or two after Halloween.  We don't carve our pumpkins until  Halloween Day so that they remain fresh enough to use for pies and to be preserved.
Ingredients
2 cups of fresh pumpkin puree
1 cup of sweetened condensed milk (use this recipe to make your own)
3 tbsp of flour
1 tbsp of cinnamon powder.
1 tsp of powdered ginger
1 tsp of vanilla extract
3/4 tsp of nutmeg
3/4 tsp of allspice
1/2 tsp of clove
dash of salt
Pie shell of choice (graham cracker crust is delicious with this filling)
Directions
In a large bowl, stir vanilla extract into condensed milk.
Whisk flour into the vanilla and milk until it is well combined.
Stir in pumpkin puree and spices.
Pour this mixture into your pie shell.
Bake at 350 degrees for one hour or until the filling is firm.  You may need to cover the edges of your pie crust with foil.
Allow the pie to cool for at least one hour before slicing it.  Some people prefer to chill it for several hours in the refrigerator before serving. Top with vanilla ice cream or whipped cream.
Pumpkin Pie Latte Creamer
Skip the toxic ingredients and the assault on your wallet from those boutique coffee shops, while still enjoying that taste of fall with this delicious homemade creamer from the article True Brew.
Ingredients
1 and 1/2 cups of cream or half and half
1 and 1/2 cups of milk
3 tbsp of  pumpkin puree
1 tsp of pumpkin pie spice
1 tsp of cinnamon
4 tbsp of muscovado (or brown) sugar
1 teaspoon vanilla extract
Directions
In a saucepan, stir the spices, puree, milk, and cream together.  (I have only used cow's milk products to make these but a friend tells me that the non-dairy alternatives work well too.)
Bring the mixture to a simmer on the stove, whisking constantly until it begins to steam slightly.
Remove from heat, allow to cool, then store in the refrigerator in a lidded mason jar.  Feel free to adjust the amounts for stronger or sweeter flavors.
If you want to be really fancy, you can add this to espresso, then top it with whipped cream, a drizzle of caramel, and a dusting of cinnamon
Technically, this will last in your refrigerator for 7-10 days (although Pumpkin Pie latte is far too yummy to last that long !).
 Don't forget the seeds.  Do as our ancestors did and use as much of the pumpkin as possible!  If you have chickens you can make this yummy treat for them. Not only does it provide them with extra essential fatty acids, but it can help them get rid of intestinal parasites.
If you don't have chickens, don't despair – you can roast those seeds for a crunchy human snack!  Here's how:
Garlic Roasted Pumpkin Seeds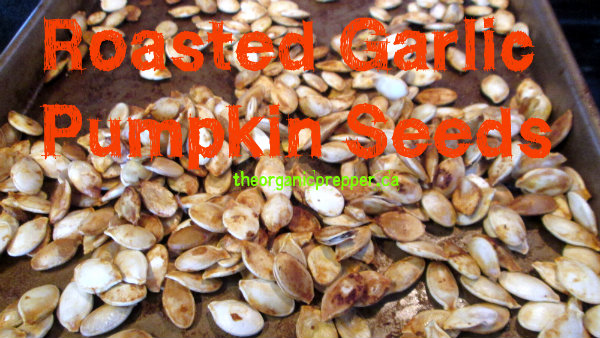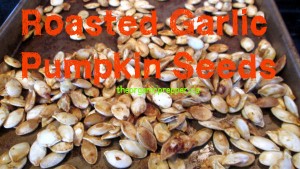 Ingredients
Seeds from 2 pumpkins
2 tbsp of olive oil
1 tsp of garlic powder
1 tsp of sea salt or 1 tsp of seasoning salt
 Coarsely ground black pepper to taste
Directions
Carefully wash the pumpkin seeds in a strainer. Don't worry if there is a little bit of pumpkin flesh still on them, but you'll want to remove the big chunks.  The seeds will feel very slimy in your hands when they're washed – this is entirely normal.
In a large mixing bowl whisk together seasonings and olive oil.
Toss the washed pumpkin seeds in the oil mixture.
Spread the seeds out in a thin single layer on a baking sheet.
Bake at 275 degrees for 1-2 hours, or until seeds are nice and dry.  Stir every half hour.
Store the pumpkin seeds in a jar with an airtight lid for up to a week. (Good luck keeping them around for a week – they last about a day in my house!)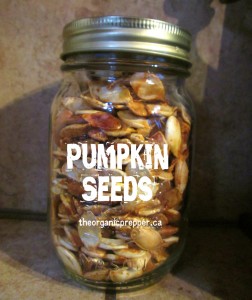 Preserving pumpkins
The saddest thing to me is to see all of the jack-o-lanterns discarded, rotting in the garbage when that delectable pumpkin could have been used or preserved for future goodies.  Meanwhile, at Thanksgiving and Christmas, the same folks that tossed their jack-o-lanterns buy the less-than-appetizing cans of pumpkin puree to make their pies at a vastly marked up price.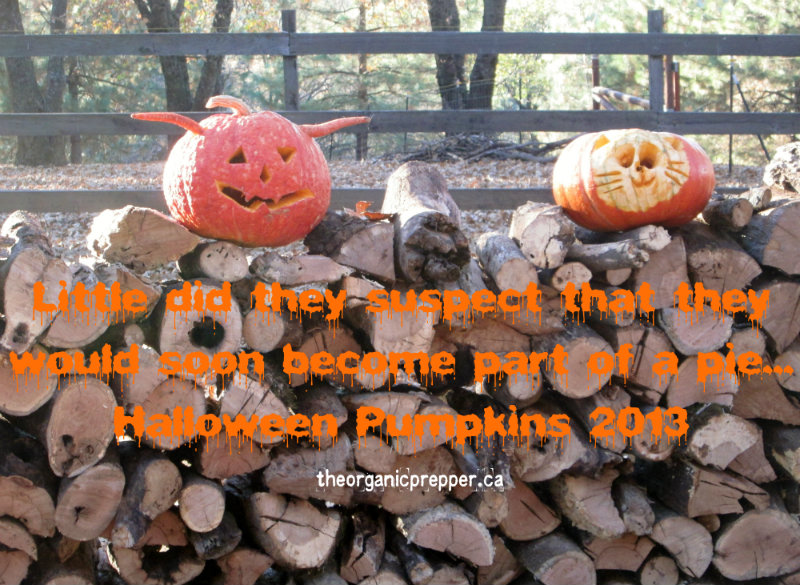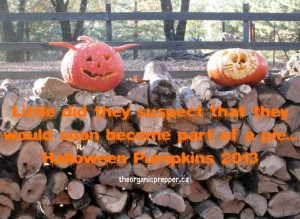 Preserving pumpkin is easy, and leaves you with the supplies for delectable baked goods throughout the year.
Freezing 
The most foolproof way to freeze pumpkin is to make pumpkin puree.  Then, once it cools, fill freezer bags.  Lay them flat on a cookie sheet to freeze so that you have nice, easily stackable rectangular packages of puree.  Freeze them in 1 or 2 cup quantities for recipe-sized portions. If you want chunks, cut the pumpkin into cubes and then blanch it for 3 minutes, dunking it immediately in an ice bath.  Then, freeze the pumpkin chunks on a cookie sheet and move them to storage bags once they're frozen.
Dehydrating
You can also dehydrate your pumpkin, either in puree form or sliced form.  After you dehydrate the puree, you'll powder it for inclusion in future deliciousness.  Learn all the details on how to dehydrate and use dried pumpkin HERE.
Canning
I never knew you could can pumpkin until just this year – I'd always read that it was unsafe.  Then I discovered Sharon Peterson's instructions on the awesome website Simply Canning.  Apparently it is just pumpkin and squash purees that should not be canned because the purees are so thick that they don't heat evenly, leaving them open to the risk of botulism. It's perfectly fine to can your pumpkin in chunks in a pressure canner, and then puree the pumpkin when you need it.
Learn how to can pumpkin HERE.  I left my pumpkin totally without seasoning so that it can be used flexibly, in either sweet or savory dishes.