(Psst: The FTC wants me to remind you that this website contains affiliate links. That means if you make a purchase from a link you click on, I might receive a small commission. This does not increase the price you'll pay for that item nor does it decrease the awesomeness of the item. ~ Daisy)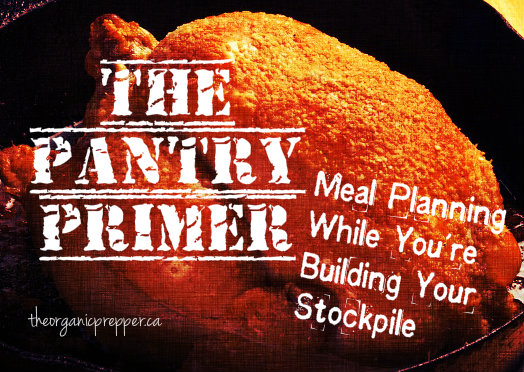 It's really easy to get sucked into purchasing food for the here and now, and to forget about creating a stockpile.  We live in a "just in time" society, where people in metropolitan locations often grocery shop that very day for the evening meal.  Many people are completely reliant on the delivery of foods to the grocery stores, and their subsequent ability to purchase that food and bring it home.
When you are starting with bare cupboards, you can break down your shopping into two types:
Shopping for weekly groceries
Shopping for the stockpile
The weekly groceries are the fresh items that you get for the meals you are making throughout the week – I call this "right-now food". Your meat, dairy products, eggs, and produce make up the bulk of it.  The stockpile groceries are the larger purchases of items that you are putting away in the pantry for later use, as well as the staples that you need to cook from scratch – this is your "later" food.
It's hard to cook from scratch with an empty pantry.
I'm a big proponent of cooking from scratch.  It tastes better, it's more frugal, and it's far healthier.  Readers probably never thought they would see me recommending packaged food of any type.
However, in a bare cupboards situation, it is a little bit tricky, particularly in the first week or two, to make everything completely from scratch.
When I say I am starting with completely bare cupboards, I mean COMPLETELY BARE.  Just to reiterate, here is the picture of my pantry.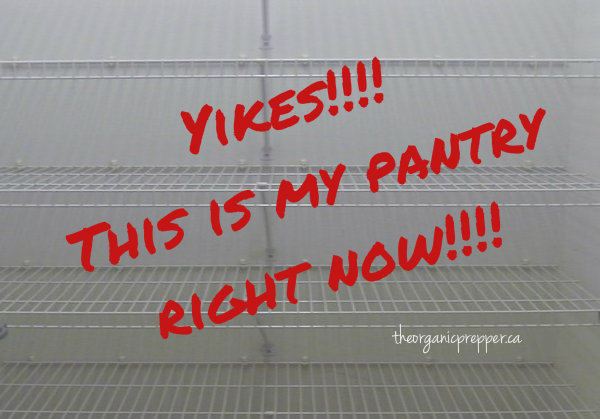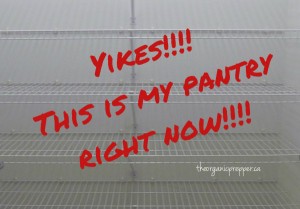 Before yesterday, I did not have a single spice, not even salt or pepper.  Nor do I have any pantry basics yet, like white vinegar, baking soda, yeast, or sugar.  If I were to go and stock my cupboards totally with those items, it would take the entire weeks' budget, and I wouldn't be able to afford the actual food ingredients like fruits, vegetables, meat, eggs, and dairy products.
For example, if I wanted to make a loaf of bread and a pot of  beef and vegetable soup tomorrow, I'd have to purchase all of the ingredients separately. Think about the list of ingredients required for this:
Flour

Salt

Sugar

Yeast

Milk

Oil

Broth

Ground Beef

Barley

Assorted vegetables

Tomato paste

Garlic
Onion

Spices

Salt and Pepper

and to make it a little nicer, butter and Parmesan cheese
Within a month, I should have enough basics to make this practical, but right now, that meal would cost a large percentage of my budget for the week.  So, in light of this, I have to take some shortcuts.  Thus, I bought a few grocery store canned soups, some granola, and some crackers.  As soon as I get settled, I'll be able to grab a package of bacon and pressure can some home cooked beans, make some broth, and begin bulk purchasing produce to make my own spaghetti sauce.  For now, though, I need a few inexpensive off-the-shelf meals to make it possible for us to put aside the money for these purchases. Furthermore, I'm a big proponent of having some no-cook things like crackers and peanut butter on hand in the event of a power outage.
I haven't completed the shopping for the first week, but here are some of the meals I have planned, assuming I can find all of the items at a reasonable price:
Mexican beans and rice

Vegetarian tacos

Roasted chicken with couscous and vegetables

Yogurt, granola, and fruit

Chicken sandwiches and squash soup

Oatmeal with fruit

Homemade chili with crackers
Peanut butter and crackers with veggie sticks
I can't express strongly enough how important it is not to be married to your menu.  If, for example, I go to the store and chicken is outrageously expensive but ground beef or pork tenderloin is on sale, then I will roll with it. I'll modify my menu and base it around the items I can get at a good price.  Meat and produce are the times that have the most fluctuation, so always be prepared to improvise in order to keep your budget under control.
Use the envelope method for budgeting.
And speaking of keeping your budget under control, consider the envelope method for creating your stockpile.
It's really easy to see a great deal, make a large purchase, and then realize you don't have enough money to pay an important bill or to take care of another necessary expense.
When you figure out what you can afford to spend on food, put that money in an envelope earmarked specifically for that.  If you have a little left over at the end of the week because there weren't any good bargains, leave it in the envelope and put it towards a large bulk purchase later. alternatively, when you are out of money, stop shopping. It really is that simple.  When you buy food or other items for your stockpile, pay for these things separately and tuck the reciept into your envelope.  This will help you to keep track of your spending.
Want to learn more? My new book is now available!
Lots of us like to have hard copies of information that we've found helpful.  Because of this, I've expanded on the information included in this series and put it all in one handy primer, available on Amazon.