(Psst: The FTC wants me to remind you that this website contains affiliate links. That means if you make a purchase from a link you click on, I might receive a small commission. This does not increase the price you'll pay for that item nor does it decrease the awesomeness of the item. ~ Daisy)
by Daisy Luther
Unless you are vigilant in choosing the safest laundry detergents available for your family, the soap you are using to get clothes clean may be increasing your family's risk of asthma, skin irritation, hormone disruption, and cancer.
The Whole Home Detox series is dedicated to removing the causes of chronic illness from our homes, one room at a time. Last week, we discussed the toxins linked to  health concerns that could be lurking in your laundry room – be sure to check out the details if you missed it. It's important to remember that your exposure to the toxins in your laundry soap don't stop when the clothing is folded and put away. These products are designed to remain on your washed items – this is evidenced by the "fresh scent that lasts and lasts."
Let's solve the problem by looking at the safest detergents available and thrifty DIY options
My choices are based on three things:  availability, price, and "A" ratings by the Environmental Working Group, which assesses the risks inherent in thousands of different commercial products. If you purchase detergent, go here to see what grade your favorite brand receives from the EWG. (I was pretty disappointed that my former favorite got a terrible rating.) For more information, be sure to refer back to the article that goes into detail about the undesirable ingredients.
Unfortunately, unless you make your own detergent, you will find that, just like untainted food, laundry detergent without all of the unwanted chemicals will be more expensive than the standard offerings like Tide or Gain. Most folks put in more detergent than is necessary, so be sure to only add the recommended amount to get the most bang for your buck.
The 10 Safest Laundry Detergents
(These recommendations are in no particular order – all of the commercial products share an "A" rating from the EWG. Some of these are affiliate links, which means I may receive a small commission if you make a purchase. You may be able to find the products less expensively at your supermarket, discount store, or health food store.)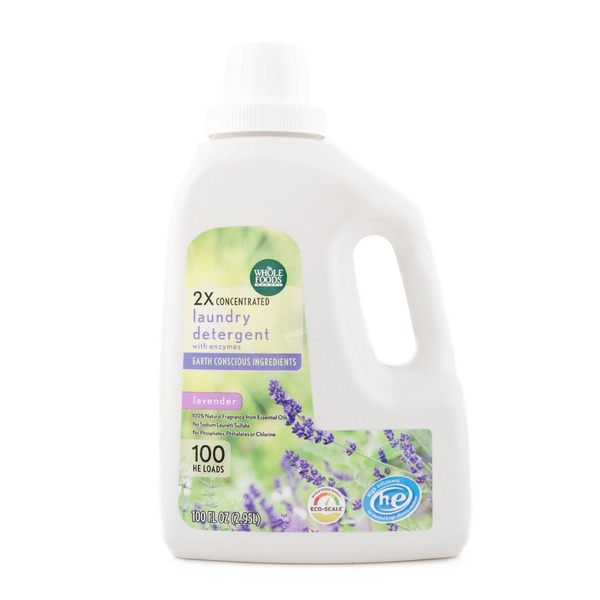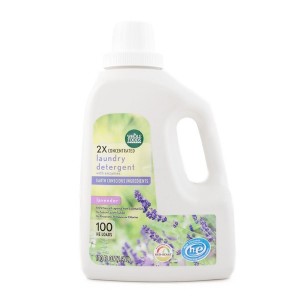 I put this one first because it was the only product with an A rating that is available at my local Target (where it is quite a bit cheaper than on Amazon.)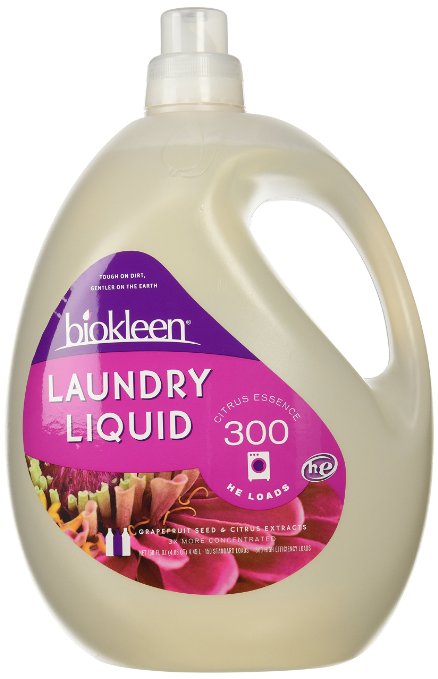 This soap contains citrus and grapefruit seed extracts, and has no artificial fragrance, colors or preservatives. Whole Foods carries this product. This product has the least expensive cost per load on the list.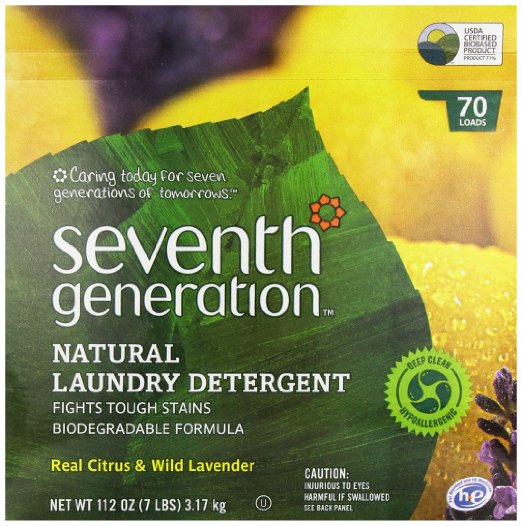 This product is available as shown, scented with citrus and lavender, or unscented. Important note: ONLY THE SEVENTH GENERATION POWDERED DETERGENT RECEIVED AN "A" RATING. The liquid detergents by this company, which are the only ones offered at my local Target, scored Ds and Fs. I found this product at Whole Foods as well as online.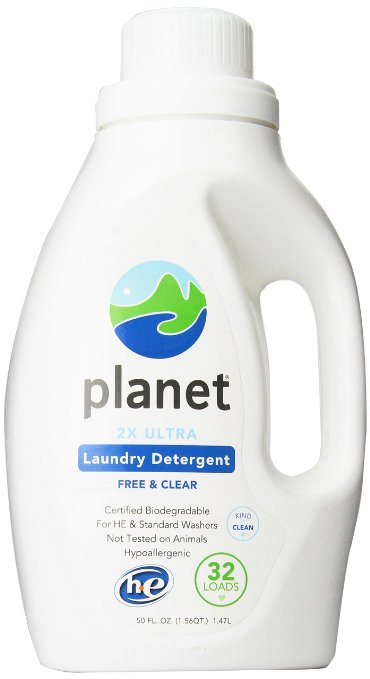 This detergent works for HE and standard machines. It's 100% biodegradable and free of color, fragrance, and phosphates.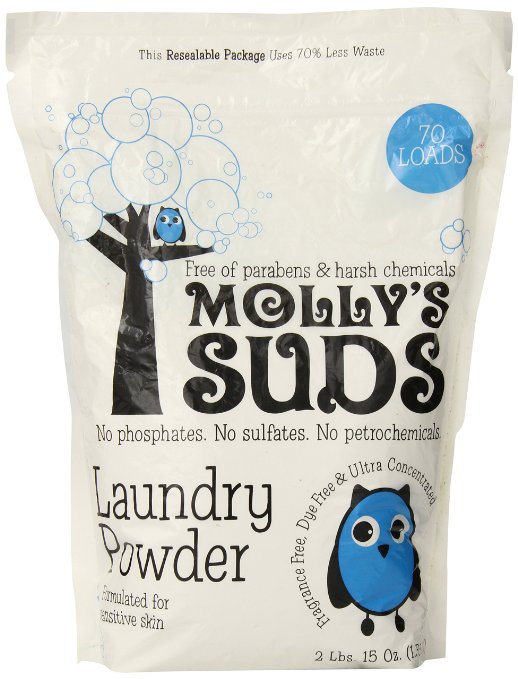 This very concentrated powder only requires 1 tablespoon per load.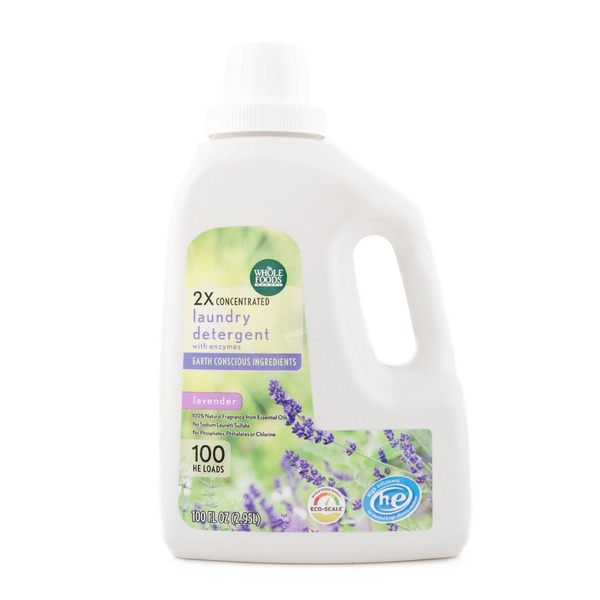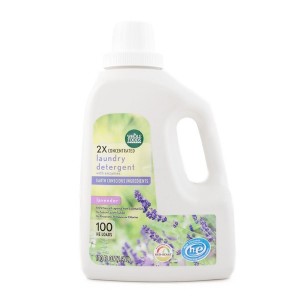 This product is available unscented and with lavender scent. As far as I could discover, it is only available at Whole Foods Stores. Unfortunately, they don't list the prices online.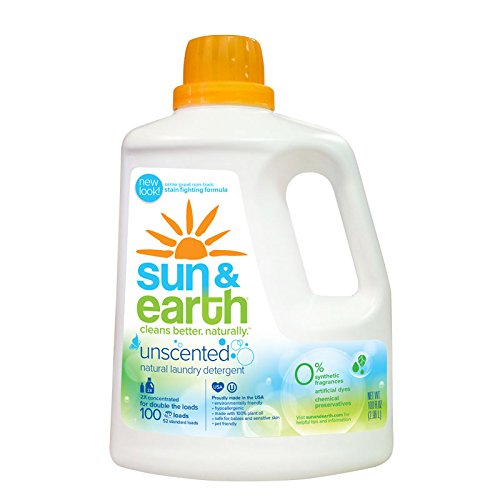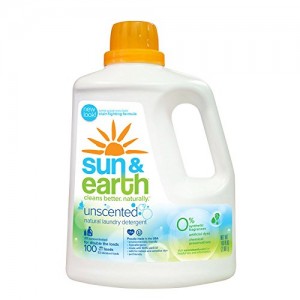 This detergent is unscented, and there's a whole list of other stuff not in it.  It's also Vegan. Kosher. Gluten free. Soy free. Nut free. Cruelty-free. Phosphate free. Dye free. Perfume free. No harmful synthetics. UV brightener free.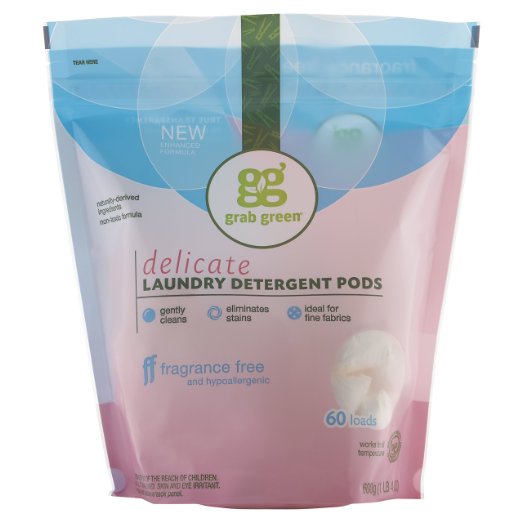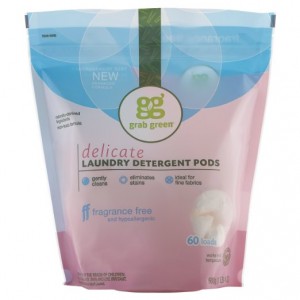 If you prefer the convenience of a pod, GrabGreen scores an A from EWG and is the most reasonably priced option on Amazon. Other A scores went to Honest 4 in 1 Laundry Packs and 7th Generation Free and Clear, both of which were outrageous on Amazon but maybe better priced at Whole Foods.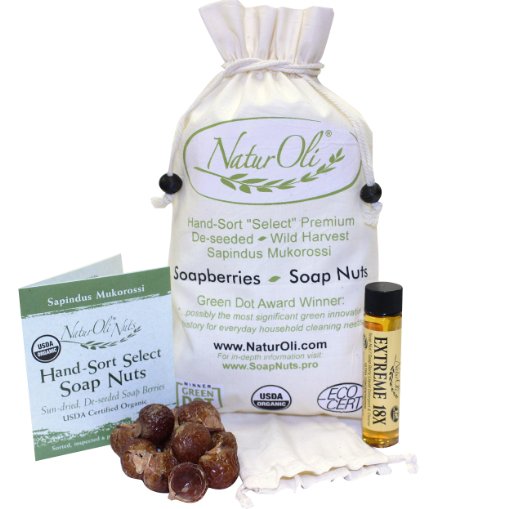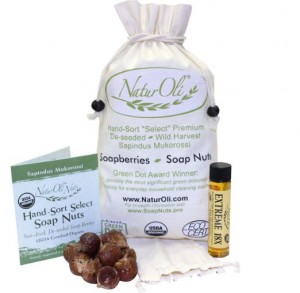 Another option is soap nuts. If you aren't familiar with them, soapnuts come from a little tree from the genus Sapindus.  These shrubs grow in warm to tropical regions.  Many of the soapnuts sold in North America are grown in Nepal and India. The nuts aren't actually nuts at all, but little berries that are related to the lychee.  The berries are harvested and then dried in the sun until they become a hard leathery little nugget. To use them for laundry, place 3-5 nuts in a muslin bag (included) and put the bag in a bowl. Pour very hot water over the bag and let it soak for about 10 minutes to release the soapy stuff.  Add the entire bowl and bag to your laundry and wash as normal. I don't really love the smell of soap nuts (it's sort of vinegar-y) so I always add a couple of drops of essential oil to the spin cycle. The soapnuts can be reused for approximately 3 loads of laundry before they lose their oomph.
And, of course, DIY…
My favorite option, and also the most affordable, is making my own laundry soap. In the course of the research for this article, I've had to adapt my previous "recipe" to make it better for us. For example, I had no idea that Borax was on EWG's naughty list, but it is. The group gives Borax an "F" score for "High Concern: developmental, endocrine, and/or reproductive effects; Some Concern: skin irritation, allergies, and/or respiratory effects."
Better ingredients for your homemade soap include:
As well, choosing Castille soap over Fels Naptha or Zote can improve the toxicity of your homemade product. (Fels scored a C and Zote was not rated.)  My favorite Castille soaps come from Dr. Bronner.
Here's my revised homemade laundry detergent recipe, which makes a huge batch:
Ingredients:
Directions:
Cut the soap into pieces about the size of your thumbnail. Initially, I was using the dry canister of my blender for just the soap but it was getting gummy instead of coarsely chopped.  I resolved this by adding a half cup of baking soda and handful of cut up soap and processing the two items together.
Don't overblend it, or it will still give you gummy chunks.
Then comes the ridiculously easy part. Dump all of your ingredients into a container big enough to mix it in – I used a large Rubbermaid tub and two big cooking spoons.  You can add your favorite essential oils if you want to. My personal favorite addition is lemon essential oil. The fragrance will get stronger when the mixture is placed in an airtight container.
Once it is well mixed, transfer it into the container in which you intend to store it.
Use 3 tablespoons per load.  With powdered laundry detergent, some people prefer to fill the washing machine and agitate the soap for a few minutes to dissolve it.  I just chucked it in on top of the clothes, started the machine and walked away, and it dissolved fine.  This is dependent on the hardness of your water, so you'll need to experiment for best results.
Products that seem like they'd be great, but they're not
It's probably no surprise that the mass marketed brands like Gain, Fab, Tide, and the like all scored dismally. Disappointingly, here are a few products that seem like good choices, but actually contain fairly high risks. If you get bummed out at what is in your cupboard right now, I'm in the same boat. I'm very annoyed that I had been spending more money on a product that scored an F, when I might as well have used one of the blatantly unhealthy products. Listed with their grade from EWG:
What kind of soap do you use?
What is your favorite laundry detergent? Did you check the score on EWG? Are you going to make any changes to the products that you use in the future? Share in the comments below.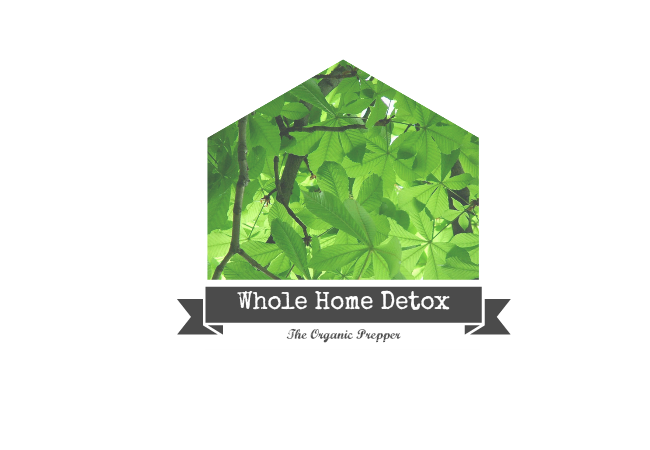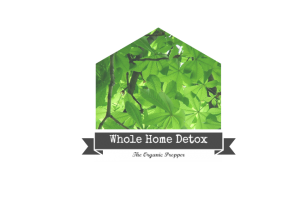 Check Out the Other Articles in the Whole Home Detox Series