(Psst: The FTC wants me to remind you that this website contains affiliate links. That means if you make a purchase from a link you click on, I might receive a small commission. This does not increase the price you'll pay for that item nor does it decrease the awesomeness of the item. ~ Daisy)
By Daisy Luther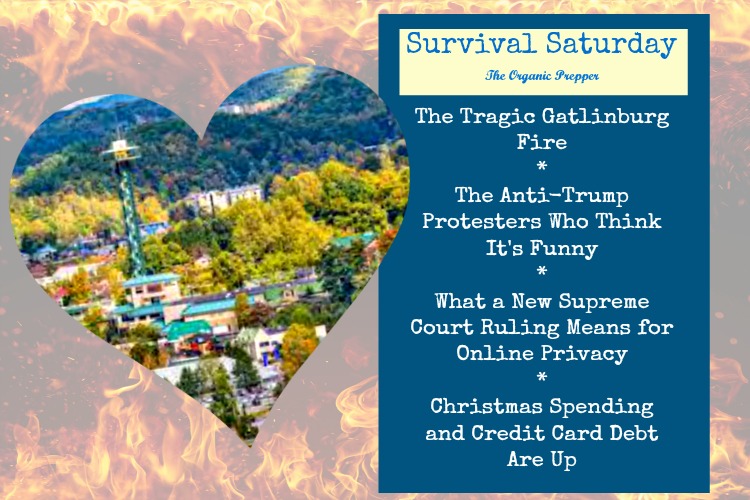 Survival Saturday is  a round-up of the week's news and resources for folks who are interested in being prepared.
This Week in the News
This week on Survival Saturday, we have a hodgepodge of news.  We'll talk about a new Supreme Court ruling that allows for a mass warrant for electronic devices, how holiday spending and massive credit card debt are both up significantly, the horrible fire in Gatlinburg, TN, and the perverse anti-Trump protesters who think it's hilarious that these potential Trump voters lost their homes.
Seriously. I couldn't make this up.
The Feds Can Remotely Access Millions of Devices with a Single Warrant
By order of the Supreme Court, the legal requirements for obtaining search and seizure warrants to gain remote access to people's computers just got a whole lot easier for federal investigators like the FBI. Previously, a warrant had to be acquired in the jurisdiction where the illicit activity was taking place, but now, a single warrant can provide legal access to millions of devices, wherever they happen to be.
This is portrayed as a way to take down pedophiles and purveyors of child pornography (and if that's the case, I suggest they begin their sting in Washington, DC). But, as with any restrictive and unconstitutional ruling that is "for our own good," it's always a slippery slope. What about whistleblowers, investigative journalists, and activists who fall afoul of the powers that be by exposing secrets they'd rather have kept quiet? Read the whole unsettling story here.
Christmas Spending Is Up This Year, Whether We Can Afford It Or Not
Black Friday sales pulled in more shoppers this year than ever before, but they spent less money in stores. Average spending over the shopping weekend was down by about $10 per person, which doesn't sound like a lot until you realize that there were 154 million shoppers spending $10 less. (source)
But that doesn't mean the outlook is gloomy. Instead of battling the Black Friday stampedes, more shoppers than ever before took their spending online. Adobe Digital Insights said that online shoppers spent an all-time record high of $3.34 billion on Black Friday and another $3.45 billion on Cyber Monday. (source)
The issue is, many people are going deeper into debt for this. A report from October claims that the AVERAGE credit card debt for Americans is more than $16,000. If that is average, then it means that a whole lot of people have even more debt!
Using data from the U.S. Census Bureau and the Federal Reserve, ValuePenguin found that the average credit card debt for households that carry a balance is a shocking $16,048 — a figure that has risen by 10% over the past three years. At the average variable credit card interest rate of 16.1%, this translates to nearly $2,600 in credit card interest alone. And many credit cards have interest rates much higher than the average.

Even scarier, consider that based on the average interest rate and a minimum payment of 1.5% of the balance, it would take nearly 14 years for the typical indebted household to pay off its existing credit card debt, at a staggering cost of more than $40,200. Keep in mind that this assumes no additional credit card debt is added to the tab along the way.
If you are over your head in debt, I strongly recommend this book. The strategies within will work for almost anyone.
Anyway, back to Christmas shopping. This holiday season, spending is expected to increase by 3.6 percent, to $655.8 billion.
Let's break this down on a more individual level, because when I read about billions of dollars, I tend to zone out.
According to a survey done by The American Research Group, most Americans will increase holiday gift-giving expenditures by an average of 5% to $929.
Check out this article I wrote that explains what retailers are doing to part you with even more money than you had planned to spend. And also, before you shop or decorate, buy my book – I want to help you to have the most frugal Christmas ever.
A Mistake by Emergency Officials May Have Resulted in Deaths During the Gatlinburg Wildfire
Here in California, we are unfortunately very accustomed to wildfires. (I've spent time 10 days within a couple of miles of a fireline, myself.) We even have what we call "Fire Season." While this is a grim way to spend a late summer, we have processes in place here that save lives, such as a well-practiced alert system, evacuation plans, crews of wildland firefighters at the ready, and the right equipment for fighting a blaze in rugged terrain.
The wildfire raging through Tennessee "has been described by emergency officials as a "perfect storm" that grew exponentially in a rare mix of low humidity, drought conditions and erratic winds that suddenly doubled in speed to produce hurricane-force gusts up to 87 mph." (source) The initial blaze is believed to be "human-caused."
Sadly, the people in the Gatlinburg, Tennessee area have been taken by surprise with this immense, out-of-season blaze. The alert to evacuate wasn't sent to mobile phones. Someone dropped the ball, and the alert only went out on the television and radio stations. By the time people realized they had to leave, it was too late. Families awoke to flames directly outside their homes. Gatlinburg is a major tourist destination, and many visiting didn't know their way through the mountain roads and panic and poor visibility made it even worse. Lines of cars trying to evacuate the mountains were stranded amidst the smoke and fire as trees fell across the roads.
13 people have died due to the fires and the search continues through the rubble for more who have been reported missing. More than 700 homes and businesses have been completely destroyed. At least 80 people have been treated for fire-related injuries.
Anti-Trump Protesters Cheer and Laugh About the Gatlinburg Fire on Twitter
People who dislike Trump seem to think that the Gatlinburg fire is just desserts for the locals in Tennessee who voted for Donald Trump. I've written previously about how those protesting Trump's election really feel about the people they believe caused Hillary Clinton's defeat, but this takes things to a sub-human low.
Melissa Dykes reports:
Not only are people saying the Gatlinburg fires are "karma" for the "racist" Trump supporters who live there —

And saying Trump supporters "brought this on themselves" and are being punished by God for voting Trump —

But people are actually out there laughing about Trump supporters' houses burning down in the Tennessee fires, and even star Michael Ian Black is making glib, dickish jokes about it.
From a prepper point of view, keep in mind that these smug, superior individuals will be the ones that feel entitled to your food and emergency supplies. While they like to portray themselves as tolerant and kind to minorities and immigrants, don't be fooled. Their scorn for working-class, middle America couldn't be more blatant.
A Personal Note from Daisy
If you're a subscriber, there are changes afoot.
I really appreciate the folks who have joined my mailing list and visited my site over the years, and I want to show my appreciation by offering you MORE than is available on the website. So, you're going to be hearing from me a bit more often because I'll be offering the best stuff to subscribers only. I'll be sending out extra emails each week, and they'll contain information, special offers, free stuff, and article round-ups that aren't available to anyone else.
Some stuff you can look forward to:
Special reports and round-ups
Self-Reliance Weekly Review (prepper and homesteading stuff)
Thrifty Thursdays (money saving ideas and articles)
Freebie Fridays (absolutely everything in this email will be totally free!)
and of course, Survival Saturdays
I really want to maintain a closer relationship with you all, because we are a community. We may not be next door neighbors, but we can exchange information and extend our hands to one another in friendship. Your support is what has allowed my websites and books to survive in this very competitive niche and this is my way of letting you know how much I cherish that support.
This Week in Preparedness…
Are you wondering what to get that special prepper in your life for Christmas? (Or maybe what to put on your own list for Santa?)  The following articles are full of ideas!
Anything to add to Survival Saturday?
Do you have any news links you want to share? Now's the time! You are absolutely welcome to post your links in the comments below. Please join the discussion!