12 Christmas Gifts for the Healthy Cook's Kitchen
(Psst: The FTC wants me to remind you that this website contains affiliate links. That means if you make a purchase from a link you click on, I might receive a small commission. This does not increase the price you'll pay for that item nor does it decrease the awesomeness of the item. ~ Daisy)
By Daisy Luther
Is anyone on your Christmas list trying to create a healthful, whole-foods kitchen? Setting up such a kitchen doesn't stop at the grocery store. The right kitchen tools and appliances can make food prep creative, efficient, and fun.
Look to the following list to get ideas for your favorite healthy chef (or for dropping hints to your own "elves"). The prices are accurate at the time of posting. but keep in mind that online retailers reserve the right to change prices from day to day.
Have a healthy, happy holiday!
Gifts under $20


Did you know that the cooking spray that the grocery stores tout as healthy contains flammable propellants like butane? Make your own cooking spray with your favorite heart-healthy oil using the Misto Sprayer. You place cooking oil in the container, pump it manually, then spritz the fine mist as you would the store-bought sprays. I've had mine for 9 years and it's still going strong.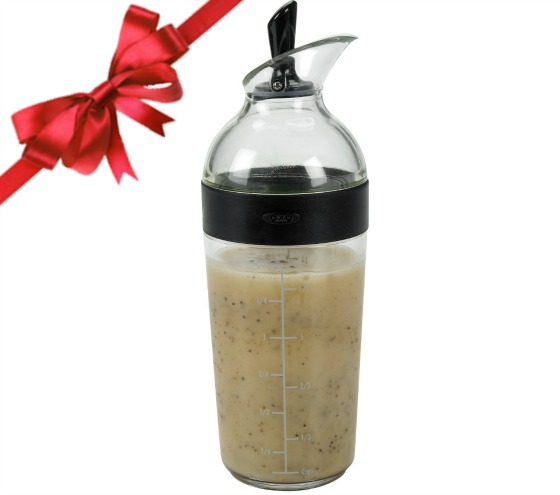 Kick chemical-laden store-bought salad dressing to the curb. Make your own dressings quickly and easily – measurements are premarked. You can store remaining dressing in this handy bottle.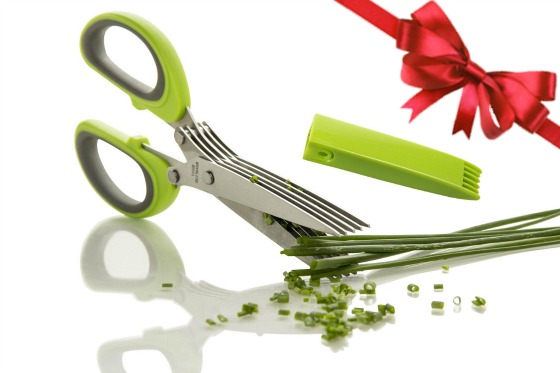 Especially handy for those of us who grow our own fresh herbs, these special snips make quick work of finely cutting up your herbs. This pair comes with a handy little tool to remove the bits that stubbornly cling to the inner blades. (I just use my kitchen scrub brush for this.)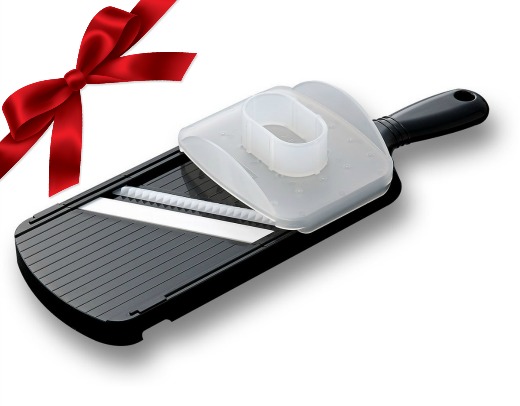 Use a mandolin slicer to make ribbon thin slices of vegetables and fruit for an unforgettable salad or presentation. This one has a ceramic blade that never rusts or needs to be sharpened.
Gifts Under $50

If you are gluten-free, reducing your carb intake, or increasing your veggie intake the Spiralizer is the kitchen tool for you. Watch this video to see how to use a spiralizer and check out this recipe for Zoodles Alfredo (made with zucchini noodles.)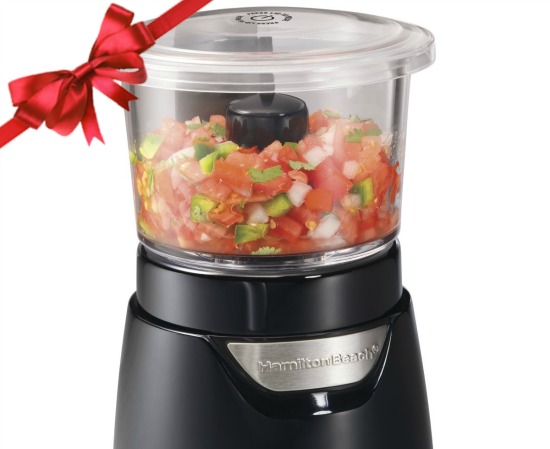 Chop veggies with a press of your fingertips with this small countertop food chopper. Make a batch of salsa, chop veggies for relish, coarsely puree veggies, to thicken soup, or make coleslaw in seconds. Because this one has a glass bowl, you never have to worry about it retaining odors of garlic or onions. All of the parts that come into contact with your food can be popped into the dishwasher for easy clean-up.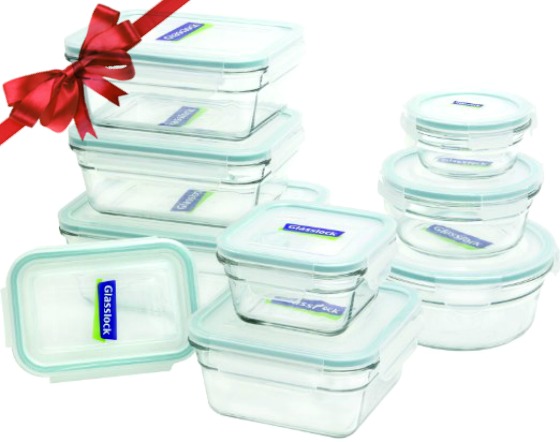 Don't taint your nutritious food by storing it in hormone disrupting, BPA-laden storage containers. This 18 piece set has locking lids, making the containers ideal for your lunch bag.

If you don't already have a slow cooker, you are missing out on one of the easiest methods of healthy cookery. You can use your slow cooker to make bone broth, delicious soups and stews, and for cooking roasts that will simply fall apart. What's more, you don't even have to be home. There's nothing nicer after a long day of work than walking into a house that smells like Grandma has been stirring pots on a hot stove all day.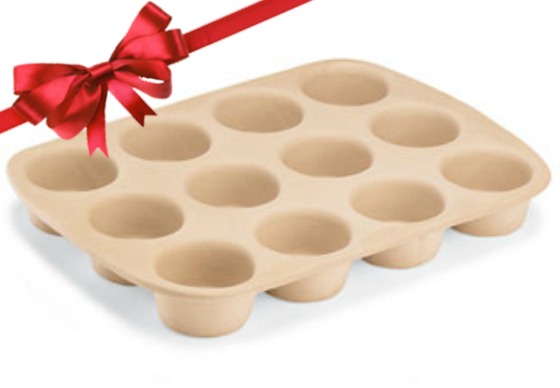 If you're anything like me, you have searched high and low of a muffin pan that isn't coated with toxic non-stick substances or made from aluminum. The answer is stoneware. This muffin pan is made of the same type of material as pizza stones. It's a bit heavy but it makes a delicious, fluffy muffin or cupcake. There's no need for liners, as the surface is naturally non-stick. (Note: The shipping cost is $10 for this particular pan.)
Gifts Under $100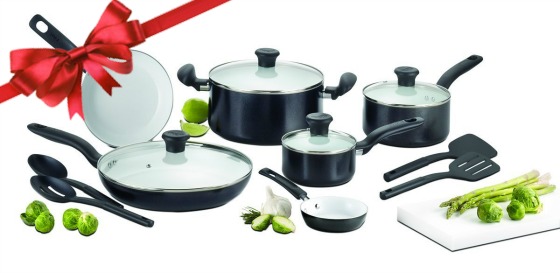 Non-stick cookware can be toxic, leaching carcinogenic chemicals into your food as it heats up. This set by T-Fal is coated with ceramic and does not contain PTFE, PFOA, or cadmium, making it a much better choice.
Gifts Under $200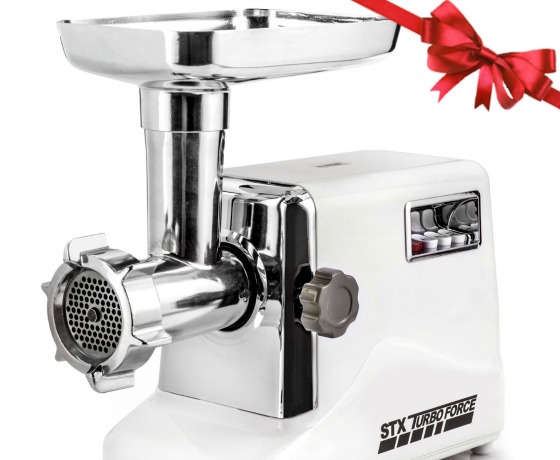 The problem with the ground meat you get in the grocery store is that you just don't know what's in it. Some butchers use dyes and fillers to make their meat look more appealing, and others use the worst cuts of meat, since it's less noticeable when you're eating gristle if it's ground. A meat grinder means that you always know what's in your meatballs and burgers. This grinder also includes "stuffing tools" for making sausage. If the price of the electric meat grinder is too steep or if you are looking for off-grid culinary tools, you can go with a heavy duty manual grinder like this one
.

This is not just a blender…it's like the Incredible Hulk of Blenders. It's comparable to a Vitamix
without the $500 price tag. The kitchen system, pictured above has the blender canister, a food processor, a dough hook, and an individual smoothie canister that you can flip and drink from.
What are your kitchen splurges?
Share them in the comments below!
About the Author
Daisy Luther is a coffee-swigging, globe-trotting blogger. She is the founder and publisher of three websites.  1) The Organic Prepper, which is about current events, preparedness, self-reliance, and the pursuit of liberty on her website, 2)  The Frugalite, a website with thrifty tips and solutions to help people get a handle on their personal finances without feeling deprived, and 3) PreppersDailyNews.com, an aggregate site where you can find links to all the most important news for those who wish to be prepared. She is widely republished across alternative media and  Daisy is the best-selling author of 5 traditionally published books and runs a small digital publishing company with PDF guides, printables, and courses. You can find her on Facebook, Pinterest, Gab, MeWe, Parler, Instagram, and Twitter.