(Psst: The FTC wants me to remind you that this website contains affiliate links. That means if you make a purchase from a link you click on, I might receive a small commission. This does not increase the price you'll pay for that item nor does it decrease the awesomeness of the item. ~ Daisy)
Growing a successful garden can be hard to achieve depending on where you live. I began gardening in the Chicago suburbs, a wonderful place in which to grow things. The seasons were regular, the rain was abundant, and the soil was fertile.  
However, much of the country is not like that.
When I lived in the Houston suburbs, the summers were too hot for fruit to set. On the High Plains in Colorado, our weather is wildly unpredictable. May can bring 80-degree weather or snow. It's not unusual to have both. To deal with this, I've learned to love season extenders. As we've discussed on this website, becoming productive is more important than ever.

Successful Garden Tip 1: Keep your plants warm with straw
Commercial growers in my area have hoop houses, the kind you buy from places like FarmTek. I flip through their catalogs and dream about future projects. But I'm also a fan of simple, and for simple cold protection, you can't beat dirty animal bedding.
I usually plant peas, potatoes, and leeks in April because the very hard freezes are generally over by then. However, last year, in mid-April, we had a week of January weather. The highs were only going to be in the 40s, and the nights were dropping to between 10 and 15 degrees.
I didn't want to lose my seedlings. So, I buried them in about a foot of soiled straw from my goats and alpacas. Then I topped it off with some pine needles I'd gotten from friends living in the suburbs. When the weather warmed up a week later, I uncovered the plants, and they were fine. They were definitely ready to see the sunshine again, but they survived. I only lost a few days of growth, rather than three weeks, if I had to replant.
Successful Garden Tip 2: Cloches
Not everyone has access to soiled animal bedding. A technique more popular with suburban gardeners in my area is to use cloches. Cloches are any small, transparent covers you can use to protect young plants from frost. You can probably buy them.
In my area, people reuse gallon milk jugs as cloches. Take an empty gallon milk jug, cut off the bottom, and then partially bury the jug around each plant so it won't blow away (I live in a very windy area, so this is important).
It's not unusual to see milk jugs all over people's properties this time of year. The nice thing about milk jugs, too, is that you can leave the cap on if the weather dips below freezing or take it off when the sun comes out. You have a bit of control over the temperature surrounding your plants.  
Note: If you're not a milk drinker, you can put mason jars over your plants at night, too. But, you must remember to remove the jars as soon as it warms up. You can't ventilate the jars the same way you can with the milk jugs.  
Successful Garden Tip 3: Cold Frames
I start many of my seeds indoors in March. Size-wise, many of them would like to be in the ground in May. But, sometimes the highs are only in the 60s and still dropping into the low 40s at night. That is just too cold for tomatoes and peppers to go in the ground.
The weather tricked me when I first moved to Colorado. One week in early May 2015, we had a week of 80-degree temperatures. I figured the soil would be warm enough to plant tomatoes outdoors. The following week saw highs only in the 60s. My tomatoes were sorry-looking. I dug them all up and put them back inside on my grow table for another two weeks.  
Dragging plants in and out gets old. I eventually built cold frames.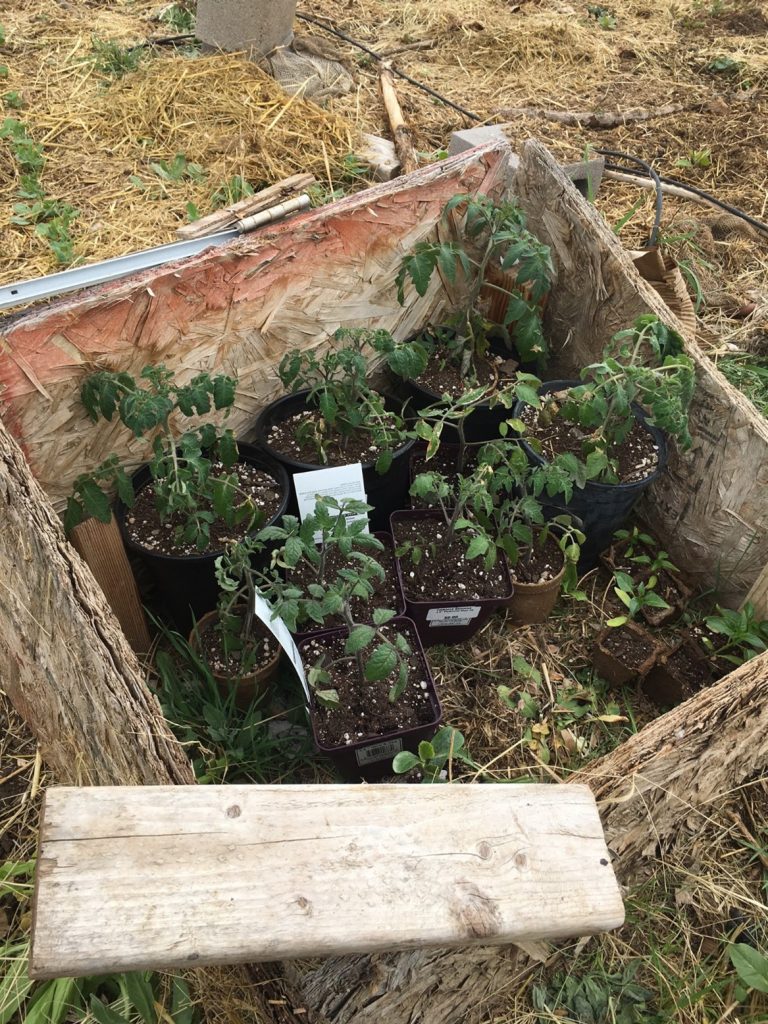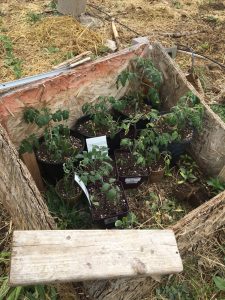 I got the window from ReStore for $5 and bought a hinge from Home Depot for a couple of dollars. I used scrap lumber from previous projects. The whole thing cost less than $10. I had built more, but the rest of the glass got broken in various hailstorms. If I were to replace them, I would probably spend more time looking for heavy, clear plastic.
I can close the lid of the cold frame at night and open it during the day. It's also nice for high-wind days. It's not unusual, especially in the springtime, to have days with sustained winds over 20 mph accompanied by gusts of over 40 mph. The wind is tough on small plants. If it's sunny, I can prop the lid slightly open. The cold frame protects the plants from the wind and they still get light and ventilation.    
Successful Garden Tip 4: Protecting your plants from heat 
On the High Plains, I've had to protect plants from cold and windy spells. However, when I lived in Texas, we had to worry about blistering heat. With proper planning, we could garden year-round in the Houston area. The winter garden was easier than summer gardening because it didn't drop below 25 degrees most years. Plants like garlic, onions, kale, chard, carrots, and turnips did just fine without much help from us.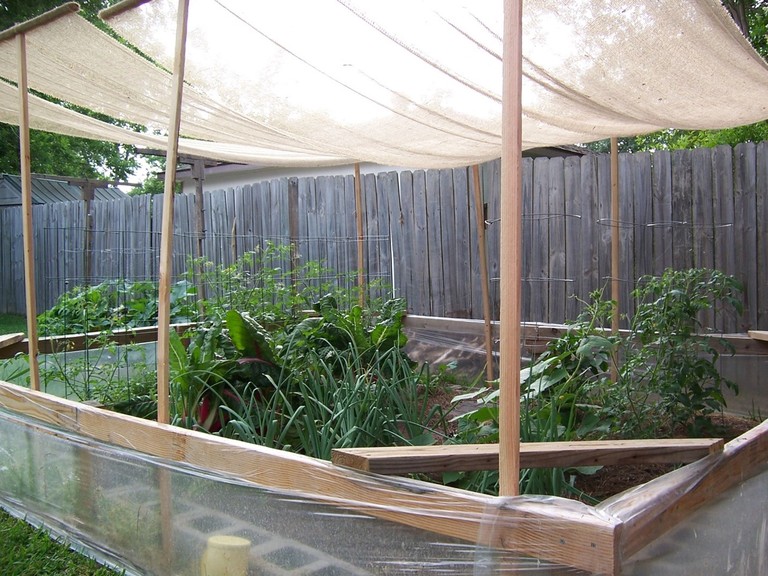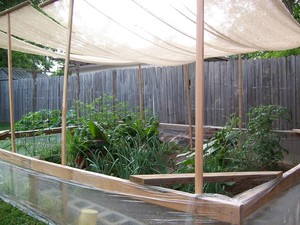 Summer gardening was another story. The timing was crucial. We needed to get tomatoes out when it was warm enough. But if it were above 95 during the day and 75 at night, the fruit wouldn't set. The plants liked the gentle sunshine of March and April. May usually started to hurt, and by July and August, many plants were miserable. Bell peppers and tomatoes would sunburn, and the leaves of my squash and cucumbers would melt. The cucumbers would also become bitter-tasting as the weather became hotter.
We decided to try using shade cloths. My then-husband made frames, and we draped burlap over them. We screwed the posts into our little fence surrounding the garden. That made it easy to take up and down as needed. Now that I live in a more rural area, I see people bending hog or cattle panels into semi-circles and then draping cloths over those. I also see people draping thick plastic over them. You could just as easily drape fabric over the frames if you needed shade.  
Successful Gardening Tips From The Organic Prepper
Daisy has written several articles on the importance of becoming a producer, and Erica just released a book on homesteading. Producing some or most of your food is a huge step in household resilience, particularly if you have children. Those of us with children go through mountains of food. And we also have little helpers with the myriad tasks that go along with gardening.  
You may think that you don't have a suitable climate for gardening. Some places are easier than others, for sure. But there are many minor tweaks and adjustments you can make. Season extenders are an excellent way to make growing your food more realistic. 
Do you have tips you can share with other readers about gardening in tough climates? Have you ever been tricked by the weather and learned from it? Share your experiences with gardening in the comments below.
About Joanna Miller
Joanna has been homeschooling three children since 2012. In 2014, she moved to the High Plains of Colorado. She and her children began a little homestead, gardening and raising chickens for eggs and meat. One animal led to another, and these days they have livestock guardian dogs, chickens, geese, ducks, alpacas, goats, pigs, and one very spoiled cat.