Santa's cRaZy 2017 Survival Plan
(Psst: The FTC wants me to remind you that this website contains affiliate links. That means if you make a purchase from a link you click on, I might receive a small commission. This does not increase the price you'll pay for that item nor does it decrease the awesomeness of the item. ~ Daisy)
By Daisy Luther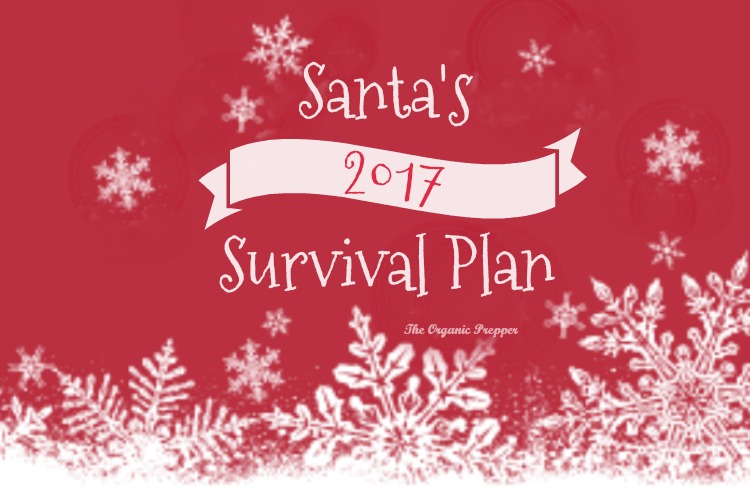 I know it's Christmas and you probably have a million things to do (I do too!) but I HAVE to tell you about this crazy little guy who showed up at my door today.
He was short, about 4 feet tall.
He also had weird shoes that curled at the toe.
And even stranger, he had pointy ears.
I asked him who he was and he said he was a messenger from Santa! Whoa….
Apparently, Santa is getting concerned about the economic situation, and he was wondering how he might survive if things continue to go downhill. After all, he still wants to be able to deliver toys, but if he goes big, round belly-up over the course of the year, then he won't be able to fulfill the wishes of children next Christmas.
So he wanted my advice on surviving 2017.
Can you believe that? I've hit the big time if Santa is asking my advice.
So here's what I told this messenger to tell Santa:
1. Start cutting your expenses.

I told the messenger to tell Santa to get those elves to start building things themselves instead of buying consumer merchandise, just like they did back in the good old days.
Maybe they'll need to share rooms instead of everyone having a grand space all to themselves.
Get Netflix instead of cable. Stuff like that.
Santa needs to pare down his monthly expenses in 2017 and get the cost of living to an all-time low up there in the North Pole. That way, if less money is coming in, they'll still be fine.
This book can really help Santa cut his expenses.
2. Start building (or increasing) your stockpile.

If you haven't started putting back supplies for an emergency, it's time to get with it. Every week, add some shelf-stable foods to your cart. Order some emergency buckets each month. You have a lot of elves to feed, and if you don't want to see them go hungry when the economy goes tumbling over the cliff, start now to put back food for a long term emergency.
And don't go writing holiday carols about it, either. No one needs to know that you have a year's supply of freeze-dried stashed away in your pantry up there at the North Pole or they'll say, "I'm coming to Santa's house when it hits the fan."
This book can help you build your pantry on a budget.
3. Pay off debt as fast as you can.

This goes hand-in-hand with #1. If you get rid of debt, you've automatically made a giant step toward reducing your monthly expenses. Tell Santa he's not alone – lots of people have put things on plastic and regretted it later.
If he's deeply in debt, he could learn about the snowball method of repaying debt. Snowballs would be right up Santa's alley, anyway!
This book outlines Dave Ramsey's snowball method of paying off debt.
4. Start walking.

In other words…
Instead of hitching up the reindeer team for every little, I told the messenger to tell Santa to get his big heinie outside and walk through the snow. Don't wait for the spring. Disasters that require one to exert physical energy don't wait for good weather to happen. In fact, they usually happen in the worst weather possible.
Toughen up, big guy. Go for a walk every day, no matter what. Start off gently and add some time. You don't want to be one of those preppers with plans to bug out over the mountains who collapses with a heart attack halfway up.
This book can help you get started with a walking program even if you haven't walked further than the kitchen in years.
5. Make a list and check it every month.

Not just twice.
This free 2017 Prepper's Planner can help you keep track of all the prepping you should be doing. And you even get regular emails of support with tips, budget friendly suggestions, and links to resources on a regular basis.
It's absolutely free.
Anyway, that's Santa's 2017 Survival Plan.

We'll see if he ends up on Daisy's naughty list or nice list in 2017.
This is the plan I have to help get Santa prepped. Maybe you can see a few places where your own survival plan needs some adjustment, too.
Have a GREAT holiday season. Enjoy this time and start planning for the most prepped year ever.
I'll see you soon! 🙂
Love,
Daisy
About the Author
Daisy Luther is a coffee-swigging, gun-toting blogger who writes about current events, preparedness, frugality, voluntaryism, and the pursuit of liberty on her website, The Organic Prepper. She is widely republished across alternative media and she curates all the most important news links on her aggregate site, PreppersDailyNews.com. Daisy is the best-selling author of 4 books and lives in the mountains of Virginia with her two daughters and an ever-growing menagerie. You can find her on Facebook, Pinterest, and Twitter.