(Psst: The FTC wants me to remind you that this website contains affiliate links. That means if you make a purchase from a link you click on, I might receive a small commission. This does not increase the price you'll pay for that item nor does it decrease the awesomeness of the item. ~ Daisy)
by Daisy Luther
As a renter and a canner, a dilemma that I've faced in the past few homes has been the kitchen stove. Both homes had large, lovely kitchens with lots of cupboard space coupled with shiny new appliances. Unfortunately, one of those appliances was a glass top stove. Many people love them for the ease of cleaning the smooth surface, but for a canner, especially one who pressure cans, these stoves pose a significant risk.
What's the big deal about canning with a glass top stove?
You should always check with the manufacturer of your smooth cooktop before using it for canning. Canning, particular pressure canning, on one of these surfaces can cause the glass top to shatter, something that poses a significant risk when you have a huge pot full of boiling water and jars on top of it. You may have canned on your glass cooktop before with no ill effects, but it's still risky.  But don't take it from me. The National Center for Home Food Preservation explains why:
1. There can be damage to the cooktop from the excessive heat that reflects back down on the surface, especially if the canners used are too large of a diameter than is intended for the burner being used. The damage can range from discoloration of white tops to actual burner damage to cracking of the glass tops to fusion of the metal to the glass top…

2. Many of these cooktops have automatic cut-offs on their burners when heat gets excessive. If that option is built in, and the burner under a canner shuts off during the process time, then the product will be under processed and cannot be salvaged as a canned food. The process time must be continuous at the intended temperature, or microorganisms may survive. Also, if the pressure drops quickly, most likely liquid and maybe even food will be lost from the jar (it will spill over from the area of higher pressure inside the jar to the lower pressure now in the canner around the jar).

3. Even if boiling water canning is approved by the manufacturer, it may be necessary to fashion your own canner out of a flat-bottomed stockpot with a bottom rack inserted. Many canners do not have flat enough bottoms to work well on a smooth cooktop to be able to maintain a full boil over the tops of the jars. The pot used as a canner must also be large enough to have lots of water boiling freely around the jars, and at least 1 inch over the tops of jars. If the canner is too small, then it starts boiling faster than expected and the total required heat the jars receive in the canner even before the process time begins can be too short.
So what's a canner with a smooth topped stove to do?
3 alternatives to breaking your stovetop
I live in a rental home with a smooth top stove. Since I can't replace the stove with one more suited to my needs, I researched some options for canning in my kitchen. There are three main ways to get around the dangers of pressure canning on a glass-top stove: using an external electric burner, using a smaller canner, or using an outdoor propane burner. Let's take a closer look at these alternatives.
1.) Use an electric burner
This is the solution that works best for me. I have a small, separate electric burner from Waring that I use when pressure canning. If you're selecting a burner to use for canning, make sure that it's at least 1300 watts. Anything weaker will burn out.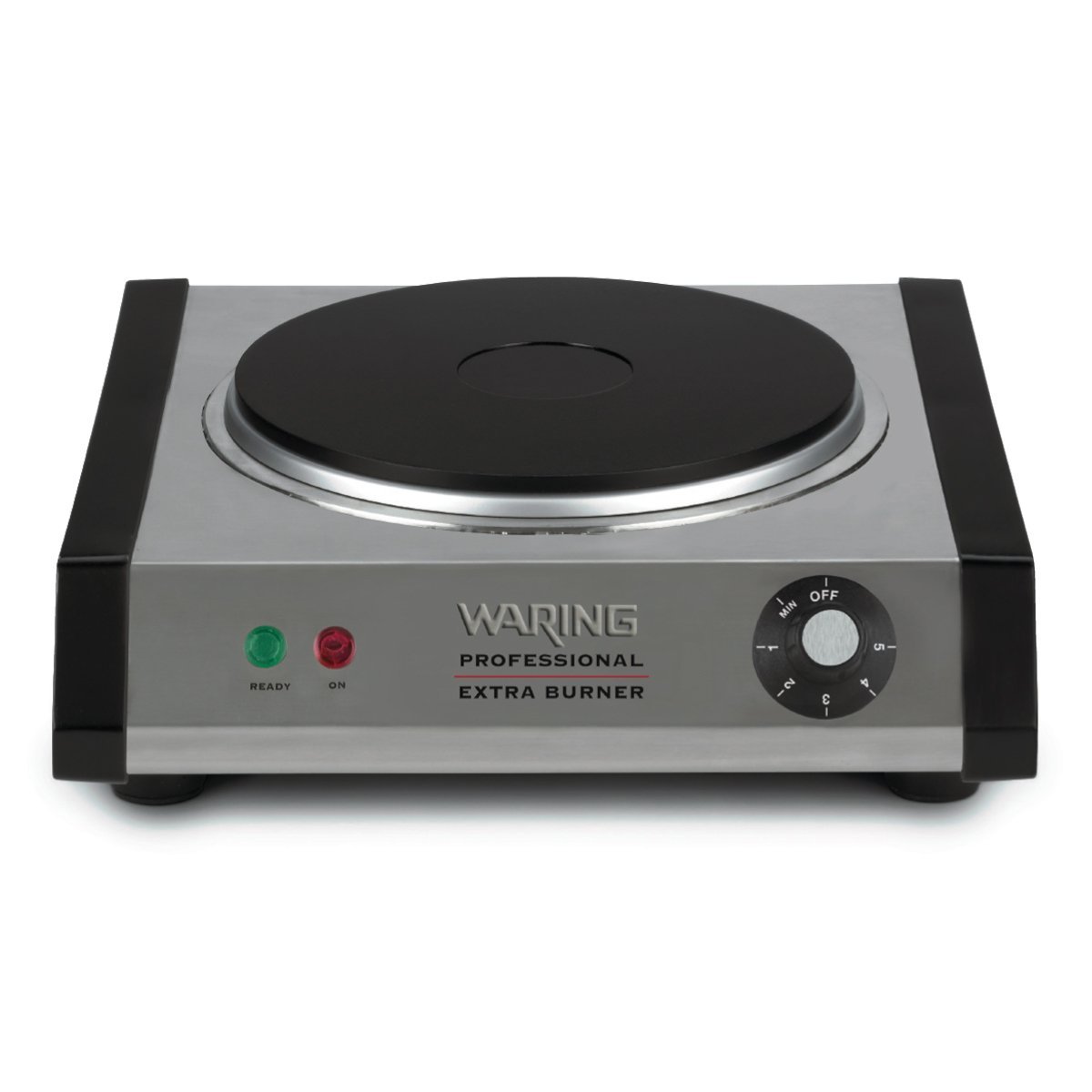 I do a lot of pressure canning each year and I'm going into my third season with this burner, so I definitely feel like I've gotten my money's worth. It's also nice to have an extra burner when you're cooking a big meal for guests, so occasionally I pull this out at the holidays, too.
2.) Use a smaller canner
There is one specific canner that is safe to use on many smooth top stoves. The Presto 16 quart canner is a smaller unit that does not extend past the burner, making it suitable for use on your glass top stove.
This is the only canning pot approved for use on smooth top stoves, however, you should always check with your stove's manufacturer before using it for canning.
3.) Outdoor propane burner
The third solution is to set up an outdoor canning area using a propane burner. The Bayou Classic is a good choice because it is designed to hold up to a 100 quart stockpot, has a low center of gravity to lessen the possibility of tipping over, and can be set up on any flat surface. Be sure that you have plenty of propane. If you run out partway through canning and your pressure drops, you must start the processing time over again.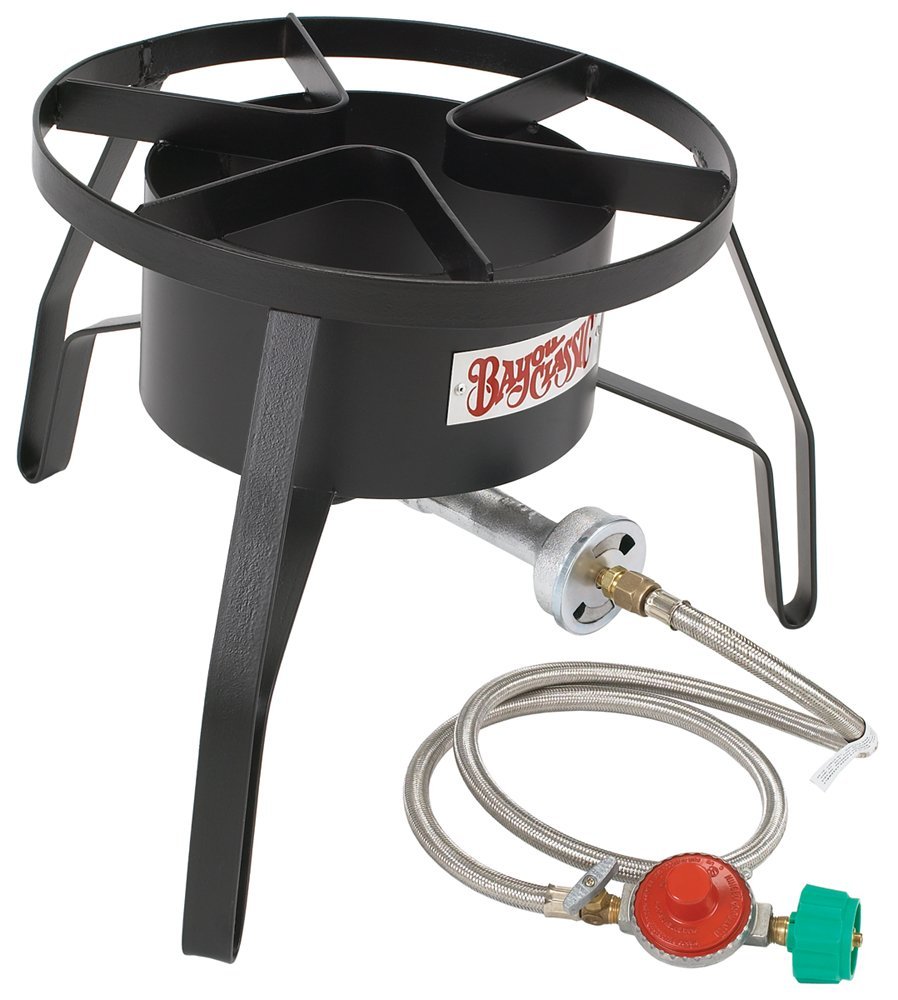 The benefit to using this system is that if you are in a down grid scenario, you have a way to process the stuff in your freezer before it spoils. As well, you won't have to worry about heating up your kitchen on a blazing hot summer afternoon.
Do you have any other solutions?
Do you have a glass top stove? How do you pressure can? I'd love to hear the solutions you've come up with.