(Psst: The FTC wants me to remind you that this website contains affiliate links. That means if you make a purchase from a link you click on, I might receive a small commission. This does not increase the price you'll pay for that item nor does it decrease the awesomeness of the item. ~ Daisy)
By Daisy Luther
As many of you know, we recently moved to a small home on a farm. Our house is about 900 square feet, and I live there with my youngest daughter and all of our preps.
One of my favorite things on Pinterest is the Home Tours. I really enjoy seeing how other people live and how they meet the challenges presented by their spaces. I thought you guys might enjoy a tour of our new place so that you can see how I stash all our prepper stuff in a very small house. We like to set things up so that we can easily shift to functioning off grid should the need arise, and we are also on a pretty tight budget. Because of the size of the space, we try to make everything as multifunctional as possible.
I hope this series gives you some ideas for your own prepper home, and that you enjoy the little peek into our cupboards.
Tour of the Laundry Room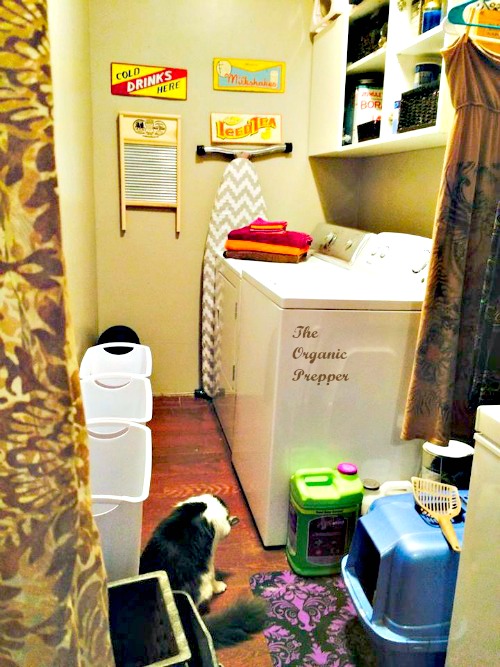 Our laundry room is right off the kitchen. I hung some curtains that I can close to hide any clutter when it isn't in use.  The room serves multiple functions. It has, of course, a washer and dryer. As well, there's a chest freezer, the kitty litter box, a wall-mounted hanging space for drying clothing, hampers, the pet food, and some miscellaneous storage. It's a little warmer than the rest of the house, and one of our cats enjoys hanging out there.
[page_section template='3′ position='default']
Do you want to prep but you're not sure how to get started?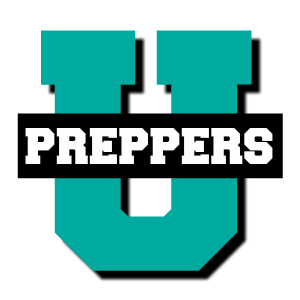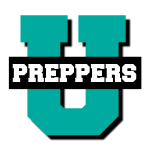 We can help. Go on over to Preppers University and check out our Prepping Intensive course. And if you've been at this for a while and want to take your preparedness to the next level, check out our 6-Week Advanced Prepping Intensive.
[thrive_link color='teal' link='https://preppersuniversity.com/learn-about-the-prepping-intensive-courses/' target='_blank' size='big' align='aligncenter']Which Prepping Intensive Course Is Right For Me?[/thrive_link]
[/page_section]
Off Grid Features
Since I prep, it only makes sense that I want my laundry room to be functional should the grid go down, either short-term or long-term. I have several items that would make that much easier. Some of them pull double duty, by being useful now, and others just look decorative and old fashioned.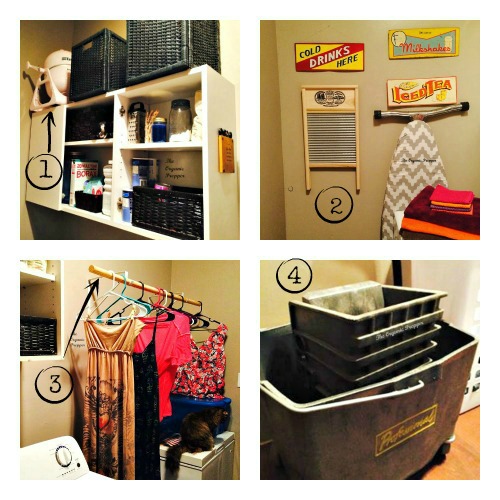 The features shown in the photo make off-grid laundry simple. Going clockwise from the top left,
Not shown: I have a 15 gallon galvanized steel tub
 for washing things in during an off-grid scenario, but it's pretty big so I store it in the shed.
For more details on how to do your laundry without electricity, CLICK HERE.
Healthy and Homemade Laundry Products
I try to use good quality products, but they can be pretty expensive. There are a lot of dangerous chemicals in conventional laundry products, so I limit my use of them. As often as possible,  I use homemade or reusable alternatives. Improving the quality of your supplies is always a work in progress, particularly when your budget is tight. In this photo, you can see the items I normally use.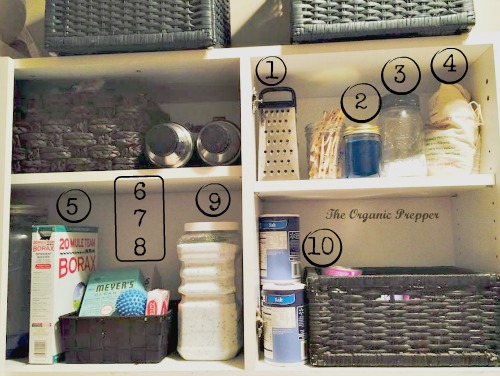 Grater with large holes for making laundry detergent
Original Dawn dish soap for grease stains
Baking soda for a laundry supplement
Soap nuts: A natural alternative to laundry soap. The nuts can be reused for 3-4 loads of laundry. A one pound bag will last through approximately 500 loads of laundry.
Borax: This booster helps reduce dingy-looking laundry and is an ingredient in many homemade cleaning products
Mrs. Meyer's dryer sheets: These 99% natural dryer sheets are a much healthier alternative to conventional formaldehyde- and chemical-laden dryer sheets.  They are expensive but you can get good results using half a sheet.
Dryer ball – these naturally soften laundry and reduce static. I plan to replace them with these for a more natural option that will also help to remove pet hair
Zote soap – this is my favorite for homemade laundry detergent
Homemade laundry detergent – get my recipe HERE.
Salt for scrubbing stains
Not shown: I keep a large stockpile of laundry detergent-making supplies.  This takes up far less space than the liquid detergent I used to stock. I have  many pounds of washing soda, borax, OxiClean, baking soda, and bar soap stashed away. Because laundry rooms can be humid, and many of these items come in cardboard boxes, I keep them in my storage room instead of the laundry room.
What are your favorite products?
What are your laundry room must-haves?  Are you prepared to go off-grid should the need arise?
Stay tuned – we'll be going through the rest of the house, room by room.