(Psst: The FTC wants me to remind you that this website contains affiliate links. That means if you make a purchase from a link you click on, I might receive a small commission. This does not increase the price you'll pay for that item nor does it decrease the awesomeness of the item. ~ Daisy)
On the heels of the last recall of More Than 100 Vegetable Products reported by Daisy Luther just six days ago come three more recalls, with one being an extension of another.
First, Russ Davis Wholesale is recalling "Crazy Fresh" produce items over possible contamination of Listeria monocytogenes. However, this recall is in response to Mann Packaging's enormous initial recall on November 3, which also listed potential Listeria monocytogenes contamination, and basically extends it, adding more foods to the list. Mann Packaging is an ingredient provider to Russ Davis Wholesale.
While no reports of Listeria related illnesses have been received, the recall currently spans eleven U.S. states where the products were delivered to retail locations:  North Dakota, Minnesota, Illinois, South Dakota, Wisconsin, Wyoming, Nebraska, Indiana, Michigan, Iowa, and Montana.
The recalled products that are listed (to date) for this extension of the Mann Packing recall are broccoli, cauliflower & carrots, tomatoes, snap peas, veggie trays with dip, ranch veggie dip, riced broccoli and veggie bowls, packaged in steamer bags and plastic containers bearing the labels "Crazy Fresh" and "Quick&Easy", and stores that have received the products have been instructed to remove them from the shelves. Consumers are urged to throw any affected produce away. A complete list of Russ Davis Wholesale product recall, with dates and packaging, can be seen below.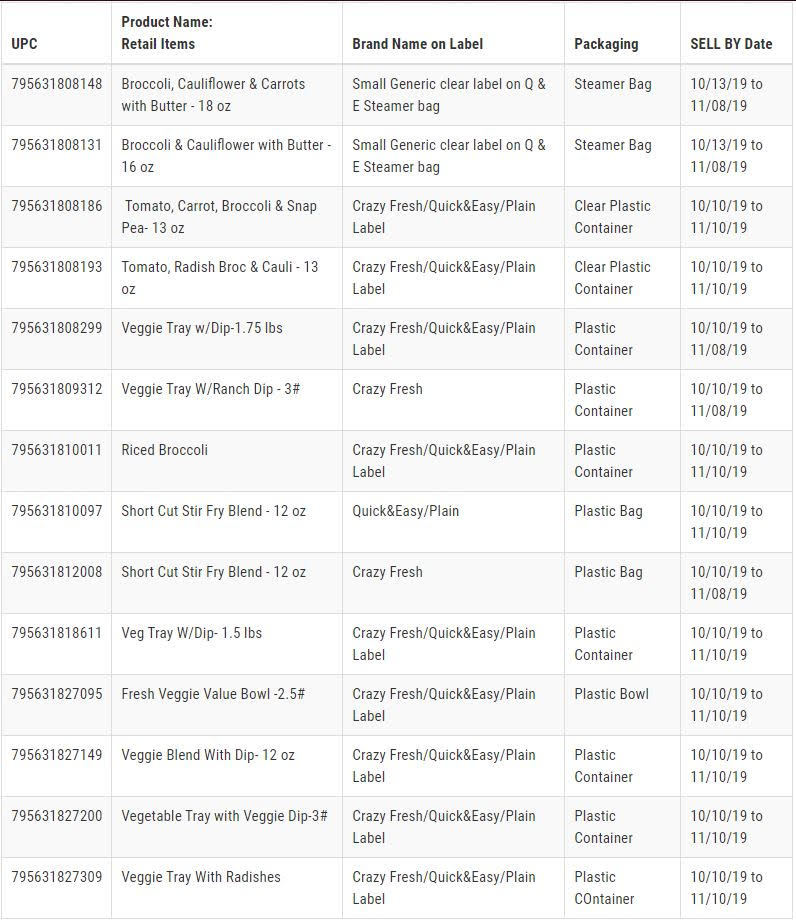 It's important to recognize that this list is only secondary to the original recall reported just days ago.  Anyone with questions may contact the company at: [email protected] or call 877-433-2173 between 8:00 a.m. and 5:00 p.m. Central.
Another Listeria recall has hit the public in the form of pizza toppings.  Ezzo Sausage Company is recalling over 25,000 pounds of meat following a test that found listeria monocytogenes contamination. The meats included sliced pepperoni, sausage and chopped pepperoni. The recalled products were made Oct. 29-30 but some were also produced on November 5.
Again, there are, so far, no known reports of illness due to the affected products, but the USDA Food Safety and Inspection Service is still concerned that some of the known meats remain in distribution centers, restaurants, and other institutions.  All restaurants and institutions that bought the products are urged to throw them away or return them. The establishment number for the product on the USDA label is "EST. 1838A."
Recalled products are as follows:
Ange's Pizza Sausage for Pizza 38 mm Sliced
Creno's Pizza Sliced Sausage for Pizza
GiAntonio Brand Sausage for Pizza 38 mm Sliced
GiAntonio Brand Pepperoni 38 mm SLiced
Josseppi's Sliced Topper Pepperoni
Masset's Portofino Pepperoni
Flyer's Pizza & Subs 38 mm Sliced Pepperoni
Ezzo Brand Burretto Pepperoni Sliced 51 mm
Ezzo Brand Rough Chopped Pepperoni
Ezzo Brand Natural Uncured Pepperoni Sliced 51 mm
Chopped Pepperoni
Pizza King Chopped Pepperoni
Ezzo Brand Chopped Pepperoni
As has been said before, Listeria (Listeriosis) can be fatal. The symptoms vary depending on the person and the part of the body infected. It can cause fever and diarrhea just like any other foodborne illness.  Anyone can get listeria, however, those who are more susceptible are pregnant women, the elderly, and those with weakened immune systems.
Some of the earliest symptoms will likely last 1 to 3 days and can include:
muscle aches
fever
flu-like symptoms
nausea
diarrhea
headache
confusion
stiff neck
tremors and convulsions
loss of balance
If you develop any of the above symptoms, please see your doctor immediately.
Still another recall from Premium Foods USA, Inc., which does not necessarily involve Listeria, comes in the form of fish, and is rated as a "High Health Risk" by the USDA. This fish is from You Chang Trading, Inc., and was recalled because an "undetermined amount of raw Siluriformes fish filet products labeled as Tilapia were not presented for FSIS import re-inspection." Siluriformes are Catfishes, not Tilapia, and are not in the same order (or family) of fish.
The recall involves 22-lb. white cardboard boxes containing "CONWAY TILAPIA FILLETS PRODUCT OF HONGKONG" and lot codes 20181113, 20181203, or 20190105 and sell-by dates of 11/16/2020, 12/03/2020, or 01/05/2021 represented on the label.
Consumers with questions about the recall can call the toll-free USDA Meat and Poultry Hotline at 1-888-MPHotline (1-888-674-6854) or live chat via Ask USDA from 10 a.m. to 6 p.m. (Eastern Time) Monday through Friday. or contact Yang Zhou Lu, President, You Chang Trading Inc., at (718) 633-7816.
About Sandra
Sandra is a published artist, photographer, fellow prepper, and animal advocate.