(Psst: The FTC wants me to remind you that this website contains affiliate links. That means if you make a purchase from a link you click on, I might receive a small commission. This does not increase the price you'll pay for that item nor does it decrease the awesomeness of the item. ~ Daisy)
This recall is a beast of epic proportions. You may have thought the recent apple recall was crazy but wait until you see the massive scope of this one.
More than one hundred vegetable products have been recalled by Mann Packing Company because they may be contaminated with listeria. The massive recall spreads across the United States and Canada. It contains both store brand and private label brands, some of which are organic.
Mann Packing Co., Inc. (Mann) announced today the voluntary recall of a series of vegetable products sold to select retailers in the United States and Canada. The voluntary recall is a response to a notification by the Food and Drug Administration (FDA) and the Canadian Food Inspection Agency of a potential contamination with Listeria monocytogenes. To date, public health officials have not reported any illness associated with these products.

Mann Packing is issuing this recall out of an abundance of caution. Listeria monocytogenes is an organism which can cause serious and sometimes fatal infections in young children, frail or elderly people, and others with weakened immune systems. Although healthy individuals may suffer only short-term symptoms such as high fever, severe headache, stiffness, nausea, abdominal pain and diarrhea, Listeria infection can cause miscarriages and stillbirths among pregnant women. Mann Packing will continue to work closely with the authorities to investigate the issue.  (source)
The recalled products have "Best If Used By" dates from October 11, 2019, to November 16, 2019.  Most of these are fresh foods that are ready to eat. It is recommended that if you have any of the recalled products, you dispose of them or return them to the place of purchase.
If you're wondering why on earth there are there so many recalls lately, this article may provide some answers.
The US recall list
Here are the products being recalled in the United States.

The Canadian recall list
Here are the products that have been recalled in Canada.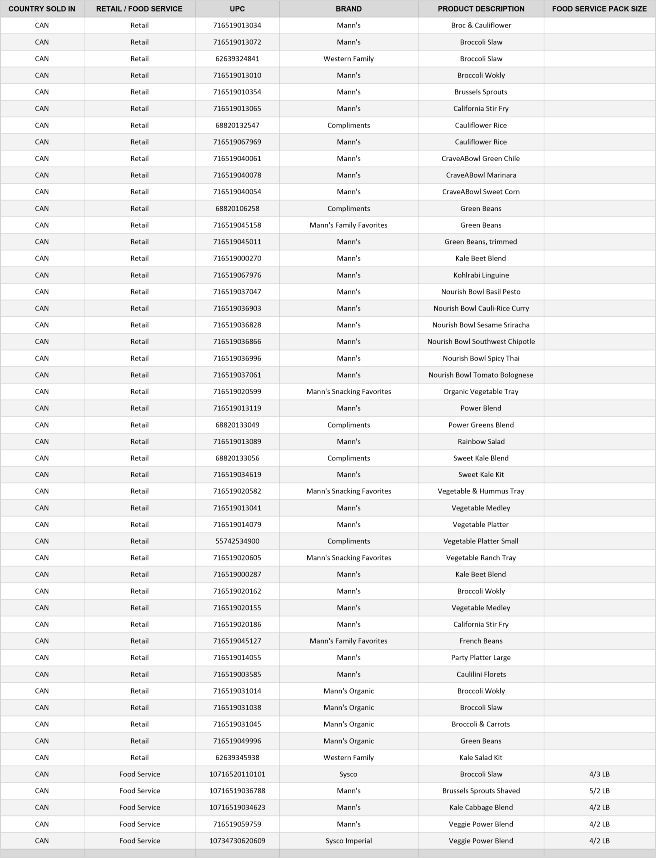 What you should know about Listeria
In a previous article, Sandra D. Lane wrote about just how serious Listeria can be.
Listeria (Listeriosis) can be fatal – make no mistake about that.  The symptoms vary depending on the person and the part of the body infected. It can cause fever and diarrhea just like any other foodborne illness.  Anyone can get listeria, however, those who are more susceptible are pregnant women, the elderly, and those with weakened immune systems. As Dagny Taggart wrote in her article in early October:
"Over 90 percent of people who become infected with it are hospitalized. It carries a mortality rate of 20 to 30 percent. Symptoms can appear as early as the same day of exposure, or as late as 70 to 90 days after infection. It can live in cold temperatures, multiplies rapidly, and can live for years on equipment in places food is prepared." (source)
Can we prevent it or kill it?  According to Forbes, normally listeria can be washed off fruits and vegetables, but there are people who are extremely sensitive to listeria and, for them, washing doesn't matter – it "can cause severe illness or even death". NPR, in regard to a listeria outbreak three years ago, had this to say.
"Listeria can be killed with proper cooking, but unless you're going to use a thermometer to make sure the foods reach 165 degrees F, it's best not to risk it. If you did eat them and have symptoms such as fever, stiff neck, confusion, loss of balance and convulsions, seek medical care. Listeriosis kills 1 in 5 victims. Sometimes listeriosis symptoms develop up to two months after eating contaminated food, but they usually start within several days." (source)
The symptoms of Listeriosis
Unfortunately, and sadly, many of the first symptoms of listeriosis mimic influenza, like many other foodborne illnesses, so if you have food on any recall lists, if you have doubts about the food you do have, or if you simply just don't know how old it is or it shows signs of going bad, throw it out.  And, most importantly, if you develop any symptoms, see your healthcare professional immediately.
Some of the earlier and lighter symptoms will likely last 1 to 3 days.
muscle aches
fever
flu-like symptoms
nausea
diarrhea
headache
confusion
stiff neck
tremors and convulsions
loss of balance
If you develop any of the above symptoms, please see your doctor immediately.
More information on Listeria
For more information on Listeria (Listeriosis) visit the Centers for Disease Control at CDC.gov/listeria
About Daisy
Daisy Luther is a coffee-swigging, globe-trotting blogger who writes about current events, preparedness, frugality, voluntaryism, and the pursuit of liberty on her website, The Organic Prepper. She is widely republished across alternative media and she curates all the most important news links on her aggregate site, PreppersDailyNews.com. Daisy is the best-selling author of 4 books and runs a small digital publishing company. You can find her on Facebook, Pinterest, and Twitter.