(Psst: The FTC wants me to remind you that this website contains affiliate links. That means if you make a purchase from a link you click on, I might receive a small commission. This does not increase the price you'll pay for that item nor does it decrease the awesomeness of the item. ~ Daisy)
Winter is here, and one of the things that means is that the presence of winter coats means one can comfortably bump up their EDC. And as we've seen from past experiences here at TOP, this is a wise move to consider this time of year as well.
I've been wracking my brains for a comfortable, discreet, and easy means to increase an EDC without having to carry a bag on one's immediate person and without feeling as if your pockets look like MC Hammer's parachute pants.
I think one of the potential ways to do this is through the use of a general-purpose MOLLE pouch.
What is a general-purpose MOLLE pouch?
A general-purpose MOLLE pouch is simply a little bag that attaches to a plate carrier in which one stores odds and ends. If you don't need to keep some food, a map, or other gear nearby, one of these pouches serves as a great catch-all to help keep you organized.
The cool thing about these is that they're a fairly good size to fit a bunch of stuff, but they can squish down pretty flat as well.
Here's one I picked up from AR500Armor.com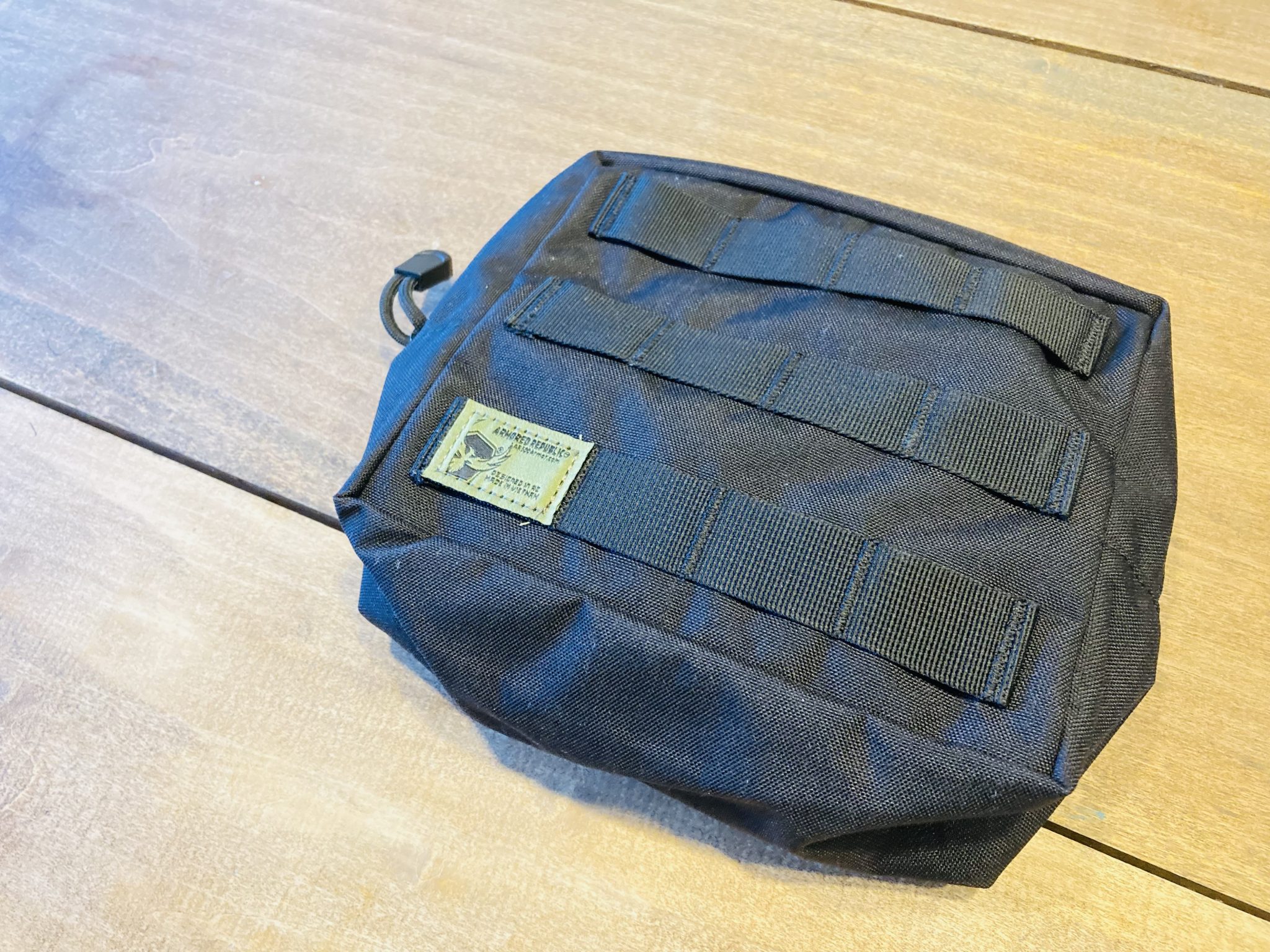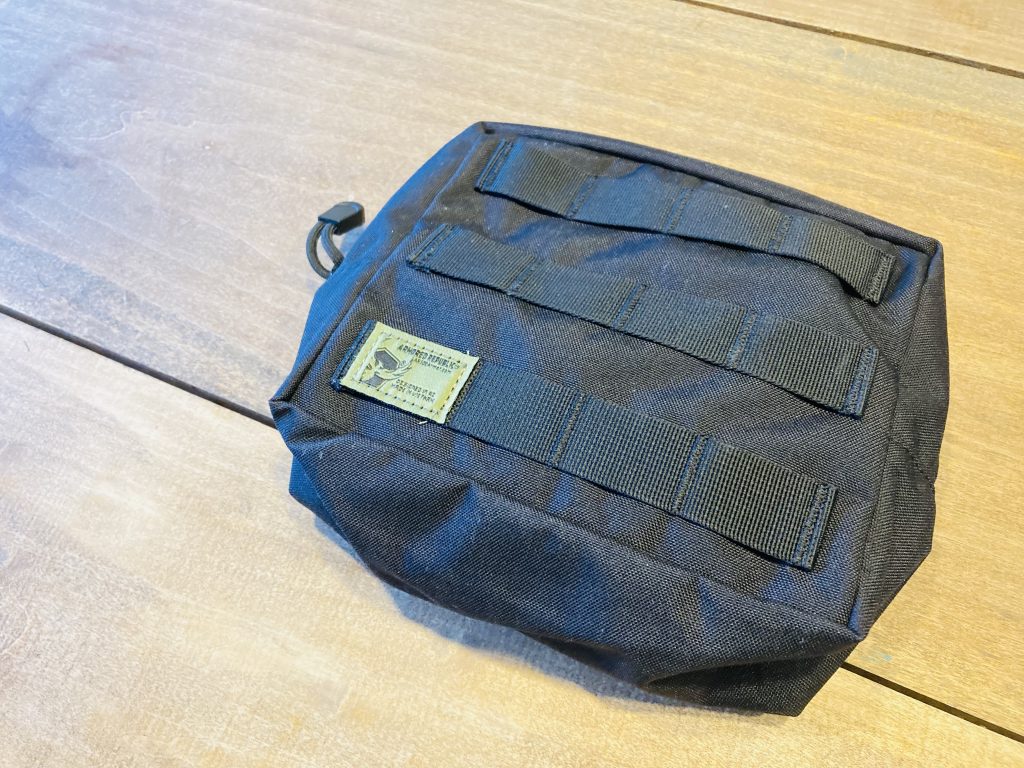 Food for thought here…
What if you're looking at carrying an IFAK on your person as you go about the day? You don't want to have to stuff and empty your pockets every time you come and go from your house, an ankle IFAK has just never felt comfortable to you, and some locations look at carrying a backpack as socially unacceptable (consider a grocery store). Yet you still really like the idea of adding a tourniquet, pressure bandage, QuickClot, medical shears, and whatever else on your person.
Perhaps you just want a means of keeping a mylar blanket, emergency poncho, and some other basic survival supplies on your person every time you go out with minimal fuss.
Regardless of which situation you may find yourself in, I think this method may be of benefit.
A MOLLE coat
One of my coats has MOLLE webbing on the inside of it. A pouch can strap to that perfectly. I experimented with a couple of different kits within the pouch and did find that the skinnier the gear I stuff in there, the better off I am.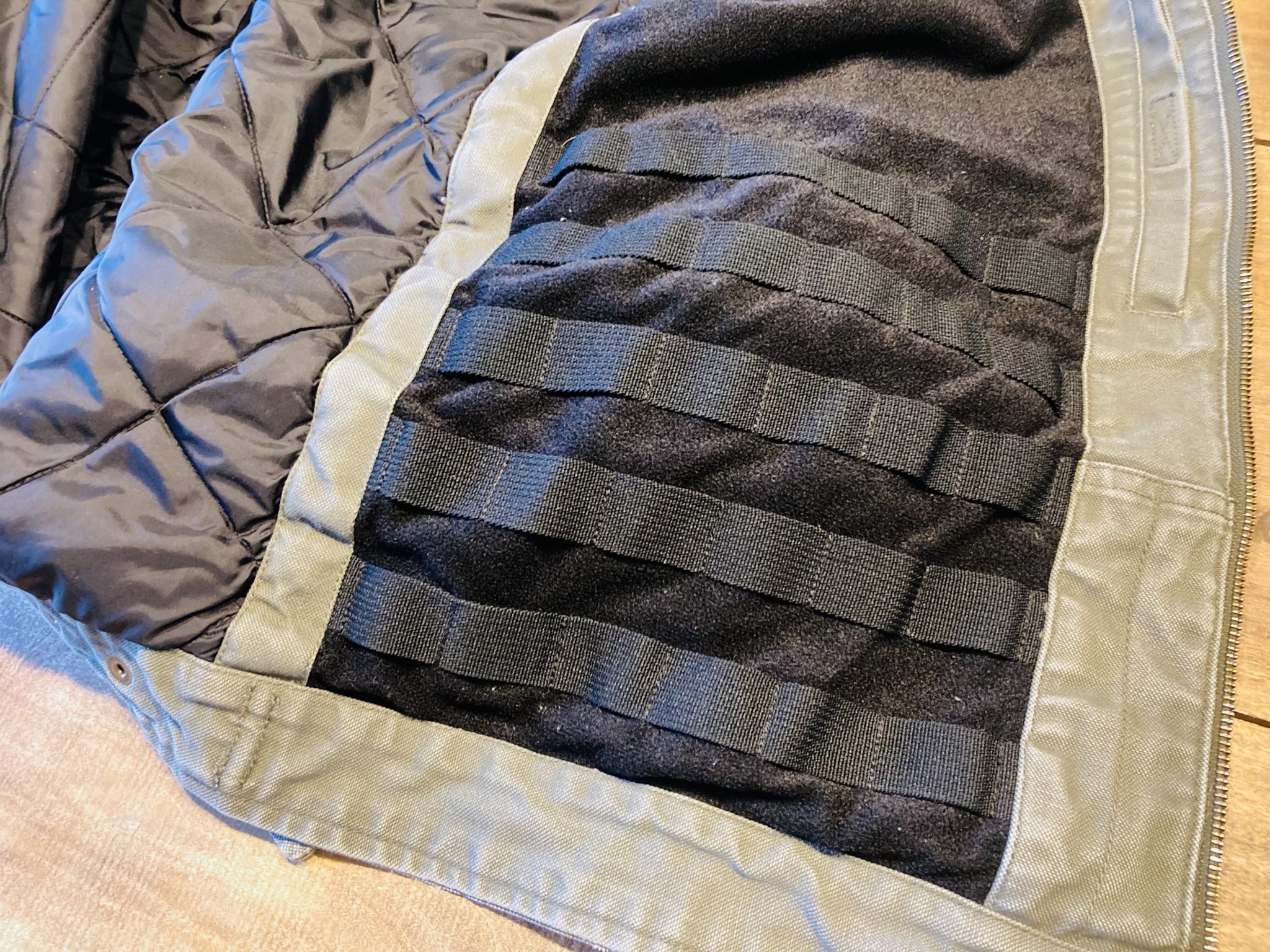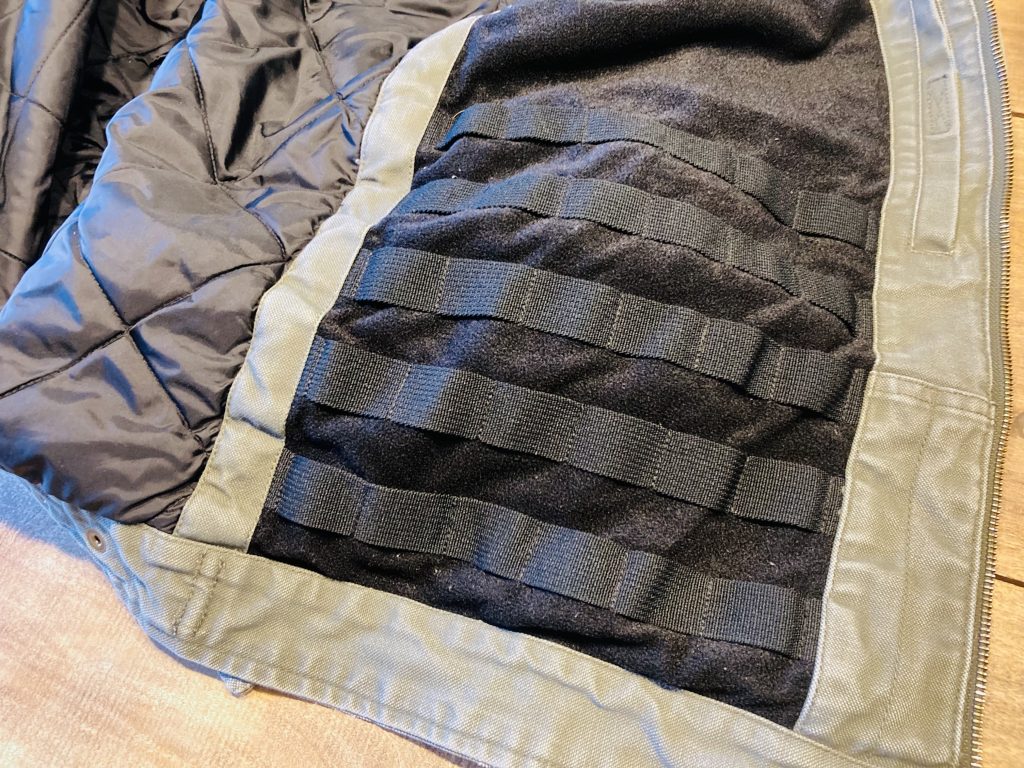 When I pack this thing to the brim, there's too much of a profile with the coat I have. It looks like I have a book under my coat. You're only going to attract unwanted attention in a store if somebody sees you walking around with a coat like that.
"Uhhh, sir? Why do you have a bag full of medical gear under your coat? Is there something going to happen here you know about that I don't?" – Mr. Police Officer
You want to avoid that.
If I put in four elastic gloves, a mylar blanket, a box cutter, a Bic lighter, instant coffee (dark roast, of course), and a tourniquet, I can keep the profile pretty slim. With the pouch in the front of the coat, it's still relatively noticeable, but not as bad.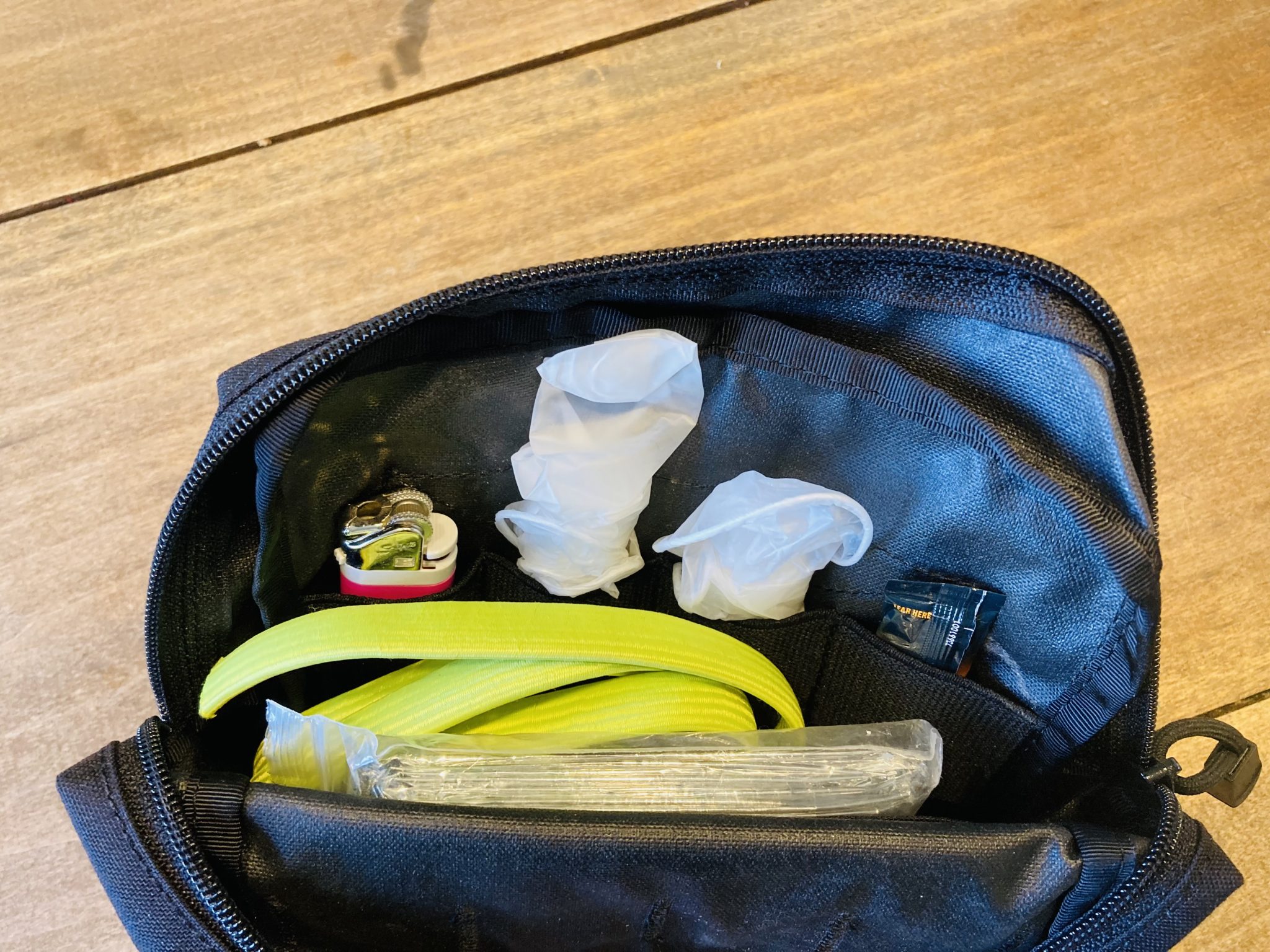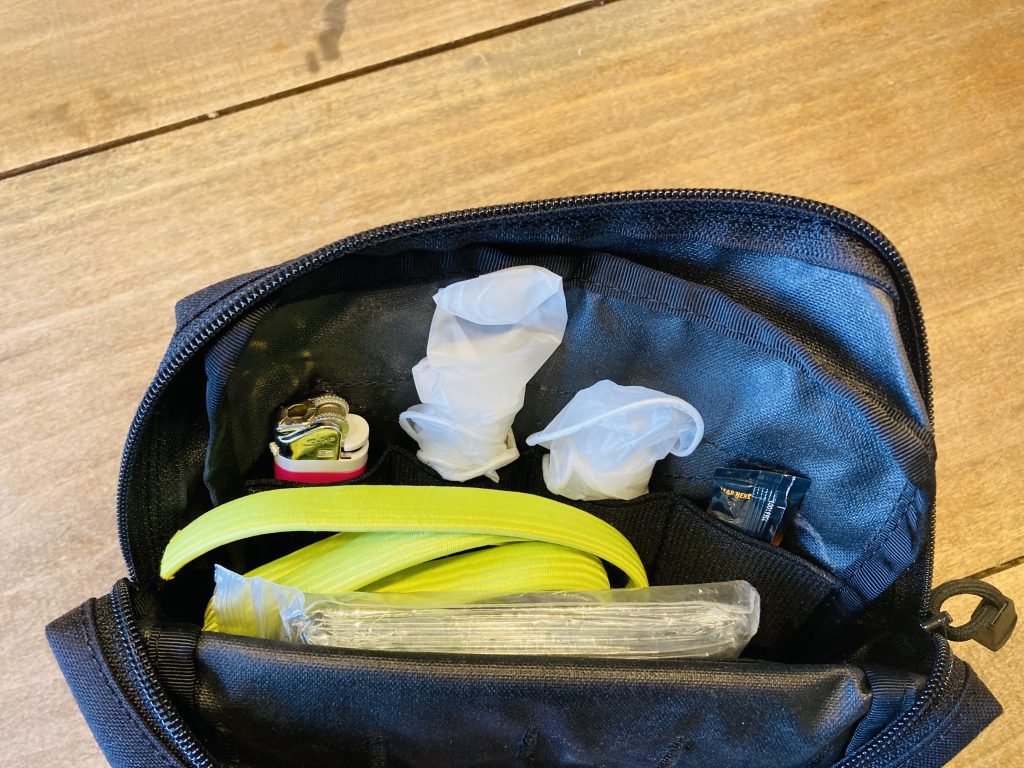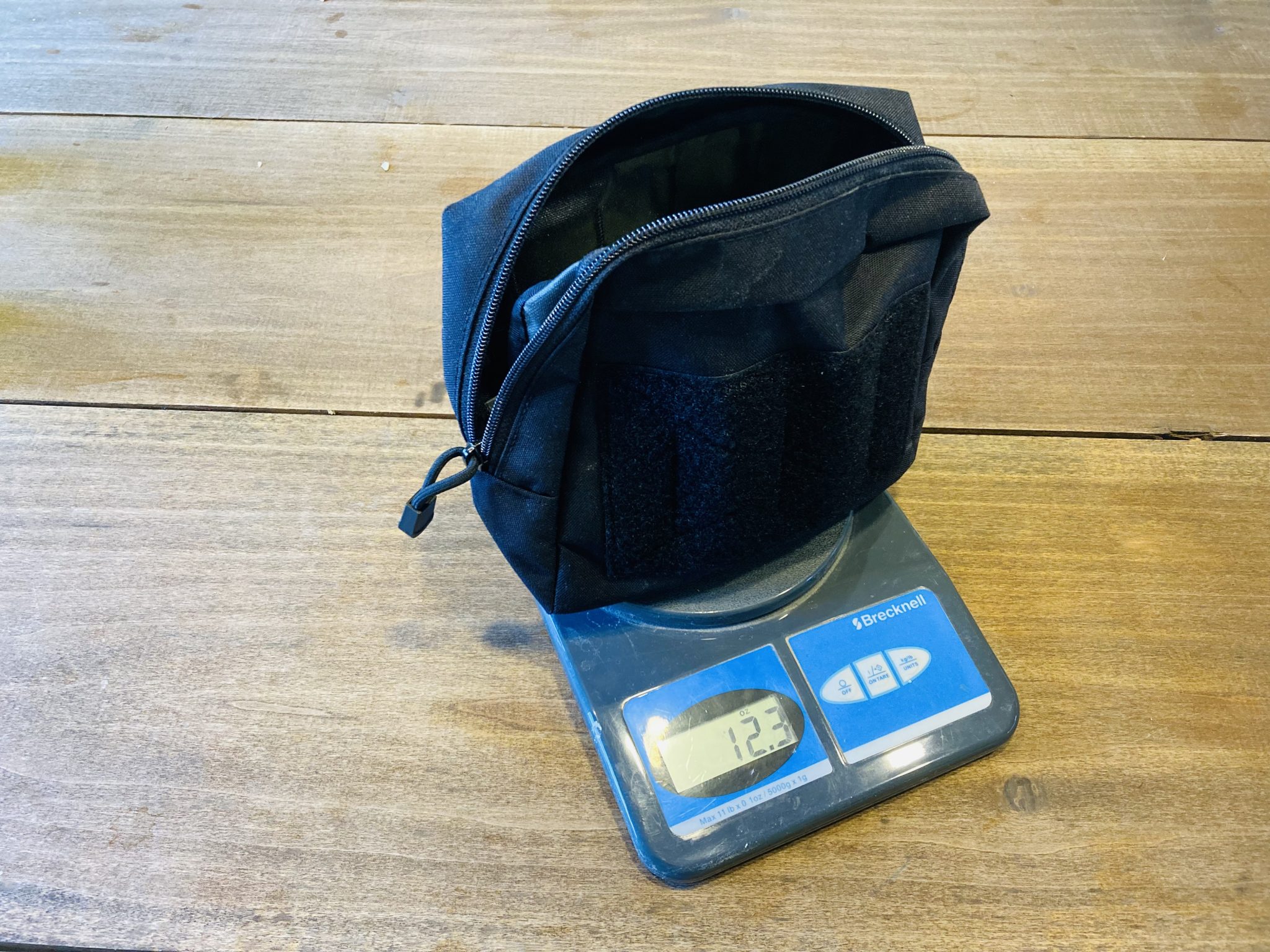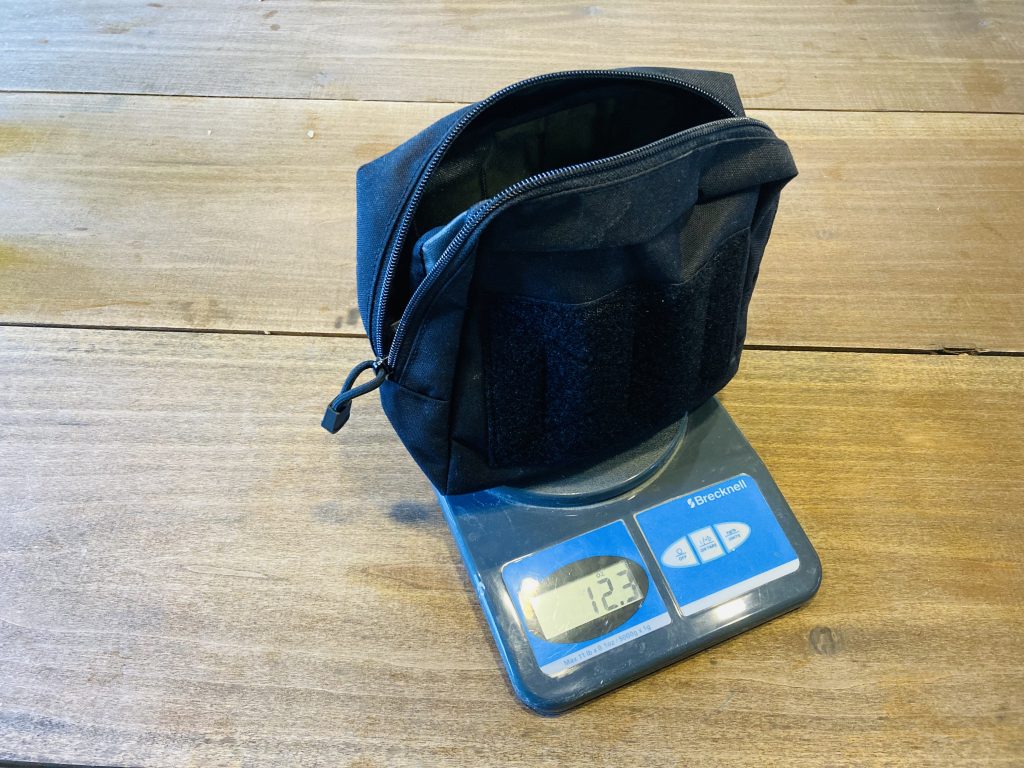 A perfect fit? No, I don't think so. Not with this pouch and my current coat anyway.
Here are my thoughts, though…
For starters, I think a pouch around one's kidney region would be less noticeable. Unfortunately, my MOLLE doesn't run all the way back to there in this particular coat.
I think there are much better coats out there available for this though. Consider Carhart (yes, this was written before Carhart decided to betray its customer base).
Anytime I've ever seen somebody wearing a hooded Carhart coat, they look like they're stuck in a limp balloon. I think one could easily sew on a few MOLLE strips within one of these coats and attach a dump pouch with zero profile whatsoever.
The only thing anybody would see from the outside would be the stitching, which truly shouldn't be that noticeable. If a Carhart is your daily coat of choice, this could be a great way to drastically up your EDC ability.
Are there other potential benefits of a dump pouch?
I think so. And I think this revolves around the size of these little bags.
Here's another scenario for you:
You're driving down the road when you suddenly come across a communist-run roadblock manned by men with AK-47s. Don't laugh. It's happened before, and you're bound to see a heck of a lot more of it in America in the near future.
It's early spring, and so it's cold outside. As you slam on your brakes, preparing to ditch the car, you wonder about how you're going to make it this far out from home in this kind of weather.
Sure, you have your bug-out bag in the trunk of your vehicle, but you seriously doubt you're going to be able to unlock your trunk, open your door, get out of your car, open your trunk, grab your bag, and then take off before you're accosted.
Would this be an uncommon problem?
(By the way, if you're looking for advice on building a bug-out bag, I recommend checking out our free QUICKSTART Guide here. After that, you're going to want to read this book.)
How fast can you grab your BOB from your trunk and hit the road? You probably won't have it in the cabin of your vehicle so as to avoid attracting attention when you park and go into a store. As such, I don't think your BOB is going to be readily accessible in all situations.
But a pouch filled with basic survival supplies can easily fit under a front seat.
You could easily hit the brakes, grab the pouch as you open the door, and take off. You'd then have what you need to survive the elements for at least a little while until you can reach some form of resupply.
Yeah, it's not your full kit, but it's most certainly better than nothing. Just food for thought.
What are your thoughts on a MOLLE pouch, though?
Keep in mind there are all kinds of pouches out there that could be used for any of these effects, many of which may have much less profile than the one I was using here. Personally, I'm a fan of the last option best.
What are your thoughts? Are there other ways to discreetly increase your EDC ability without carrying a bag? Let us know in the comments below!
About Aden
Aden Tate has a master's in public health and is a regular contributor to TheOrganicPrepper.com, TheFrugalite.com, PewPewTactical.com, SurvivalBlog.com, SHTFBlog.com, ApartmentPrepper.com, HomesteadAndPrepper.com, and PrepperPress.com. Along with being a freelance writer, he also works part-time as a locksmith. Aden has an LLC for his micro-farm where he raises dairy goats, a pig, honeybees, meat chickens, laying chickens, tomatoes, mushrooms, and greens. Aden has two published books, The Faithful Prepper and Zombie Choices. You can find his podcast The Last American on Preppers' Broadcasting Network.