(Psst: The FTC wants me to remind you that this website contains affiliate links. That means if you make a purchase from a link you click on, I might receive a small commission. This does not increase the price you'll pay for that item nor does it decrease the awesomeness of the item. ~ Daisy)
There's no way around it: this Thanksgiving is different for a lot of us this year. Due to the economic crisis, some far-flung families can't afford to get together. Others can't swing the traditional feast and they're dialing it back.
Other families have lost people over the years, whether to Covid or another cause, and there are heart-breakingly empty seats at the dinner table. Still others simply have nobody to share the day with for any of a number of reasons.
Because of this, I thought we could do a little online OP Friendsgiving. We have such a lovely community of people here from so many different backgrounds. The conversations are enlightening and ever-interesting. Why not "get together?" here?
I realize this isn't a substitute for truly being with the people you love, but I hope it helps the day go by a little more easily, just knowing that someone out here cares about you. We'll be keeping this post front and center on Thanksgiving Eve and Thanksgiving Day.
I'm going to post a bit about our Thanksgiving and a couple of recipes to get things started, and the things I'm grateful for this year. Please take a moment in the comments to do the same if you feel so moved. And let other commenters know that they're not alone.
Here's what we're eating.
Prices were high this year, so my family and I decided to do a non-traditional Thanksgiving meal. I'm making all sorts of tasty Mexican dishes and a lot of it actually is coming right from my pantry. Here's the menu:
Piccadillo enchiladas
Green chile and tomatillo chicken
Rice
Refried beans
Fresh-made salsa
Veggies and dip
For dessert we're going with:
Baked apples
Bunuelos
Churros
Vanilla ice cream
It's not the traditional turkey and stuffing and pie, but it's sure to be delicious and greatly enjoyed. Also BONUS – nearly everything was made ahead of time and just needed to be popped into the oven.
Update: Here's our feast: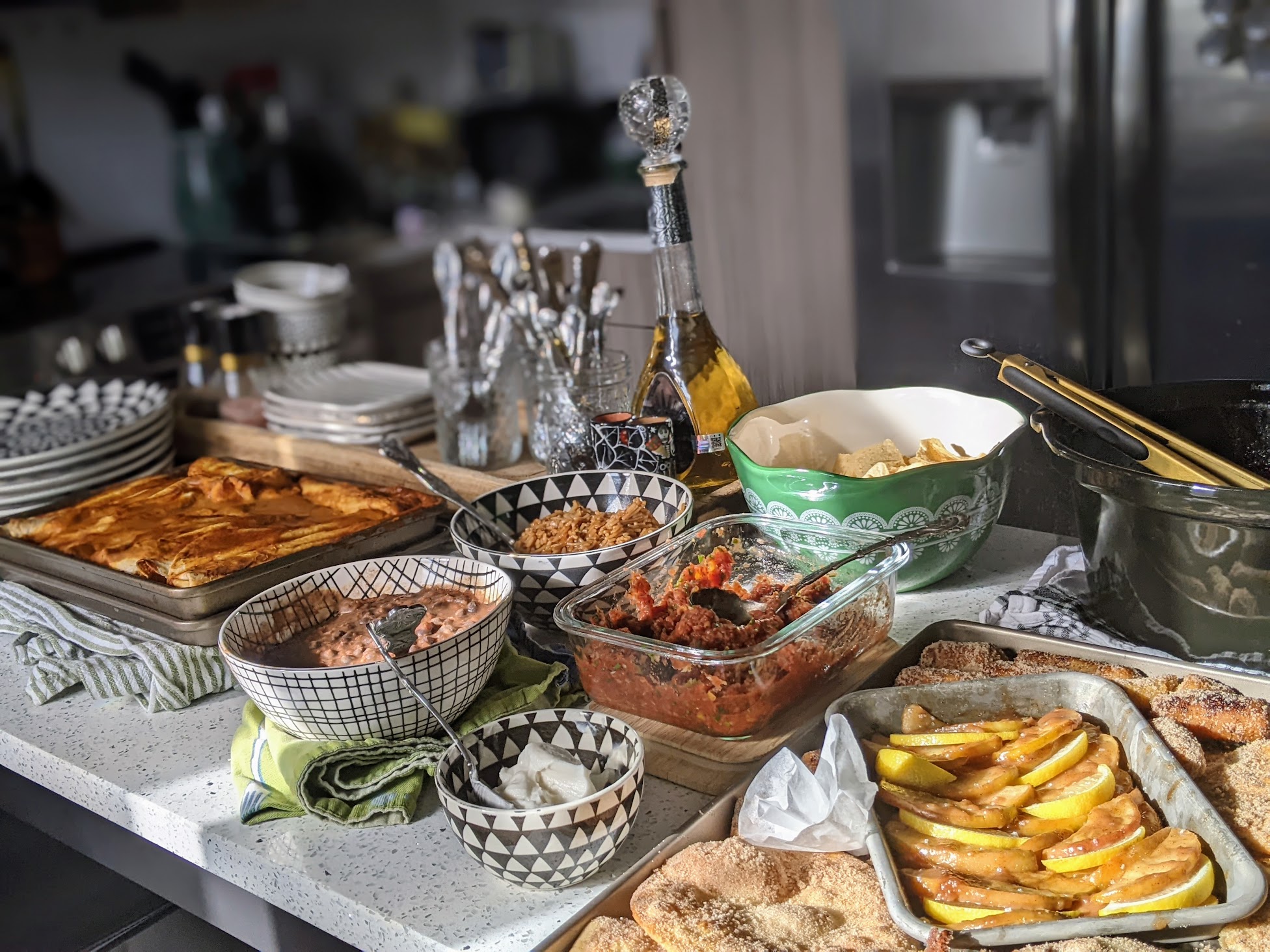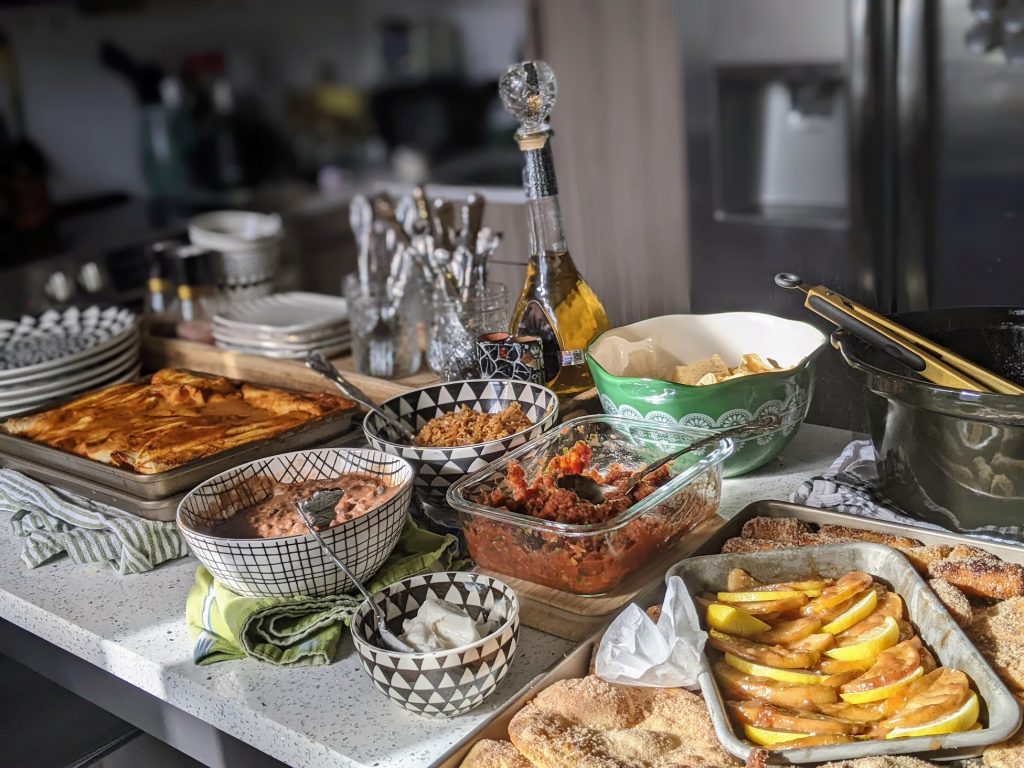 Picadillo Enchiladas
Please remember I'm terrible at measuring and tend to cook by "feel" more than by recipe. But the instructions below should give you enough to go on. Feel free to tweak this recipe to fit your own likes and dislikes.
When I lived in Mexico, I was kind of surprised that the only canned veggies I could easily find were mixed vegetables and corn. Once I tried picadillo, I completely understood why they liked canned mixed veggies so much. A friend there brought me some picadillo stew when I had Covid and I unlocked the world of picadillo. Leftover stew or a version with just a bit of tomato sauce instead of a giant can of tomatoes and broth is used to stuff burritos, enchiladas and just as a one-dish meal.
Maria never gave me a specific recipe, but this is how she showed me to make it. It seems like a ton of work but it's really not bad at all.
Picadillo Ingredients:
1-2 pounds of ground beef
2 cans of mixed veggies (the kind with potatoes)
1 can of black beans
Finely minced garlic
1/2 an onion, minced
Cumin, chili powder, salt, seasoning salt, and oregano to taste
1 small can of tomato sauce
Directions:
In a large skillet, fry up your ground beef, garlic, and onion until the meat is cooked through. I prefer to get it a little bit brown because I like the texture better. When it's almost done, season it with cumin, chili powder, and salt.
While the meat is cooking, drain two cans of mixed veggies. I usually sit a sieve in a bowl for this.
Remove the cooked meat mixture from your skillet and immediately put in your mixed veggies. Stir them up in the beef drippings. (I never said this was healthy, right?)
Fry the veggies for about 10 minutes until they're nicely browned. Season them with salt and oregano.
When the veggies are done, stir in your meat mixture and your tomato sauce. Remove it from the heat and let it sit while you work on your enchilada sauce.
Enchilada sauce ingredients:
I always keep canned enchilada sauce in my preps. It's a tasty and flavorful way to cook up ordinary food and add some zip to it. So, while I do know how to make it from scratch and you're welcome to do so, this recipe uses a canned sauce.
1 large can of red enchilada sauce
1 tablespoon of sugar
1/2 cup of sour cream (if you were cooking this solely from the pantry, you could use some dry milk powder instead, but in good times the sour cream is very worthwhile)
Directions:
You can cook this and thicken it and play around with it but I've found that merely stirring it up together with a whisk is quite sufficient.
The sugar: you may be wondering why there's sugar in this. Sometimes canned enchilada sauce is a wee bit bitter. The sugar offsets this. You can also use baking soda, apparently, but I've never tried that.
Making the enchiladas:
You'll need 1-2 bags of large flour tortillas for this dish, and I generally use a cake pan.
Preheat the oven to 375.
Add a splash of your enchilada sauce to cover the bottom of your pan. This will prevent your enchiladas from sticking.
Place a tortilla in the palm of your hand to form sort of a "bowl." Scoop two serving spoons of filling into your tortilla.
Fold the end of the tortilla up to keep your filling inside, then roll it up as tightly as you can, making it sort of like a burrito. Add it, seam side down, to your baking dish.
Roll up all your enchiladas and stuff 'em into the pan as tightly as you can get them.
Pour the rest of the enchilada sauce over the enchiladas, then cover your baking dish with foil. I like to tent the foil so it doesn't touch the top of my enchiladas.
Put the baking dish on a cookie sheet – it WILL bubble over and this will save you a mess in your oven.
Pop it into the oven for 35 minutes, then remove the foil and put it back in for another 10 until the top is bubbly and slightly browned.
If you want, you can add some cheese to the top at the very end, but I promise, it's super delicious without it.
Aden contributed a Thanksgiving poem for preppers.
Aden wrote the most beautiful poem that I have to share with you. As a prepper, it will really hit home. It's called Comparison, The Thief of Joy. He's so creative.
What I'm grateful for this year
This has been a personally difficult year. We've lost a couple of loved ones and that's always hard. But, eventually, you get back to living and things start looking up.
I'm incredibly grateful for my family. My girls and I have such a beautiful relationship and it's a priceless treasure. The fact that they are adults (22 and 27) and they still want to talk to their mom nearly every day just brings a glow to my heart every time I hear the phone ring.
My sweet dog Thor is nearing the end of his days, but he is loyal, loving, and a dear friend. I would have been lost without him after our other dog passed away.
I have very few friends. But the ones I do have…holy cow. They're just incredible. They're so supportive, so loving, and so encouraging. It seems like no matter what I'm dealing with or how "crazy" my latest idea sounds, they are there with suggestions, love, and cheerleading. They even tolerate my quirky need for solitude with unrelenting affection. They've got my back every step of the way. Y'all know who you are!
I have the most amazing readers in the Bloggerdom. My work is such a privilege. I know everybody says this but I really never expected to be a blogger with lots of readers. The fact that I've gotten to know such a wonderful, supportive, and caring community through the work that I do is a gift that constantly amazes me. I'm going into my 11th year of blogging on The OP and I feel endless gratitude that you all help me do what I love every single day. I always wanted to write, and your visits to my website make that possible. How could I get any luckier than this? You guys mean the world to me.
I know I should probably have some material things to list here, but honestly, it's the ones I love who make the list for me.
What about you?
What's a dish that you make every Thanksgiving without fail? Would you share the recipe with us in the comments? Is there a story behind the recipe? If so please tell us!
What are you grateful for this year? What makes your heart sing? Let's talk about it.
And if you are struggling, tell us. Hopefully, a burden shared is a lighter burden.
That being said, we here at the OP love our readers and we're so glad that we can provide information and entertainment to you.