(Psst: The FTC wants me to remind you that this website contains affiliate links. That means if you make a purchase from a link you click on, I might receive a small commission. This does not increase the price you'll pay for that item nor does it decrease the awesomeness of the item. ~ Daisy)
If you live in an apartment or another small space, you may think that having a generator is completely out of the cards for you. I move around a lot and certainly never expected to have one. But the Jackery 1500 Solar Generator is absolutely perfect for small space living.
Full Disclosure: I received this generator in return for an honest review. This article is about my actual experience using the Jackery in multiple situations.
Why is the Jackery 1500 Solar Generator so good for small spaces?
I live in a 600 square foot apartment in the city, and I'm currently working on a guide for small space and urban prepping. This is an addition that takes up very little space in your home or apartment. Here is a photo of mine in the morning. It was charging devices all night and running a lamp for a few hours while I was reading. It will be tucked behind my nightstand and remain plugged in for storage.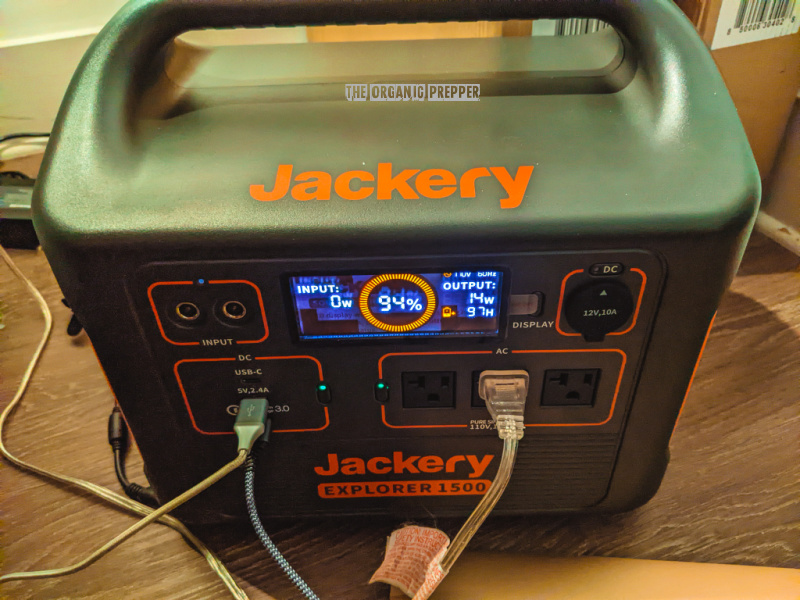 That's the other super-cool thing: according to the instructions, you can leave it plugged in all the time. That means when an emergency strikes, it's charged to 100% and ready to go. The solar panels fold completely flat and slide easily and safely into the back of your closet or under a bed. You want to make sure not to put anything on top of the solar panels, so take care if you're putting them under the bed.
The panels are incredibly lightweight. They have a kickstand velcro-ed to the back, and a zipper pocket containing the cord that connects your panels to the generator. That means you don't have to worry about losing essential equipment.
It's safe to use indoors and completely quiet. While it's charging you hear a little fan noise but once it's charged, it sits there silently, waiting for your emergency.
3 ways to charge this generator
There are three ways to charge this little generator.
Plug it into the wall
Plug it into your car charger
Use solar power.
Plugging the Jackery 1500 Solar Generator into the wall, it took about 3 hours to charge to 100%. Our weather hasn't been super bright and sunny here but even in partly cloudy conditions, it charged in about 7 hours outside on my patio. I only used two panels, but it comes with 4, which would make it charge a lot faster.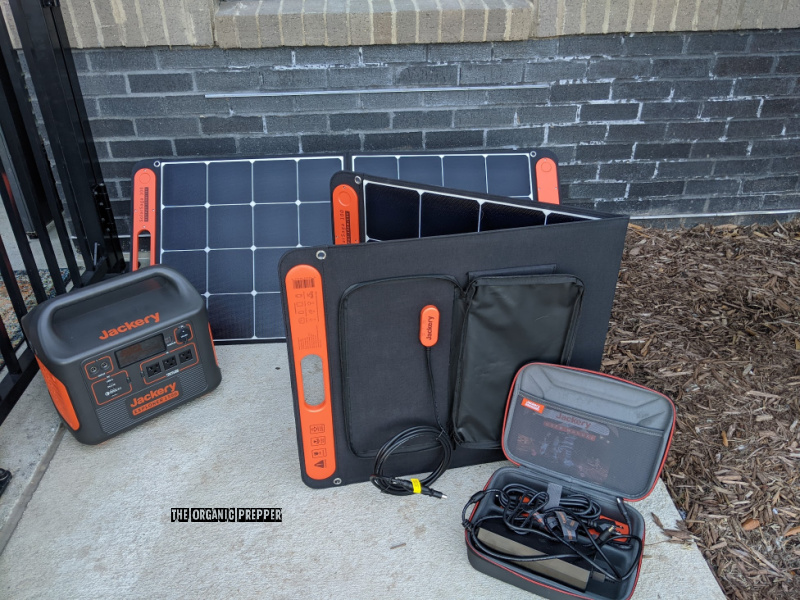 I haven't tried using a car charger, but it comes with the adapter to do so. My daughter said this would have been amazing to have with her when she was stuck on I95 for 16 hours. So I'm planning to make it part of my travel kit as well.
Using the Jackery 1500 Solar Generator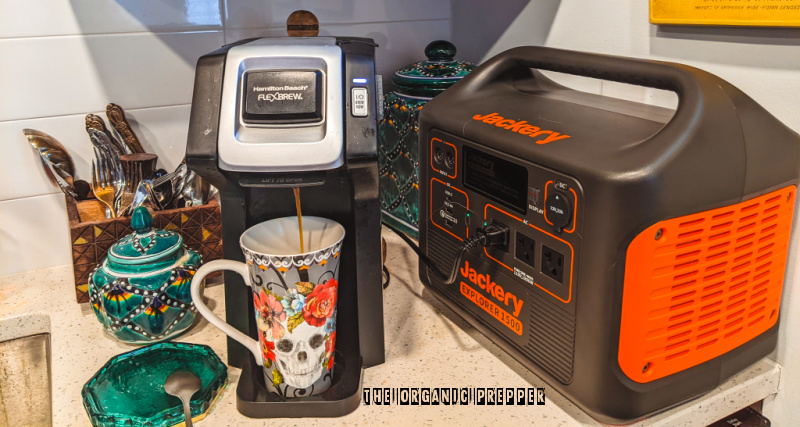 I tested Jackery 1500 Solar Generator in multiple ways, some for a real emergency, and some for comfort and convenience.
Charging devices: I charged my laptop and phone overnight and that took the battery from 100% to 96%. When I got up, my devices were fully charged.
Making coffee: (Yes, I also have a French press but I wanted to test this.) I made a cup of coffee from my little single-serving coffee maker. This used 4% of the battery. Running plain water through a machine like this would make it hot enough for instant oatmeal or instant noodles in an emergency.
Using the microwave: 5 minutes in a 700-watt microwave used 4% of the battery.
Running an air purifier: My daughter's air purifier uses 40 watts. This was the closest appliance I could find that compared to a CPAP machine.  According to this, most CPAP machines use 30-60 watts. After 21 hours straight of running the air purifier, the generator went from 91% down to zero, so a full charge is definitely enough to power your CPAP overnight.
I don't have a small bar fridge or appliance like that, so I couldn't test that. However, I believe this would be good to run a bar fridge part-time, taking time out to recharge. An older bar fridge runs on 805 watts but a newer Energy Star bar fridge uses 100-200 watts. (source)
Other items we used with the Jackery were the TV, the internet router (YASSS to internet during a power outage), a fan, and a table lamp. The only thing it didn't work with was my daughter's ancient freezer – that sucker is OLD. I don't know if it was incompatible or too much of a draw. The Jackery shuts off automatically if the draw is more than 1500 watts.
It has 3 three-prong AC electrical outlets, 2 USB outlets, and a c-type outlet.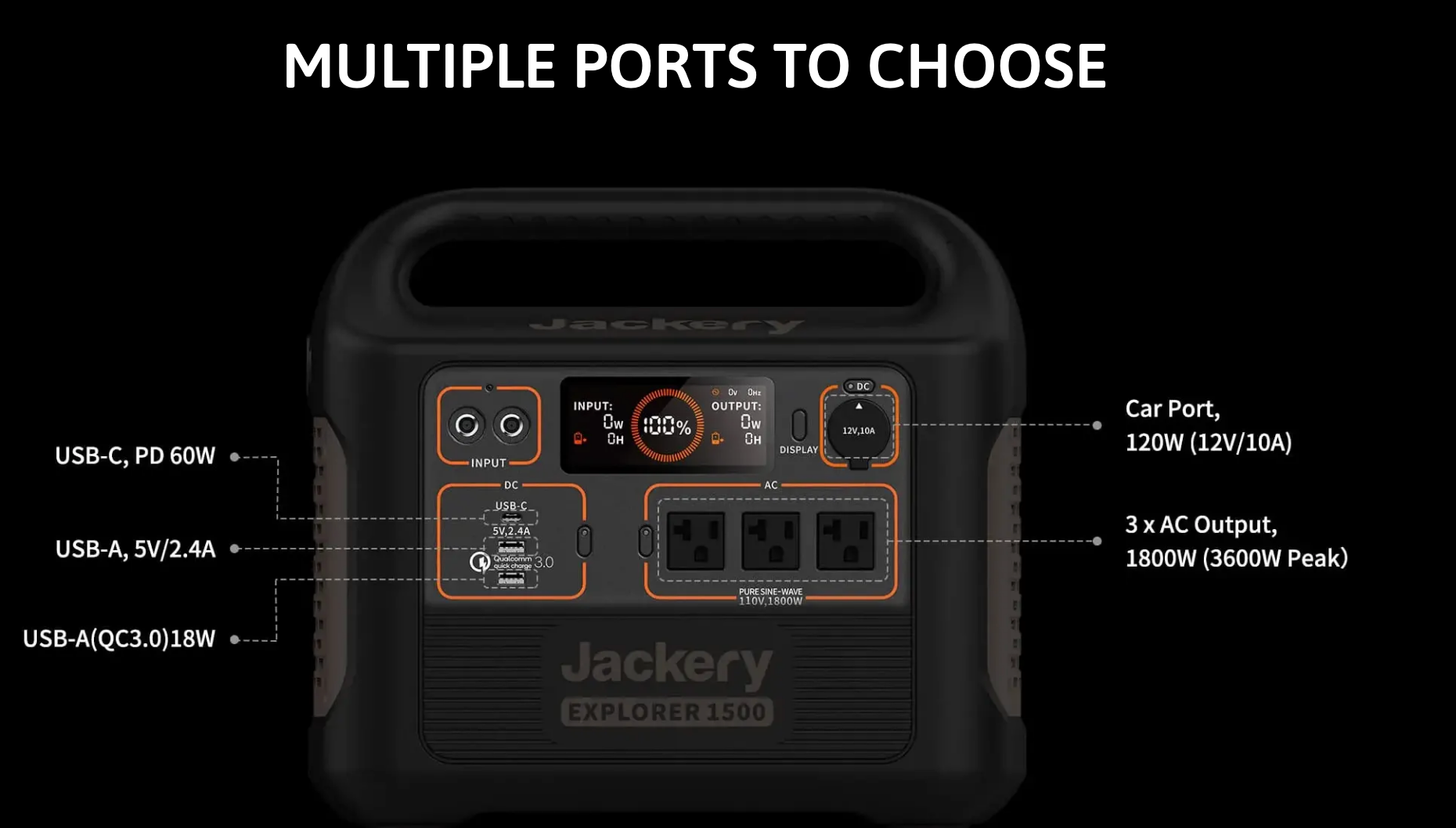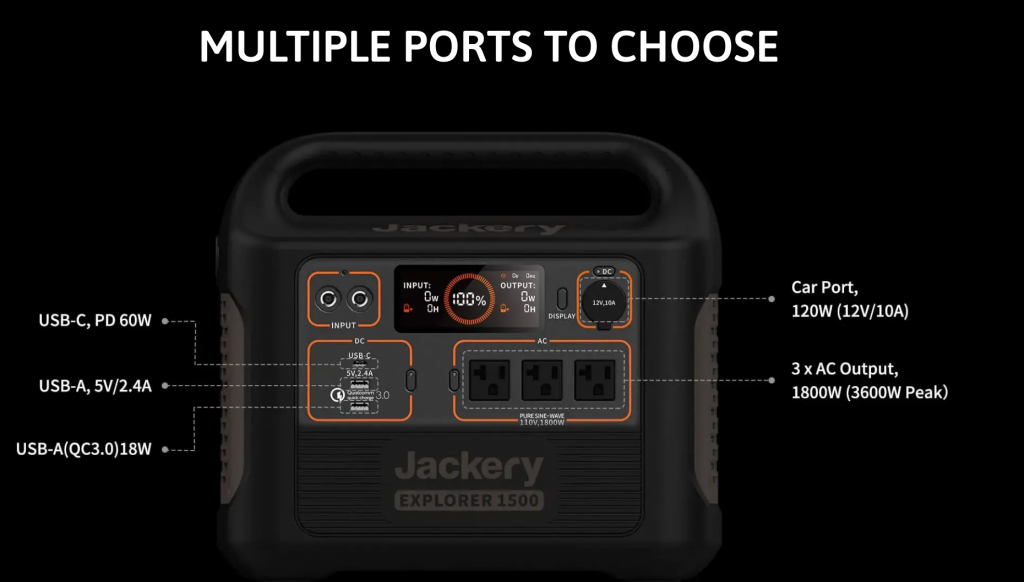 The cons to the Jackery 1500 Solar Generator
I honestly found very few cons to this device. Because I don't have any medically essential needs for electricity, for me this is more of a prepping luxury item but it would make a power outage so much easier to deal with. Just being able to run a fan in the summer would be an incredible boon to your comfort level. And because I work online, it would be nice to be able to still connect to the internet and keep my devices working.
For those with medical problems that require electronic solutions, I think a generator like this with a renewable power source is essential.
The solar panels are not waterproof. So if it begins to rain, you need to get your stuff inside ASAP and dry it off carefully.
Should you get a Jackery 1500 Solar Generator?
This is a big purchase, and I always recommend putting a lot of thought into large purchases. After testing this out in multiple ways, I would absolutely buy one if it was within my budget. It would be the difference between misery and moderate comfort during a power outage in hot weather. For apartment dwellers, alternative cooking methods are a little trickier than for those with independent houses and this would provide what you need for heating up some food.


Photo Credit: Jackery.com
So, ask yourself the following questions:
Can you afford it?
Do you or does a family member have a legitimate medical need for it?
Are you in an area with frequent power outages?
Will this provide enough power for your NEEDS? (Notice I said needs, not wants.)
Do you spend time off-grid regularly?
If the answers to these questions are yes, then I highly recommend the Jackery 1500 Solar Generator. I'm about the least techie person on earth and I found this incredibly easy to use.
It was effective, efficient, simple to use, and perfect for my little apartment. If you're interested, go here to check them out.
What are your thoughts?
Have you ever used a solar generator? Is it something you'd consider? What needs would you want to fulfill with a generator? Let's chat about it in the comments.