(Psst: The FTC wants me to remind you that this website contains affiliate links. That means if you make a purchase from a link you click on, I might receive a small commission. This does not increase the price you'll pay for that item nor does it decrease the awesomeness of the item. ~ Daisy)
Most people who are working hard to eat well consume a lot of fruits and vegetables. One of the biggest issues folks are noticing with the Stockpile Challenge is getting enough produce in their diets.
It can be a major challenge when living from your stockpiled foods to get enough fruits and vegetables.  This is dangerous because, without produce, your family can be at risk for nutritional deficiency diseases like scurvy and their immune systems will be compromised.  A minimum of 5 servings per day is recommended, but during the long winter, how can you meet that goal with the contents of your pantry?
As well, many people these days generally eat a low-carb diet that is reliant on protein and produce. (You can get more info about stockpiling for a low-carb diet here.)
Supplying your family with produce that will provide the necessary nutrients that their bodies need to thrive is a twofold process.  Not only should you preserve the summer's bounty for the winter ahead, but you should also come up with ways to add fresh greens outside of the growing season. (Get a free full-color guide to building a 3-Layer prepper's pantry here.)
Building a Stockpile of Fruits and Vegetables
When creating your produce stockpile, you have to look at what actually constitutes a "serving" for the people you will be feeding.  It may not actually be the amount that you expect. For example, a child's serving of green beans is anywhere from a quarter cup to a half a cup (depending on their age), but an adult's serving is a full cup.  So for a child, plan on 1-3 cups of produce per day and for an adult, plan on 5 cups of produce per day.
Whenever possible, focus on organic produce.  The use of pesticides in conventional farming is rampant.  Even the Environmental Protection Agency has to admit that the ingestion of pesticides can cause health problems.  They warn of the risk of "birth defects, nerve damage, cancer, and other effects that might occur over a long period of time."  Especially at risk of harm from pesticides are prepubescent children and fetuses.
My family also chooses to avoid GMOs (genetically modified organisms).  Particularly avoid anything non-organic that contains corn or soy ingredients. There are questions about health risks and GMOs are engineered to withstand even higher dousing of pesticides than other conventional fruits and veggies.
What to Buy
At the grocery store, look for sales to build your supply of produce:
Dried:  Dried fruits such as raisins, banana chips (without sugar), and dried cranberries can pack a lot of nutritional punch into a tiny serving size.  Think of them as concentrated vitamins. An adult serving of raisins is only 1/4 cup, which means that you can pack a lot of nutrition into a small amount of space with dried fruits.
Canned:  Canned goods such as tomatoes, green beans, and peas can go a long way towards providing nutrition. The benefit to those rows of tin cans is that you don't require power to store them safely, and they are fully cooked so you don't even have to heat them up in a grid down situation.  You can also find many varieties of canned fruit but beware of heavy syrups. Opt for fruit canned in juice if possible.
Frozen:  Frozen fruits and vegetables are the closest to fresh that you can get.  This is a great way to build a stockpile for times when money is tight, but don't put all of your produce in the freezer.  During an extended power outage, you stand to lose a large portion of your deep freeze contents. If you do purchase a large amount of produce for the freezer, have canning jars, lids, and an off-grid method for canning them if the electricity goes down for the long-term.
Freeze-dried:  This is a more expensive option, but freeze dried fruits and vegetables maintain nutrients, require little storage space, and need no special storage conditions.  You can add a great deal of variety to your pantry with a selection of freeze dried ingredients and the foods, if sealed correctly, can last up to 25 years.  You can find a wide variety of freeze-dried fruits and vegetables HERE.
Preserving Fruits and Vegetables
There are many effective ways to preserve fruits and vegetables that you acquire fresh.  Whether you harvest them from your own property, buy them at the farmer's market or a local orchard, or even make a bulk purchase from the discount bin at the grocery store, having the supplies and skills to quickly preserve them can allow you to make the most of your windfall. Learn more about the following methods.
Indoor Gardening
There are all sorts of things you can grow indoors, even in the dead of winter. It helps to have a south-facing window and barring that, a grow light. I have had wonderful luck with spinach, lettuce, herbs, garlic, green onions, and even some teeny little radishes. I know others who have been successful with tomatoes and peppers but I have personally never managed those inside. (Maybe one day I'll get my dream sunroom!) Some folks keep dwarf citrus trees in their homes, also.
And don't overlook the value of sprouting. Sprouts grow incredibly quickly. They're easy to grow and highly nutritious. You can learn absolutely everything you ever wanted to know about sprouting at this website. I like bean sprouts and microgreens the best.  Each type of sprout has a very different texture and flavor.
Any tips?
Many in our community are just beginning to build their pantries.  Do you have any budget-friendly tips for adding fruits and vegetables to the larder?  Please share them in the comments below…
Want to learn more? Check out my book!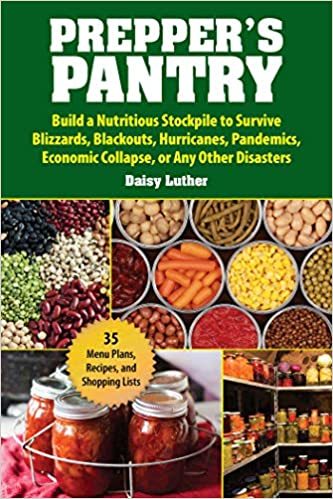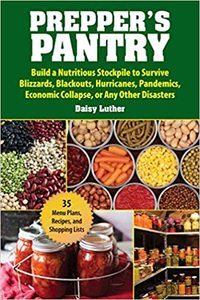 Lots of us like to have hard copies of the information that we've found helpful.  Because of this, I've written up everything I know about building a stockpile on a budget and put it all in one handy primer, available on Amazon.