(Psst: The FTC wants me to remind you that this website contains affiliate links. That means if you make a purchase from a link you click on, I might receive a small commission. This does not increase the price you'll pay for that item nor does it decrease the awesomeness of the item. ~ Daisy)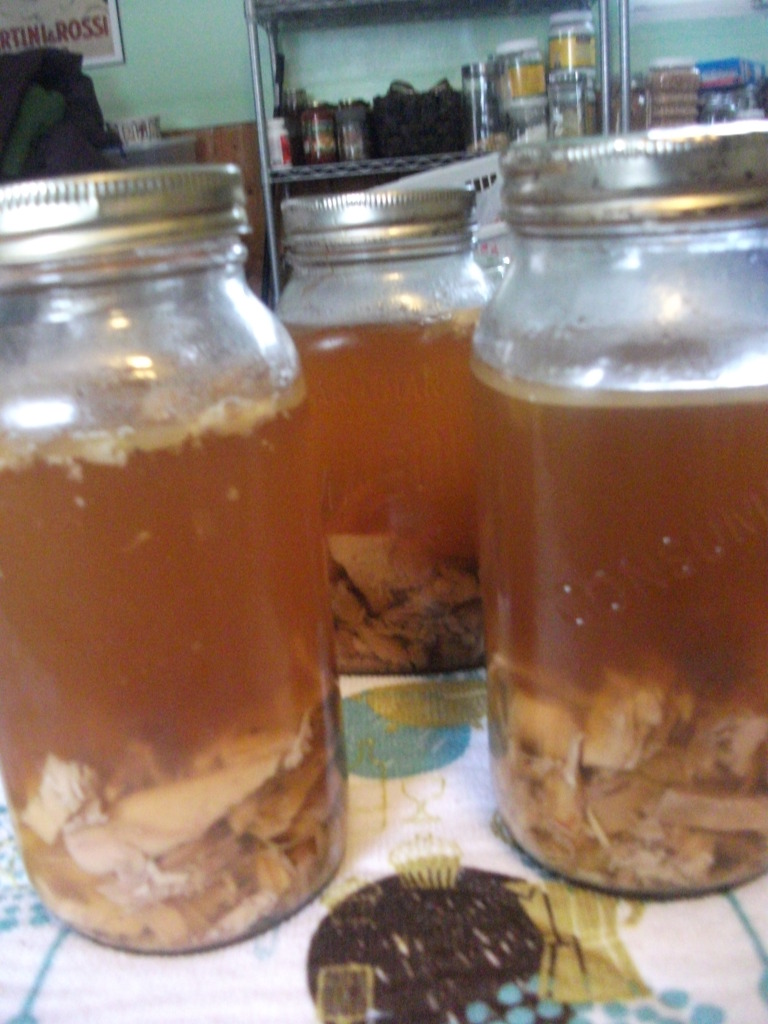 If your family craves homemade chicken noodle soup when they are under the weather reach for this instead of the familiar red and white can. When you can your own soup, you know that you aren't feeding your family deadly neurotoxins in the form of MSG, which is present in nearly ALL conventional canned soups on the market.
This soup has everything but the noodles, and the reason for this is that noodles break down and turn into a goopy mess when they are canned.  Some people will tell you that they have canned soup with noodles for years and that the noodles are perfect, but this has not been my experience.  When you're ready to eat the soup, simply pour it into a pot, bring it to a boil and throw in the amount of pasta that you want.
You can make this with any kind of poultry and when it's serving time you can add whatever works for you at the moment: pasta, rice, orzo and barley are all delicious additions.  If you're feeding someone with a tummy ailment, add a little bit of ginger to the soup when you are re-heating it.
Ingredients:
8 boneless skinless chicken thigh or 4 breasts
2 cups of carrots, cut in circles
I cup of chopped celery
1 cup of finely grated onion
8 cloves of fresh garlic, mashed to release oils
4 bay leaves
1 tbsp of oregano
1 tbsp of basil
1 tbsp of thyme
1tbsp of salt
Water as needed
Directions:
In a stockpot, simmer chicken in water with your herbs and salt until it is fork tender and you can shred it (about 1 hour). Don't add your veggies – just chicken and seasonings.
Drain chicken, reserving cooking liquid. Discard the bay leaves.
Divide the chicken, celery, onion,  and carrots evenly and layer the ingredients in your sanitized  jars.
Pour your cooking liquid into the jars and then top them up with water until you have one inch of headspace remaining. You will look at this and say, wow, there is way more liquid than chicken and veggies – but that's important because you need additional liquid for serving time, when you cook the pasta in this.
Lid your jars and p-can at 11-12 pounds for 90 minutes, adjusting for altitude.