(Psst: The FTC wants me to remind you that this website contains affiliate links. That means if you make a purchase from a link you click on, I might receive a small commission. This does not increase the price you'll pay for that item nor does it decrease the awesomeness of the item. ~ Daisy)
by Daisy Luther
Hurricane Dorian had been headed straight for Florida as a potential Category 4 hurricane, but this morning, things have changed. The hurricane has picked up even more power and is now a Category 5, and the direction has shifted, putting South Carolina directly in Dorian's crosshairs.
Zero Hedge reports:
As of Saturday afternoon, Dorian was sporting an unusually wide 'cone of uncertainty,' which is making it especially difficult to track, according to the NYT.

According to the NHC, since Dorian has slowed down and could now turn northward just before making landfall in the Continental US, "it is too soon to determine when or where the highest surge and winds could occur." As a result, "the risk of strong winds and dangerous storm surge is increasing along the coasts of Georgia, South Carolina and North Carolina during the middle of next week." (source)
People on the entire East Coast have been warned to get prepared as it seems that this hurricane has become more and more unpredictable.
Hurricane Dorian is currently near the Bahamas
Dorian is expected to strike the Bahamas today and tomorrow.
Hurricane Dorian now has maximum sustained winds of 160 mph, according to the National Hurricane Center. This would put the storm in the highest category on the Saffir-Simpson Hurricane Wind Scale.

Dorian will be capable of catastrophic damage as it tracks towards the Bahamas today into tomorrow…

…NHC said the most severe weather of the hurricane, known as the eyewall, is about to hit Abaco islands in the Bahamas. (source)
The hurricane is not expected to lose power over the Bahamas as it heads toward the eastern coast of the US.
Florida is still not out of the woods.
Although the hurricane appears to have shifted north, Floridians shouldn't get too comfortable.
Even though the storm's path has shifted, Florida residents should still prepare for the worst. That includes "possible extensive power outages," according to a spokesman for Florida Power & Light. The utility has brought in about 18,000 workers in the state, and crews are staging at areas expected to be among the hardest hit, according to CNN.

Even if the storm doesn't directly hit Florida, it could still cause life-threatening flooding, Gov. Ron DeSantis warned. And "if it bumps just a little west, you're still looking at really, really significant impacts," he warned. (source)
So where is the hurricane going to hit?
In reality, nobody knows where Hurricane Dorian will make landfall.
Hurricane Dorian has been threatening to make its way to the US mainland, but there is still much uncertainty on when and where it will make landfall.

The storm had been projected to reach Florida for Labor Day Weekend. But current forecasts have it turning north Monday evening. The storm is predicted to ride along the US east coast along Florida, Georgia and the Carolinas, Shackelford said.

But will it make landfall on any of those states?

It is not yet clear. Many models show the storm staying just off Florida's coast Tuesday and then skirting the coasts of Georgia and North and South Carolina.

Still, a major hurricane hovering just off a US coast could cause life-threatening damage. (source)
And this forecast map from the NOAA shows the potential for damaging winds and flooding as far north as Virginia.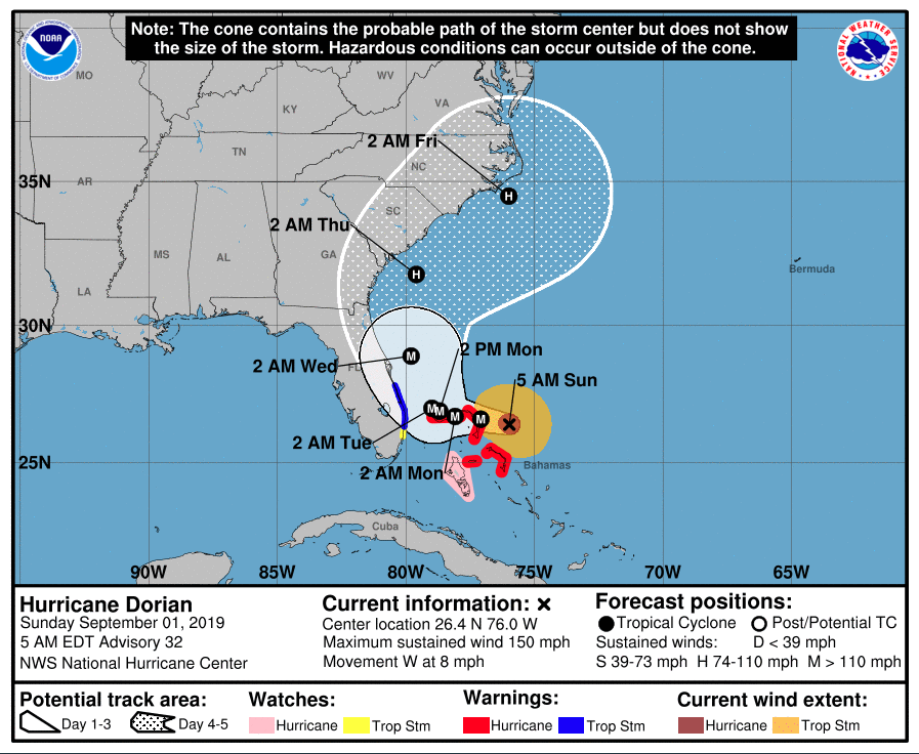 Monday and Tuesday will tell the tale, as that is when Dorian is expected to make landfall…somewhere.
How should you get prepared?
If you're anywhere on the southern end of the East Coast, I strongly urge you to get prepared. This hurricane has surprised forecasters twice now, so it isn't a stretch of the imagination to believe it may surprise them again.
This round-up has 10 articles that will help you get prepped in a hurry if you weren't expecting a visit from Dorian. And this article has some last-minute shopping ideas when the shelves are bare.
If your local stores have run out of bottled water, don't despair. Purchase containers and fill them up with tap water. If you have a water bob, you'll want to get it ready to pop into your tub. If you don't have on, scrub your bathtub down and rinse it well, then be ready to fill it with water as the storm draws near. Fill every container in your house with water.
Freeze some of your water to help keep your refrigerated goods cold for longer. As things thaw out, you'll have fresh cold water.
Grab some food that doesn't require cooking if you're prepping at the last minute. Use some of the foods from your freezer to throw on your grill when the storm has subsided. Organize your refrigerator and freezer now so you can quickly reach in and grab things.
Be prepared for a lengthy power outage. Often after hurricanes, it can take weeks for electricity to be restored. This book can help, but be sure to print it off before you lose power.
Here's hoping that Hurricane Dorian heads back out to sea, but remember this important adage: Hope for the best but prepare for the worst.
About Daisy
Daisy Luther is a coffee-swigging, gun-toting blogger who writes about current events, preparedness, frugality, voluntaryism, and the pursuit of liberty on her website, The Organic Prepper. She is widely republished across alternative media and she curates all the most important news links on her aggregate site, PreppersDailyNews.com. Daisy is the best-selling author of 4 books and runs a small digital publishing company. She lives in the mountains of Virginia with her family. You can find her on Facebook, Pinterest, and Twitter.