(Psst: The FTC wants me to remind you that this website contains affiliate links. That means if you make a purchase from a link you click on, I might receive a small commission. This does not increase the price you'll pay for that item nor does it decrease the awesomeness of the item. ~ Daisy)
Update: Dorian is now a Category 2 hurricane and is expected to strengthen (possibly to a Category 4) by the time it reaches the southeastern coast of the US this weekend or early next week.
If you live in Florida, Georgia, or the Carolinas, you have (hopefully) heard by now that a big storm is heading your way.
Currently a tropical storm, Dorian is expected to strengthen to a Category 2 hurricane when it reaches the eastern coast of Florida late Sunday night or early Monday morning.
This morning, The Weather Channel issued a warning:
Tropical Storm Dorian will strike Puerto Rico and the Virgin Islands Wednesday, the first storm there since 2017's Hurricane Maria, and is an increasing danger to the Southeast U.S., including Florida, over the Labor Day holiday weekend.
Dorian's center is less than 100 miles from St. Croix, in the U.S. Virgin Islands, moving northwest at 10 to 15 mph.

Outer rainbands are already pushing through the Virgin Islands, and will soon sweep into Puerto Rico, according to the NWS Doppler radar from San Juan. Heavier rain near the center of Dorian is now heading toward the Virgin Islands. (source)
In an early morning update today, the National Hurricane Center (NHC) warned that "tropical storm conditions are expected in the US and British Virgin Islands and Puerto Rico today, and are possible in portions of the Dominican Republic tonight and Thursday. Hurricane conditions are possible in Puerto Rico and the US Virgin Islands today."
Warnings and watches are in effect for some areas.
A tropical storm warning is in effect for Puerto Rico, Vieques, Culebra, and the British and U.S. Virgin Islands. That means tropical storm conditions (39-73 mph winds) are expected there within the next 36 hours, according to The Weather Channel.
A hurricane watch is also in effect for those same areas. Hurricane conditions (74 mph or greater winds) are possible there within the next 48 hours.
A tropical storm watch is in effect for parts of the eastern Dominican Republic. Tropical storm conditions are possible there within the next 48 hours.
At 5 a.m. Wednesday, the National Hurricane Center said Dorian's maximum sustained winds were at 60 miles per hour with gusts as high as 70 miles per hour.
Dorian is expected to intensify as it approaches Florida, but the storm could change course:
For now, Dorian's center is expected to track to the east of the Turks and Caicos and southeast Bahamas, but that is subject to change.

Dorian is then expected to bend toward the west-northwest by Friday.

Exactly when and how sharp that leftward bend occurs will be critical in determining where Dorian strikes the southeast U.S. (source)
Dorian may reach the southeastern US by early next week.
NHC forecasters said Wednesday morning that "nearly all of the intensity models show Dorian becoming a hurricane in about 2 days, with additional strengthening beyond that time…the threat of tropical storm or hurricane conditions, along with storm surge, in the northwestern Bahamas and along portions of the Florida east coast have increased."
The hurricane center's updated track projected that Dorian could be off the coast of Titusville by 2 a.m. Monday, but the cone of uncertainty shows it could also be anywhere from the southeastern tip of South Carolina to the Everglades or west of Florida in the Gulf of Mexico by that time.
If you live in Florida, Georgia, or the Carolinas, be prepared for tropical storm or hurricane conditions and storm surge. If you don't have a hurricane preparedness plan in place, now is the time to create one. Please keep a close eye on the forecast.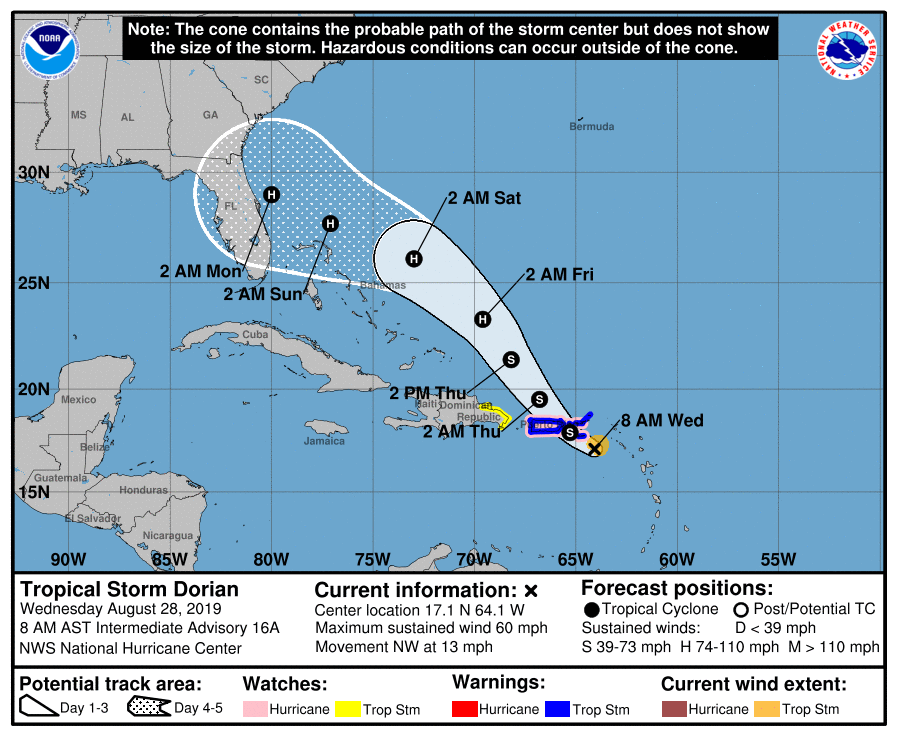 Image source: National Hurricane Center
To view an interactive map, click here: Tropical Storm Dorian
Hurricane Maria ravaged Puerto Rico less than two years ago, and much of its infrastructure, including its water systems, is still recovering. The territory is tragically vulnerable to a hit from another strong storm. The island's 3.2 million inhabitants still depend on a shaky power grid that has remained prone to outages since it was destroyed by the Category 4 storm. Nearly 30,000 homes still have blue tarps as roofs.
Remember, even if you are outside of the warning cone, preparing is crucial, as this video from NHC explains:
Dorian has the potential to cause life-threatening flash floods. Southern and eastern portions of Puerto Rico and the Virgin Islands could see 4-6 inches of rainfall, with 10 inches possible in isolated areas. The storm is expected to drop 4-8 inches of rain on Florida, with 10 inches in some spots.
Now is the time to prepare.
If you live in an area that may be impacted by Dorian, you should be asking yourself these questions:
Spend the next few days making preparations that won't waste your time, even if Dorian does weaken or go back out to sea.
Trim any trees that are hanging over your house.
Check your supply of batteries.
Figure out what might become a projectile in your yard and make a plan to secure it.
Clean out your gutters
Check your roof to be sure that there aren't any loose shingles or potential places for a leak.
The time to prepare is now.
Here are some hurricane preparedness resources.
The Prepper's Hurricane Survival Guide
The Awful Aftermath of Hurricane Florence (and What Preppers Can Learn)
What To Do If It's TOO LATE and You Can't Evacuate Before a Hurricane
What do you think?
Do you think Dorian will reach the East Coast? Do you live in a hurricane-prone region? If so, do you have any preparedness tips that you want to share with others? Please share your thoughts in the comments.
Be safe!
About the Author
Dagny Taggart is the pseudonym of an experienced journalist who needs to maintain anonymity to keep her job in the public eye. Dagny is non-partisan and aims to expose the half-truths, misrepresentations, and blatant lies of the MSM.