(Psst: The FTC wants me to remind you that this website contains affiliate links. That means if you make a purchase from a link you click on, I might receive a small commission. This does not increase the price you'll pay for that item nor does it decrease the awesomeness of the item. ~ Daisy)
If you are an experienced whitetail hunter, you know it can be tempting to take advantage of warm-weather hunting (August-September). Temperatures can reach the 90s or higher, complete with bugs, sweating, and other warm-weather vagaries. Many hunters choose to wait the summer out, finding it simply too hot to bring the buck home. However, if you'd rather be out hunting as early as possible, no matter the conditions, follow these tips and tricks, from using a hunting blind to dressing for the heat to make your hunts as comfortable as possible.
It's Still the Summer: Stay Hydrated
No matter what you do, if you're going to be outside under hot weather for extended periods, you must keep yourself hydrated. Nothing is worse than needing to cut your hunting day short due to the effects of dehydration. (Just in case, here's some excellent advice from The Organic Prepper on how to harvest, treat and store water.) Properly hydrating yourself can help you stay in the hunt longer, keeping the fatigue and headaches at bay. Don't wait until you feel thirsty to drink water; drink one or two sips every half hour to maintain optimal hydration levels.
Keep several bottles of ice water in your bag for you to sip throughout the day, or purchase a backpack with an internal bladder system for a compact way to carry your water with you. For replenishing your electrolytes, add 100% fruit juice or a sports drink to your bag to enjoy alongside your mid-hunt snack.
Manage Your Layers
When attempting a hunt during the hotter part of the year without preparing for it, most hunters make the mistake of wearing too many layers. Consequently, they quickly overheat, becoming exhausted and sweaty, producing too much scent and, ultimately, not bringing anything home.
For hot-weather hunting, you may not need more than a base layer. However, avoid using short-sleeved shirts and short pants. Instead, use long sleeves and long pants in the lightest fabric possible, such as performance moisture-wicking synthetics. Long sleeves keep the sun rays and their harmful effects away from your skin and minimize bug bites. If you must wear shorts and short sleeves, bring sunscreen. 
Keep your head and your neck protected from the sun with a wide-brim hat appropriate for hot weather, such as a hat. You could also opt for a lightweight, breathable gaiter. If possible, bring a pair of sunglasses or prescription eyeglasses with polarized lenses. They have many benefits helpful to hunters, including reducing glare for better visibility.
(If you are wondering whether to use sunblock or not, here's a great article on how our bodies can produce natural sunblock!)
Hunt in the Shade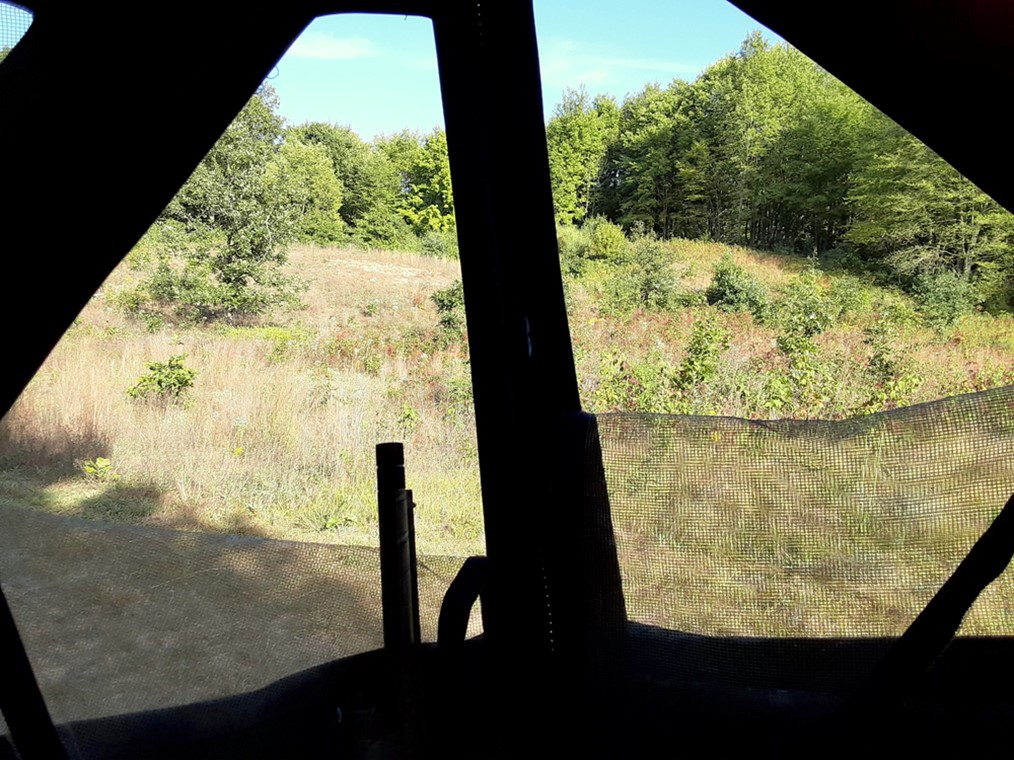 Naturally, keeping yourself out of the sun is the best way to avoid the detrimental effects of standing in 90°F weather. Stalking deer for hours under this kind of heat isn't just challenging but significantly increases your energy expenditure and scent emissions, decreasing your chances of tagging a deer. You can take your chances with a tree stand and a leaf canopy, but as the day passes, so will the angle of the sun and the resulting shadows. What looks like a nice, shaded spot may no longer be suitable a few hours later.
If you want to hunt comfortably during the summer, you need a hunting blind. The inside of a ground blind provides you with a consistent source of shade. Whether you prefer using a high-quality pre-made blind or go with a DIY deer blind, either option is preferable to spending the whole day outside. Don't forget to use the floor space at your disposal and outfit your hunting blind with a few items to make the hunt more comfortable, such as a ground blind chair with a pressure relief seat. You also have space to set up a cooler or an ice chest with plenty of drinks to supplement what's in your backpack. Consider bringing other hot weather essentials, such as insect repellent tools, a battery-powered fan, and unscented wet wipes.
Control Your Scent
Hot weather makes you sweat more, which makes scent control one of the most challenging aspects of hunting during this part of the year. Nevertheless, many of the tools and products at the modern hunter's disposal can pull the double duty of eliminating your scent and keeping you cool and sweat-free.
Bring scent-elimination sprays, prioritizing the unscented types. Before starting the hunting session, spray your clothes liberally, then "top-up" as many times as you need during the hunt. The sprays can fight your natural scents and keep you cool at the same time. If you'd rather avoid using sprays on yourself, you can also use scent-eliminating wet wipes. These wipes are excellent for use on your face, neck, and any other exposed skin. Don't hesitate to bring extra bottles and wipe packs for storage in your hunting blind. These items are compact, easily fitting onto your storage shelves.
Don't Overdo It
Under hot weather, the human body works extra hard to produce sweat and control the body's temperature. Performing strenuous activities of any kind, from exercising to hunting, increases body temperature. If you overexert yourself, you will quickly lose water and electrolytes through sweating, causing your body temperature to increase. You may start feeling tired or unable to concentrate, and you increase the risk of sustaining a heat stroke.
No matter how you hunt, the risks of physical exertion are ever-present, particularly when traveling to and from your hunting blind or tree stand. Avoid unnecessary energy expenditures: Prepare adequately, keep a slow pace and avoid unnecessarily difficult routes with lots of hills, brushes, and other obstacles. Few things make a hunter feel more miserable than having to set up a ground blind under hot conditions. Don't wait until the last minute. Make sure your blind is already set up ahead of time before going out for the early season.
The Takeaway
As tempting as it can be to stay home during the summer, remember that deer are less likely to move about during the hotter months too. After all, they also need to take it easy and conserve energy. Take advantage of the fact their movements will be more predictable, spending most of their time at their bedding, a close drinking spot, or walking in between both. 
Here are some secrets from a Professional Elk Hunter for those of you looking to hunt these well-antlered specimens.
Bottom line, don't tire yourself out, and you'll be back home with meat for the freezer before the autumn.
About
This article was produced by the marketing team for Shadow Hunter Blinds, a company focused on building hunting blinds that withstand the test of time. Shadow Hunter professional-grade blinds are the #1 brand preferred by industry-leading Pros and Sportsmen everywhere.