(Psst: The FTC wants me to remind you that this website contains affiliate links. That means if you make a purchase from a link you click on, I might receive a small commission. This does not increase the price you'll pay for that item nor does it decrease the awesomeness of the item. ~ Daisy)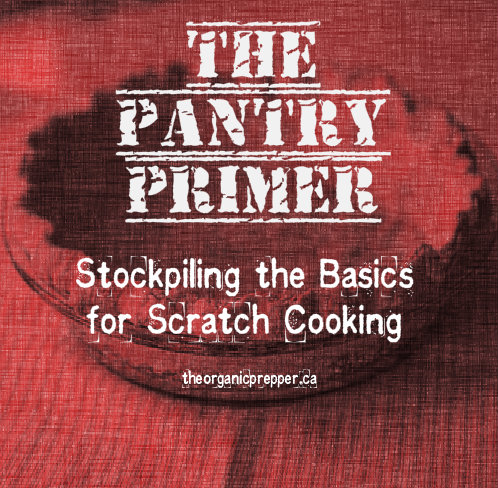 To be efficient, every pantry requires certain basics that allow for scratch cooking.  A good pantry should have everything you need to whip together a pie, a loaf of bread, or a batch of biscuits with no trip to the store required.
Many of these basics can be purchased in large quantities. One of my favorite destinations for pantry basics is Amazon, where I purchase yeast, aluminum-free baking soda, and other building blocks of a scratch pantry. I have also acquired 50-pound bags of organic sugar at Bulk Barn for a reduced price.
What basics do you need?
To build your stockpile, look through your cupboards and see what you use the most. Every kitchen will be different but below are my most-used items – the ones that I search out and buy in bulk.
Baking Items:
Baking soda
Baking powder
Yeast
Cocoa
Nonfat dry milk
Alternative Flours
Fats:
Olive oil
Coconut oil
Shortening
Butter
Lard
Sweeteners:
White sugar
Turbinado sugar
Muscavado sugar/brown sugar
Honey
Molasses
Maple syrup
Other:
Salt
White vinegar
Apple cider vinegar
Balsamic vinegar
Black pepper
Herbs and spices
Cornstarch (please consider organic for all corn products)
Want to learn more? The new edition of The Pantry Primer is now available!
Lots of us like to have hard copies of information that we've found helpful.  Because of this, I've expanded on the information included in this series and put it all in one handy primer, available on Amazon.