(Psst: The FTC wants me to remind you that this website contains affiliate links. That means if you make a purchase from a link you click on, I might receive a small commission. This does not increase the price you'll pay for that item nor does it decrease the awesomeness of the item. ~ Daisy)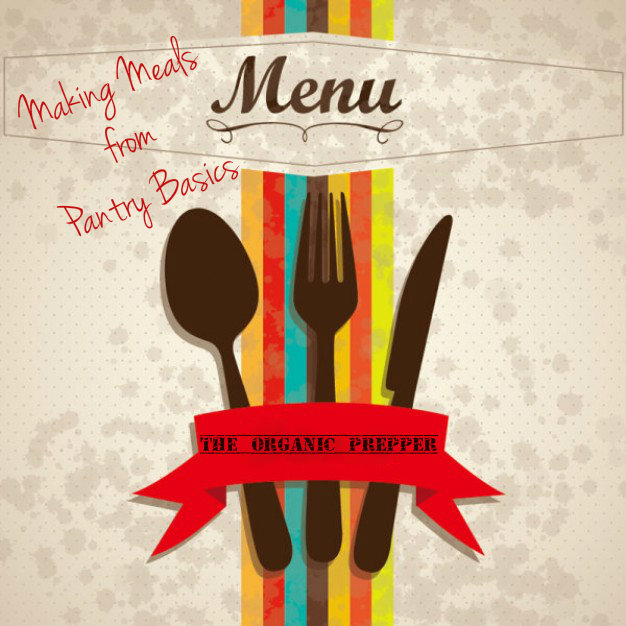 Your pantry is only useful if you can make tasty, filling meals from it.  It is vital that you purchase "ingredients" rather than meals, so that you can make a wide variety of foods. Not only is this healthier, but it is also a much more cost-effective way to build a stockpile.
The ingredients that you buy or preserve are the basis of your future health should a situation arise in which you must rely on your pantry.  It is imperative that you have the ability to cook from scratch if you intend to use a pantry full of ingredients, so brush up on your skills by using these items now, and not just storing them away.
I have gotten a lot of requests for meal plans based on pantry items.  This is challenging because every family has different preferences and different items available to them at a good price.  So the following is simply a list of meals that we have at Chez Organic Prepper, heavily based on pantry items.
Breakfasts
Granola with homemade yogurt and fruit
Oatmeal with fruit and nuts
Homemade muffins
Biscuits and gravy
Eggs and toast
Toast with peanut butter
Cornbread with butter and jam
Lunch box fillers
Sandwiches made from leftover meats
Peanut butter and jelly sandwiches
Thermos of soup
Yogurt with fruit and granola
Pasta salad
Home-baked treats
Salad
Crackers with peanut butter
Fruit
Veggies
Homemade calzones
"Platters" – an assortment of meat, cheese, veggies and crackers in a divided container
Thermos full of leftovers

 
Dinners
Potato soup
Onion soup
Chicken noodle soup
Split pea soup
Spaghetti with meatballs
Salad with chicken and homemade vinaigrette
Beans and rice
Baked beans and biscuits
Chicken and dumplings
Bean burritos
Curry with potatoes, chickpeas and cauliflower
Pasta with pesto sauce
Chili
Noodles with peanut sauce
Baked macaroni and cheese
Creamy rice with veggies (rice cooked in milk instead of water – it tastes similar to risotto)
Roasted meat with vegetables (a meal that creates lots of wonderful leftovers!)
Leftover Makeovers
If you only have one or two servings of a leftover and 4 people to feed, don't despair.  Often the addition of grains or some broth can help you extend it to create a new dish to serve to your entire family.
Leftover chili baked with rice and cheese
Leftover spaghetti sauce baked with pasta and homemade cottage cheese
Leftover soup
Fried rice made with leftover meat
Pasta with whatever veggies and leftover meat are on hand, tossed with olive oil, garlic, and Parmesan
Stroganoff made with leftover beef
Baked potatoes topped with whatever you have left over
Biscuit crust atop leftovers to make a "pot pie"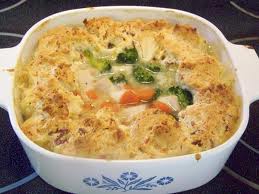 Click HERE to learn more about repurposing leftovers.
What thrifty, pantry-based meals are the favorites in your household?