(Psst: The FTC wants me to remind you that this website contains affiliate links. That means if you make a purchase from a link you click on, I might receive a small commission. This does not increase the price you'll pay for that item nor does it decrease the awesomeness of the item. ~ Daisy)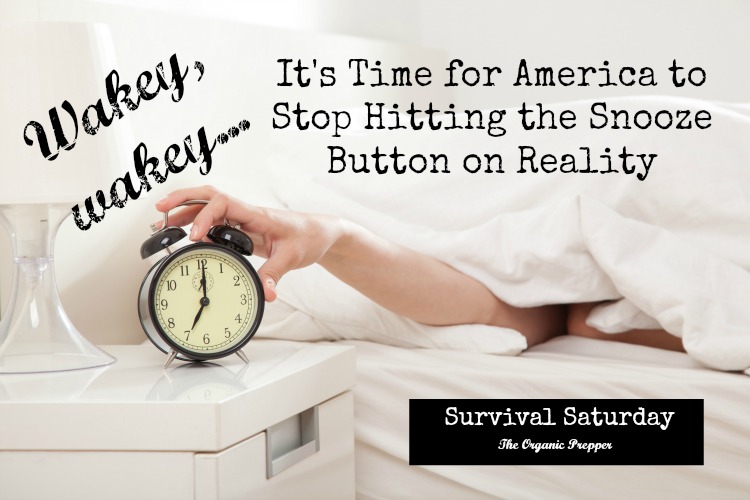 Survival Saturday is a round-up of the week's news and resources for folks who are interested in being prepared.
This Week in the News
Some weeks, I run out of words for the ridiculous things that I see in the news, and this is one of those weeks. It took me almost as long to come up with a headline as it did to compile my Survival Saturday post. You know when you really don't want to get out of bed and you keep hitting snooze? That's the scene in America. The soporific effect of political correctness and the hum of the mainstream is just too much for most people to handle. So Americans hire convicted extremists and put them in positions of power. Americans admire a liar, a traitor, and a brain-injured political prostitute so much that they want to elect her to the highest office in the land. Most Americans have no idea we aren't actually free at all, because our cages are so gilded, plush, and comfortable. They just hit snooze, pull up their cozy covers, and drift back into their false dream world.
But then there's you.
Although we're in the minority, I'm so thankful for the thousands of you who want the truth and are willing to recognize it, accept it, and act on it. I'm heartened to see that more people are joining us every day. The number of us who think critically and look at all sides of the information that is presented, rather than accepting it at face value, is growing. (And definitely double-check the information I present – hey, I'm definitely not infallible!) We hear the alarm clock, we get up, and we take care of business. I truly love hearing from you in the comments, because we are a community. We've created our own haven of like-minded people here on this little corner of the internet. I love ya.
We hear the alarm clock, we get up, and we take care of business. I truly love hearing from you in the comments, because we are a community. We've created our own haven of like-minded people here on this little corner of the internet. I love ya.
George Washington U Hires Convicted Muslim Extremist to Fight Muslim Extremism
Years ago, there was a young man who went by the name of Younus Abdullah Muhammad, although his real name was Jesse Morton. Muhammed/Morton ran a website called Revolution Muslim for four years and recruited numerous people to the al Qaeda cause. He inspired his followers to do attempt all manner of radical things, like plotting to fly explosives into the Pentagon by remote controlled plane, concocting a failed plot to blow up a shopping mall, and trying to kill a Swedish cartoonist who made a satirical cartoon of the Prophet Muhammed. Finally, Morton/Muhammed was sentenced to more than 11 years in prison for threatening the South Park writers because they dressed the Prophet Muhammed up in a bear suit in a cartoon. (He even published their home addresses on his website and urged his followers to kill them.) Of the conviction, US Attorney Neil MacBride said:
"Jesse Morton sought to inspire Muslims to engage in terrorism by providing doctrinal justification for violence against civilians in the name of Islam…His crimes not only put people's lives forever in danger, but they also chilled free expression out of fear of retaliation by violent terrorists."
Poor Morton actually became a Muslim by accident.During his drug-dealing days, he was evading police when he and his friend ran into an abandoned building, where he did as his friend told him and repeated words in Arabic that turned out to be a proclamation of the Muslim faith. When the police didn't arrest him, he decided it was a sign and converted to Islam.
But now he's out of prison, he's really sorry, and all he wants to do is help.
So George Washington University has hired him to research extremism.
Even if he has actually gone legit, this could still be a massive problem for the university because he would be committing the heinous crime of apostasy, which is punishable by death.
The Hadith on leaving Islam states:
The Prophet Muhammad is recorded as saying: "Whosoever changes his religion, kill him," a statement that is often used to support the death penalty for Muslims who leave Islam. But other verses in the Hadith suggest changing one's religion alone is not enough to warrant execution. In fact, the IRFI reports that that penalty only applies to those who leave the faith and then are found to be working against the interests of the Islamic state.
Ruh-roh.
What could possibly go wrong? I could certainly see some collateral damage happening with this ill-conceived idea. Read more about how easily something like this could turn into Jihad from within.
The Hillary Clinton Email Hits Just Keep on Coming
If you could win an award for the most email screw-ups on the whole planet ever in the whole history of email, Hillary Clinton would have gone quadruple platinum by now.
How on earth is anyone supporting this ridiculous woman? For a moment, I'm not even talking about the fact that she literally whored out her services by giving favors as Secretary of State to those who made "donations" to her foundation and "hired" her husband to speak for a quarter of a million dollars. Not even that. This.
If we want to have a woman president, shouldn't it be someone we could be proud of? Not some doddering, brain-injured woman who can't remember important things, lies about having public seizures, and repeatedly risks national security because she's not quite savvy enough to protect her tens of thousands of sensitive emails?
This week it has come to light that:
Yet somehow, this awful woman still has a huge number of rabid supporters. They should be forced to read this book written by a software analyst and attorney, who breaks down the whole ugly scandal into small words that even the most fervent Hillaryite should be able to comprehend.
Are you kidding me, people? Even a hardcore liberal, if they gave it any actual logical thought, could not think that this is an honorable person who will do what is best for anyone except Hillary Clinton. Those who voluntarily choose to support her deserve whatever they get if she's elected.
Meet Our Owners
We all know that even though everyone likes to make it seem like we have freedom, choices, and votes that matter, corporate and government interests really run the show. The fact is, they "own" everything. Even the things we supposedly own ourselves, like homes, cars, and other types of property, are taxed, ruled, and regulated (at our cost, of course). The predatory practices of the banking system ensure that poor people remain poor while the executives get rich off of their customer's poverty – which they're worsening.
Check out this disturbing video – the ownership is even more narrow than you may have thought. It's a handful of banks, and congressional records from 1974 prove that they've been driving everything in America.
"According to a 1974 Senate report, corporate ownership has virtually taken over control of every major media outlet, energy company and industry. The largest 32 banks have power in combined stocks, shareholder voting, boards and directorships and more… this is an oligarchy."
Warning: You'll never look at things the same way again if you watch this video. But if you want to know the truth, here's your red pill.
Holy cow, right? It's what we all suspected, but right there in black and white.
PS: You're going to want to subscribe to this brand new YouTube Channel run by my very dear friends, Aaron and Melissa.
This Week in Preparedness…
FEMA Rush-Orders 5 Million Bottles of Water (Are your water preps up to snuff? You might need them!)
Welcome to National Preparedness Month! Now Get Ready
Who Are Today's Preppers? (You'll love this!!!!)
What You Need to Know About Health Hazards After a Flood
4 Reasons Your Tomatoes Aren't Ripening
Your Neighbors Could Be Your Worst Nightmare in an Emergency
Times Are Changing Quickly: Let Me Help You Get Prepared
25 Must-Have Items for your Survival Hygiene Kit
The Prepper's Blueprint: The Step-by-Step Guide to Help You Through Any Emergency
10 Martial Law Survival Strategies You Should Know
Anything to add to Survival Saturday?
Do you have any news links you want to share? I'd love to see your links and your opinions in the comments below. Please join the discussion!
About Daisy
Daisy Luther is a coffee-swigging, adventure-seeking, globe-trotting blogger. She is the founder and publisher of three websites. 1) The Organic Prepper, which is about current events, preparedness, self-reliance, and the pursuit of liberty; 2) The Frugalite, a website with thrifty tips and solutions to help people get a handle on their personal finances without feeling deprived; and 3) PreppersDailyNews.com, an aggregate site where you can find links to all the most important news for those who wish to be prepared. Her work is widely republished across alternative media and she has appeared in many interviews.
Daisy is the best-selling author of 5 traditionally published books, 12 self-published books, and runs a small digital publishing company with PDF guides, printables, and courses at Learn.TheOrganicPrepper.com You can find her on Facebook, Pinterest, Gab, MeWe, Parler, Instagram, and Twitter.