(Psst: The FTC wants me to remind you that this website contains affiliate links. That means if you make a purchase from a link you click on, I might receive a small commission. This does not increase the price you'll pay for that item nor does it decrease the awesomeness of the item. ~ Daisy)
By Daisy Luther
Welcome to the Blizzard edition of Survival Saturday! I hope you're keeping warm and cozy this week. Survival Saturday is  a round-up of products, the week's news, and recommended reading material for folks who are interested in being prepared.
This Week's Products
We're in the midst of the first winter storm of the year, but it probably won't be the last. If you've been caught without the supplies needed to stay warm, you should consider getting one of these for next time.
Get a propane heater that does not require electricity.  I personally own a Little Buddy heater
.  These small portable heaters are considered safe for indoor use in 49 states.  They attach to a small propane canister and use 2 oz. of fuel per hour to make 100 square feet extremely warm and toasty.  If you have a bigger area to heat, this larger unit
will warm up to 200 square feet. Be sure to stock up on propane if this is your back-up heat method.
Another option is a kerosene heater. Kerosene heaters burn a wick for heat, fuelled by the addition of heating oil.  These heaters really throw out the warmth.  A brand new convection kerosene heater like this one 
can heat up to 1000 square feet efficiently.
Make sure to add safety measures. A battery-operated carbon monoxide alarm
 provides an extra measure of safety when using these heaters indoors.
Be sure to stock up on emergency food. If you keep a bucket of emergency food on hand, you won't have to battle everyone at the store at the last minute. An emergency stove like this will give you a way to cook it. (It's so versatile that it works on 3 different kinds of fuel.)
This Week in Preparedness
The Winter Storm Jonas death toll is rising in the Eastern US. At the time of publication, 10 people had died as a result of accidents due to the hazardous road conditions, and over 1200 car accidents had been reported. Over 8,000 flights have been canceled due to the weather. This storm is just getting started, too, so if you live in the area, please stay home. Sheltering in place is the best option for extreme conditions of this nature.  The coasts of New Jersey and Delaware, after being battered by 22 foot waves, are under a more than a foot of icy flood water.
Are you ready to start prepping yet? Yesterday, scenes online showed completely bare shelves as frantic residents stocked up for the storm.  As most preppers predicted, hundreds of thousands are without power due to the blizzard.  Please, please, if you were one of those people, take this as your cosmic thump on the head. Do you really want to go through this kind of thing unprepared again? It's time to buckle down and prepare so you don't have to run to the store at the last minute before a bad storm. You absolutely MUST be prepared to handle a lengthy power outage.
Quick links for those stranded at home in the storm.  If you have found yourself unprepared in this storm but are reading this, these links can help. This article has tips to help you stay warm if the power goes out. Scroll to the end to find some solutions you can probably uses even if you don't have additional supplies. This list will give you some suggestions for food that you can eat that doesn't require cooking. To learn the basics of winter survival if you aren't safe in your home, go here – this guy knows winter since he worked as an Alaskan trapper.
On to other topics in the news this week….
Venezuelans will soon deal with a mindblowing 720% hyperinflation. Venezuela's economy is past the point of no return, and recovery is not possible. They've announced an emergency economic decree and bankruptcy is nearly inevitable.  Most blame the current economic catastrophe on the revolutionary Socialist government takeover. (Maybe someone needs to show this article to Bernie Sanders, the unabashed Socialist running for President of the United States.) IMF Director Alejandro Werner has predicted mindblowing hyperinflation of 720%. "A lack of hard currency has led to scarcity of intermediate goods and to widespread shortages of essential goods — including food — exacting a tragic toll," Werner said. "Prices continue to spiral out of control." The Venezuelan government is now encouraging people to begin growing their own food if they want to eat. Wow. Novel idea, right, fellow preppers? Of course, in true Socialist style, they're also talking about a registry so they know what you have. They have obviously learned little.
Facebook in Europe is censoring anti-migrant sentiment. As Europe deals with over a million migrants, some of whom have been involved in crimes like rape, murder, and theft, people who are pointing out reality online are getting silenced. I'll just quote from the article and let you be the judge.
Facebook Inc … began a Europe-wide campaign on Monday to thwart extremist posts on social media, after German politicians in particular raised concerns about a rise in xenophobic comments linked to an influx of refugees.

The U.S.-based group launched its "Initiative for Civil Courage Online" in Berlin, pledging over 1 million euros (1 million pounds) to support non-governmental organisations in their efforts to counter racist and xenophobic posts.

Facebook Chief Operating Officer Sheryl Sandberg said hate speech "has no place in our society", including in the Internet.
Watch out, because it won't be long before we aren't allowed to have differing opinions here, either. When I wrote about the "rape game" played by asylum seekers recently, many readers wrote to me and said when they tried to share the article on Facebook, they got an error. It kind of looks like the censorship is already here.
Whistleblower doctor writes an open letter to the WHO about the HPV vaccine. The HPV vaccine, which is pushed on unsuspecting teenagers across the globe as a way to prevent a sexually transmitted virus said to cause reproductive cancers, has been blamed for many horrible side effects. The US government has paid out millions in damages to those harmed by the vaccine. Dr. Sin Hang Lee, MD, Director, Milford Molecular Diagnostics Laboratory, submitted an official complaint to the Director-General of the World Health Organization (WHO), Dr. Margaret Chan in the form of an open letter. Here's a quote from the damning document.
"It is my opinion that … those whose names [that] appeared in the emails attached to this complaint and all who blindly dismiss the potential toxicity of the newly created HPV L1 gene DNA/AAHS compound in order to continue to promote HPV vaccinations should be held accountable for their actions. There is no excuse for intentionally ignoring the scientific evidence. There is no excuse for misleading global vaccination policy makers at the expense of public interest."
The stock market crisis is nearly catastrophic shows no signs of improvement. Despite the President's accusations that those of us who are concerned about the failing American economy are "peddling fiction," the market crisis is just getting worse in the first month of 2016. It's an unwinnable game, even if you think you can swoop in and buy low before it goes back up. If you already own stocks, you need to read this and make a game plan. Best quote of this article: "Before I go further, if you believe the global economy is doing great and stocks are cheap, stop reading now; this column is not for you."
The Bookshelf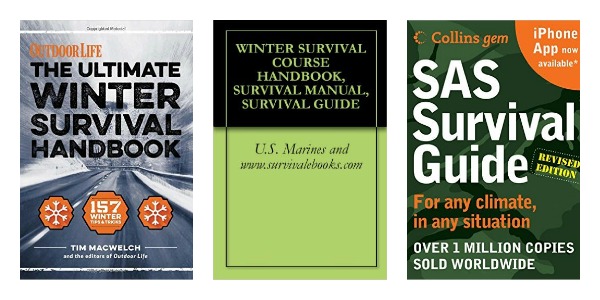 The Winter Survival Handbook: 157 Ways to Beat the Cold
By New York Times best-selling author and survival expert, Tim MacWelch, this book guides you through all things winter. From an everyday winter emergency in the city to survival when stranded in the wilderness, this book covers all the bases.  It has handy tips for things you probably never thought of, like shooting a frozen rifle and building a snow cave. Where else can you learn stuff like that?
Winter Survival Course Handbook
For just a dollar, (how could you go wrong at that price?) get the US Marine Corp Winter Survival Guide. This handy 181-page book will direct you through putting together an appropriate kit to survive in the coldest of conditions. (Available only in Kindle.)
This book belongs in every backpack, purse, and glove box in America. Each of my daughters has one and it's a favorite gift to pass on to loved ones.  While it doesn't go in depth on any one topic, the guide has the basics of what you need to know to survive any situation, on land or in the water, in any climate. The small size means that it will fit into all but the tiniest of purses.
Want more info for self-reliant, real food lifestyles?
For more great round-ups, check out two new features for this website: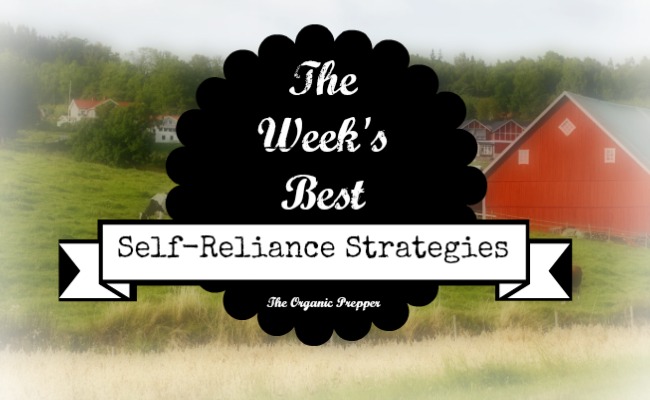 The Self-Reliance Weekly Report links you to all the best articles relating to prepping, homesteading, DIY, and independence.
Learn to be more self-reliant from experts around the web.
Click here to check out the first edition of The Self-Reliance Weekly Report!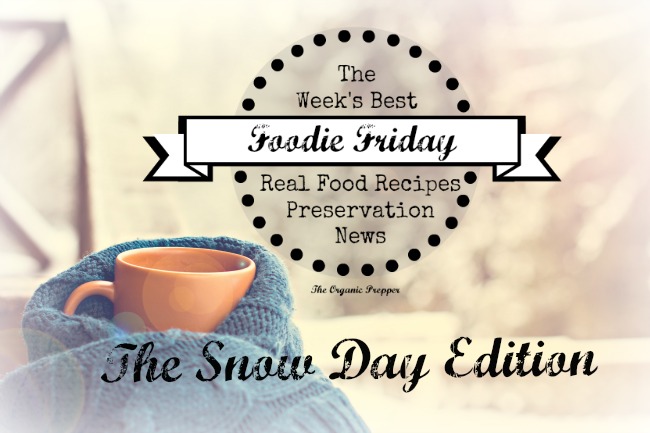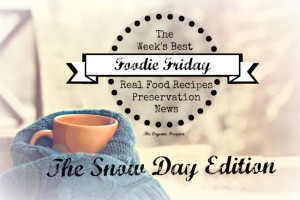 Foodie Friday is another new round-up, and it's all about…food, of course.
Read the most important food news so that you can actually be aware of what is in the products they peddle at the grocery store. Then, try out some tasty new real food recipes and get the latest food preservation tips. This week's article focuses on cozy eats for cold winter days.
Click here to read the first edition of Foodie Friday!
Anything to add to Survival Saturday?
Do you have any news links you want to share? Now's the time! You are absolutely welcome to post your links in the comments below. (And this feature will be so much cooler if you guys post the things that you found important this week!)