(Psst: The FTC wants me to remind you that this website contains affiliate links. That means if you make a purchase from a link you click on, I might receive a small commission. This does not increase the price you'll pay for that item nor does it decrease the awesomeness of the item. ~ Daisy)
By Daisy Luther
Survival Saturday is a round-up of the week's most interesting products, articles, and books. Today, our products and books are all easy-to-acquire from Amazon and will focus on holiday giving.
This Week's Products
Looking for a practical stocking stuffer? Look no further than this 2-pack of flashlights from Cree. These little LED flashlights will fit in a purse or can be attached to a keyring. They're super bright and use a AA battery, not included. At under $10 for 2 lights, you can't go wrong. Also, the Sawyer Mini water filter is one of Amazon's Deals of the Day, so now would be a good time to snag some for family members, if you've been waiting for a sale. (This is the filter all of my family members carry.)
Do you want to encourage a loved one to exercise her Second Amendment rights? Put some ear protection under the tree to inspire her to spend time at the range. I like the electronic ear protection that cancels out the gunshots but still allows you to hear the instructor speaking. Each member of the family has a pair of these muffs by Champion. (If you're shopping for the guys, they do come in colors other than hot pink.)
This Week in Preparedness
Is the antibiotic apocalypse here? We've known that the antibiotic apocalypse was approaching, as more and more medications lose their effectiveness and germs adapt. But it might be cheap, imported meat from China that is the final nail in the coffin. A new superbug that is resistant to ALL antibiotics has been traced to imported meat.
Are you eating this type of garlic? Speaking of China and their questionable food safety standards, did you know that more than 80% of the garlic consumed around the world comes from China? That wouldn't be so bad if they didn't grow it in uncomposted human waste and then soak it in bleach. Yeah. You don't want to eat that. Here are the details, including how to identify garlic grown to higher standards here in California.
The gun control debate rages on. One of the major stories of the past two weeks has been the debate over the right to bear arms. For the first time in almost a hundred years, the New York Times published an opinion piece on the front page calling it "a moral outrage and national disgrace that civilians can legally purchase weapons designed to kill people with brutal speed and efficiency" and asking for serious limitations on our rights. James Wesley Rawles, who lives pretty much out of the public eye aside from his well-received books,  responded with heat in a must-read open letter. to Arthur Sulzberger, Jr, the publisher of the NYT.
Meanwhile, another official is urging citizens to arm up and be ready to defend themselves. Most of us who live the preparedness lifestyle are constantly ready to protect ourselves. I was happy to see this video by a brave Florida sheriff who doesn't care about being politically correct. Listen to this inspiring speech as Sheriff Wayne Ivey encourages people to take their safety into their own hands.
Would you know what to do if you found yourself in the midst of an active shooter scenario? There is all sorts of advice out there right now, and a lot of it is MORE likely to get you killed than to save your life. Here's some sage advice from Dr. Joe Alton, a contributing author to Backdoor Survival and the author of The Survival Medicine Handbook.
Looking for some great articles on prepping and survival? Ready Tribe just announced a round-up of the Top 20 Posts for Preppers in 2015. (I'm very excited to see one of my articles there!) It's cold and rainy here today (Yay, rain!) so if you're looking for me, I'll be curled up, reading.
The Bookshelf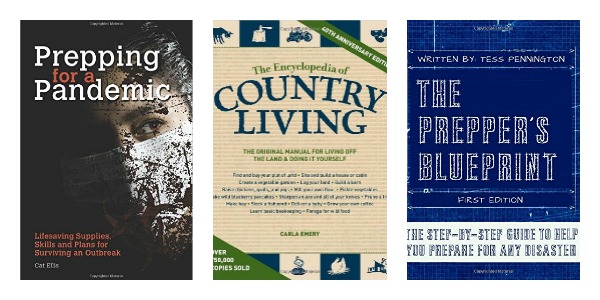 Prepping for a Pandemic. What is the thing that no one wants to think about in good times? Rampant disease. There's little more frightening than an illness that ravages, unchecked, an entire community. We dodged a bullet with Ebola last year, but with the looming ineffectiveness of antibiotics, we may not be so lucky in the future. Prepping for a Pandemic is a book you have to have on your shelves. It contains lifesaving, practical information about accessible methods and remedies to help your family survive a pandemic. This book is by Cat Ellis, the brains behind the website Herbal Prepper and the author of Prepper's Natural Medicine, another must-own addition to your preparedness library.
The Encyclopedia of Country Living. For anyone who is taking the self-reliance journey here's a book that is exactly what it advertises: an encyclopedia. There is thorough information on every possible homesteading topic, including vegetable gardening, raising livestock, butchering meat animals, and preserving your harvest. If homesteaders had a how-to Bible, this would be it.
The Prepper's Blueprint.  Speaking of encyclopedias, Tess Pennington's opus, The Prepper's Blueprint is the compendium of prepping, breaking it down into simple steps you can take each week. If you or your loved ones are beginning their preparedness journey, you won't find a better guide to direct you on your way.
Anything to add to Survival Saturday?
Do you have any news links you want to share? Now's the time! Please post your links in the comments below.