(Psst: The FTC wants me to remind you that this website contains affiliate links. That means if you make a purchase from a link you click on, I might receive a small commission. This does not increase the price you'll pay for that item nor does it decrease the awesomeness of the item. ~ Daisy)
Author of The Prepper's Water Survival Guide and The Blackout Book
As budgets get tighter, more people downsize. You may find yourself living in a small space and wondering how on earth you can stash your stockpile in a little home. Small space prepping can be done and it can be done in a way that doesn't make it obvious to everyone who happens to stop by that you're well-supplied.
After spending the last 3 years living out of suitcases, I recently moved into a small apartment in a city to be closer to family. I had to start from scratch in the 600 square foot space. Before I took off on my trip, I had sold my furniture or given it to my daughters. My storage unit held some supplies, thousands of books, and some decorative items.
Now, a couple of months after settling into my apartment, I have a 6-month stockpile of shelf-stable food, 200 pounds of dog food, 80 gallons of stored water, and other essential gear. I created a small patio garden from which I'm harvesting some salad greens and herbs. I'm well outfitted with other supplies too.
In this article, I want to invite you into my home and show you around. I hope it provides some ideas for small space prepping.
Furnishings
Most of my furniture was chosen very deliberately for a combination of comfort, low cost, storage space, and a small profile. I purchased a bed frame new and on sale, and everything else either came from Facebook Marketplace, Craigslist, or the trash. Yep, I'm a proud curbside trash picker.
Because of my credit rating, I was able to rent my apartment without putting down a deposit.  I used the money I would have spent on a deposit to furnish my home and start my stockpile.
Layout
When I chose the apartment, I knew it was small. I'd just come from living in a tiny house, where I had planned to write a prepping series. So I deliberately selected another small space because so many people feel that it's darned near impossible to store their supplies in a little home.
Of course, you may already be in a small home and if so, you have to deal with the space that you have. Here are the things that I looked for when selecting my apartment.
Built-in Storage: I sought deep, plentiful cabinets in the kitchen and bath, as well as closet space.
High Ceilings: I knew that I could get a lot more into a space if I could go vertical.
Laminate or Hardwood Flooring: First, I have dogs and it's way easier to clean hard surfaces than carpet. Secondly, any storage containers that are on wheels or can be slid will move a lot easier on a hard surface. Hard surfaces can also be kept cleaner than carpet if the power goes out.
The apartment I rented only has one closet, but it's a walk-in with some shelving. There are some nooks in my laundry closet where supplies can be stashed. The cupboards in the kitchen and bath are deep.  The apartment has 10-foot ceilings throughout and laminate flooring.
Design
It may sound silly in a prepping article to talk about home décor, but it was important to me that if a neighbor stopped by, my place doesn't scream BUNKER. I don't want to hear those words that make every prepper shudder: wow, if anything happens, I'm coming to your place.
So I was careful that nothing was outwardly evident. I deliberately selected furniture with closed storage space or that I could stash things under. Keeping in mind the artwork I already had in my storage unit, I didn't need to spend money on decorative items. I chose one main color throughout – emerald green – to match the bedding, shower curtain, towels, and accessories I already had. I still need to do a little painting of some furniture to pull it all together.
Here's a Peek at My Apartment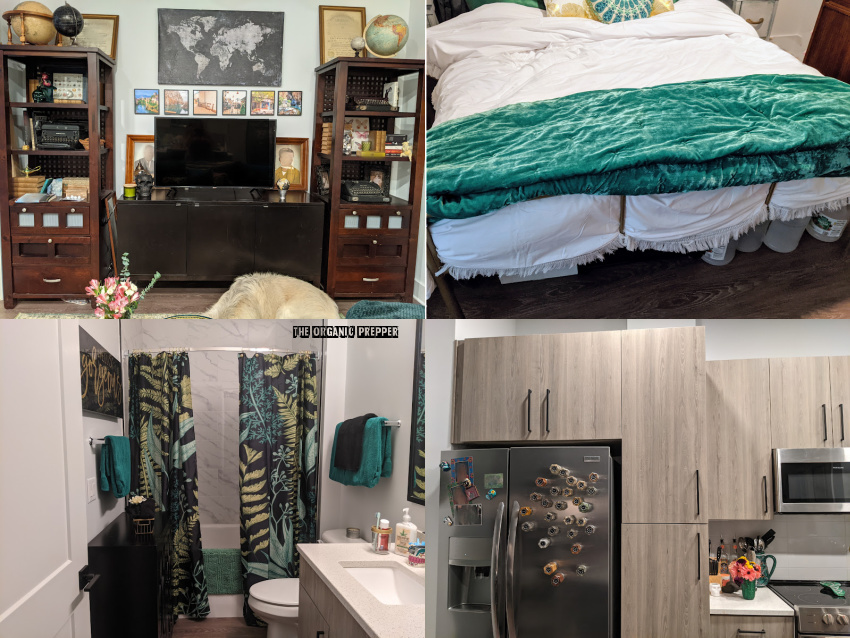 Small Space Prepping in the Kitchen
I'm making great use of the kitchen cabinets. There's only one wall of them, but the ones around the fridge are particularly deep and the top shelves are so high I need a step ladder to reach them.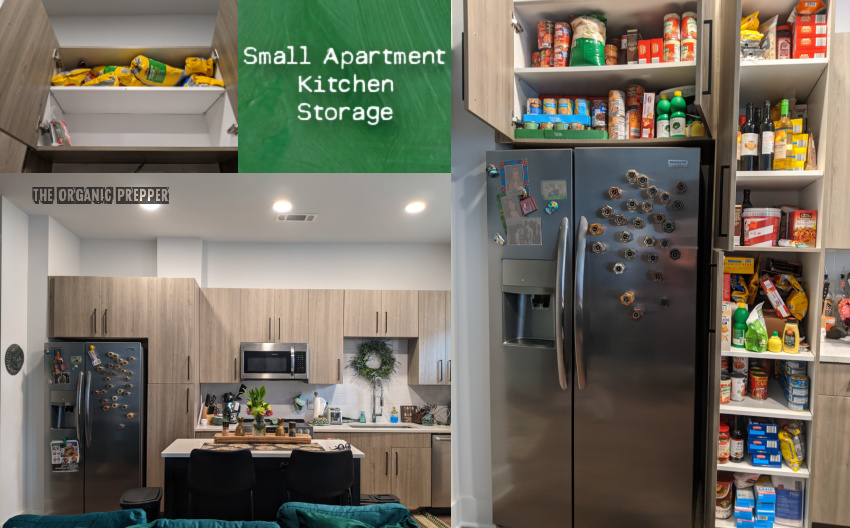 As you can see, there's still plenty more room. I'm using lower shelves for everyday use items, and high shelves for preps. I also have almost 2 feet above my kitchen cabinets. This provides enough space for some large "decorative" baskets in the future for paper products or lighter-weight items that are easy to get down without help.
The cupboards around the fridge are 8 standard cans deep and 2 cans high for most of the shelves. That's a LOT of canned goods.
Living Room Preps
There's a lot more than most folks would guess stored in the teeny tiny living room.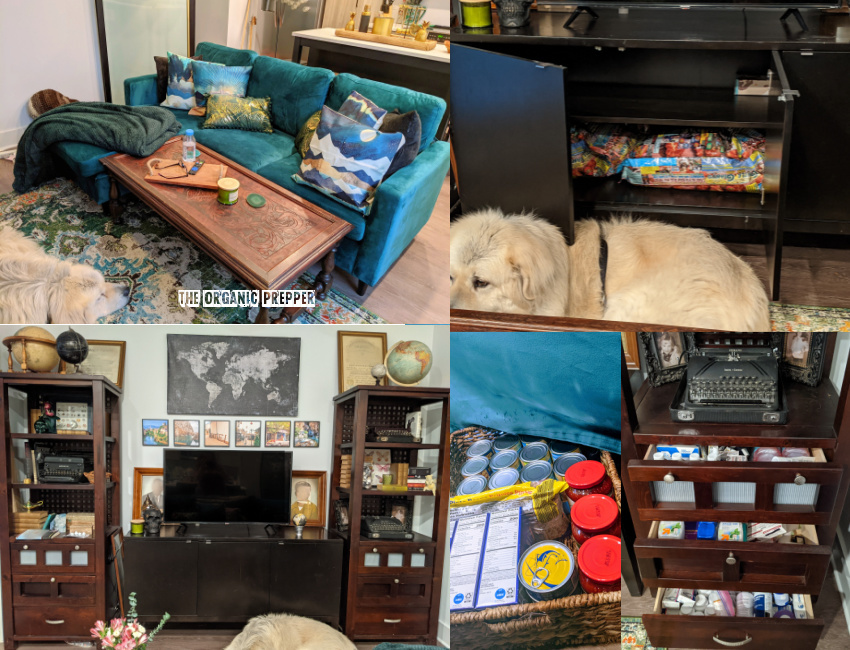 I had planned on getting a trunk for a coffee table but when I found the one I purchased for less than $20, I grabbed it. The large cabinets on either side of the console are a wealth of storage. The one on the left holds bedding and craft supplies. The one on the right holds medications and wound care supplies.
The console under the television holds 150-200 pounds of dry dog food. The top shelf will hold my prepping books once I retrieve them from my storage unit.
The small sofa has enough space under it for 3 under-bed baskets that were meant for a twin bed. These contain additional food, holiday decorations, and more gauze and bandages.
The Bedroom
If you don't have stuff stashed under your bed, you are missing out on many square feet of empty space. I have 20 gallons of bottled water, 6 gallons of white vinegar, my clothes drying rack, and luggage full of preps under my bed. Even without risers, a standard bed fits a typical 1-gallon jug with just a little shimmy to get it under the edge. If I had risers I could get a lot more. I have ordered a dust ruffle to hide these items from view.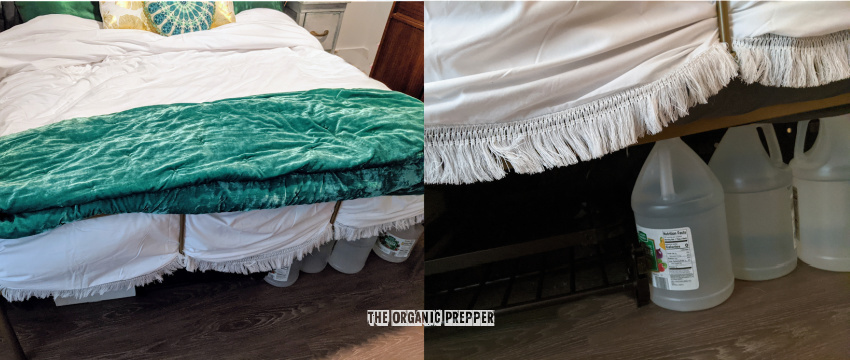 The Hallway
My apartment has a long, narrow hallway with more storage areas for small space prepping.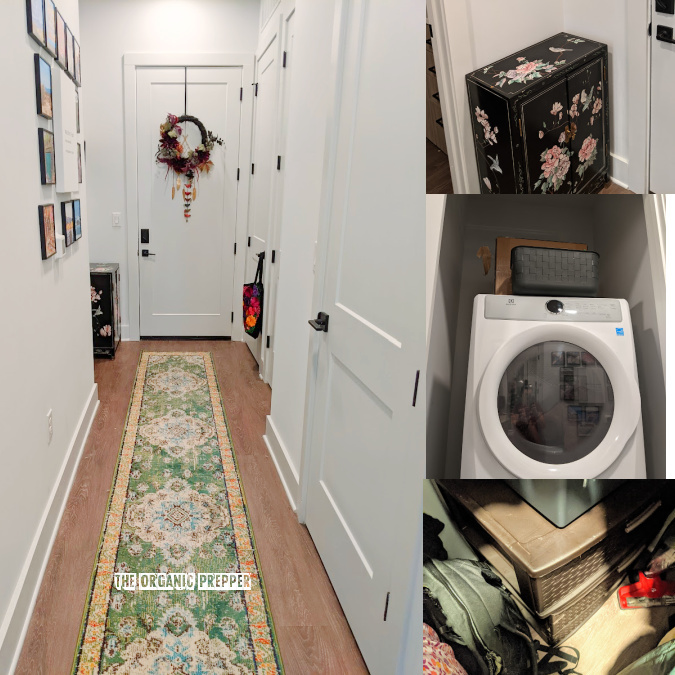 Immediately beside the door is a small used cabinet I picked up. In it, I keep emergency sanitation supplies like contractor garbage bags and cat litter. It's right beside the bathroom door, so conveniently located.
To the right are 3 doors. The first is to a locked utility closet with the water heater, furnace, etc. I've accessed this closet and there's no real room for storing other items.
The second door is where my stackable washer and dryer live. On top of the dryer is a box of 50 rolls of toilet paper. I have a TP subscription and there's room for one more box of 50 rolls on top of that. In front of that, I keep laundry detergent and dryer balls in the basket. Not shown, on each side are cleaning items like brooms, mops, bleach, and a stick vacuum.
The third door is my walk-in closet. It isn't huge but bigger than most closets I've had. I obviously keep my clothing in there, as well as my bigger vacuum and some plastic shelving unit. The one shown holds batteries in the bottom drawer, portable water filtration supplies in the middle drawer, and computer and electronic supplies in the top drawer. You can see my bug-out bag to the left of that unit. Not shown are my buckets of food and large water filtration unit behind some hanging clothing.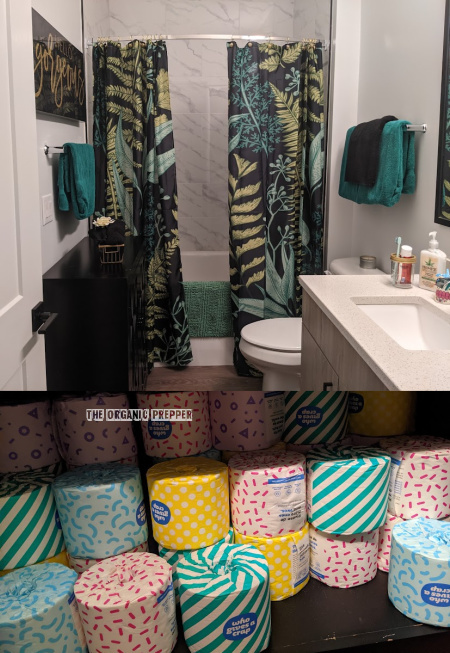 Storage in the Bathroom
In the bathroom is the built-in cabinetry and a little cabinet I pulled out of someone's trash pile and cleaned up. There is no linen closet. Instead, there's a door into the hallway and a door into the bedroom.
Since it lacks a linen closet, I keep towels and extra hygiene supplies like soap, shampoo, conditioner, and about 2000 baby wipes in the built-in cabinetry.
The drawers contain day-to-day use medications, cosmetics, hair products, and styling utensils.
The trash-picked cabinet was a real score. The only issue was that it was dirty and the knobs aren't in great shape. It didn't even require fresh paint. I cleaned it up and will install better knobs on the doors when I come across replacements at a good price.
But the real benefit is the additional storage space.
I can fit 54 rolls of toilet paper on each of the two shelves. So, including my laundry closet, I have the space to discreetly store more than 400 rolls of TP here.
I have a toilet paper subscription to a company called "Who Gives a Crap." (Hilarious name.) It isn't the very cheapest option around, but during the Great TP Apocalypse of 2020, the company was praised for never missing a delivery to their regular subscribers. As this website has been predicting more looming shortages, I like the fact that, if nothing else, my bathroom tissue will arrive for a little bit longer.
The Patio
My apartment comes with a small patio. On it, I have two chairs and a shoe rack my daughter and I found at the dump. I went to Home Depot, hoping to grab a couple of more mature veggie plants because it's late in the season. While I was there, I rescued some herbs they were throwing out. I grabbed a used indoor-outdoor rug to make it look a little homier.
Because the apartment building has rules, I have to keep my plants and pots looking nice and follow their visual guidelines. Normally I'd have just used cheap, throwaway pots, but I spent a little extra and got mostly matching ones. I have squash, a tomato plant, thyme, Italian parsley, spearmint, hot peppers, basil, and 2 kinds of lettuce growing. With any luck, I'll get some tomatoes, and the herbs have perked up enough that I'll have some to dry. The squash is iffy, but I'll give it my best shot. My small space prepping garden was put in during the wrong season but I hope t get a few things from it and can bring in the herbs for the winter.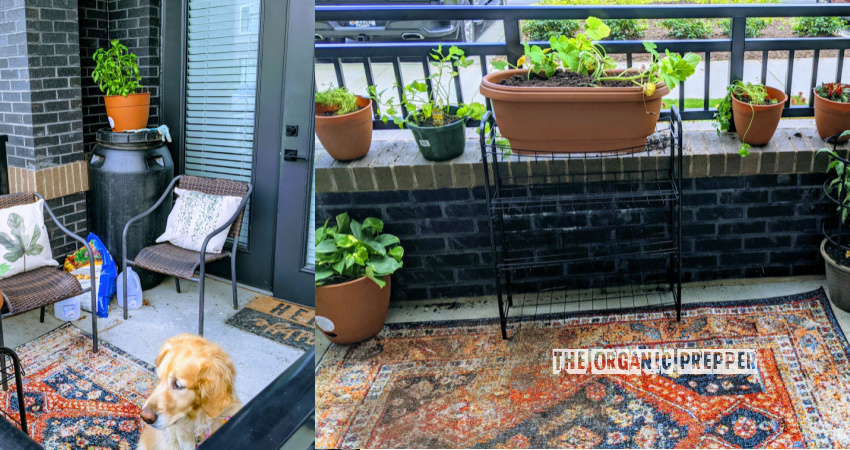 The real star (aside from Bella, of course) is the food-safe barrel in the back corner. It holds 60 gallons of water. I'm running it to the DIY carwash to clean it out, then filling it from my sink. It has a 2-piece lid. I also purchased a piece of window screen that I cut to fit in case I one day need to move it out from its corner and collect rainwater. Because it blends in with the wall and I stuck a basil plant on top of it, it seems fairly discreet back there. Nobody has mentioned it.
If I'm here through next summer, I expect to be able to grow far more food on that patio.
Here's a little more information from this video clip of an interview I did.
So that's how I'm small space prepping in a 600 square foot apartment.
There you have it – small space prepping that doesn't make my home look like a bunker. I have some other ideas I'll be adding as the months go by, but this is what I've put together in the first couple of months.
Do you live in a small space? Where do you store your preps? Please share your small space survival ideas in the comments.
About Daisy
Daisy Luther is a coffee-swigging, adventure-seeking, globe-trotting blogger. She is the founder and publisher of three websites.  1) The Organic Prepper, which is about current events, preparedness, self-reliance, and the pursuit of liberty; 2)  The Frugalite, a website with thrifty tips and solutions to help people get a handle on their personal finances without feeling deprived; and 3) PreppersDailyNews.com, an aggregate site where you can find links to all the most important news for those who wish to be prepared. Her work is widely republished across alternative media and she has appeared in many interviews.
Daisy is the best-selling author of 5 traditionally published books, 11 self-published books, and runs a small digital publishing company with PDF guides, printables, and courses at Learn.TheOrganicPrepper.com You can find her on Facebook, Pinterest, Gab, MeWe, Parler, Instagram, and Twitter.