(Psst: The FTC wants me to remind you that this website contains affiliate links. That means if you make a purchase from a link you click on, I might receive a small commission. This does not increase the price you'll pay for that item nor does it decrease the awesomeness of the item. ~ Daisy)
The biggest challenge in small space prepping is finding storage areas for your supplies. While I don't recommend stacking food buckets to the ceiling in the living room where you receive visitors, there are all sorts of charming ways to hide preps in plain sight as part of your everyday decor. As well, just a few small tweaks to rooms all around your house can add considerable amounts of storage space.
Here are 25 ideas to get your wheels turning.
Hide Preps in Plain Sight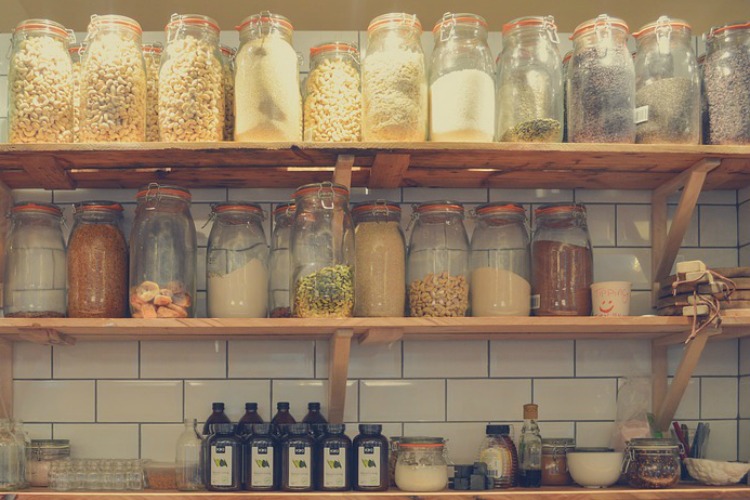 Store some of your food "country kitchen" style.  Consider adding a rustic shelving unit full of various mason jars containing dried foods, beans, pasta, flour, jams, herbs, and other shelf-stable goods. If all of the jars are clear and labeled the same way, it looks very organized and appealing. (Maybe use those cute little chalkboard labels – but be sure to get the ones marked "reusable.")
Put candles or oil lamps in every room. Use your emergency lighting as an old-fashioned statement. Add a decorative little box with matches or lighters. (You can pick the boxes for a song up at the dollar store or a yard sale.) Boom – let there be light the moment a power outage occurs.
Decorate with cozy throws and blankets. Soft, fuzzy blankets not only look inviting, but they can also help keep your heat bill down when nobody is able to resist curling up under them. Pile them in wicker hampers, put them on the foot of beds, and toss them over the arm of the couch. Bonus: When the power is out, you have a way to stay warmer within arm's reach.
Show off manual culinary tools in the kitchen. Make an old-fashioned display with a hand crank coffee grinder and French press. Group egg-beaters and whisks in a large canister.
Decorate the laundry room with a galvanized tub and washboard. Instead of trying to hide it away, display your off-grid laundry tools in plain sight for some vintage charm to brighten up the room.
Get "cubes" to put into your bookcases.  Depending on the size of your bookcases, you can invest in some good-looking cubes to match your decor for storing smaller prep items. You can get them in canvas, wood, or all sorts of finishes. I personally love the look of these rattan cubes.
Use space bags.  When my family moves, we save a lot of moving-van real estate by using "space bags."  You simply fill the bag with clothing, pillows, bedding, etc., close the top, and remove the air from it using the hose of a vacuum cleaner. An overflowing hamper of clothing can fit easily into an extra-large bag. This is a great way to store sleeping bags or other emergency bedding. I like to put in an all-natural dryer sheet for a pleasant smell. NEVER close up anything damp or dirty. I recommend the ZipLock brand for this and not the cheapo versions. (The Amazon price is a fraction of the Wal-Mart price, at least locally.)
Get bed risers for every bedroom in the house.  Bed risers can add about 8 more inches of space under your bed, which can equal 29 square feet of storage under a king-sized bed. This is a great place to stash cases of water bottles, toilet paper, or items that you put in vacuum-sealed space bags. I filled those little rolling under-bed containers with dry pet food in one room.
You get the idea – any prep that could look decorative can become part of the look of your home, leaving valuable storage real estate for less attractive goods or for things that need to stay hidden for OPSEC reasons.
The Whole Home Pantry

(This is an excerpt from my book, The Pantry Primer.)
Every room in the house is fair game.  There's no reason that food must only be stored in the kitchen.  Keep similar items together, for the sake of organization.  Think about the grocery store – even in one where you've never shopped, it's generally easy to find items because similar things are organized together. There is a condiment aisle, as cereal aisle, etc.  You can apply this principle to your home storage also.
Here are some places that I store preps in my home, along with ideas from previous places we have lived.
Kitchen pantry: Items currently in rotation live in the kitchen pantry.  When these items get low, I rotate in their replacements from the other location.
Broom closet: I installed shelves in this closet to make it easier to find things.  Shelf 1: food buckets with Mylar bags of food inside. Shelf 2: Cleaning supplies, dish soap.  Shelf 3: Candles, lighters, extra solar lights, matches, lamp oil, batteries.  Shelf 4: Tools, screws, nails and other small hardware.
Blanket storage area in guest room sofa: Beans.  Bags and bags and bags of beans that have been sealed into Mylar bags.
Invest in some old-fashioned storage items. A pile of charming, weathered, vintage trunks or suitcases in the corner of a room can house unattractive things like food buckets. Trunks can often be picked up at thrift stores and yard sales and if you don't like the color, you can paint them fairly easily to match your decor.
Armoire in guest room: "Decorative" boxes (I glued attractive paper to the outside of regular cardboard boxes and edged them with ribbon) full of baking items like baking soda, baking powder, chocolate chips, etc.
Mudroom: 5-gallon water jugs, laundry supplies, hardware, food buckets with Mylar bags of food inside
Basement: 1-gallon water jugs of tap water, canned goods purchased from the store, root cellar items, shampoo, conditioner, laundry products, bath products, cleaning supplies. Notice that none of these things will spoil easily if exposed to humidity. Basements can be damp, so they are not a good place for paper goods or other items that would be negatively affected by moisture.
Garage: Extra 5-gallon jugs of drinking water, pet food in airtight Rubbermaid-style containers, food buckets with Mylar bags of food inside, food from LDS cannery.  Garages can have widely fluctuating temperatures depending on your climate and how well-insulated they are, so choose what goes into your garage accordingly. 
Attic: Paper goods like toilet paper, paper towels, paper plates; garbage bags; baby wipes.  These are stored in Rubbermaid-style containers to prevent rodents from nesting in paper goods. Be careful storing any items in an attic that might be heat sensitive.
Laundry room closet: Buckets of bulk grains, floor to ceiling.  I wrote on the front of the buckets with a Sharpie for ease in finding the grain I'm looking for.
Laundry room shelf: Laundry supplies, grocery store canned goods in a single row all the way to the top behind the laundry supplies.
Living room bookcases: There is a pretty curtain running in front of the bottom shelf.  Behind the curtain are dozens of jugs of white vinegar, as well as balsamic vinegar, apple cider vinegar, and red wine vinegar.
Front hall closet: Our bug-out bags live there, innocuously posing as regular backpacks. As well, our best quality hiking boots and coats appropriate to the season are always right by the door.
Linen closet: Grocery store canned meats (we never use these and they exist as a last resort), fruit, dry milk, and pie filling.  Medicines and first aid supplies.
Bedroom closets: The back wall is lined with boxed goods like cereal, crackers, etc.  There is a cool bungee cord grid holding the boxes in place.
Under the stairs: If you own your home, you can carve out a substantial amount of storage space under the stairs with some carpentry skills. Take care not to damage load-bearing areas.
Storage furniture: Due to homes getting smaller and budgets getting tighter, lots of furniture comes with storage built right in: coffee tables, end tables, nightstands, beds, ottomans – some couches even have a storage area under the cushions.  This can help you to make the most of your space with hidden mini-pantries all through the house. I use one such armoire for all of our first aid and medical supplies, along with extra soaps, shampoos, toothpaste, etc.
 Outbuildings: Barns, sheds, and summerhouses can all provide abundant space.  However, the same rules that apply for garages apply for other outbuildings. Beware of extremes in temperature, moisture, and rodents and other pests.
Keep track of where you put things.

It's a good idea to keep a notebook with an inventory and locations – basically a treasure map of all your prepper goodies. Otherwise, you'll end up searching fruitlessly for items that you know you have.
Depending on how detailed you want to be, your "map" can be constantly updated with the amounts of items you are putting away and taking for use in the kitchen.  If you plan to update like that, consider a dry-erase board hung on the inside of the pantry door.  Keeping your map on the computer is a great idea…unless the grid goes down.  It's important to have a hard copy for that reason.
Trust me – you won't remember where you put all this stuff!
There's always room!

No matter how small your home is, you can still prep. Some of these suggestions will even work for a dorm room or studio apartment. With the "tiny house" movement, storage options abound these days.
Do you have some suggestions for people who live in smaller spaces? Post them in the comments section below.