(Psst: The FTC wants me to remind you that this website contains affiliate links. That means if you make a purchase from a link you click on, I might receive a small commission. This does not increase the price you'll pay for that item nor does it decrease the awesomeness of the item. ~ Daisy)
By Daisy Luther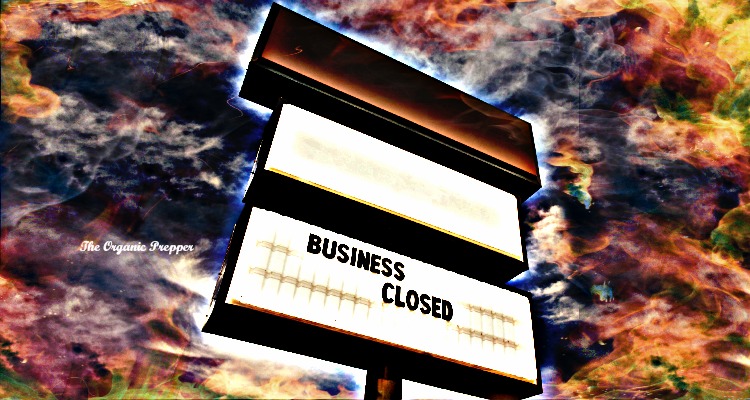 After Christmas, all is not calm and bright in the retail world.
For those who are still under the illusion that our economy is great and prosperity is nigh, you might want to consider the massive loss of jobs that will be forthcoming as stores across the country go into damage control mode to try to stop the hemorrhaging from lackluster holiday sales.
Thousands of non-seasonal jobs are being cut as retail stores across the country close down or slash expenditures. If December is the most wonderful time of the year, then January is the most dismal. The beginning of the first quarter is the most common time to announce store closures and assess budgets.
The start of the year is a popular time to announce store closures. Nearly half of annual store closings announced since 2010 have occurred in the first quarter, CNBC reports. (source)
Last year, Wal-Mart stunned the country when they closed 269 stores in January.
Macy's

The department store chain blames online sales for their woes.
Macy's said Wednesday it has either closed or will shutter 68 stores and cut an additional 6,200 positions at a time when shoppers are going online to buy everything from scarves to lipstick.

Of the 68 stores out of 730 in total, nine closings had been previously announced and three locations have already shut down. But the retail giant revealed the locations of the remaining 59 stores, which will be shuttered by the middle of this year and affect 3,900 employees, some of whom may be offered jobs at other locations…

…Additionally the retail giant says that it will be cutting "layers of management" at its central operations, and paring the number of managers supporting stores, making up the bulk of 6,200 jobs that will be lost.

"We continue to experience declining traffic in our stores where the majority of our business is still transacted," Terry Lundgren, Macy's CEO said in a statement.  In regard to the store closings he added, "we are closing locations that are unproductive or are no longer robust shopping destinations due to changes in the local retail shopping landscape. . . .These are never easy decisions."

The news did not seem to sooth investors, with Macy's shares plunging 8.7%, to $32.70, in after hours trading. (source)
Here are the Macy's stores that will be closing.
Additionally, about 30 other stores are scheduled for closure at some point in the near future. The locations of these stores have not been disclosed.
The company will close about 30 additional stores over the next few years as leases or operating covenants expire or sale transactions are completed, the company said.


"We are closing locations that are unproductive or are no longer robust shopping destinations due to changes in the local retail shopping landscape, as well as monetizing locations with highly valued real estate," Lundgren said, in a press release. "These are never easy decisions, and we are committed to treating associates affected by these closings with respect and transparency." (source)
Sears and K-mart

Sears and K-Mart are both part of the same company, Sears Holdings. They'll be shuttering 150 stores across the country, putting an undisclosed number of people out of work. They're also selling Craftsman Tools to Black and Decker.
Sears CEO Eddie Lampert said in a statement that the company was "taking strong, decisive actions…to stabilize the company and improve our financial flexibility in what remains a challenging retail environment."

The company noted that while the 150 stores collectively reported sales of $1.2 billion over the past 12 months, they also lost about $60 million. Sears has to stop the bleeding somehow, because the entire company is losing money.

"The decision to close stores is a difficult but necessary step as we take actions to strengthen the company's operations and fund its transformation," Lampert said.

"Many of these stores have struggled with their financial performance for years and we have kept them open to maintain local jobs and in the hopes that they would turn around," he added.
Here's a list of Sears and K-Mart stores that will be closing.
Kohl's

Kohl's hasn't announced any store closures, but they've dramatically cut their projections for the year ahead.
First, it was Kohl's, which announced it was slashing its full-year forecast, and now sees FY2017 adjusted EPS of $3.60-$3.65, down from $3.80-$4.00 less than two months ago, in the day after the election (ironically). It wasn't just the future: the company revealed that comp sales were also down 2.1% y/y in fiscal months November and December combined.
As Kohl's CEO Kevin Mansell said, "sales were volatile throughout the holiday season

.

Strong sales on Black Friday and during the week before Christmas were offset by softness in early November and December."  (

source

)
CVS

The popular pharmacy chain will be closing the doors in 70 locations and will be taking new measures for "efficiency" that are sure to please remaining employees. (Because what pharmacist doesn't dream of doing data entry?)
Speaking at its analyst day event Thursday, CVS Health executives outlined their long-term strategy for growth, which includes closing 70 stores in the coming months.

The drugstore retailer's overall cost-cutting plans aim for $3 billion in savings from 2017 to 2021.

In addition to store closures, CVS Health CFO Dave Denton said the company is finding efficiencies in corporate shared services that promise to drive down labor costs by 15% to 20%. For retail, that might include instructing overnight pharmacists to provide data entry during the slow hours, he said. (source)
Aeropostale, American Eagle, Chicos, Finish Line, Men's Wearhouse, and The Children's Place

Many smaller stores are shutting down as well.
Mall stores like Aeropostale, which filed for bankruptcy in May, American Eagle, Chicos, Finish Line, Men's Wearhouse, and The Children's Place are also in the midst of multi-year plans to close stores.

Many more announcements like these are expected in the coming months…

…In addition to closing stores, retailers are also looking to shrink their existing locations.

"As leases come up, you're going to see a gradual rotation into smaller-footprint stores," Hottovy said.  (source)
Obviously, this affects the malls, too.

When major stores begin to close, it starts a chain of events.
As stores continue to close, many shopping malls will be forced to shut down as well.

When an anchor store like Sears or Macy's closes, it often triggers a "downward spiral in performance" for shopping malls, Morningstar analysts wrote in the report from October.

The malls don't only lose the income and shopper traffic from that store's business. The closure often triggers "co-tenancy clauses" that allow the remaining mall tenants to exercise their right to terminate their leases or renegotiate the terms, typically with a period of lower rents, until another retailer moves into the vacant anchor space.

To reduce losses, malls must quickly find a replacement tenant for the massive retail space that the anchor store occupied, which is nearly impossible  — especially in malls that are already financially strapped — when every major department store is reducing its retail footprint. (source)
Some businesses that leave when a mall begins to decline don't reopen, leaving even more people without jobs.
How can you protect yourself in this economy?

When businesses begin closing en masse and thousands become unemployed, it has a domino effect. Nearly everyone will notice the pinch in some way or another.
There are a few things you can do to provide some stability.
It's extremely important to prepare ahead of time. Once it all comes crumbling down, supplies will be more expensive and more difficult to acquire. Have your umbrella well before the rainy day arrives.