(Psst: The FTC wants me to remind you that this website contains affiliate links. That means if you make a purchase from a link you click on, I might receive a small commission. This does not increase the price you'll pay for that item nor does it decrease the awesomeness of the item. ~ Daisy)
In a move straight out of the Soviet Union handbook, PG&E has warned they may cut electrical power to some California residents during "extreme weather" to help prevent wildfires.
This comes after some poorly maintained Pacific Gas and Electric power lines and equipment have been determined to have started last year's deadly wildfires in the Napa Valley wine country area.
Cal Fire investigators said Friday that equipment owned and operated by PG&E ignited 12 wildfires that raged in hot, dry weather and high winds across Northern California in October, charring hundreds of square miles in Sonoma County and beyond, destroying thousands of structures and killing 18 people. (source)
According to Cal Fire, 8 of the 12 fires occurred due to lack of maintenance in violation of state regulations.
The utility was in violation of state code on eight of those fires, failing to clear brush around its lines and properly maintain its power equipment, according to state fire investigators.

Cal Fire found violations in the Norrbom, Partrick, Pythian, Adobe and Pocket fires that burned in Sonoma and Napa counties; the Atlas fire in Napa County; the Sulphur fire in Lake County; and the Blue fire in Humboldt County. (source)
Doesn't it sound like a good idea for PG&E to improve the maintenance of their equipment and lines? But instead, they have a different response.
PG&E's response to the deadly Napa Valley Fires

Instead of improving their maintenance, PG&E has made the arbitrary decision to cut electricity to areas they have identified as risky, leaving residents to fend for themselves without power during the most brutally hot days of the year. Here's a map of the areas that PG&E considers to be "high risk."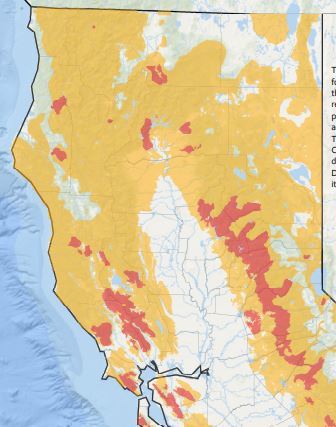 If this sounds familiar, perhaps you are thinking back to the 1990s, when the Soviet Union was ruled by the Communist Party and dealt with power shortages by rationing or cutting electricity to the coldest parts of the nation, leaving some Siberian hospitals and schools completely without heat.
CBS Sacramento reports:
"The goal is to reduce the risk of wildfires," said PG&E spokeswoman Brandi Merlo, who acknowledges the utility only wants to cut power as a last resort for public safety.

PG&E points to climate change, saying extreme weather is the new norm in California. The utility says it has a wildfire safety operations center staffed 24-7 evaluating temperatures, wind, humidity, dry brush and real-time observations from crews in the field. While PG&E would not share the exact criteria it's using, it says it plans to give customers anywhere from one to 48 hours' notice through phone calls, texts or email addresses customers provide.

PG&E says this will also affect some people living outside "extreme fire threat" districts in "elevated" threat areas also noted on the state map if they live on the same circuit. The utility says it's already mailed letters to anyone who may be impacted, but you can also look up your address on its site where you can also update your contact information. (source)
One to 48 hours seems like quite a wide range of warning times, doesn't it?
PG&E doesn't care about residents' freezers and cellphones, either.

Instead of taking responsibility themselves, the utility company intends to inconvenience paying customers. They suggest that customers in the affected areas "have a plan" for dealing with the brutally hot conditions without power.
If you are in one of these threat zones, PG&E says you should already have a plan in case it cuts your power during extreme fire weather.

"Some of those things could include backup generation. They should be looking in advance of that notice," Merlo said. "They could also look at staying with family or friends." (source)
(For some more practical advice on surviving a hot weather blackout, check out this article.)
CBS Sacramento spoke with PG&E spokeswoman Brandi Merlo, asking questions for concerned residents.
Kurtis: When you lose power, a lot of these people are going to lose their ability to communicate. Isn't that raising a whole new issue?

Merlo: We understand the difficulties that come with shutting the power off. It will only be as a last resort, and in the interest of public safety when extreme weather conditions occur.

Kurtis: Is this the lesser of two evils?

Merlo: We're really working to reduce the risk of wildfires and this is one of the ways we're trying to do it."

Kurtis: PG&E understands this raises a whole new list of risks?

Merlo: Yes. (source)
The media outlet also asked whether PG&E would be reimbursing affected residents for their additional expenses during these outages.
Considering PG&E's plan to cut power is to keep its own equipment from sparking fires, we asked the utility if it plans to reimburse people for losses, like lost groceries, a hotel stay or the cost of fuel. The company responded by email with this statement.

We will not be reimbursing customers for losses as we are shutting off power for safety due to extreme fire danger conditions. It's important for all customers living or working in a high fire-threat area to have an emergency plan to be prepared for any extended outages due to extreme weather.  (source)
PG&E suggested that customers ensure their ability to communicate by having a landline.
If you are a resident of one of the areas PG&E has deemed "risky," it's clear that you'll be completely on your own during any heatwaves.
Hat tip to Elizabeth