(Psst: The FTC wants me to remind you that this website contains affiliate links. That means if you make a purchase from a link you click on, I might receive a small commission. This does not increase the price you'll pay for that item nor does it decrease the awesomeness of the item. ~ Daisy)
The FDA has warned of a multistate salmonella outbreak that has been traced back to a popular Kellogg's cereal. So far, the outbreak has affected 73 people in 31 states.
The outbreak has been traced back to Honey Smacks cereal and is not only in the United States, but may potentially affect shipments that have been delivered to Aruba/Curaçao/Saint Maarten (Netherlands Antilles), the Bahamas, Barbados, Tortola (British Virgin Islands), Costa Rica, Guatemala, Haiti, Mexico, Panama, and Tahiti (French Polynesia).
Here are the Honey Smacks affected by the voluntary recall:
The BEST if Used By Date can be found on the top of the cereal box, and the UPC code can be found on the bottom of the box.

| Description (Retail) | UPC Code | Size | BEST If Used By Date |
| --- | --- | --- | --- |
| Honey Smacks (with limited distribution outside the U.S.) | 3800039103 | 15.3 oz | JUN 14, 2018 through JUN 14, 2019 |
| Honey Smacks | 3800014810 | 23 oz |  JUN 14, 2018 through JUN 14, 2019 |

Kellogg is asking that people who purchased potentially affected product discard it and contact the company for a full refund. Consumers seeking more information, including images of these products, can visit kelloggs.com/honeysmacksrecall or call 1-800-962-1413 from Monday – Friday, from 9 a.m. to 6 p.m. ET as well as Saturday and Sunday from 10 a.m. – 4 p.m. ET. (source)
Step away from ALL the Honey Smacks.

Despite the fact that only certain Honey Smacks were recalled, the FDA and CDC recommend avoiding all Honey Smacks at this time.
The FDA, CDC, along with state and local officials are investigating a multi-state outbreak of SalmonellaMbandaka infections. Kellogg's Honey Smacks sweetened puffed wheat cereal are a likely source of this outbreak.

The CDC reports that 73 people in 31 states have become ill. There have been 24 hospitalizations and no deaths.

Following discussion with FDA, CDC, and state partners, the Kellogg Company voluntarily recalled Kellogg's Honey Smacks cereal. The recalled products were distributed across the United States including Guam and Saipan and internationally. Consumers should not eat any Honey Smacks cereal.

The FDA is advising consumers to not eat and discard any Kellogg's Honey Smacks cereal. This is regardless of size or "best if used by" dates. The recall notice accounts for all of the product that is on the market within the cereal's estimated one year shelf-life. However, Honey Smacks products with earlier dates could also potentially be contaminated.  (source)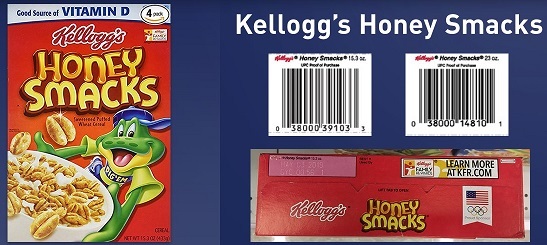 How do you know if you have salmonella?

The FDA explains the symptoms of salmonella:
Most people infected with Salmonella develop diarrhea, fever, and abdominal cramps. The illness usually lasts 4 to 7 days, and most people recover without treatment. Most people infected with Salmonella develop diarrhea, fever, and abdominal cramps 12 to 72 hours after infection.

In some people, the diarrhea may be so severe that they need to be hospitalized. In these patients, the Salmonella infection may spread from the intestines to the blood stream and then to other body sites and can cause death unless the person is treated promptly with antibiotics.

Children are the most likely to get salmonellosis. The rate of diagnosed infections in children less than five years old is higher than the rate in all other people. Children younger than five, the elderly, and those people with weakened immune systems are more likely to have severe infections. It is estimated that approximately 400 persons in the United States die each year with acute salmonellosis. (source)
Thus far, the confirmed cases related to this recall have been in the following locations:
There are 73 people ill with this strain of Salmonella in 31 states: Alabama (2), Arizona (1), California (5), Connecticut (3), Georgia (2), Illinois (1), Indiana (3), Kentucky (1), Louisiana (2), Massachusetts (5), Maryland (1), Michigan (4), Mississippi (1), Montana (1), North Carolina (3), New Hampshire (1), New Jersey (3), New York (7), Ohio (1), Oklahoma (2), Oregon (1), Pennsylvania (5), Rhode Island (2), South Carolina (1), Tennessee (1), Texas (2), Utah (1), Virginia (4), Washington (3), Wisconsin (1), West Virginia (3).The ages of the ill people range from less than one year to 87…(source)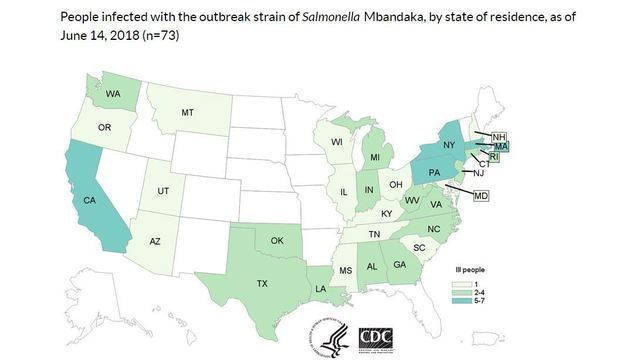 Best practice is to return any Honey Smacks cereal you may have purchased to the store where you got it for a full refund.