How to Feed a Family for a Month from Your Stockpile
(Psst: The FTC wants me to remind you that this website contains affiliate links. That means if you make a purchase from a link you click on, I might receive a small commission. This does not increase the price you'll pay for that item nor does it decrease the awesomeness of the item. ~ Daisy)
by Daisy Luther
There are all sorts of situations that can have you eating from your stockpile for a month or so.  Maybe you have an unexpected expense that means a weekly trip to the store is out of the question. Maybe there's a problem with the local transportation and deliveries aren't making it to your area. Maybe your car broke down and there's nothing within walking distance.
Whatever the reason, eating from your stockpile does not have to be boring and unpleasant. If it's nonstop beans and rice, you're doing something wrong.
What to stock up on
First, you should be stocking things you genuinely enjoy – and things that are similar to how you already eat. If you suddenly switch to nothing but buckets of food with ultra-carby, low protein offerings, you are going to be a) bored and b) lethargic.
At the same time, for most of us, the food we stock up on for the longer term will not be exactly the same. We live in a world where most of us can have fresh produce, meat from the butcher shop, and a gallon of milk whenever we want it.
So when you build a stockpile, it's important to realize that while you can make it similar, it's not going to be exactly the same.
Our stockpile relies on freeze-dried and canned meats, freeze-dried and canned veggies, grains, and loads of spices and seasonings.
Here's a guide to eating from your stockpile for a month
I wrote a book called The Stockpile Cafe about eating from your pantry for a month with no fresh ingredients. It's got menus for 7 dinners per week, along with serving suggestions and a shopping list. There are some ideas for thrifty stockpile breakfasts and lunches, too.
The meals are mostly quick to make and nearly all can be translated to cooking over a fire or wood stove. You can make them as healthful and high quality as you want, depending on the quality of the ingredients you purchase. There are a few convenience items, some dehydrated and freeze-dried ingredients, canned goods, and potato flakes.
Many of the meals have vegetarian alternatives. Because the focus is budget-friendly, there are grains at the center of most meals. So if you eat paleo or low carb, this may not be the book for you.
Most recipes feed 4 people and can be easily reduced or doubled (or tripled.) These are all creations that we've tried here at Casa de Luther.
You can grab your PDF copy here.
Buy The Stockpile Cafe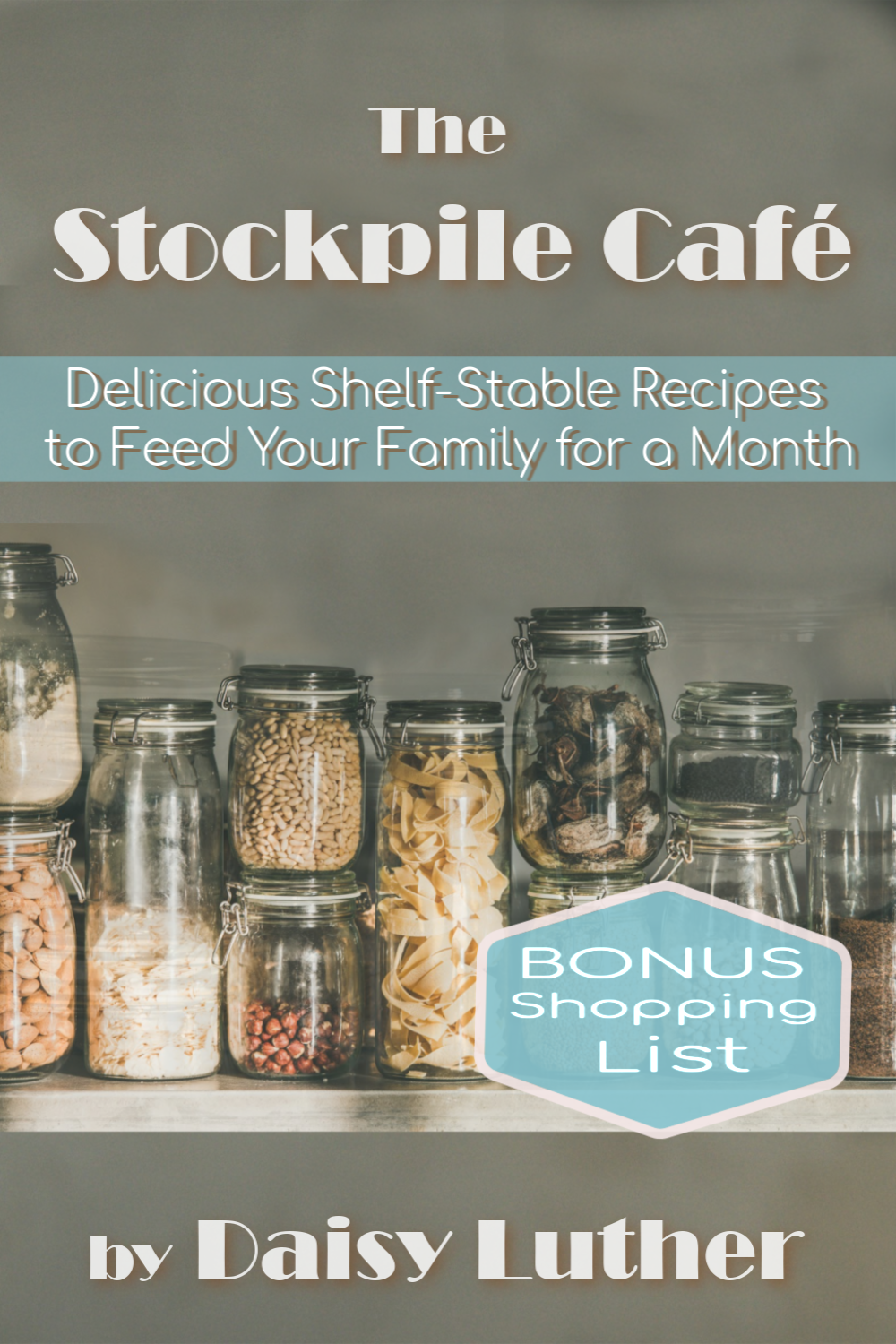 About the Author
Daisy Luther is a coffee-swigging, globe-trotting blogger. She is the founder and publisher of three websites.  1) The Organic Prepper, which is about current events, preparedness, self-reliance, and the pursuit of liberty on her website, 2)  The Frugalite, a website with thrifty tips and solutions to help people get a handle on their personal finances without feeling deprived, and 3) PreppersDailyNews.com, an aggregate site where you can find links to all the most important news for those who wish to be prepared. She is widely republished across alternative media and  Daisy is the best-selling author of 5 traditionally published books and runs a small digital publishing company with PDF guides, printables, and courses. You can find her on Facebook, Pinterest, Gab, MeWe, Parler, Instagram, and Twitter.