(Psst: The FTC wants me to remind you that this website contains affiliate links. That means if you make a purchase from a link you click on, I might receive a small commission. This does not increase the price you'll pay for that item nor does it decrease the awesomeness of the item. ~ Daisy)
Ever since my family and I began our Grocery Store Rebellion, one of the challenges I noticed is that the garden and the markets do not uniformly produce serving sizes.  The beans come in the amount that gets harvested.  The tomatoes are the ones which are available from one particular garden.  This is probably why, even with a thriving garden, lots of people still end up running to the store. Cooking with odds and ends  and without recipes requires a different way of thinking.
Gardening is not like buying your food at the grocery store. Sometimes you get 4 ears of corn for 5 people. Sometimes you don't even enough of one type of bean to make a serving of veggies for your meal. Resist the urge to go shopping when this happens, because with a little creativity, you can make wonderful things from your odds and ends.
We're all so accustomed to having a list of set ingredients in measured amounts…to truly break free of the grocery store, you have to free yourself from the "list of ingredients" mindset and proceed into real scratch cooking like our grandmothers used to do.  Vintage cookbooks can be really helpful in teaching you to cook from scratch because they were written before food became industrialized and all of these unhealthy processed convenience items took over our kitchen cupboards.  (Click HERE to learn more about scratch cooking.)
The fun part is figuring out how to use these garden odds and ends to make delicious things.
Yesterday, I concocted salsa from a strange series of items.
I took this…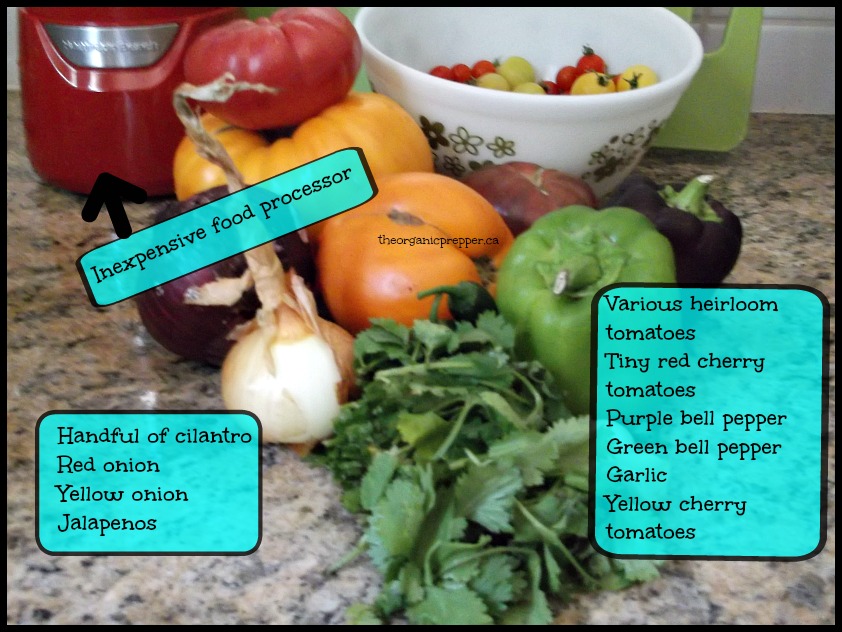 And then these two  ears of corn that weren't enough to serve everyone…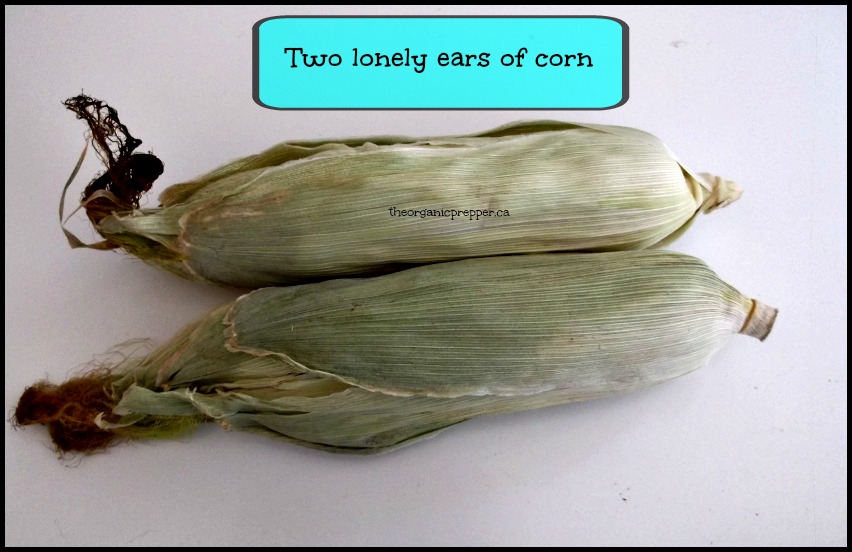 And came up with this perfect ambrosia….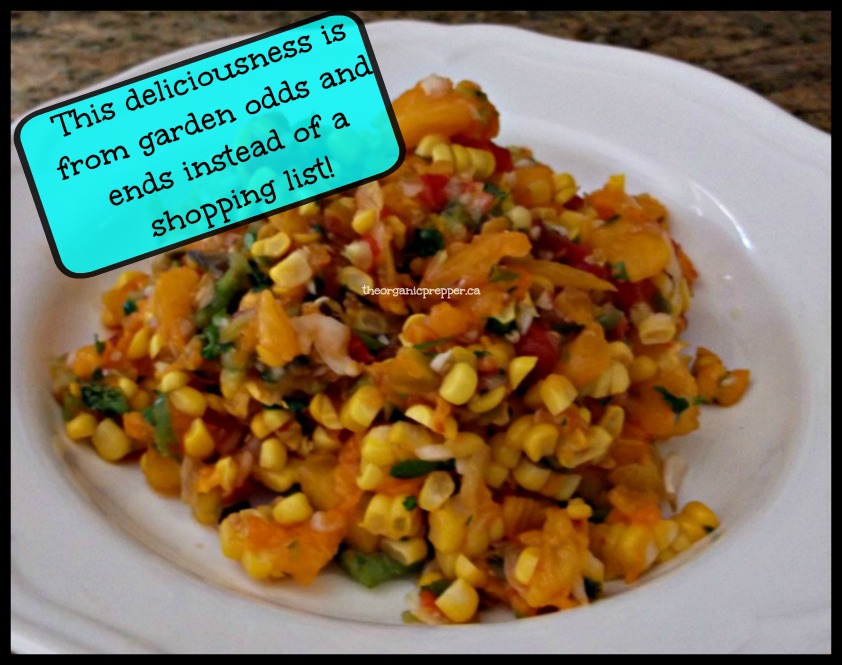 How to make salsa without a recipe
Here's how I made Garden Hodge Podge Salsa. It's super easy and you can adjust it based on the flavors you like and what you have on hand.  This is not a recipe as much as it is a guideline so be creative!
4 heirloom tomatoes
(I used all different colors)
A cup of mixed cherry tomatoes
A handful of cilantro
A purple onion
A yellow onion
2 jalapenos
2 cloves of garlic
2 ears of corn
A dash of salt
A tsp of turbinado sugar
A splash of lime juice
Directions:

Wash all of your veggies well.
Peel and chop your tomatoes.  I put aside a few pieces to use in the food chopper, and diced the others by hand into small pieces.
For the other veggies that aren't as soft, a food chopper speeds up your process greatly. I have this inexpensive Hamilton Beach food chopper and use it almost daily to speed along my kitchen chores. I like the glass bowl because it doesn't absorb food odors like the plastic ones do.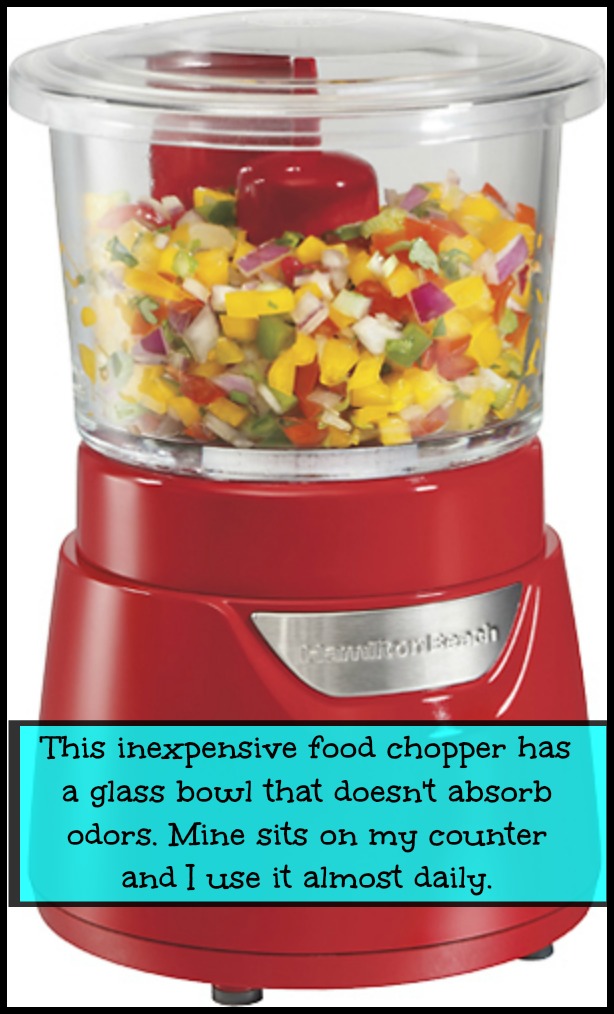 Hamilton Beach 72860 Stack and Press 3-Cup Glass Bowl Chopper
Remove the stems from your cilantro – they are bitter and unpleasant.
Use your food chopper to finely mince onions, jalapenos, and garlic.  Adding something soft like one small piece of tomato allows you to mix in the turbinado sugar at this time, too.
Scrape all the minced veggies out of the food chopper with a rubber spatula.
Add bell peppers to the food chopper – you won't want them to be as finely minced as the other veggies were.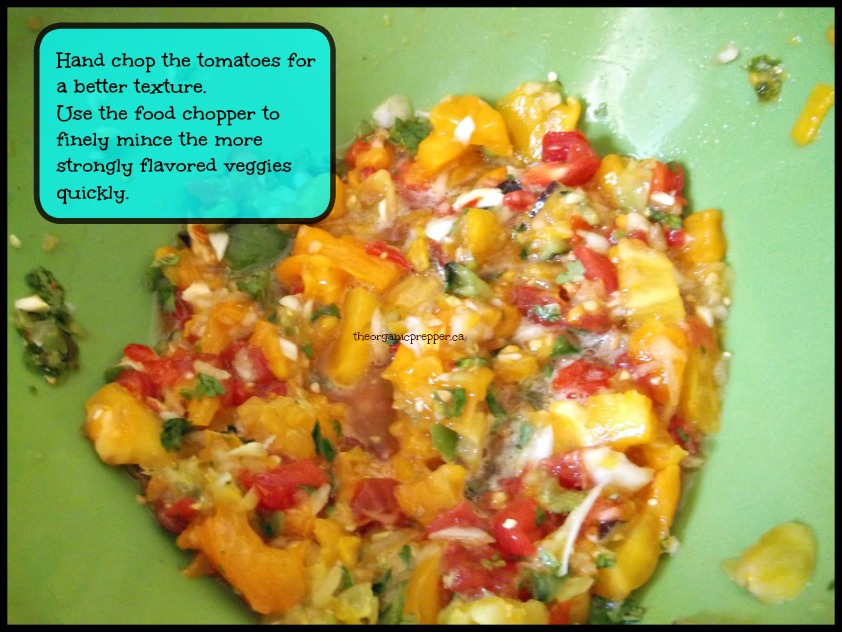 At this point, you will want to drain your veggies because you can see from the picture above, they are far too liquid-y. I like to use a fine mesh sieve over a bowl. If you want to speed up the draining process, stir the veggies in the sieve several times with a fork.  You can save the delicious liquid for cooking rice or adding to soup. If you don't want to use it, you can add it to the compost pile.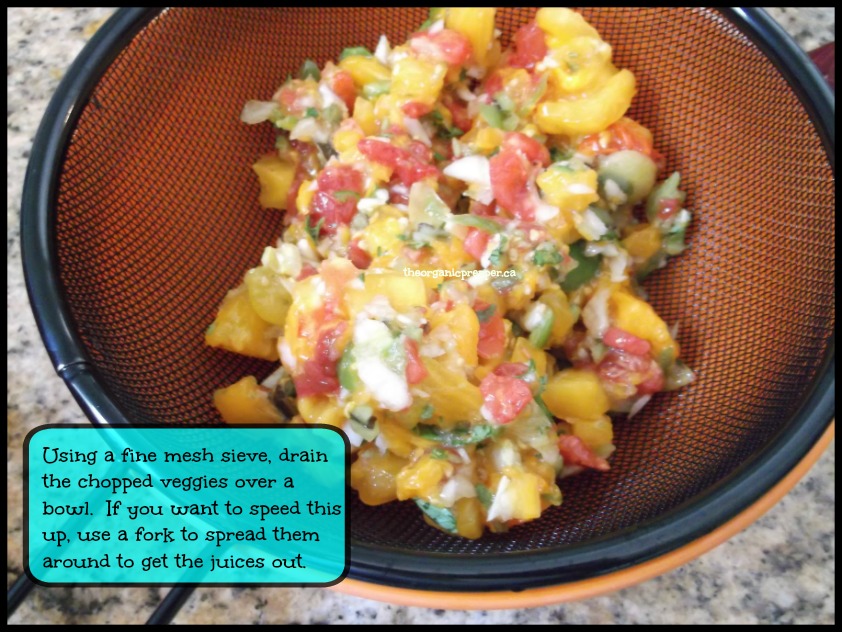 Meanwhile…
In a pot of boiling water, cook ears of corn for 3-5 minutes while your veggies are draining.
When the corn has finished cooking to the point you prefer, immerse the cobs in ice water to stop the cooking process and get them cool enough to handle.
Cut the corn off the cob using a sharp knife.
Stir the corn and salsa together in a bowl. Sprinkle with salt and a splash of lime, and it's ready to serve!
We had ours on top of a green leafy salad with some grilled chicken.  It was so flavorful the salad didn't need even a drop of dressing.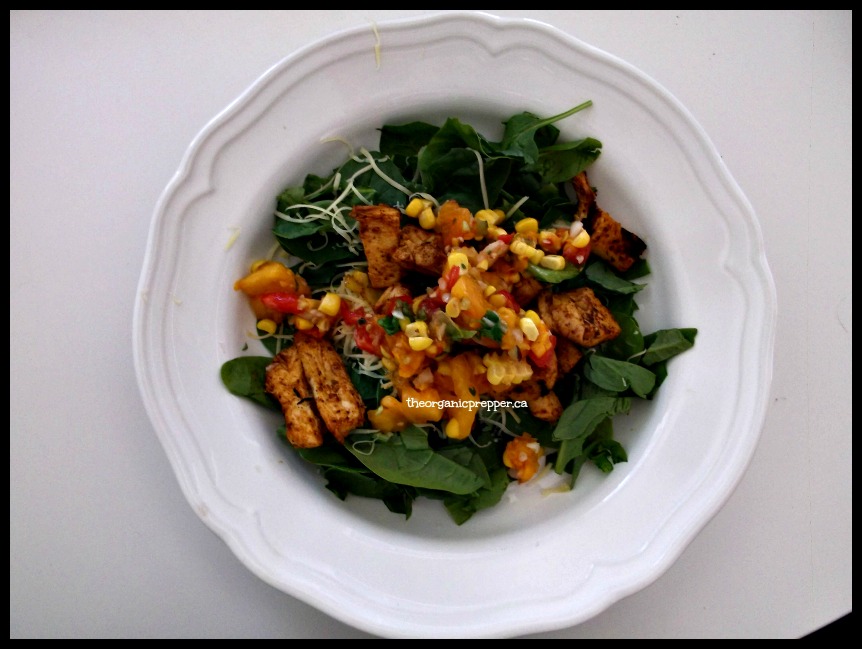 Resources:
The Lost Art of Scratch Cooking
The Fannie Farmer Cookbook: Anniversary
HIC Brands that Cook Essentials Stainless Steel Mesh Strainer, 7-Inch
Hamilton Beach 72860 Stack and Press 3-Cup Glass Bowl Chopper