Friday Farm Blog – Sept. 26, 2015
This week, the Friday Farm Blog is happening on a Saturday because I was just too busy to get it posted yesterday.  Sorry, since I'm sure you were all clicking "refresh" yesterday wondering when I'd post. (haha)
What have I been busy doing, you ask?
First of all, I'm going through the process to get my Concealed Carry Permit. Here in California, it's sort of involved. I had to take a course regarding the laws in this state, and then display safety and accuracy with my firearm to the instructor. Then I had to fill out a gigantic form. You have to go to 2 interviews at the sheriff's department. The first one was just to go over the form with a deputy to make certain you filled it out correctly, then that goes to the Department of Justice for a background check. When that comes back clean, they schedule another appointment, this one with the sheriff himself, where you have to give a good impression of someone who is not a homicidal maniac. So far, it's all gone smoothly, and now I get to wait for however long the background check takes. Obviously, as a liberty-minded, constitution-loving person, I think it's pretty extreme to have to go through all of this, or actually even to require a permit at all, but since I wish to be able to carry a firearm with me wherever I go, and I have no desire to go to prison, I'm jumping through the hoops. One interesting thing I learned is that your CCW permit in California supersedes all of those silly "gun-free zones".  The only place a person with a permit cannot carry is a federal building.  Take that, Starbucks.
Aside from that, as I've mentioned numerous times, my garden is fairly craptastic this year. So I posted an offer to barter on a local homesteading board. I offered to can the harvest for someone who had no time, in return for half of the delicious goodies.
The next day, we picked up this Jeep-load of awesomeness: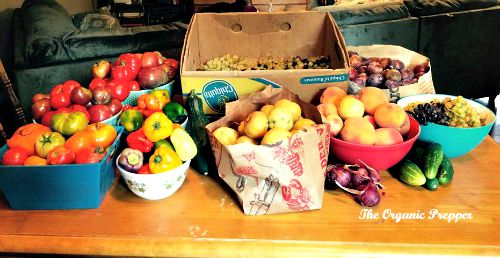 I love this, because it's "free" food for us during a year when money is pretty tight, I'm making a connection with a local backyard farmer, and I honestly enjoy food preservation. Taking these raw ingredients and making delicious things makes me happy.  Our go-to method for creating our stockpile each year relies strongly on home preservation, so that I know exactly what we're eating.
So…I've made salsa, mixed fruit, mixed fruit in sangria, vegetable soup, Asian plum sauce, that weird grape stuff, plum jam, golden tomato-basil-garlic sauce, and crushed heirloom tomatoes. Look at the glorious color of the sauce made from those orange and yellow tomatoes!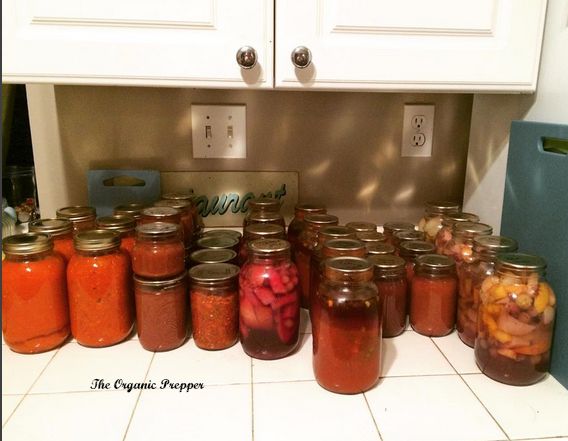 I'm not done yet. In the canner is crushed Romas, and shortly I'm making a salsa from yellow tomatoes with a little bit of organic corn and hot peppers.  (The recipes and instructions for canning my own recipes safely came from my book, The Prepper's Canning Guide.)
In other news, ducklings are gross. I had no idea what I was getting myself into.  They are the silliest little creatures and still terrified of us humans.  Last week I went to clean out the brooder and it was vile. I scraped 3 inches of poo, food, and damp wood chips off of the brooder floor. I have a cast iron stomach and never has my gag reflex been so tested. Of course, when I tried to gently relocate them, they all frantically leapt out of the brooder. I finally decided, FINE. You want to be free? Be free. Hope you live, because you are STINKY. Okay, actually, they were just hard to catch.  I set up an area where they could get away from the chickens and have given them the freedom of the coop and the run. They seem a little happier and my coop is less stinky now.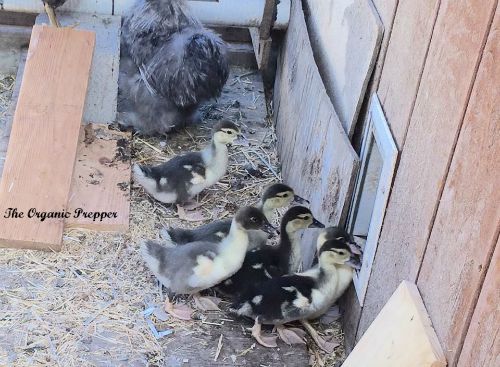 The rooster, Orwell,  that you see behind them in the picture seems to have taken them under his wing. He follows them everywhere and protects them from the frisky hens. (Which leads a farmbuddy of mine to think my second rooster is not really a rooster, but just a tomboy.) I've ordered some diatomaceous earth to sprinkle around, since apparently that helps with both the smell, and keeping the coop pest-free.
Cora's tummy seems to be getting bigger by the day. I have no idea when to expect babies, so every morning is like Christmas. I open the barn wondering if Goat Santa came during the night. Here's the best photo I could manage that shows her burgeoning belly. It's weirdly lopsided and has dropped somewhat in the past week.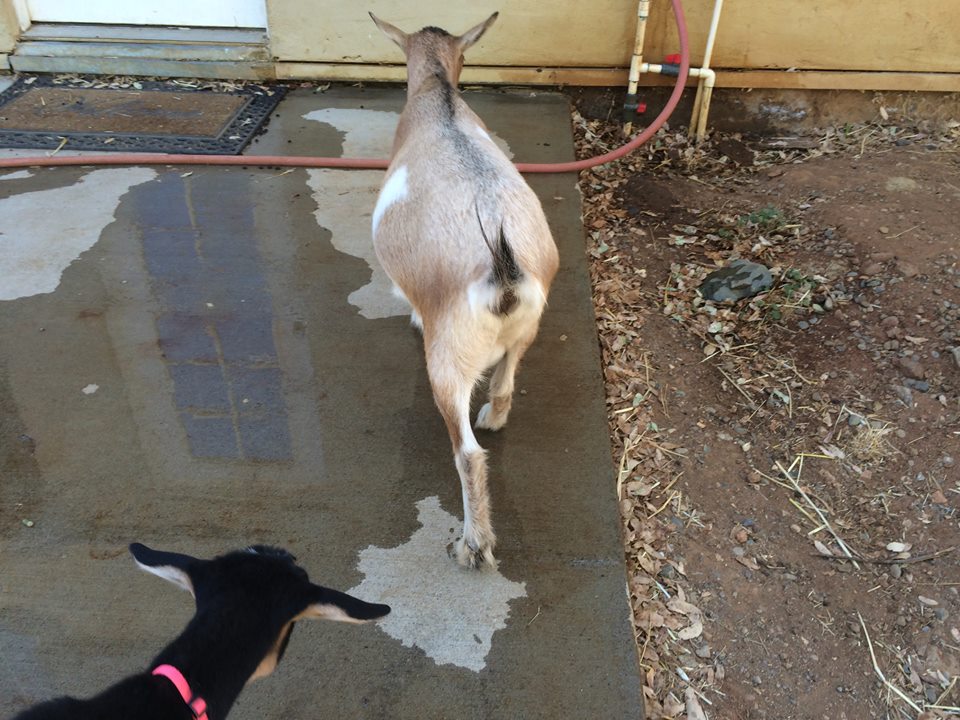 Some more veggies require my attention, and I'd like to can them while I can party to 80s music. (Meaning: I want to do this before my cool kid gets up and scoffs at my "oldies" tunes. OLDIES. Pfft.)
What are you all preserving this week? What's going on at your farms? Please share in the comments section below.
About the Author
Please feel free to share any information from this site in part or in full, leaving all links intact, giving credit to the author and including a link to this website and the following bio.
Daisy is a coffee-swigging, gun-toting, homeschooling blogger who writes about current events, preparedness, frugality, and the pursuit of liberty on her website, The Organic Prepper. She curates all the most important news links on her aggregate site, PreppersDailyNews.com
She is the best-selling author of 4 books and lives in the mountains of Virginia with her two daughters and an ever-growing menarie.
You can find Daisy on Facebook, Pinterest, and Twitter.