Friday Farm Blog – Oct. 23, 2015
What a brisk and beautiful morning it was here! This week on the Friday Farm Blog, we're going to embrace the chaos.
Well, it was beautiful until I went outside and saw that last night, Thor, our guard dog, had protected us from a throw pillow that had formerly graced our garden chairs. (He's saying, "Don't worry, Mom. You're safe now!")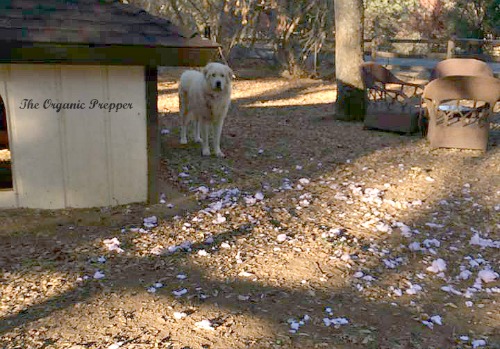 Clean-up in Aisle 4.
In news from the henhouse, the babies are now fully feathered and integrating with the bigger chickens and the ducks. I'm still feeding them separately to be certain that they get enough to eat, but aside from that, they're part of the flock. Behold Snow White, Aurora,  Belle, and Jasmine. (Are you sensing a theme here?)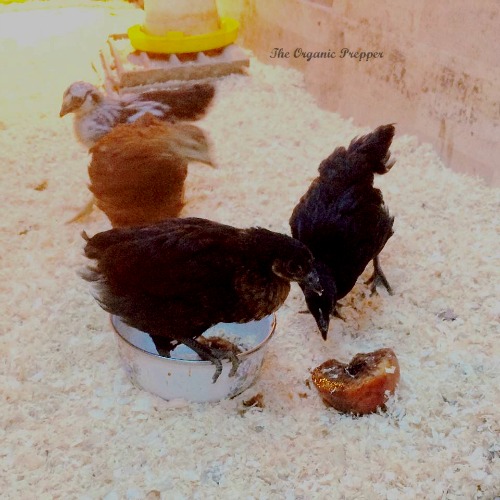 No goat babies, but there was some goat mischief. I brought my Jeep inside the gate while they were out to take a coat rack into the house. I was only inside for a couple of seconds and came out to them atop the Jeep yet again. I took a picture at the request of my oldest daughter, and then I turned on the alarm to scare them off.  Note that there are two goats on the Jeep. The pregnant one is well-camouflaged.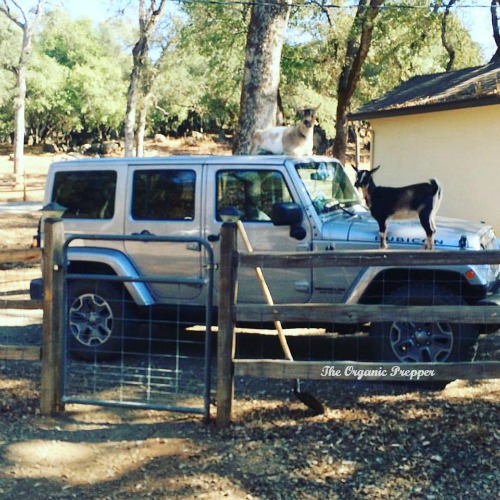 As the days get shorter and the weather gets cooler, more of our time is spent indoors. I jazzed up the front hall with some homemade decorations to celebrate fall.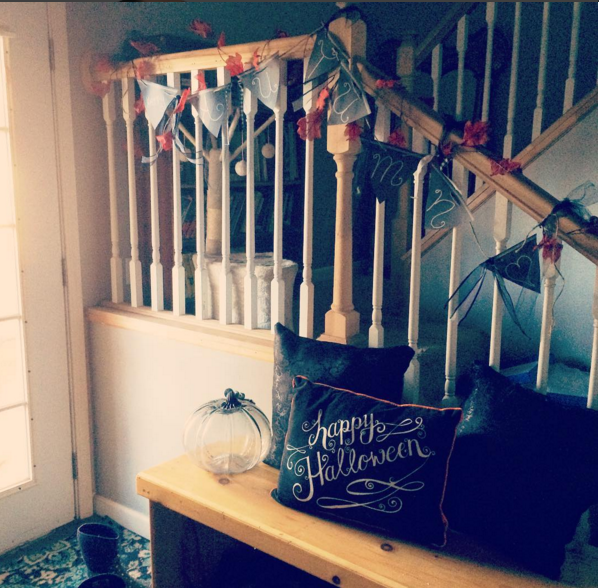 I've also been crocheting new dishcloths for the kitchen. I really like to stay busy, and the only way I can make myself sit still and relax is to have my hands busy with something while we watch the occasional program or movie on Amazon Prime or Netflix.
My daughter made a rather astonishing use of her new sewing machine. With no pattern, nothing more than a cursory lesson on how to use the machine, an old pillowcase, and some random fabric and ribbon, she whipped this up in a couple of afternoons. I couldn't believe it! I think she's a natural.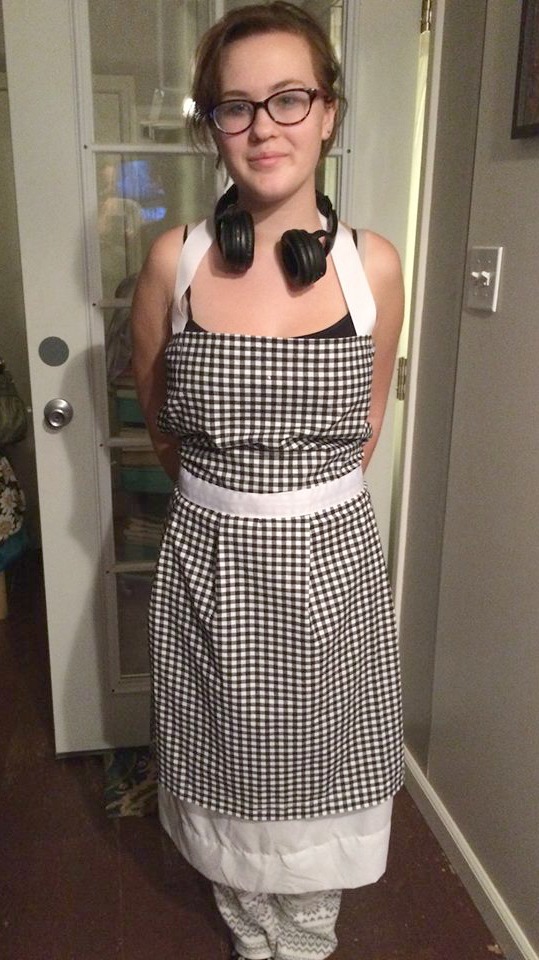 It makes me so happy to see my kids interesting in more than the latest video game or TV show. I love that she can do "Home Ec" with me. This is the beauty of homeschool, right here. We can focus on true life skills, instead of the silly stuff that the government considers important.
This weekend, I'll be doing my own "book reports".  I got a little care package from the publishing company so I'm planning to curl up with these two books, hot off the presses.  I'm going to be checking out The Penny Pinching Prepper by Bernie Carr (of Apartmentprepper.com) and Prepper's Survival Hacks by Jim Cobb (of SurvivalWeekly.com). Because their websites are so awesome, I'm 99.99999% sure these books will be too! I'll report to you guys and let you know all about them.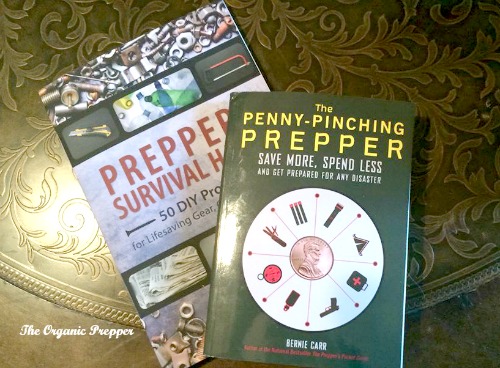 It looks like the harvest is really winding down, even here in California. I do still have access to mountains and mountains of zucchini though. Zucchini chips are our new favorite snack, and I've had the dehydrator running all week with them. Simply slice them to about 1/4 inch or less in thickness, dip them in the flavoring of your choice, and dehydrate at 125 for 12-14 hours. Our favorite blend was this (in equal parts):
Smokey barbecue seasoning
MSG-free seasoning salt
Organic sugar (trust me)
They taste similar to barbecue potato chips, without all of the junk ingredients.  (I use and recommend the Excalibur 9-tray economy dehydrator and non-stick dehydrator sheets.)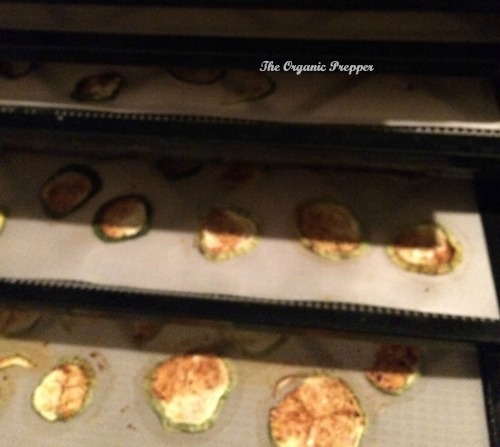 Let's hear it!
So, how was your week? Are you winding down the harvest too? What kind of indoor hobbies do you enjoy as the weather gets cooler? Please share in the comments section below.
About the Author
Please feel free to share any information from this site in part or in full, leaving all links intact, giving credit to the author and including a link to this website and the following bio.
Daisy is a coffee-swigging, gun-toting, homeschooling blogger who writes about current events, preparedness, frugality, and the pursuit of liberty on her website, The Organic Prepper. She curates all the most important news links on her aggregate site, PreppersDailyNews.com
She is the best-selling author of 4 books and lives in the mountains of Virginia with her two daughters and an ever-growing menarie.
You can find Daisy on Facebook, Pinterest, and Twitter.